Oumier Wasp Nano RTA $12.05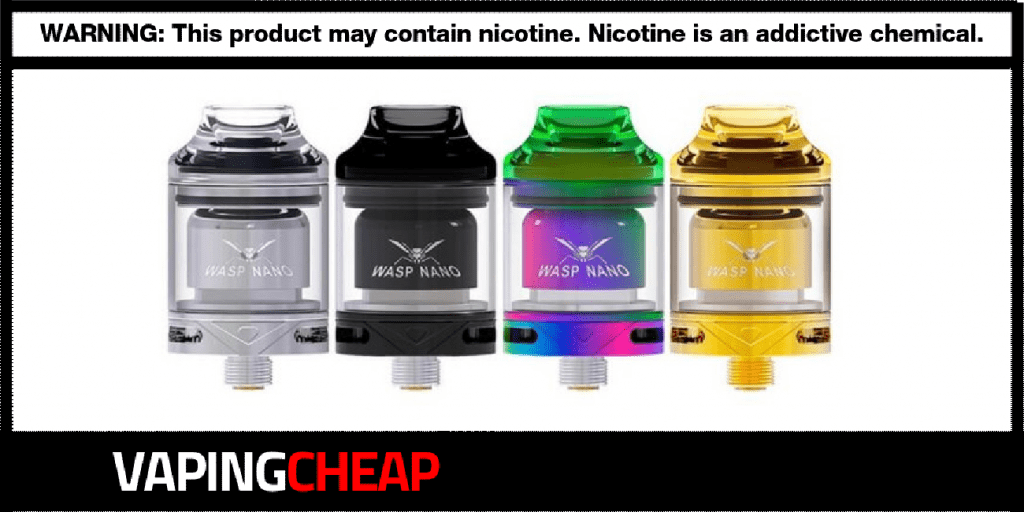 Here's a killer deal on the Oumier Wasp Nano RTA! Get in for only $12.05. No code required. It's also available at from a USA based shipper for just $17.99 with code "TENOFF".. There are four color options available which are Stainless Steel, Gold, Rainbow and Black.
The new Oumier Wasp Nano RTA has an overall diameter of 23mm, which will look great on both single battery and dual battery box mods. In addition, this tank has a maximum e-juice capacity of 2ml or 3ml and has a top fill design. This atomizer is primarily constructed out of stainless steel material and includes a PCTG drip tip with a wide bore.
The Wasp Nano RTA by Oumier sports a dual post single coil build deck, making coil installing a breeze. Furthermore, there is two large adjustable airflow slots at the bottom of the atomizer. Lastly, it has a gold plated 510 connection pin, ensuring great conductivity.
All in all, this is an amazing deal for the Wasp Nano RTA atomizer! The Wasp Nano Product Line is one of the best on the market today, especially at its price point. They're made simple enough for both beginner and advanced vapers. For the price, it's hard to beat and can easily make it into today's Best RTAs.
Wasp Nano RTA Features
Overall Diameter: 23mm
Maximum E-Juice Capacity: 2ml or 3ml
Top Fill Design
Dual Post Single Coil Build Deck
Dual Adjustable Bottom Airflow
Gold Plated 510 Connection Pin
Stainless Steel Material
PCTG Drip Tip
Check Out This Wasp Nano RTA Review