Best RTA – Single & Dual Coils for an Amazing Vaping Experience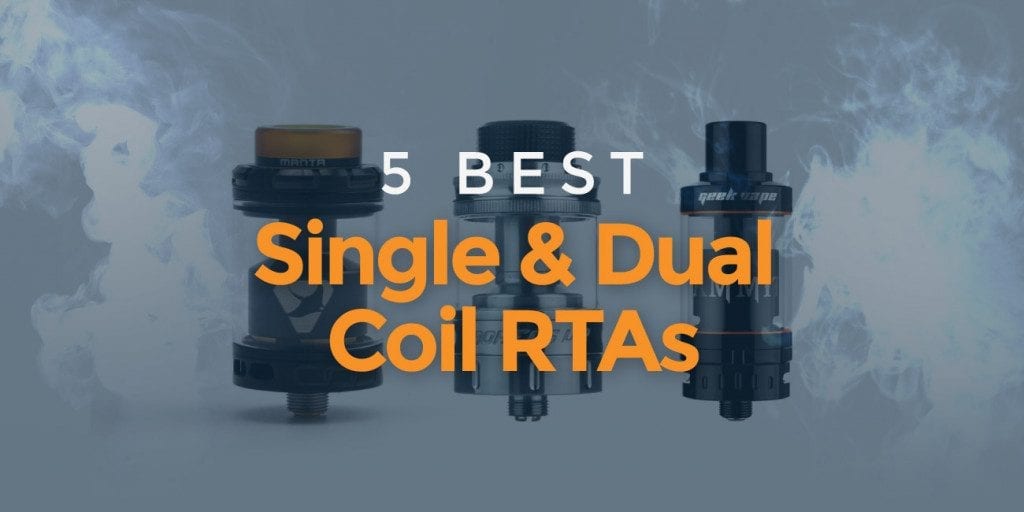 Experienced vape users prefer to use rebuildable atomizers for a premium vaping experience. It stands to reason that you'd want to find the best RTA when you get to this stage of vaping.
Also, something you probably noticed recently is the influx of single coil RTAs, so we'll be splitting this article into two different sections, one covering dual coil RTAs and the other for single coil RTAs. If you want more info on what an RTA is, check out our article on RDA vs RTA vs RDTA.
Read on to learn more about some of the factors and features that will give you the best vaping experience.
Best RTAs - Criteria Used for Comparing Them ​
The ​atomizers must have a large capacity tank, an option to use it for drip, and a valve to adjust the air flow. Prices of atomizers vary enough that price is also a consideration when comparing ​them.
.We used the following criteria to compare devices and answer the question of what is the best RTA:
Capacity
​​

Drip ​tip ​options

​Price
Adjustable air flow
Overall design

So here goes our list.
Best Dual Coil RTA
25mm Base Diameter

6ml Maximum E-liquid Capacity

Unique 242 Degree Airflow System

Supports Single & Dual Coil Builds

Bottle Cap Aesthetic

28mm Base Diameter

Maximum E-Liquid Capacity: 6.5ml

Bottom Airflow Design (Adjustable)

Unique Postless Build Deck

Gold Plated 510 Pin

26mm Base Diameter

5.8ml Maximum E-Juice Capacity

Fully Adjustable Top Airflow System

Postless Build Deck

Leak Proof Design

31mm Diameter

10ml Maximum E-Liquid Capacity

Dual Coil Postless Deck

Adjustable Bottom Airflow

Glass Inner Chamber

Vandy Vape Widowmaker RTA

Overall Diameter: 25mm

Versatile Dual Airflow System

Includes 3 Side Airflow Rings

Juice Flow Control

6ml E-Juice Capacity
When looking at the Best RTAs for 2019, the Dovpo Blotto is definitely at the top of many vapers list, and for good reason! There's many features that this atomizer offers that's incredibly unique. Additionally, it's overall look is much different than what you'd normally see with dual coil RTAs. To cover some base specs, it does have a base diameter of 25mm alongside a maximum e-juice capacity of 6ml. However, it does hold 2ml with its straight glass tank section, so it is TPD compliant.

Now, what makes the Dovpo and Vaping Bogan Blotto RTA truly unique is the airflow system. It has a 242 degree airflow design, allowing for air to essentially travel throughout the entire coil. What this does is provide RDA level flavor alongside a super smooth draw. You can adjust it as well from the outside, going from a wide open draw to a restrictive draw. Also, its build deck is easy to work with, and can be used for both single and dual coil builds.

At the top, the Blotto does come pre-installed with a wide bore drip tip. It's ideal for those massive lung inhales and cloud chasing. Not to mention, they're quite comfortable on your lips and doesn't get hot even when chain vaping at a higher wattage.

We must say, Dovpo and Vaping Bogan really hit it out of the park with the Blotto RTA. It offers everything you'd want in a dual coil RTA. From superb flavor, ease of use, awesome looks, and stellar overall performance, the Blotto has it. Do yourself a favor, and pick up one of these bad boys. You won't regret it, that's for sure.
Here's another collaborative project that's made this year's list of best dual coil RTA, this time between Oumier and VapnFagan. This atomizer is one of those that you think you might not need mostly due to its size, but let us tell you, it's awesome. We will admit that its overall diameter of 28mm isn't common, but we think it's the perfect size for its design.

Speaking of, it takes cues from his last project, the BTFC. The airflow is designed so that it travels right underneath your coil, ensuring maximum flavor. Now, you might think that because it's such a large atomizer it has a huge amount of airflow. It's actually the complete opposite. The draw on the Bulk RTA is on the restrictive side, and can be cut down further if desired.

Another standout feature is the e-liquid capacity, a whopping 6.5ml with the bubble tank attached. This is more than your average, that's for sure. The last feature to mention is the included drip tip. It's a bit taller than any other normal sized 810 tips, but it's very comfortable and have become one of our favorites to use.

If you like those bigger tanks, but enjoy a more restrictive vape, then you'll want to add the VapnFagan and Oumier Bulk RTA to your atomizer collection. We were surprised by how much we actually enjoyed this one, and we think you will too.
When the original Augvape Intake released, many dual coil fans were calling for a newer version to accommodate not one, but two coils. Mike Vapes and Augvape has finally answered, and did they deliver! Easily, one of the best top airflow RTAs on the market today for multiple reasons.

For one, it has a large capacity of 5.8ml. However, if you didn't like the bubble tank look, the straight glass does hold a respectable 4.2ml. The star of the show when it comes to the Intake Dual is most definitely the top airflow design. It's quite unique. The airflow travels in from the top of the tank, then gets redirected to the bottom and sides of your coil. Not only do you get some pretty stellar flavor with this airflow system, it's essentially leak proof.

Building on the Augvape and Mike Vapes Intake Dual RTA is quite easy. It features a postless style deck, so all you need to do is pre-cut the leads, drop them in, and tighten them down. We recommend to move your coil where the airflow will reach the bottom and sides, which provides the absolute best flavor. We will say with a build deck like this, you can surely get a large single coil in there, but we recommend sticking to dual coil builds.

Like the Oumier Bulk, it does have an uncommon size of 26mm, but like mentioned earlier, that's not really a bad thing. Most vape mods can easily accommodate this size, plus you got more vape juice capacity.

All in all, the Augvape Intake Dual RTA is a great successor to the original and gives the vapers exactly what they wanted. It keeps the primary features of the original, which is definitely a good thing, and makes some improvements that caters to those dual coil builds. For you vapers wanting best RTA vape with top airflow, then you won't go wrong with this one.
Stream Crave is known for some pretty great atomizers, and they continued to deliver in 2019. Their Glaz V2 RTA offers some much needed improvements from the original in order to make the vape and user experience that much better. To start, it's a pretty big atomizer, measuring in at a massive 31mm in diameter.

With this large of a tank, you expect a large e-juice capacity, and that's exactly what you get. When you install its bubble glass, it can hold 10ml of vape juice! Even if you used the regular glass, it still holds 7ml, which is more than any other RTA listed here. Filling it can be done quickly and easily as it does have a sliding top fill system. Simply push the top cap forward, and it reveals the fill port. Once you're done filling, close it, and you're good to go.

One improvement that was made is the actual airflow slot. It's a stacked airflow that will sit right to the bottom side of your coil. There's plenty of airflow that's available too, so you can take those long drags with no issues. It'll cool down those coils quickly enough where the tank won't get hot on you. Another great feature, like some of the others listed here is the postless deck. We're happy they went with this as it's easy to use, and can accommodate pretty much whatever coil you want.

If you're looking for an RTA that has a huge e-liquid capacity, and don't mind a larger size, then we can't recommend the Steam Crave Glaz V2 RTA enough. It's a really well built tank with great features. Not to mention, it has a glass chamber, which brings out a pure and clean flavor. We'd even say it's one of the best RTA for clouds.
Vandy Vape Widowmaker RTA
When Vandy Vape and El Mono Vapeador first released their original atomizer, many vapers enjoyed it as it provided a variety of airflow options. They've taken that same concept and built it into a tank, the Widowmaker RTA. When it comes to airflow options and versatility this simply cannot be beat.

It starts with the interchangeable airflow rings or caps that's included in the packaging. There's three of them in total. In addition, you can fully control this airflow independently to adjust how much air is passing through to your coils.
Secondly, there's the bottom airflow, that is also adjustable. This specific airflow control will adjust how much air is going underneath your coils. What's even better is that these airflow slots are a honeycomb design, so you know you're getting a silky smooth vape. Just imagine how much you can dial in the airflow, and fine tune your vape. It's just awesome, and this collaboration really takes the cake.

Another key feature to the Vandy Vape Widowmaker RTA is juice flow control. We highly recommend using this feature if you decide on making the purchase. This allows for no leaking when you're refilling it. Simply close it off when you're ready to fill the large 6ml capacity. After you fill, close the top filling cap then reopen the juice flow control.

This was one of the last releases when it comes to RTAs, and Vandy Vape made sure to end this year with a bang. With how much customization you have with the airflow, it makes for a one of a kind vape experience. If you enjoy fine tuning, then this is a must have.
Best Single Coil RTA
23mm Overall Diameter

2 Post Build Deck

Dual Adjustable Bottom Airflow

2ml/3ml E-Juice Capacity

Threaded Top Fill Design

22mm Base DIameter

2ml or 3.5ml E-Liquid Capacity

Glass & PC Tank Sections

Interchangeable Airflow Inserts

Adjustable Bottom Airflow

24mm Base Diameter

Turntable Internal Airflow

6 Different External Airflow Options

2ml or 4ml E-Juice Capacity

2 Post Build Deck

25mm Overall Diameter

Honeycomb Airflow Design

Four Post Single Coil Deck

2ml or 3.5ml E-Liquid Capacity

Sliding Top Fill System

Steam Crave Aromamizer Lite V1.5

23mm Base Diameter

Postless Dual Post Deck

Adjustable Side Airflow

Interchangeable Airflow Plugs

DL & MTL Drip Tips Included
While this isn't the absolute newest atomizer to release, it's still one of the best RTA on the market today, especially since it's so cheap. Aside from the price, it offers simple features that works well and does exactly what you need it to do.
Firstly, the Oumier Wasp Nano RTA sports a base diameter of 23mm. It can hold either 2ml or 3ml of e-juice depending on which tank section is installed. Building on it is incredibly easy as well since it features a dual post deck design. There's enough room for your coils for flavor such as Claptons, and Aliens, which is a pro considering its overall size. In addition, it has dual adjustable bottom airflow slots that provide just enough airflow to get a comfortable, and restrictive direct lung vape.

Honestly, there isn't a whole lot to cover with the Oumier Wasp Nano RTA, and that's not really a bad thing. It provides amazing flavor, wicks fast (when done properly), easy to build on, and looks good on anything you throw it on. Best of all, you'll get all of this for around $10 to $15. You just can't beat that. If you haven't had a chance to try one out, or you're looking for the best RTA for beginners, this is a great choice.
Gas Mods has always released products that've been focused primarily on flavor, and you can say the same about their latest atomizer.
There's a couple of unique features with this one too, and by the looks of it, you can tell it was inspired by luxury vapes.

The Kree RTA by Gas Mods sports a base diameter of 22mm. Depending on which tank section you have installed, either a PC or glass, it can hold 2ml or 3.5ml of e-liquid. Moving onto the build deck, it's pretty much what we've seen in many single coil RTAs. It's a two post deck, so coil installs are a breeze. What's unique is the interchangeable airflow inserts.

This allows you to dial in the airflow underneath the coil to restrict or open up the draw. On top of that, you'll get 5 different inserts, ranging from 0.8mm to 2.5mm. With this simple insert, you can completely change the vape from a tight MTL vape to a restrictive direct lung. How awesome is that?

If you want the adjust the airflow even further, you sure can. There's an adjustable airflow control sleeve located on the bottom of the Kree RTA.

All in all, Gas Mods did it yet again with their Kree tank atomizer. If you're looking for the best RTA for flavor that won't break the bank, then you've found it. You won't be disappointed with the performance, that's for certain.
What would this list be without a Hellvape product? These guys are known for releasing some of the Best RDAs, and they've done it again, this time with a rebuildable tank atomizer.
The standout feature of this product, and why we consider it a best rta tank is the airflow. Like the Kree, it has a customizable airflow system on both the inside and outside.

On the inside of the MD RTA, it features what Hellvape calls a "Turntable" airflow system. You simply turn the airflow to change it. The first option is a wide open slot while the other is a honeycomb airflow slot. Depending on which airflow is chosen will affect how much air is going to hit underneath your coil.
When it comes to the external adjustable airflow, there are 6 different airflow options you can choose from. Utilizing both is key to getting the vape experience you personally want. You can easily go from a restrictive direct lung to a mouth to lung vape in seconds.

It does have a 2ml or 4ml e-liquid capacity alongside a child-proof top filling system. Additionally, you'll get two different drip tips inside of the packaging. One that's catered more for direct lung vaping, and the other for mouth to lung vaping.

This is yet another RTA that's able to deliver multiple vape experiences by just changing up the airflow. While it may be considered a jack of all trades, the Hellvape MD RTA does both well. With that being said, we highly recommend grabbing this atomizer, it's definitely one of the best single coil RTA of 2019.
Here's an RTA we think flew under the radar for many vapers, and didn't get the attention we think it deserves. The Ehpro Kelpie RTA designed by YouTuber Vaping with Vic is simple yet effective. It utilizes some designs we've seen before with other atomizers in the past, but brings them together to deliver a superb vape.

The primary feature as to why we enjoy it as much as we do is the airflow. It's a honeycomb design, but there's slightly angled to deliver the best flavor possible. Each individual honeycomb airflow slot jet air right under your coil. As you'd expect, the draw is incredibly smooth. You can adjust as well just like others, but we enjoy the Kelpie wide open. It's slightly restrictive, but not to where it's uncomfortable.

It's definitely on the bigger side in comparison to the other best single coil RTAs, but that's not a con whatsoever. 25mm is almost standard in the vaping industry. When it comes to the e-juice capacity, it can hold 2ml or 3.5ml with the bubble glass tank. Although it doesn't hold the most, you can fill it quick with its sliding top fill design.

If you're looking for a single coil RTA that deliver solid flavor and smooth airflow, you can't go wrong with the Ehpro and Vaping With Vic Kelpie RTA. It might not be the most popular option on the market, but it's definitely one of the best you can buy today.
Steam Crave Aromamizer Lite V1.5
This is yet another line of rebuildable atomizers that's built a name for itself over the years, the Armomaizer. Steam Crave's Aromamizer Lite RTA V1.5 offers some great improvements that really allows it to shine in both modes (DTL and MTL). Let's start with the base specs first.

Like many single coil RTAs, this one sports a smaller diameter, 23mm to be exact at the base. Additionally, it can hold either 3.5ml of e-juice with its standard glass or 4.5ml with the bubble tank section. Filling can be done from the top, which is expected.

Moving onto what really makes the Aromamizer Lite V1.5 RTA unique and worthy of this list. It all boils down to the airflow, and if you've vaped on any of the Aromamizer tanks, you know they've got some of the best. It's super smooth, and offers a bunch of different options. The main difference with this improved version is that the MTL options now have airflow plugs. This allows for the air to hit the coil directly, and provide a much better mouth to lung than before.

Another great feature is the build deck. It's a postless style deck, but raised. Like the others, you'll pre-cut your coils before installing them. Wicking is pretty easy too, just don't overpack the cotton and you're good to go.

If you've experienced the past Aromamizer RTAs from Steam Crave, then this is a worthy addition to your collection. Now, if you haven't had the pleasure of vaping on one, we can easily recommend this as your first. We'd say this one is a bit easier to work with than the others, and perform just as well, if not better than the others.
Best MTL RTA
Svoe Mesto Kayfun Lite 2019 RTA
When it comes to the absolute best MTL RTA, the Kayfun series has always been at the top, and it still remains true.
Easily, their Kayfun Lite 2019 takes the cake for this year, and for the foreseeable future.
It's also one of their most affordable tanks, and more readily available than it's ever been. Gone are the days where you've got to search for days on end for the perfect MTL tank.

What makes the Kayfun Lite 2019 so special is the actual vape experience. It's literally second to none. They took their original Kayfun Lite, and simplified it which not only reduced the overall cost, but made it easier to set up as well. There aren't an excessive amount of parts or a certain way to build.

Although this is probably the most simple Kayfun to release, it does offer one pretty unique feature. That feature is the airflow control system. For one, it's completely hidden, giving the Kayfun Lite 2019 a clean and simplistic look. You simply access the 510 connector in order to adjust the air, from 0 to 1.8mm.

If you're looking for a true and authentic MTL vape, you'll get it with this RTA. The best part about the Svoe Mesto Kayfun Lite 2019 is that there's a bunch of accessories you can buy, allowing you to customize the look, and even capacity. Seriously, if you're a die hard MTL vaper, do yourself a favor and get this tank. You won't regret and you definitely wouldn't need to buy anything else.
Best RTA 2018
The OFRF Gear RTA was released not long ago and is one of the best selling single coil RTAs on the market today. It has an overall diameter of 24mm, but the ultra compact design is sure to provide amazing flavor.
With its size and diameter, it'll surely look great on most devices, especially those single battery dna box box mods.
It includes two heat resistant drip tips and you can use your own 510 drip tip if you preferred. The airflow is fully adjustable and the wicking channels are fairly large, so it's easy to wick properly.

The Gear RTA features a postless build deck, which has been the trend with atomizers in the past year or so, for many reasons. It has a maximum e-juice capacity of 2.3ml but you can increase it with the included bubble glass making it a maximum of 3.5ml. You can easily fill this tank with its threaded top fill system and large fill ports at the top of the tank.

Overall, the Gear RTA is a great single coil RTA and is very budget friendly. It is primarily constructed out of stainless steel material. If you are looking for a new compact flavor chasing RTA, then this one is worth picking up for sure.
Best RTA 2017
The Digiflavor Pharaoh RTA is a collaboration between Rip Trippers and Digiflavor. This RTA was released earlier in 2017, and quickly became one of our favorite single coil RTAs.
This tank does have an overall base diameter of 25mm, and extends out to 27mm, so it'll look great on your larger box mods.

In addition, features a spring loaded clamp style build deck that sports a wide surface area, making it easy to install your exotic coil builds. Wicking is also easy due to its large wicking ports.

What's great about the Pharaoh RTA is that is features both adjustable bottom and top airflow. What's even better is that they are controlled independently, giving you a wide range of airflow configurations.

In addition, the Digiflavor Pharaoh RTA has a 4.6ml e-liquid capacity, and includes an expansion tube for an additional 3ml, giving you over 7ml of e-juice capacity! Another great feature this RTA has is juice flow control, which helps prevent any leaking issues after filling.

Overall, the Digiflavor Pharaoh RTA is still one of our favorite single coil RTAs on the market, and great for long trips thanks to its large e-liquid capacity with the expansion tube.

If you're after a vape tank that holds a ton of e-juice and can fit large exotic coil builds with ease, then the Pharaoh RTA is definitely recommended! If you're interested in reading more, be sure to check out our full review.
RTA FAQs
What is an RTA?
RTA stands for rebuildable tank atomizer, and is similar to that of an RDA. However, there's one major difference between the two. That is, an RTA includes a tank section, allowing to to store e-juice, usually between 2ml to 10ml. You won't need to continuously drip e-liquid since e-juice will feed to your cotton.
Advantages of an RTA
E-Juice Capacity

As mentioned previously, an RTA is able to hold a select amount of vape juice (depending on the actual model). Since this is true, you're able to continue to vape without needing to refill or drip for quite some time. This is the biggest advantage of an RTA in comparison to other rebuildables.

Use Your Own Coils

Since this is a rebuildable atomizer, you're able to use your own preferred cotton and coils. Unlike sub ohm tanks, where you have to use a compatible stock coil or pre-made coil head, you can install whatever coil you prefer. This allows full control of your vape experience.

Cheaper Overall Cost

When comparing an RTA to other atomizers like stock coil tanks, you can save a ton of money. The primary reason as to why is that you're not spending cash on replacing coils often. Wire and vape cotton are incredibly cheap, so you'll definitely save a ton of money by building your own coils. You may even save money on e-juice too as some sub ohm coils are known to plow through e-liquid fast.

Flavor

The last reason as to why you'd want to use an RTA over other tanks is flavor. You can easily get RDA level flavor with many of the RTA vapes listed here. When you first try an RTA and compare it to a regular tank, you'll immediately tell the difference, and won't ever go back. This is especially true with this list of best RTA tanks.
RTA Cons
Leaking

If you've been reading about RTAs, then you probably know that there is a chance for leaking to occur. It all comes down to your actual wicking methods, and each atomizer will be different than the next. There are some tanks available that provide a leak proof design, so that may be a good place to start to gain experience. However, an RTA will never leak on its own, and often is user error. It will take some trial and error to perfect it, but once you do, then you'll have no issues with any RTA.

Dry Hits

Another con is dry hits, and like leaking, is something that is often a concern. Again, this is often user error and has to do with wicking. Sometimes vapers tend to use way too much cotton in order to prevent leaking that they end up experiencing a hit that's not fully saturated or dry. We recommend practicing wicking, and don't give up. There's always a sweet spot, and finding it is key to a great vape.
Changing Flavors

Like any other vape tank, when it comes to changing out your flavor, it can be a hassle. Unlike an RDA where you can simply drip your new flavor or quickly re-wick, you might have to empty your tank completely. There isn't anyway to really avoid this issue. However, we recommend sticking with flavors you enjoy when using a tank, so you're less likely to want to change out the vape juice.
In conclusion, these are some of the best RTAs in regards to pricing, performance, quality and availability. Even though there are tons of RTAs on the market today, these are the few that really stand out from the competition. No matter if you're looking for a dual coil or single coil atomizer, one of these here will certainly provide you with what you're looking for.


Beginners beware—you should have expert level knowledge of vaping to use an atomizer because you need to install the wick and coil. Buying the best ​RBA tank does only part of the work for you. You'll need to know how to test your coils and wicks with an ohm meter, so that the unit is safe.
Just as a reminder, be sure to always understand battery safety and ohms law, especially vaping at higher wattages or lower resistances. Safety is always at the utmost importance, so it's crucial that you understand these two aspects before getting into rebuilding.
Learn more about the differences between RDA's and RTA's in this informative video.
​We do hope this article helps you in finding the right RTA to fit your vaping needs! If there's an RTA that wasn't mentioned in this list, feel free to leave us a comment and let us know which RTA you think is best!
​Remember, choosing your rta atomizer is less about selecting the best ​and more about discovering what is the best for you.​