Get the Best Vape Battery Charger | A Review of the Top 5 Models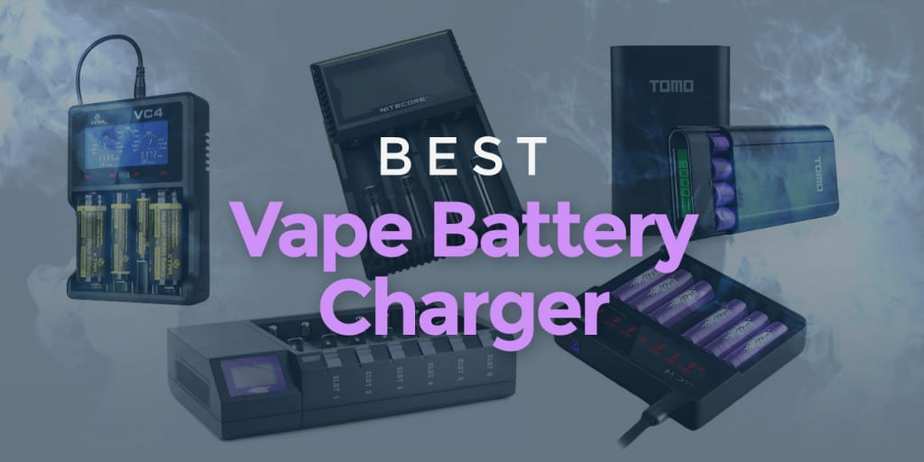 Selecting the best 18650 battery charger can be a complicated task. If you have been vaping for any amount of time, then you already know just how vast market is. No matter what you are looking for, there are multitudes of options available to you.
You want batteries? What kind are you looking for? 18650, 26650, 18350?
There are thousands of combinations (some can be bad though) you can make with all of the available products on the market, and that number is growing every day. Here are some of the best 18650 batteries which we recommend!
I am here to help you make the decisions that will provide you with the greatest vaping experience you can have. One such decision that you need to make is "What kind of battery charger should I get?" Here are my top five picks for the best vape battery chargers available right now.
The Top 5 Vape Battery Chargers
In this section, we will go over some of the best chargers currently available in the market. We evaluate pricing, features and the overall quality of each battery charger that is listed here. There are many chargers that are on the market, but we feel that these listed below are the best value for your money!
I would like to also mention that it is always safe to charge your batteries externally with one of these chargers listed below, or with a charger you may have at home. Here's an interesting reddit discussion regarding it..
Typically, it is not recommended to charge batteries within a device as some devices may not feature balance charging.
This is extremely important, as you do not want your batteries to be charged improperly. This can surely cause problems with your batteries, and may even cause issues with your device.
However, there are some devices that do feature balance charging such as Evolv DNA200 devices. Even then, I highly suggest you to always charge your batteries externally, and only charge your batteries within a device only when you have to.
Finally, we come to my pick for the absolute best battery charger on the market right now in 2016. Coming in at number one, is the Efest LUC Blu6, yet another Efest charger. The Blu6 is yet another iteration of the Efest LUC charger series. It is a smart charger that sports six battery ports and Bluetooth capabilities. It sports charging rates from 0.5A all the way up to 2A.
For the most part, the Efest LUC Blu6 is the same as the new LUC V6 charger. However, the most important aspect that really draws people to this charger is the Bluetooth capability of the device. You can link it up to an app on your phone and track all aspects of the charger. You can even set you charging rates right from your phone, which is something that I personally find very impressive. The Efest LUC Blu6 is not just innovative, though. It is also cheap!
The runner-up for my list of the best battery chargers on the market in 2016 is the Efest LUC V6. Now we are getting into the mac daddy chargers! Efest has been providing the vaping world with awesome chargers for a while now, including the LUC V4. If you were to have asked me a few months ago which charger I like best, the LUC V4 would have been my answer hands down.
The V6 is Efest's latest iteration of the LUC battery series. It sports a whopping six bays of battery charging greatness, with a charging rate that ranges from .68A all the way up to 2A. It sports independent charging rates for all six battery bays and the fantastic OLED display that Efest has been known for. In addition to these great features and the built in protection suite, the Efest LUC V6 also supports virtually every battery on the market. You can even charge 10440 batteries if you needed it to.
What really takes the cake for me with the Efest LUC V6 is the simplicity of it. You don't have to fiddle around with a bunch of different features. All you need to do is pop your batteries on the charger, make sure you are in the right charging mode, and walk away. Not only is it simple, though, but it is also a great price.
The Nitecore D4 has an easy to see screen which displays tons of great information such as the charging rate, the battery voltage, how long the battery has been charging and more! You can switch between each slot to see the status of each battery.
In addition, this is a great feature as it allows you to monitor your batteries, which is important especially if they are a married set. This charger is compatible with many different battery sizes, including the batteries we use the most which are 18650 and 26650.
This battery charger automatically sets the charging rate, so you don't have to worry about adjusting anything. This can be seen as a con as some people may want to set the charging rate, but personally, I like this feature as you can just pop your batteries in and not really have to worry.
The Nitecore D4 features an optimized charging design for IMR batteries, which is great since some batteries we use in vaping are of IMR chemistry.
Another great feature is that it automatically stops charging once the charging of the specific battery is completed, which is a very important feature as you do not want to overcharge your batteries.
Lastly, this battery charger surely deserves a spot on this list, as it has proven itself to be one of the best 18650 battery charger on the market today in regards to affordability, features and design.
Nitecore also has some other awesome chargers like the Nitecore Q2, Q4, UM 10 & 20
Number four of the top five battery chargers in the vape industry right now is the portable charger, TOMO V8-4. The TOMO V8-4 is a portable charger that is actually worthwhile, something that is very hard to come by, even now with all the advancements in technology that we have.
The TOMO V8-4 sports two optional USB output ports, allowing you to use it to juice up other devices in addition to your 18650 batteries. The only negative aspect of the TOMO V8-4 is that it only supports 18650 batteries. However, those are the most commonly used batteries on the market, so it really isn't much of a con.
The reason for placing the TOMO V8-4 portable charger on this list does not stop at being a best 18650 battery charger. The main reason that I placed the TOMO V8-4 on this list is the beautiful LCD display. With the majority of small, portable chargers, there is not much effort put into creating a display that provides all of the necessary information and looks great. The TOMO V8-4 does just that without being expensive in the slightest. You can pick up your very own TOMO V8-4 right here.
Number five on my list for the best battery chargers in the vape industry is the XTAR VC4. The XTAR VC4 is a digital smart charger that is capable of charging four batteries at once. It sports a nice, digital display that is probably the most alluring of all the chargers that made this list. However, the unique display is not the reason for it being here. XTAR Direct describes the XTAR VC4 as being a combination of the charger's predecessors, the VC2 and the XP4C.
What really makes the XTAR VC4 four bay charger stand out amongst the crowd is its price point. For an intelligent charger that has the capacity to read and charge four batteries at one time, XTAR Direct is not asking for much. You can pick up the XTAR VC4 right here. Even through XTAR Direct, the price point stays the same.
Conclusion
There you have it. Those are my top five vape battery chargers that are available on the market right now. Now, these are only my top five chargers, so do not feel discouraged if you like to use something not on the list. There are countless battery chargers on the market right now that are still amazing options. Just make sure to use a quality battery charger from a reputable brand, that's an important part of battery safety.
However, if you are having trouble figuring out which charger is right for you, hopefully this list will give you some direction. It will probably change drastically over the next year, but in the meantime, vape on.
If you would like to know more about how to "fast charge" 18650 batteries, then you should definitely check this video out: