Infused 60ml $9.99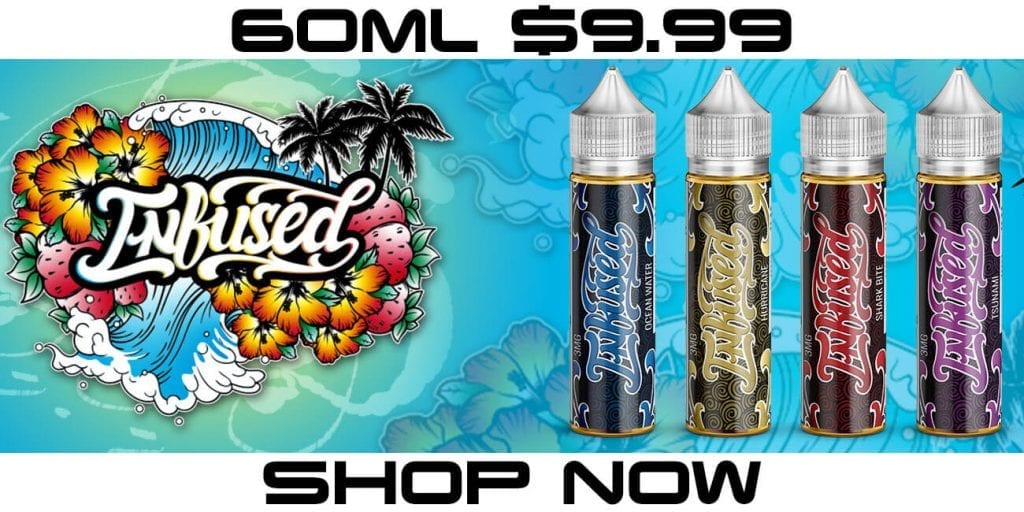 For a limited time only, the Infused E-Liquid line is now on sale right here where you can get a 60ml bottle for only $9.99! No coupon code required. Free shipping applies to US orders over $50.
During the Infused E-Liquid Sale, you can get a 60ml bottle for only $9.99! No coupon code required. The Infused E-Liquid line consist of four different flavors which are Ocean Water, Shark Bite, Tsunami and Hurricane.
In addition, each of these flavors come in a 60ml Chubby Gorilla Bottle. The nicotine strengths available for each flavor are 0mg, 3mg and 6mg.
All in all, this is an excellent e-juice sale! If you're looking to try out some new fruit flavors without breaking the bank, then this is the perfect sale to do so! You can get this deal at Flawless Vape Shop where a 60ml bottle of Infused E-Liquid is only $9.99!
E-Juice Sale Details:
60ml Bottle Sizes (Chubby Gorilla Bottles)
Nicotine Strength Available: 0mg, 3mg and 6mg
4 Different Flavors:

Ocean Water: is a Blueberry, Huckleberry, Raspberry and Honeydew fruit medley a perfect all day vape ejuice!
Shark Bite: is a delicious watermelon candy e-liquid. Moderately sweet with a touch of sour. You'll love this watermelon hard candy flavored e-liquid.
Tsunami: has the flavor profile of a Mixed Apple Candy. The kind of candy that brings back childhood memories. The inhale consist of that candy taste that makes the mouth water for more and more.
Save
Hurricane: presents the timeless and incredibly tasty pairing of luscious, sweet, and ripe strawberries with the an exotic fruit medley.