Sub Ohm Tanks – Everything You Need to Know Before You Buy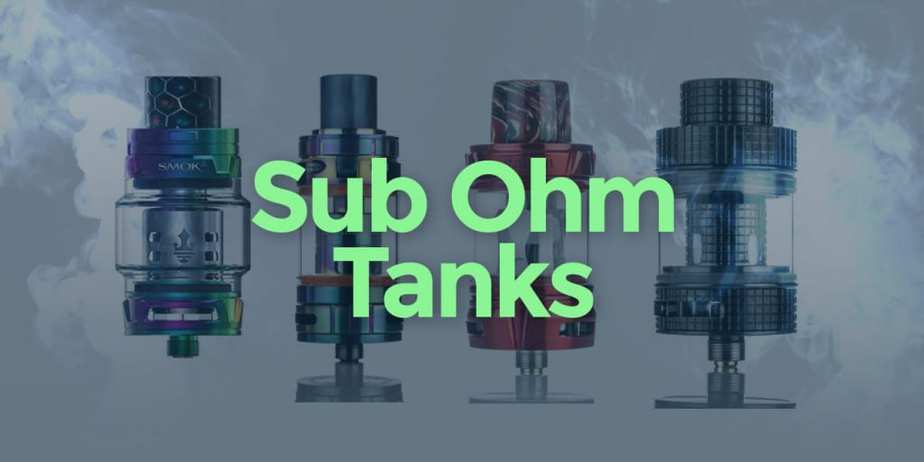 In the past few years, sub ohming has come to the forefront of the vaping world, with flavor, cloud production and maximum wattage being the three main names of the game. Finding the best sub ohm tank may not be an easy task with the hundreds of options available.
So, settle down while we have a good look at what we think are some of the best vapor tank options in the sub-Ohm class and maybe by the end of this you'll have learned a thing or two, and gained the confidence to choose a sub ohm tank to best fit your vaping needs.
| | | | |
| --- | --- | --- | --- |
| | Smok TFV12 Prince Sub Ohm Tank | | |
| | HorizonTech Falcon Sub Ohm Tank | | |
| | Freemax Fireluke Mesh Sub Ohm Tank | | |
| | Sense Herakles 3 Sub Ohm Tank | | |
| | | | |
| | Smok TFV12 Baby Prince Sub Ohm Tank | | |
| | VooPoo UForce Sub Ohm Tank | | |
| | Uwell Crown 3 Sub Ohm Tank | | |
| | | | |
| | | | |
Vape Quality: This beast of a tank boasts up to an 8ml capacity with it's bubble tank and trust me, you'll need it: operating sweetly on super-high wattage, like a freakin' fog machine: the Prince Tank delivers through the roof flavor and extreme cloud-chasing vapor production.
Massive airflow makes for one of the easiest vapes and if the 80-100w ballpark is what you're aiming for, you won't go wrong here.
Range: Serious joy at anywhere around 100W with the 0.12 ohm coil. This tank is not for vape beginners or the faint-hearted. It's a killer tank for advanced sub-Ohmers, and for us, it's one of the best sub ohm tanks for 2018.
To improve your sub-Ohm skills and knowledge, check out this video:
Vape Quality: The HorizonTech Falcon Sub Ohm Tank offers some of the most unique and excellent performing coil heads on the market today. There are a variety available including Flax Paper, Flax Fiber, Wood Pulp and even Mesh coils.
Their coil designed has completely changed the game, and delivers some of the best flavor we've had with any sub ohm tank.
Range: The two included coil heads are 0.15 ohm and 0.2 ohm, each being rated at 80w, giving you a comfortable vape while still allowing for great battery life with your sub ohm mod. These coils are accurately rated as we find the best vape is indeed at 80w. If you're after the best vape tank for flavor, then this is the atomizer for you.
Sense Herakles 3 Sub Ohm Tank
Vape Quality: Sense is back with their latest entry into the Herakles lineup, the new Herakles 3 sub ohm tank!
Back and better than ever utilizing their new V-Jet coil family, this tank will deliver some unbeatable flavor and vapor. Filling can be done quick and easy thanks to its large fill ports and sliding top fill system, and with a 4.5ml e-liquid capacity, you won't be filling too often.
Range: Both of the included coils are rated up to 100w, making this one a bit more of a "Mid-Wattage" sub ohm tank. We find that vaping these coils between 60w and 80w will deliver the best mixture of flavor and vapor. There is a 0.2 ohm stainless steel coil available for those looking to get into temperature control vaping.
Vape Quality: The Freemax FireLuke Mesh Sub Ohm Tank is one of the first, if not the first to implement the new Mesh coils, which not provides unbelievable flavor, but solid vapor production as well.
These mesh coils can be vaped up to 90w, but you can get a great vape at only 60w, allowing you to sip e-juice rather than guzzle.
Range: Although this tank only has one coil option currently which is its 0.15 ohm mesh coils, we wouldn't want to choose another based on its incredible performance. The Fireluke Mesh Tank can be used as an entry into the sub-Ohming world and it's the perfect choice.
This is a great option to work your way up to higher wattage vaping.
Vape Quality: This easy, top filling sub-Ohm tank from Aspire uses special Maxi Watt coil configuration to maximize absorption, drastically increasing ramp time, depth of flavor and cloud production. It's undoubtedly near the top of my best vapor tank list as far as affordability goes, coming in at around $21.22…now for a decent sub-Ohmer, that ain't too shabby.
Range: Recommended range for the Cleito 120 is 75W to 120W and we found it really purrs for us with a nice, comfortably warm vape at 85W.
Vape Quality: Smok is at it yet again, but this time around in a smaller form factor. The TFV12 Baby Prince is similar in looks to its big brother the Prince Sub Ohm Tank, but comes in smaller with its 22mm base diameter and compact form factor.
This tank is best for those looking to cloud chase, but prefer something smaller in comparison to the others listed here. Don't make its smaller design fool you, this tank includes the newest V8 Baby Coils, which have been redesigned to provide the most clouds and flavor.
Range: The two new coils included are the 0.15 ohm Mesh coil and the 0.15 ohm Red Light coil head, which not only feature a unique red LED light built-in, but a patented Octuple coil design, providing immense flavor and cloud production. Both of these coils are rated in the 80w to 90w range, so you won't be needing too much power to get the vape you're looking for.
Vape Quality: The UForce Sub Ohm Tank is VooPoo's first entry into the sub ohm tank market, and they hit it out of the park with this one. Sporting a rather simplistic design, it's very easy to use, which is great for those first getting into this vape style and may not completely understand sub ohm tank meaning.
The coils provided with this tank are top notch and includes 2 different atomizer heads, and both are quite different from each. It's wide bore delrin drip tip ensures the tip will never get hot while chain vaping at higher wattages, and it's triple adjustable airflow can be closed or open to match the draw that best matches your vaping style the best.
Range: The VooPoo UForce includes a 0.4 ohm and 0.23 ohm coil head. The 0.4 ohm is perfect for vapers wanting more of a mellow vape as it's best vaped between 55w to 65w. For those wanting maximum vapor production will find the 0.23 ohm to best fit their needs since it can be vaped up to 120w.
Uwell Crown 3 Sub Ohm Tank
Vape Quality: Now, this is a tank we'd recommend as a best top fill sub ohm tank for vapers looking to get into the sub ohm range but at lower wattages, primarily under 100W. What sets the Crown 3 apart for us is the solid airflow and the smoothness of the vape.
We feel the crown really shines at about 70W, providing, especially on the 0.25 coil, providing one of the easiest and most flavorsome vapes around. On top of that, we've found this to be the best vape tank that doesn't leak.
Range: Also, a great choice for entry into sub-Ohming, as the 0.5 Ohm coil will allow you to start as low as 50W. The plug and play coil system allows for quick and mess free coil changes, which is always a good thing!
Vape Quality: If you've purchase a Vaporesso Kit, then you should know why this tank is listed here as this atomizer is included with almost every kit they offer, and for good reason!
This is by far the most popular tank by Vaporesso and it's definitely one of our favorites at Vaping Cheap. The included GT Coils are impressive, and the NRG has tons of available airflow that can be fined tuned to your liking. Although its included drip tip mesh protection guard isn't removable, it does help prevent any spit back from occurring.
Range: The included coils in this tank kit are the GT 4 and GT 8, and both have a resistance of 0.15 ohm, perfect for the vaper wanting to get into the sub ohm vape style. However, both coils are different as one sports a dual vertical coil design while the other is a quad vertical coil design. Our personal favorite is the GT 8, the quad vertical coil design simply brings out the best flavor and vapor from any sub ohm tank.
Vape Quality: Asvape, a rather new company in the vape industry, offers one of the best mid wattage sub ohm tanks on the market today. This is not by any means the most popular, but it certainly is an incredible performer, especially for the vaper looking to vape between 40w and 50w. It's compact form factor means it'll look great on any vape mod, and even with its small size, it still holds an impressive 3.8ml of e-liquid.
Range: This tank kit includes two of the same coils, which are rated at 0.5 ohm. What's great about the Asvape Cobra Coils is that they are constructed of Ni80 wire material, which means instantaneous ramp up. So even though these are rated only up to 45w, they'll be producing plumes of clouds and flavor before you know it. To see more of this tank, be sure to check out our full review here.
Sub Ohm Tank - Everything You Need to Know
Sub ohm tanks aren't new to the vaping world, but when they were released, they completely changed the game. Before these atomizers, if you wanted to sub ohm, you had to build coils yourself in an RDA or rebuildable dripping atomizer, and if you wanted a tank, you'd have to use an RTA or rebuildable tank atomizer.
Sub Ohm Tanks completely erases the need of you building your own coils by offering replacement coil heads that are under 1 ohm resistance; hence the name sub ohm tank. That is the one major difference between a sub ohm tank and pretty much any other vape tank on the market and why they're so popular in today's market. Not only this, but it also simplifies the process and just makes it easier for the vaper, which is always a good thing, especially for someone who is transitioning from cigarettes.
What is Sub Ohm Vaping?
Sub ohm vaping essentially means that the resistance of your attached atomizer (or coil in this case) is under 1 ohm. Anything that is higher than 1 ohm can be seen as above ohm vaping.
Vapers typically seeking sub ohm vaping is wanting to push more power and get more from their vaping experience. At lower resistances, you're able to utilize your device at its full potential, and with lower resistances you can take advantage of the power available in the device you are using. However, even at higher resistances, you're still able to vape at higher wattages since newer devices are able to provide higher voltage outputs.
Regardless, it's almost important to understand ohm's law and battery safety before vaping at these higher wattages. Be sure to check out our battery safety article to learn more about this and what batteries are best for your vaping preferences. This is important to understand and can clarify any questions regarding if sub ohm vaping is dangerous.
Choosing the Right E-Liquid
With Sub Ohm Vaping and tanks, you generally want to use e-liquids that are higher in VG. More VG simply means more vapor production. More PG means the e-liquid is thinner and will typically provide more throat hit, but for sub ohm tanks can cause leaking.
The best juice ratio we've found for sub ohm tanks are 70VG and higher. These types of e-juices are generally known as "Max VG". If you to be one step ahead of the competition and looking for the best type of e-liquid for sub ohm vaping, be sure to check out our best e-juice flavors.
Airflow - What's the Deal?
Just like other atomizers, most sub ohm tanks feature an adjustable airflow system, which allows you to fine tune the tank to your preferred draw. If you want to produce plumes of vapor, having the most airflow available to you is ideal. However, if you want something more mellow, and want to flavor chase, simply cut down the airflow and get more of a dense and warm flavorful vape.
Prime Those Coils!
You'll often read to "prime your coil heads", what this means is that before you start vaping, you want to drip a couple of drops of e-juice on your coil to get things started.
After this step, we recommend closing your airflow completely to help prevent leaking. Once everything is put back together, simply fill your tank with your preferred e-liquid and let the tank sit for 5 to 10 minutes. Lastly, open your airflow and set it to the draw you want, and start at a lower wattage and gradually increase until you find your sweet spot.
Conclusion​
So that about covers it for my list of recommended sub-Ohm tanks, for now. I hope I've given you a little insight into what to expect from these options but really, I hope I've inspired you to go out there and give sub-Ohming a shot if you haven't already.
In all my years using e-cigs and smaller vape pens I never dreamed of the type of flavor, airflow, cloud factor and just all round satisfaction I get off sub-Ohm setups. Once you start, you won't look back, trust me.