The Best E Juices —Your Ultimate Guide to Buying Vape Liquid Online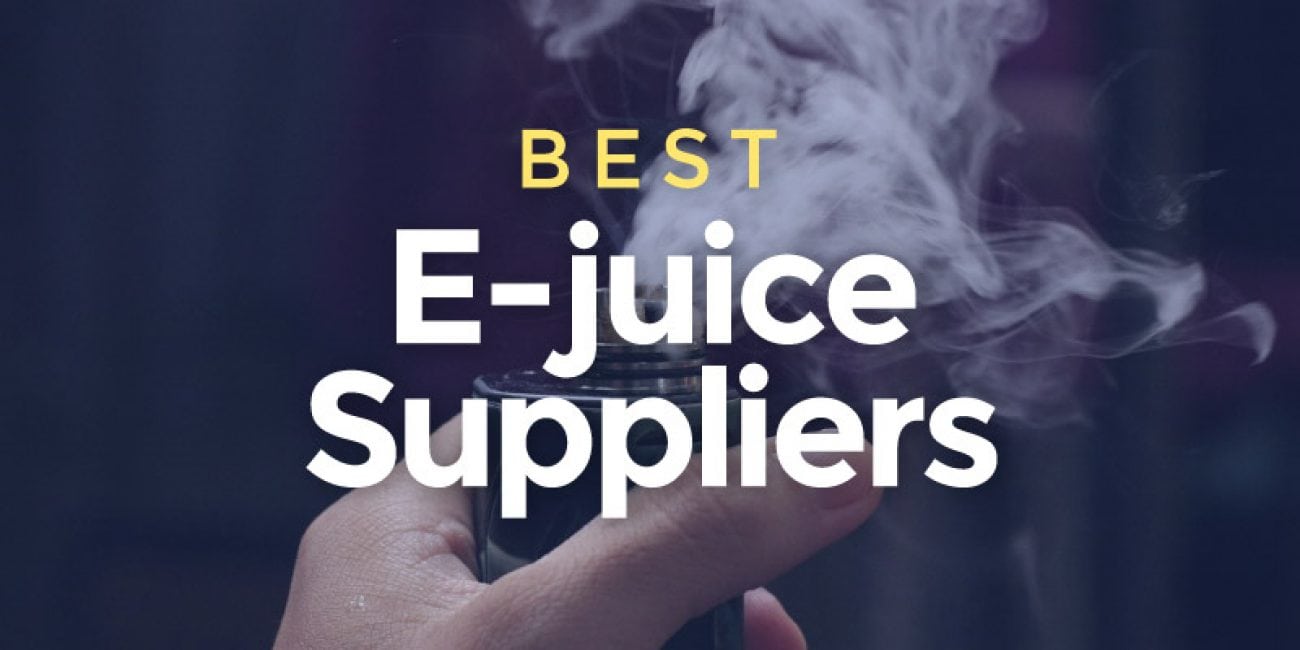 Finding the best vape juices is difficult; besides finding flavors you like and brands you can trust, you also need to worry about how well the liquid wicks, whether you can buy it online, and whether it's reasonably priced.

So we put together this list of the Best Vape E Juice Brands —our list is full of some of the best e juice brands online selling e-liquid for a wide range of prices. No matter what your vaping budget is, you can find some quality ejuice on this list. We even provide you with coupon codes to make sure you getting the best deals possible.
In a Hurry? Check Out These Best E-Liquid Brands
Note: E-juice preference is a matter of opinion, in the case of this e-juice reviews list, it is my opinion. This list should help you find new high quality ejuice so you can decide for yourself who has the best vape juice.
---
Best E Juice Brands and E Liquid Reviews
---
Vista Vapors E Juices
When looking to try some new vape juice, a stop at Vista Vapors is a must! They offer customers a ton of different options and choices when it comes to eJuice.
Vista Vapors offers two different lines of e-juice (a regular line and a premium line), as well as a "mix your own e-juice" creator that can be used to make over 4 million different flavor combinations.
Need new e-juice on a budget?
Vista Vapors has some of the most affordable e-liquid online — prices for their regular line come in at $4.99 for a 17 ml bottle and $7.49 for a 32 ml bottle.
And, you can save 21% off these prices with the coupon below.


Orders can be customized using Vista Vapors' variety of available options, including bottle size (17, 32, 52, or 102 ml), nicotine level (0, 3, 6, 12, 18, or 24 mg), extra flavor boost level (none, 10%, 20%, 30%, 40%, or 50%), and three choices of pg/vg ratio.
Vista Vapors also offers free shipping on orders over $50, and every order earns rewards in their Most Valuable Vaper rewards program.
Vista Vapors 21% Off Coupon
Vista21
Price After Coupon: 10 ml $3.94 - 30 ml $5.92
---
Mt. Baker Vapor E Liquid
Mt. Baker Vapor is best known for offering hight quality ejuice at the lowest prices around. In addition to a huge selection of flavored ejuice's they also sell hardware, DIY e-juice supplies, and accessories.
Mt. Baker Vapor's main focus is to provide their customers with affordable products, fast shipping, and top-notch customer service. In all my dealings with Mt. Baker Vapor, they have never failed to live up to these promises.
For their 2015 new year's resolution hey decided to make vaping more affordable for everyone by slashing their already low e liquid prices.
You can now get a 15 ml bottle of their e-juice for as little as $3.99, or a 30 ml bottle for only $6.49. You can even save an additional 10% with our coupon code below. Their specialty e-juice line is priced at $4.99 for a 15 ml bottle and $7.49 for a 30 ml bottle. The only way to get it cheaper is to make DIY e-juice.
Looking for something more unique?
You might like their GWAR line of e-juice. It's a premium line made in collaboration with the thrash metal band GWAR, which is only available for sale at Mt. Baker Vapor. For more information on this line of e-juice, you can read our GWAR e-liquid review.
Mt. Baker Vapor also includes a free 5 ml bottle of vape juice with every order, and offers free shipping on orders over 50 bucks. Make sure to use the special Vaping Cheap coupon code below to save an additional 10% on any order.
Mt. Baker Vapor 10% Off Coupon
vapingcheap
Price After Coupon: 10 ml $3.59 - 30 ml $5.84
---
Halo Cigs Vape Juice
Halo Cigs is most well known for having the #1 rated e-cigarette by PC Magazine, but they also sell a premium line of e-juice called "Purity". This premium line of vape juice is easy to spot at your local vape shop, as it's sold in a colorful blue glass bottle with a white dropper.
Halo Cigs' Purity line consists of 32 flavors, with most being some type of tobacco or menthol flavor.
Purity e-juice is made in America, using only USP-grade ingredients. It's sold in either a sample size 7ml bottle for $5.99, or a full size 30 ml bottle for $19.99. All of their e-juice is offered in 5 strengths: 0, 6, 12, 18, or 24mg. Personally, I really love Halo Cigs' amazing descriptions of all their e-liquid flavors -- they really let you know exactly what you're buying.
Halo Cigs offers customers free shipping on orders over $75, and sometimes offers coupon codes for their e-liquids. Use the coupon code below to save 10% on any purchase.
Halo Cigs 10% Off Coupon Code
ECFTEN2014
Price After Coupon: 7 ml $5.49 - 30 ml $17.99
---
Nicquid E-Juice
Nicquid is one of the largest and most well known suppliers of e-juices made in the USA. They offer a nice selection of 37 different flavors that are divided up into four main categories: Blast Fruits, Burst Menthols, Bliss Desserts, and Blend Tobaccos.
Each new flavor added to Nicquit's menu is developed over time through an extensive flavor creation process —teams of experts spend months testing new flavors and choosing the best ingredients. They also allow for extensive steep time before experimental flavors are passed on for final review. Only the best e-liquids pass the final review stage and get added to their lineup of premium e-liquids.
Nicquid takes manufacturing vape juice very seriously, as evidenced by their use of one of the only ISO Class 6 / FED STD 209 E Class 1000 Clean Rooms in the industry.
They are also one of the founding members of the American E-Liquid Manufacturing Standards Association (AEMSA), a trade organization dedicated to creating responsible and sustainable standards for the safe manufacturing of vape juice.
Prices for Nicquid's premium e-juices range from $4.89 for 5 ml to $19.99 for 30 ml, but you can save an extra 10% when you use the special Vaping Cheap Coupon code found below. You can also purchase their e-juice through a variety of other online and brick and mortar vape shops.
10% Off Nicquid Coupon Code
NIC7521VAPE
Price After Coupon: 5 ml $4.40 - 30 ml $17.99
---
Central Vapors
Central Vapors was established in 2013 in Dallas, Texas. They sell two different lines of e-liquid, a regular line and an artisan line called "Privileged." This premium e-juice line is available in three complex flavors and each bottle is pre-steeped for a set amount of time to allow for optimal conditioning.
Privileged premium vape juice is made using only domestic and local ingredients. They blend each flavor with a mix of 50% PG and 50% VG, available in 0 mg, 6 mg, 12 mg, 18 mg, and 24 mg nicotine strengths. Individual 15 ml bottles of each Privileged blend are available for $11.99, or in a three-flavor bundle for $29.99.
Central Vapors regular line of e-juice consists of over 100 different flavors and each flavor is customizable. When purchasing, you get to choose between 5 nicotine strengths, 4 PG/VG blends, and either normal or extreme flavoring.
They sell 10 ml bottles of e-juice for $5.99, 30 ml bottles for $15.99, and 50 ml bottles for $25.99. Make sure to use the coupon code below to save an additional 25% on any e-juice purchase.
All Central Vapors orders come with a free bottle of the sampler e-liquid of the day.
25% Off E-Liquid Coupon 
VapingCheap
Price After Coupon: 10 ml $4.49 - 30 ml $11.99
---
My Freedom Smokes
My Freedom Smokes not only offers customers a huge selection of flavored e-juice, but they also have a huge selection of DIY supplies to make your own vape juice, including flavorings, nicotine, PG, and VG.
They are one of my favorite vendors for DIY e-juice supplies due to their huge selection and low prices. One of their best DIY deals is a 1000ml bottle of 100mg strength nicotine liquid for only 50 bucks.
My Freedom Smokes' e-juice is divided into a number of categories, including tobacco, mint and menthol, fruit, candy, desserts, drinks, and other flavors. Most of their e-juice is made with 80% PG and 20% VG, but they also offer a line of VG based e-liquid.
Prices range from $4.99 for 10ml, $7.49 for 15ml, and $13.99 for 30ml. You can also buy larger bottles of e-juice, all the way up to 1 liter or 1000mls. Available nicotine strengths range from 0mgs, all the way up to 48mgs -- My Freedom Smokes is one of the few suppliers that sell pre-made e-juice in strengths of 36 and 48mgs, but be prepared to pay a little extra for these strengths.
You can also get a sample-size 6ml bottle of e-liquid for only $1.99, but you're limited to one of these per order. They also offer free shipping on orders over $75 dollars.
---
Madvapes
Madvapes started off selling DIY e-cigarette products in July of 2009. Since then, their operation has expanded to include over 20 retail locations, most located in North Carolina. Madvapes' catalogue also now features a large selection of vaping supplies, including their own custom mods and two lines of e-liquid.
TopVapor is their first and more affordable line of liquid, with over 200 different flavors ranging from robust tobaccos to sweet candies. Unlike some vendors, which charge a flat fee based on quantity, Madvapes' TopVapor prices also vary depending on the strength of nicotine you desire, with 0mg being the cheapest and 36mg the most expensive.
A 10ml bottle of e-juice ranges from $2.99 for 0mg to $4.49 for 36mg, and a 30ml bottle ranges from $5.99 to $8.29.
In the spring of 2013, Madvapes also launched a premium line of e-juice dubbed Lion Head. These e-liquids are created with Madvapes' own custom flavor extracts and only the highest quality PG, VG, and nicotine. Lion Head is made in small 2-liter batches, and are only available in a 50/50 mix of PG and VG. They currently offer 22 different flavors sold in 0, 3, 6, 11, 18, and 24mg nicotine strength. You can buy a 15ml bottle for $8.99, or a 30ml bottle for $15.99.
Madvapes offers free shipping on orders over $100.
---
Virgin Vapor
Virgin Vapor is well known in the vaping community for providing the best organic e-juice around. They take pride in creating some of the best e-liquid with only the highest quality organic ingredients.
They sell two different lines of e-juice, the Virgin Vapor line and the Absolute Virgin line. The difference is that the standard Virgin Vapor line uses flavors in a base of organic ethyl alcohol, whereas the Absolute Virgin Vapor lines uses flavors do not contain any alcohol.
Both lines use high quality, certified organic flavoring. Virgin Vapor is also one of the few vendors that sell true 100% VG e-liquid, since their flavors aren't PG-based, which is typical for most e-liquids. PG/VG blends are, however, available for those who want them.
---
Best Vape Juice Subscription Services
If your an e-juice connoisseur and like to try new flavors all the time you may want to join a subscription e-juice service like Zamplebox.
Zamplebox is the most well know and all around best e-liquid subscription service on the market. Joining their service is the easiest way to sample new e-juice from a huge variety of different company's. Members get a new box each month full of different e-juice's for them to try.
For as little as $24.99 you can subscribe to Zamplebox and get your first package full of 6 different bottles of e-juice. For more information click the link below.
Thanks for reading my article on the best vape juice suppliers. I will probably be adding a few more best vape flavors in the future, so keep a look out.
BONUS: If you want to learn how to mix
E-liquid
properly, check out this awesome YoutTube video by The Modified Vaper