The Best Affordable Vape Pens in the Market 2018: Prices, Comparison & Reviews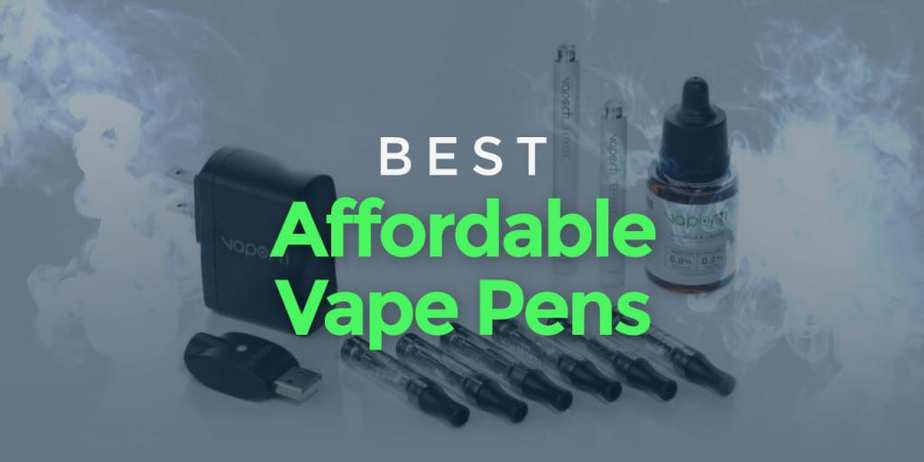 There was a time in our lives when we didn't need to be politically correct, so we could say things as they were. The word cheap meant something that you could buy at a low price. During those days, everybody went out looking for the cheapest version of the product they wanted.
Enter the period of political correctness and we no longer call products cheap, we now call them affordable. When I started doing this review I had to consciously decide whether I was looking for best cheap vape pen or the best affordable vape pen in the market.
I am one of those who would rather call things affordable than cheap. I think that the term affordable gives dignity to the product. More so if you are going to use the word best in the same sentence. However, even if I use the word cheap you should know that I actually mean it in a good way, as in affordable.
I have spent a great deal of my time in the last few days combing the market looking for the best affordable vape pen. The five that I review below are the best I could lay my hands on.
A Note About The Prices
Please note that the prices may vary as you buy these pens from different retailers. Also, at the time of writing the prices I quote in these reviews were correct. They are subject to change without notice. Also, where I find the pen on sale, I am quoting the price for the product as it is on sale. This means that the price can revert to normal once the sale is over.
Since our idea in this article is to look specifically for products that are cheap, price was an important factor in determining the products that I would eventually include in this list. However, as I always indicate, we can't look at price alone as this would give us a distorted view. We want to compare apples to apples. So, we also look at the main features of each product. For example, a product could cost less because it also has fewer features and another one could cost a little more when it has double the features of the one that costs less.
In my comparisons, I also look at the overall rating of each product. All ratings are between 1 and 5. 1 being very bad and 5 meaning that the product is almost perfect. To get to a rating for the product, I always try it first, get an idea of a rating I would give it based on my experience with it. Then I compare my rating with what others are giving for the same product.
| | | | | |
| --- | --- | --- | --- | --- |
| | The Vaporfi Express Starter Kit | selection of pre-filled or refillable cartridges, easy to use | | |
| | Kanger E-Smart Starter Kit | many color choices, easy to use even for beginners | | |
| | Inferno Express Starter Kit | single-touch activation for safe storage | | |
| | | designed with three chambers to take wax, liquid, and bud | | |
| | | takes both solids and oil, no spillovers | | |
The VaporFi Express Starter Kit
If you're looking for power and massive output when it comes to vapor, then the Vaporfi Express Starter Kit will be your product of choice. This is one the best cheap vaporizer pens in the market this year from Vaporfi (you may know them as Vapor Zone).
The power behind this vape pen is derived from two powerful batteries. I have great respect for products that come with a money back guarantee.
It's an indication that those who manufacture them are confident in the product.
The Main Features
This unit is designed for the discerning light-to-medium smoker. While the design is simple, it's also sleek. The pen is made to be easy both to use and maintain. The main aspects of this pen that I feel in love with include a great vapor production and a battery that seems to last forever. I am also generally impressed by the look of the product and the way it feels when it's in the hand. When I put all this together, I think that it provides great value at a reasonable price.
Specifications At A Glance
Uses a rechargeable standard battery of 180 mAh with a threading of 810 D2
The high capacity battery comes at 280 mAh with the same threading
Uses a USB charger
Prefilled cartridges with a capacity of 1ml are purchased separately
You can also use refillable cartridges of the same capacity that are also purchased separately
You can also purchase a clear mini cartomizer with a capacity of .9ml separately
Pros
Comes at an affordable price, the reason why I have it on this list
Looks great and it's easy to use and maintain
No need for any refilling of cartridges as they're delivered prefilled and ready for you to enjoy
The two-part body is great for anyone who is just starting and trying to get used to electronic cigarettes unlike with the more complicated ones
Uses an advanced lithium battery that gives you adequate amount of power if you're just starting out and they can be recharged many times before you need new ones
You have a choice of five flavors and you could also get refillable cartridges
The money back guarantee gives you a peace of mind which comes with knowing that you are buying a good product
Cons
This machine is not powerful enough for someone looking for an advanced experience
Even though this product is advertised as one that's suitable for both the novice and the experienced vaping enthusiast, I'll say that I think it is more suitable for the novice than a more experienced user. It will work very well for someone looking for a machine that looks great but comes at a reasonable price.
The main reason why this pen will be great for someone starting out is that it's easy to use and not very bulky. If you want to know whether it's a product I would recommend, I can safely say yes I would.
Kanger E-Smart Starter Kit
Kanger is slowly becoming a synonym for vaping products that are not only known for being innovative and high in quality but also affordable. It's natural that you will find the product in a list such as the one.
The reason why this is one of the best products in its class is that it is easy to use, smart, performs in a way that can only be said to be sensational, and the kit is quite compact.
I will say this before I go very far, just like the Vaporfi Express Starter Kit, this product will impress the novice more than it will a more experienced vaper looking for more power.
Features
I took some time to study the features of this product to see why it's becoming the new rage in town. I discovered that its popularity has to do mostly with the outstanding e-Smart tank. The transparent nature of the tank allows you to keep a check on the amount of juice that remains inside. This is an advantage over your other pens were you have to rely on guesswork to get an idea of the amount of juice that remains in your tank. To fill the tank, you will not require any special skills, just unscrew the bottom, get the tank full and screw the thing back and you are done.
Product Features At A Glance
Designed to be both compact and lightweight
Delivered with two tanks and two batteries
Designed for use by beginner vapers
Battery voltages range between 3.3V and 3.4V
Authentic product measures 12mm in diameter and 135mm in length
Comes in white, black, stainless, blue, purple, pink, and red
Pros
Designed for use by novices, if you are a beginner this is the right product for you
Very easy to use even for someone just starting out
The transparent tank shows you the amount of vapor remaining and thus eliminating the guesswork
Enjoy the peace of mind which comes with the knowledge that you are using a product manufactured by the legendary Kangertech
The product comes in a variety of colors giving you the choice to get the one that exactly goes with the person that you are
Cons
I have the same observation on this pen as I did with the Vaporfi Express, it is generally designed for the novice vaper, anyone looking for a more powerful experience would do themselves a favor by going with something more powerful which could cost a little more than this one
On the whole, this is a great product that you can expect to come from the people at Kangertech. When you receive your package, expect two full devices with two batteries and its two tanks. The batteries have a rating of 320 mAh. This is the reason behind their long life. It is lightweight, owing to the lightweight but durable aluminum-zinc used in its manufacturing. This is certainly a smart choice to get you started with the concept of vaping.
Inferno Express Starter Kit
By the time I got to review the Inferno Express Starter Kit, a pattern was starting to emerge; the best cheapest vaporizer is essentially manufactured with the beginner vaper in mind. The Inferno Express is a good cheap vape pen for a person who wants to try out vaping.
With this pen, you have a choice. Most of the pens I am seeing in this class are also offering a variety of color so that each user can pick a product color which represents the person they are. When holding this product, it feels strong and comfortable thanks to some parts of the body that are manufactured from Stainless Steel.
Features
So what are the features which you can expect from this pen? Some of the leading ones I could find include 650 mAh battery and a drip tip made from metal which makes holding it feel not only compact by comfortable too. I'm not sure if this e-cig qualifies to be labeled lightweight but I know that if it does not, it's just a little above being lightweight. What I now too is that using it is quite simple as all you need to do is to simply refill the tank and do a few clicks. It allows you to vape even while you're charging the unit.
Product Features At A Glance
Simple design
Operates on single 650mAh battery produced by Inferno,
Has a single BCT tank with a coil of 1.8 Ohm
It is delivered with a USB charging cord
Pros
The design is simple enough for the product to be used by someone using an electronic cigarette for the first time
The battery can be stored easily and safely, thanks to a battery which features a single-touch activation
The tank is easy to fill
Comes at an affordable price but offers great value
Cons
One thing that I've since come to expect from products from the Inferno range is style. They've never disappointed in this regard. You'll also appreciate the pass-through function that comes with this particular unit. It permits you to continue vaping even if you have your pen on the charger. Look at its size, we are talking here about something as small as your regular cigar.
For copious vapor, expect this pen's coil to have a resistance of 1.8 ohms. You can also get a replacement heating coil for this product. I can safely recommend this product. But as I've come to realize, it will work wonders for someone who's just starting on their vaping journey. While I'm sure that this product will do fine for an experienced vaper, I can hear a few saying that it is not powerful enough.
I kept hearing about the Vape Oregon Mini Kit and I was wondering why it had suddenly become all the rage in town. So when I decided to see if this is a good cheap vape pen and boy was I impressed! I love the fact this vaporizer is not only attractive, it is effective and versatile too. It's designed to be a three in one kit for the reason that within it there are three attachments.
The first piece is for the liquids, another for the buds and the last for wax. All these separate chambers also have separate heating elements. The different materials require varying amounts of heat to properly vaporize.
Features
Some of the features that impressed me on the Vape Oregon Mini Kit include the following.


Designed to take wax, bud, and liquids
Three separate heat settings for each type of material
Brand new unit comes with a USB charging cord, and instruction booklet, a concentrates bottle, and a small poker
The kit also includes four replaceable heating coils
Comes with a carrying case made from leather and equipped with a zipper
You can select yours from various colors
Pros
The glass dome mouthpiece enables you to see when the vapor has formed so you know when to start drawing
The machine is simple to use and works well all the time
The battery holds its charge quite well and it charges easily using a USB charger which plugs into a wall socket, check this guide on Lithium Ion battery safety
Cons
The mini version of the pen does not have the attachment assortment that you will get with the larger versions of the pen
If there is any one thing that Vape Oregon pens pride themselves with, it's the fact that their pens have a glass globe mouthpiece. They have incorporated holes on the side of the pen so that they can enhance the type of airflow that will get you blowing clouds much quicker than you expect.
The designers also wanted to create a product that will make packing the atomizer with wax concentrates a breeze. This is a product that I can recommend without the risk of contradicting myself. I love the compact nature of this unit and I know a lot of other people who do not like to draw attention to themselves will also do.
Okay, I know that the other pens I've been looking at cost almost half this pen, so many may think that this is not the kind of pen that must feature in a list of cheap pens. If you are one of those who thinks so, just take some time to look at what the real expensive pens cost and you will come back to tell me that I am right to include it here.
Because it is not the cheapest you will get, I will place it here at number five; the very last. If you want to see what others vaporizers will be looking like in the future, look at the Cloud Vaporizer Pen 1.0. If you doubt this statement, you should look at the imitations of the Cloud V in the market.
Features
Manufactured by Cloud Vape, an industry leader in these kinds of products
Designed to be used for vaping with concentrates that are solid but it will work just as well with oil
Coil atomizer manufactured from titanium
Choice of many colors
Lifetime warranty on the battery
The battery offers a stable voltage
Has a voltage of 110V
Pros
The pen is popular for its safety features, when it goes for 15 seconds on continuous vaporization it will deactivate
Can easily be locked when you store so that the coil is not accidentally reactivated and wasting your concentrate
It is designed to minimize the incidences of spillovers
Produces strong hits that are not very different from the real smoking experience
Does not produce the overpowering scent other vaporizers based on glycerin tend to have
Cons
The hits you get from the machine are not very consistent
The heating element has a tendency to get heated pretty fast producing a smell like that which gets produced when you are burning wire and in the process ruining your vaping experience
Since the unit is so compact, everything is so close together which makes the vapors that come out quite hot when you compare to other pens
Now that I have looked at the features, the pros and cons, I can safely say that I am still convinced that this product should be on this list of the best cheap vaporizer even though I wouldn't be as creative as to call it the best cheapest vaporizer.
Even though I listed a number of cons for the product, none of them constitutes a deal breaker. If you look at the construction, the quality of materials and the compact design you'll agree with me that it is one of the best products in this class south of $100.
On the overall, it is a reliable pen that gives you lots of good hits. If you love small and compact, then the Cloud Vaporizer Pen 1.0 is one product you will find attractive. I love the many colors in which this product arrives. You can pick one that represents the person that you are.
Conclusion
Well, I know this has been a mouthful but today I was in the mood to do a thorough job of doing these best cheap vape pen reviews. I am sure that if you are in the market for a pen that will not leave a deep hole in your pocket, you are now in a position where your choice has narrowed down to the five best products you can find in this class.
The one thing I like about all the five products that I have featured in this review is that each one is designed with a certain vaper in mind. Just check out the features and the rainbow colors most of the units come with. You will get one that speaks to your character.
If not, do not fret, visit this site https://vapingcheap.com/best-vape-pens/ to get more affordable options in terms of quality and performance for a great price.

Happy Vaping!