Nikola Antares Pod System $19.07 + FS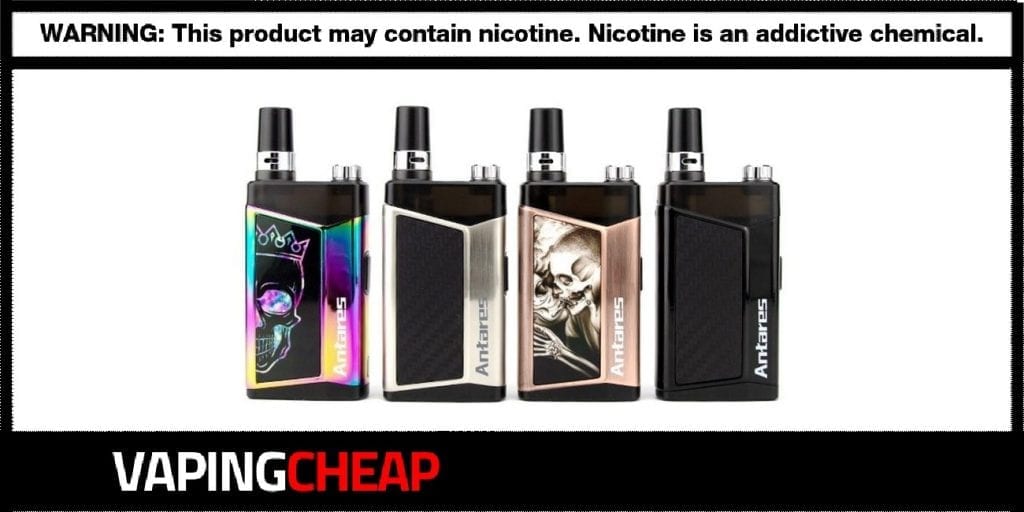 The Nikola Antares Pod System is now in stock and on sale for only $19.07 plus free worldwide shipping. No code is required for this discount. It's also available from another China based shipper for only $24.99 when you apply our VapeSourcing Coupon "NiAKit" There's four color options you're able to choose from which are Black, Silver, Bronze and Rainbow.
Nikola's Antares Pod Vape Kit sports a design we've seen before, and it's at no surprise as this form factor and design simply works well. You can thank the Lost Vape Orion Q for that. However, it does have some differences and not a total copy such as the coil design, and pod cartridge, which we'll cover later. The Antares Pod Mod has a huge 1,200mAh internal battery, which is quite impressive given its overall size. In addition, it offers three different voltage settings with an LED light indicator letting you know which mode you're currently in. There's soft, normal and hard modes you can swap between from.
Depending on which voltage setting you're set on, you'll get between 14w and 18w. Changing it is done effortlessly by simply clicking the firing button 3 times. There's multiple safety protections built in as well, which is always a good thing!
The Nikola Antares Pod System Kit does utilize a refillable cartridge and replaceable coils, which is a massive pro in our book. This is something the best pod vapes will feature as you're not replacing the entire cartridge, just the coils, saving you cash in the long run. The Antares replacement cartridge has an e-liquid capacity of 2ml, and has a top fill design. Now, the coils are a 0.6 ohm mesh coil, and the airflow is adjustable to provide either a MTL or DL vape experience, so you can certainly use both nicotine salt vape juice and regular free base e-liquids.
All in all, this is a great deal on the new Nikola Antares vape pod kit. If you're looking for a new pod system that utilize replacement coils, and offers multiple output modes, then you'll definitely want to check out this pod mod kit.
Nikola Antares Pod Kit Features:
Built In 1,200mAh Battery
Zinc Alloy Construction
Wattage Output Range: 14w - 18w
3 Voltage Output Levels

Soft (3.0v)
Normal (3.3v)
High (3.5v)

Resistance Range: 0.5 ohm - 2.0 ohm
Various Safety Features
Refillable Pod

2ml Capacity
Top Fill
Adjustable Airflow (MTL & DL)

Replaceable Coil System

0.6 ohm Mesh Coil (11w - 25w)

4 Color Options Available
What's Included
Nikola Antares Pod Mod
Refillable Pod Cartridge (2ml)
Two 0.6 ohm Mesh Coils
USB Cable for Charging
User Manual