Advken Manta V2 MTL RTA $16.45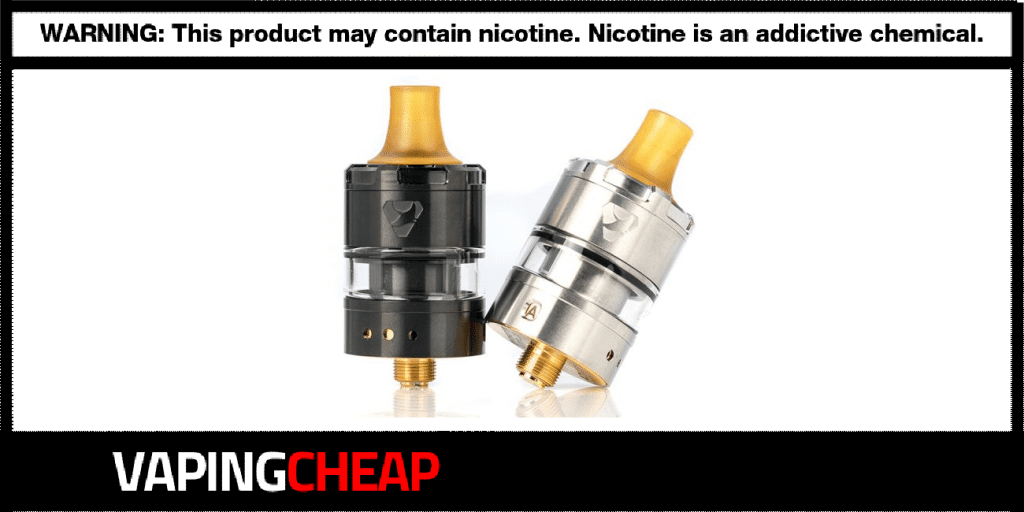 Here are cheap deals and discounts for the Advken Manta V2 MTL RTA. Get yours for just $16.45 using code "vapingcheap". It's also in stock at another China based shipper for $19.35 plus free shipping. There's two color options available which include Stainless Steel and Black.
The Advken Manta V2 MTL RTA is a follow up to their original release, but has been improved to offer a proper mouth to lung vape experience. Firstly, it sports an overall diameter of just 22mm, so it'll be a great match for most devices, especially single battery mods.
Also, it has a maximum e-liquid capacity of 2ml, and has a top fill design. It's threaded and has two large filling ports, so it's very easy to fill no matter what type of bottle you're using. Also, the Advken Manta 2.0 MTL RTA comes pre-installed with a PEI narrow bore drip tip, suitable for MTL vaping.
Like many other RTAs designed for this style of vape experience, it features a simple two post deck design. Building on this atomizer is a breeze, and wicking is simple. Now, what makes this one better than the original is the actual airflow design.
The Advken Manta 2.0 MTL RTA features a four level bottom airflow control system. There's four letters you'll see marked on the AFC ring, which include B, H, A, S. Depending on where you have aligned the airflow setting will determine the type of airflow, and how much air is coming in to travel under your coil. Airflow settings H and A will provide the most airflow while the other two (B and S) will provide a tighter draw.
All in all, this is an excellent sale for the Advken Manta V2 MTL RTA. If you enjoy this style of vape (MTL), then you'll definitely want to check out this release. With its airflow improvements, and ease of use, it's definitely much better in every way when comparing it to the original.
Advken Manta 2.0 MTL RTA 22mm Features:
Overall Diameter: 22mm
Superior Stainless Steel & Pyrex Glass Construction
Maximum E-Juice Capacity: 2ml
Threaded Top Fill Design with 2 Large Ports
2 Post Build Deck (For Single Coils)
PEI 510 Drip Tip (Narrow Bore)
Unique 4 Level Bottom Airflow
Color Options: SS, Black
What's Included
Advken Manta 2.0 22mm MTL RTA
Spare Glass Tank Section
Bag of Accessories
User Manual
Check Out The Advken Manta V2 MTL RTA Review