Aspire Cleito Shot Disposable Tank 3 Pack $14.07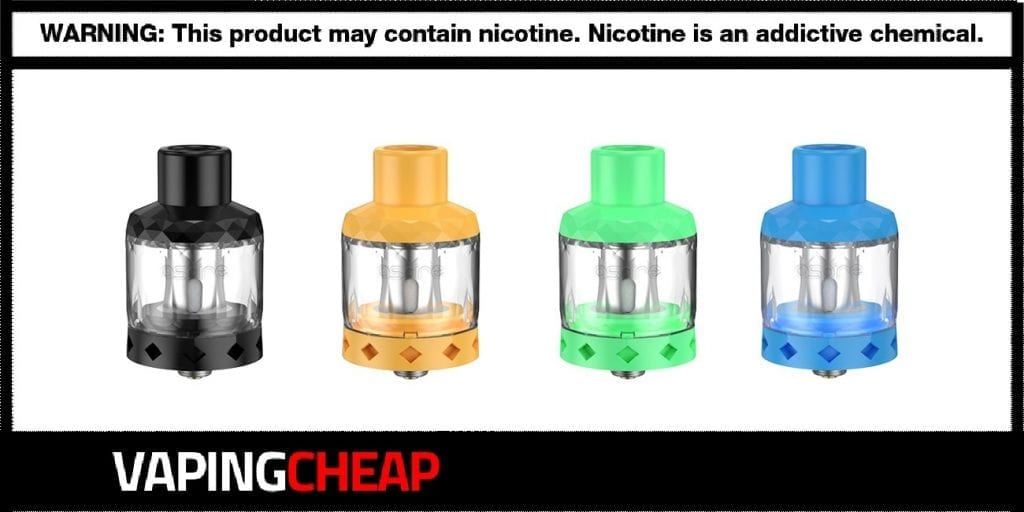 For a limited time only, the new Aspire Cleito Shot Disposable Tank 3 pack is now on sale. Grab yours for just $14.07 when using discount code "vapingcheap". It's also available from a USA based store for only $16.16 with free shipping over $50 when using the code "VC10". There are multiple color options available including Cloud, Night, Cyan, Lime and more.
Aspire's new Cleito Shot Tank sports an overall diameter of 27mm. It has a food grade PCTG plastic construction, which is expected with any disposable tank design. At the top is where you'll see its wide bore drip tip, and at the bottom is where the airflow comes in. The airflow itself is non-adjustable, but provides a comfortable direct lung vaping experience. It does have a diamond design as well, so the airflow is quite smooth. The Cleito Shot Disposable Mesh Tank does have an e-liquid capacity of 4.3ml, and can be filled easily using the threaded top fill system.
Since it is disposable, it features an integrated mesh coil with a resistance of 0.3 ohm. We're glad they decided to implement a mesh coil design, as we've seen some of the best sub ohm tanks to come out in the last year feature this type of coil. They not only provide amazing flavor, but simply last longer than traditional coil heads. This mesh coil is rated between 35w and 45w, so you won't be needing a whole lot of power to get a satisfying vape, which is a good thing in our book.
If you're a fan of Aspire, and looking for some new disposable tanks, then definitely check out the new Aspire Cleito Shot Disposable Tank. This brand is known for making awesome tanks and coils, so you won't be disappointed with the performance of this one.
Aspire Cleito Shot Tank Features:
Disposable Tank Design

Food Grade PCTG Plastic Construction

Overall Diameter: 27mm
Maximum E-Liquid Capacity: 4.3ml
Threaded Top Fill Design
Diamond Design Airflow Slots (Non-Adjustable)
Built In Mesh Coil

0.3 ohm Resistance
Wattage Range: 35w - 45w
Linen Fiver & Organic Cotton
Non-Replaceable

5 Color Options Available
What's Included
Pack of 3 Aspire Cleito Shot Mesh Disposable Vape Tank
Aspire Cleito Shot Tank Review
More Great Vape Deals...
---
Breazy Big Bottle Sale! 40% Off
For a limited time only, Breazy is having their Big Bottle Friday Sale right here where you can save 40% off using coupon code[...]