Vaporesso Target PM80 SE Review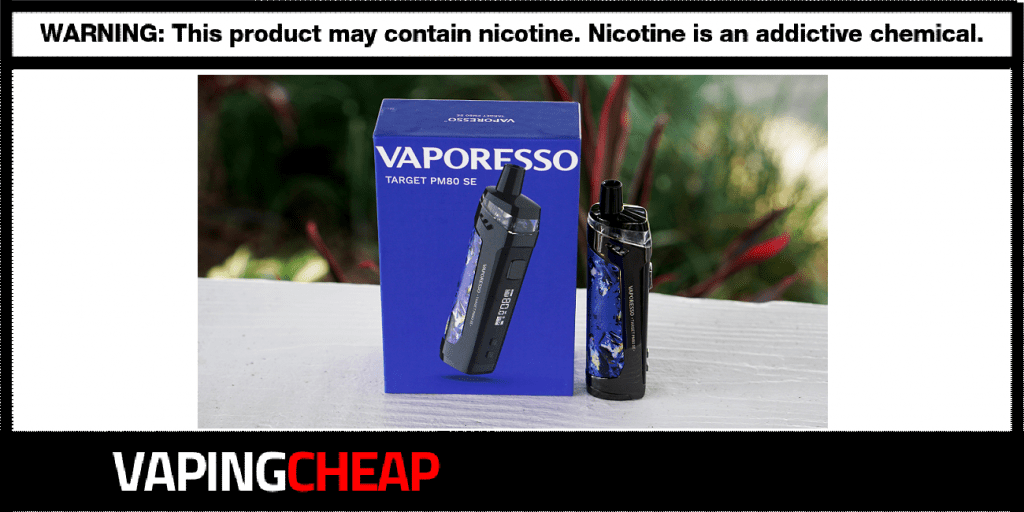 When pod systems were first released in the vape world, they were primarily designed for mouth to lung vaping. However, as time passed, some manufacturers decided to push the boundaries and turn some vape pods into something much more. Pod mods offering way more power, able to fire sub ohm coils, and even utilize replaceable batteries. Enter the Target PM80 SE by popular vape brand Vaporesso, promising to deliver all of that in a compact form factor aiming to please direct lung vapers. In our Vaporesso Target PM80 SE Review, we'll cover our first impressions, performance, pros and cons, and let you know whether it's worth it or not.
Vaporesso Target PM80 SE Pod Mod Features
Vaporesso Target PM80 SE Initial Impressions
Many newer Vaporesso products come in similar packaging, but in my eyes, that's definitely a good thing. On the box, you'll see everything you need to know such as what's included, some primary features and an actual picture of the device. Sliding open the packaging will reveal the Target PM80 SE or second edition. My color was the blue variant with a gunmetal finish, but there are plenty of other unique colors. The blue sleeve or grip is what caught my eye at first. Not only does it look awesome, but it's actually very comfortable.

Without a battery inserted, the Vaporesso Target PM80 SE is quite light, and much lighter than I thought it would be. With a battery installed, it's not much heavier either. Speaking of, the hinged battery door opens with no issues and securely holds your 18650 vape battery in place. Although the ability to house an external battery is great, I do want to mention that it is larger than the original Vaporesso Target PM80. Honestly, this is to be expected since it does not have a built-in battery.
On the front of the pod mod is where you'll find the screen, wattage adjustment buttons and firing button. When turning it to the side, that's where you'll see the two airflow slots. Something else I want to mention right away is that to adjust the airflow, it utilizes silicone plugs. There's no other way to control the airflow, or close off any air slot one by one, so this was somewhat of a bummer.
However, it is designed strictly for direct to lung and restricted direct to lung vaping styles, so I don't think this will be a huge issue for most vapers. Either way, it is something you should know before you buy one. The hinged battery door opens with no issues and securely holds your 18650 vape battery in place.
What's Included
Alongside the PM80 SE, it does come pre-installed with an empty pod cartridge and to my surprise you get an extra one inside the box. This isn't something you'll see with other pod vapes, so I was happy to see that Vaporesso is taking that extra step and giving you more bang for your buck. You'll also get two replacement coil heads, a charging cable, user manual, warranty card, reminder card and two airflow silicone plugs.

For the price that the Target PM80 SE is set at, you do get quite a lot inside the packaging, just like what we saw in our Vaporesso GTX One Review. That's always a huge pro in my book!
Vaporesso Target PM80 SE Performance
Moving onto the juicy part of our Vaporesso Target PM80 SE review, the performance! This device has a maximum wattage output of 80w, and I can say for sure that it does deliver that when you set it there. Do I recommend vaping that high of wattage with a single battery? Absolutely not, as you'll just run through the battery in no time. Just keep in mind if you are planning to vape at 80w, be sure to understand battery safety and ohms law, just to be on the safe side.

Their claim of instant firing speed is also accurate. This device fires immediately! There's no hesitation coming from the Target PM80 SE. As soon as you hit that fire button, you're vaping. There's a couple of other modes available as well alongside regular wattage or power mode. To access this, a simple click of both wattage adjustment buttons will take you there.
Other modes include Pulse and Smart VW. The latter is great for beginners as it intelligently recognizes the coil attached and sets an appropriate wattage. Now, the former is awesome if you're looking for power as you vape. I'm a simple vaper, so even with all of these features available, I stuck with good old power mode.
GTX 0.6 Ohm Mesh Coil
One of the included coil heads inside the box is the GTX 0.6 ohm mesh coil. This is specifically rated between 20w and 30w. I found this to be pretty accurate, and I vaped this one primary between 25w and 30w. When looking at this coil before installing it into the Vaporesso Target PM80 SE pod cartridge, I knew right away this was designed more for restricted direct lung. The primary reason as to why is the actual bore of the coil. It's smaller which means a more restrictive draw. With that being said, it's that your vaping preference, you'd love this coil.

Flavor was top-notch! However, there is somewhat of a break-in time needed before you get this amazing flavor I'm speaking of. To speed up the process, be sure to drip a few drops of your favorite e-juice into the coil before installation. Additionally, you'll want to let it sit for a few minutes and start at a lower wattage when vaping it. Vapor production was good too, especially coming from a pod device.
GTX 0.2 Ohm Mesh Coil
Now, this specific coil, the GTX 0.2 ohm mesh I was pretty excited to try out. This beast of a coil head is rated up to 60w! That's pretty insane considering this is a pod device. Let me tell you, this coil can easily handle that high of a wattage setting, and even slightly higher too if you want to push the limits. It kept up just fine as well when it comes to wicking, even when chain vaping with a high VG e-liquid!
The flavor and cloud production is out of this world. Honestly, I cannot believe the cloudage I was getting at 60w. It's almost on par with some sub ohm tanks I've vaped on in the past. For you vapers who love clouds and flavor, you'll want to try out this coil first. There's plenty of airflow with no silicone plugs installed too, so you have more than enough for a comfortable direct to lung vape experience. The GTX 0.2 ohm mesh coil is impressive to say the least, and my favorite of the two that's included.

Now, plan on refilling your pod cartridge more often with this coil and 60w. Speaking of, the filling port on these pods is located at the bottom. Honestly, I wish it had top fill and while it's not difficult to fill, it's still not as good as a top fill system. For me, it's not a deal breaker, but is certainly something else you vapers will want to keep in mind.
Target PM80 SE Pros & Cons
Vaporesso Target PM80 SE Pod Review Conclusion
Vaporesso's Target PM80 SE stays true to its design, and is indeed a sub-ohm pod mod. This isn't for mouth to lung vapers and you can tell by what's inside the packaging. With two lower resistance coils and the high wattage output, it is by far dedicated to you cloud chasers. Not to mention, the flavor you'll get is pretty spot on too. Don't fret though, if you enjoy mouth to lung vaping, there are plenty of options out there for you. One of those options is the Vaporesso Xtra, which we would highly recommend to any MTL vaper.

Moving back to the PM80 SE, it's an absolute monster of a vape pod. It packs plenty of power, fires instantaneously, comes with flavorful coil heads and best of all, it's incredibly user-friendly. Although all of this is true, there are some negative aspects to it. All of them stated here are not deal breakers for me personally, but might be for some other vapers out there.
Like mentioned earlier, I do wish there was a better airflow adjustment system and a top fill port. However, I will say that when it comes to the airflow, I didn't care to adjust it as it was perfect for me wide open. As far as charging goes, we'd recommend using an external vape charger and use the micro USB port in emergencies only.

So, would I recommend this product? Absolutely I would, especially if you enjoy direct to lung vaping. Of course, for vapers who prefer mouth to lung, I'd say look elsewhere, but this wasn't designed for that, and they state it right up front. The Target PM80 SE is a device that is now my go to when I'm in need of something portable yet powerful enough to deliver the vape I'm looking for. If you're looking to get one of your own, you'll want to check out our Vaporesso Target PM80 SE deal for a discounted price.

I hope you enjoyed our Vaporesso Target PM80 SE Review! Feel free to leave any questions or comments below! Let us know if you tried this device, and what you like or dislike about it. Thanks for reading!