Vaporesso Gen S Review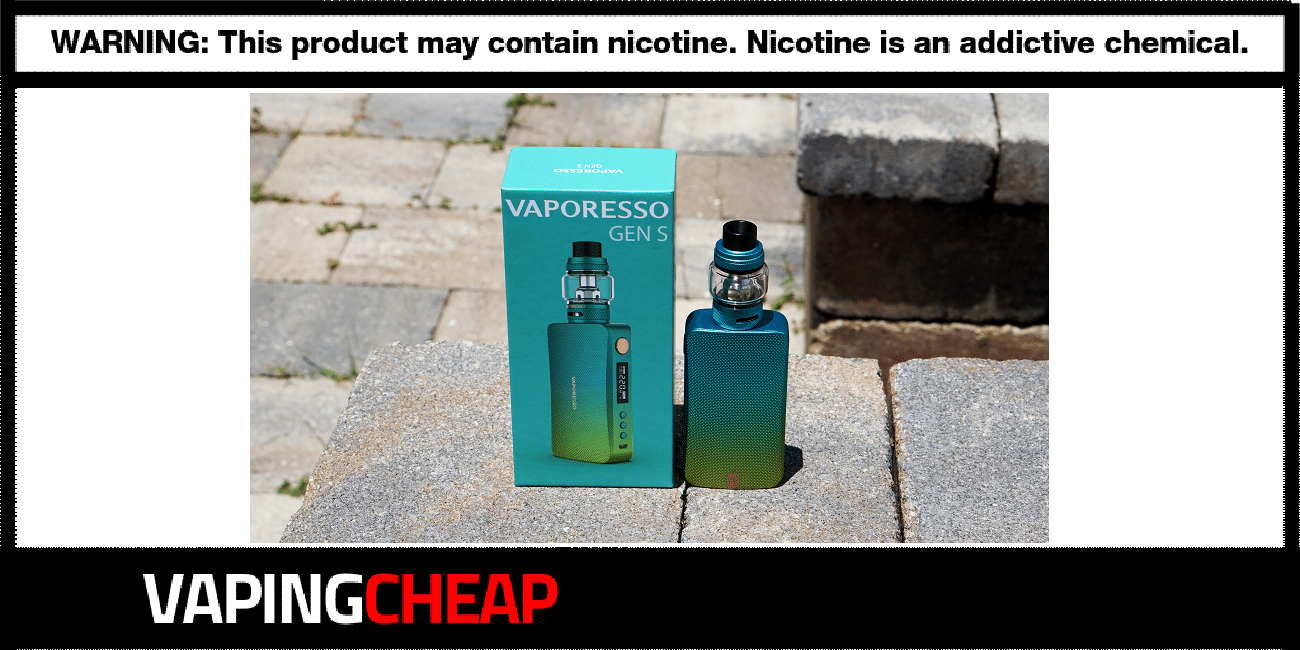 Dual battery mods with high amounts of power, tons of battery life and packed with a bunch of unique features is something we vapers love. Whether you're in need of an upgrade or just looking for the new best device, there's always room to add one more to our vape arsenal.
With that being said, widely known vape brand Vaporesso has just launched their latest Gen S which takes an original design, but offers some new additions giving you yet another option for next level performance. So is this mod and kit the next best thing? We'll let you know in our Vaporesso Gen S review.
Vaporesso Gen S Kit Features
Like we always do before getting into the actual review and first impressions, we'll give you some quick facts. Here are the primary features you'll find with the new Vaporesso Gen S Mod and NRG-S Tank, which you'll find in the full starter kit.
Vaporesso NRG-S Sub Ohm Vape Tank
Vaporesso Gen S First Impressions
In my first impressions of any vape product, I always start with the packaging. Vaporesso has always done a great job with this, and this time is no exception. Simple packaging without too much going on is always nice to see. You get the name of the actual product, a sample image with branding, information about the kit or mod and what's inside. I will say though, in comparison to the review I did for the Xtra, the packaging is huge! It's to be expected though since this is a full-blown, high wattage vape kit that's packed inside.

Once you slide open the box, you'll reveal the two main products of the kit: the Gen S 220w Mod and NRG-S vape tank. Of course, the first thing I noticed was the similarities to the original Gen Mod. I'll say this again, just like I did in the Gen Nano review, this is most definitely not a bad thing.

The Gen just looks like a high quality and premium box mod. It's the same impression once you hold it in your hands too. The quality is simply outstanding and the textured durable design is incredibly comfortable. Even the color combination was impressive. It's amazing! The mod fades from a lime green to almost an aqua blue at the top. I'm glad Vaporesso went this route. Why try and reinvent the wheel when this aesthetic is something pretty much every vaper loves?
It is slightly on the large size but that was expected. Within the Vaporesso Gen S, it has room for two high drain 18650 batteries. The door snaps into place securely with magnets, so no issues there either. On the front you'll find all the buttons you'll need for operating the Gen S. Right below the firing button is the large 0.91 inch (2.31 cm) OLED display screen. I do wish they made an improvement here with something like a color display, but honestly that's not really needed as you're using this to vape.
NRG-S Tank Impressions
Since I have the full Gen S 220w Starter Kit, the Vaporesso NRG-S tank was packed inside the box. My first impression was that this tank is quite huge! Comparing it to some other sub ohm tanks, it looks monstrous. This isn't a bad thing by any means though! With a powerful mod like the Gen S, you need a tank that could handle the power and carry lots of vape juice, which is exactly what this does. With the smaller straight glass tank, it holds 2ml. However, once you slap on the bubble glass tank, it holds a massive 8ml! That is impressive to say the least.

Up on the top, the Vaporesso NRG-S sub ohm tank comes pre-installed with a wide bore delrin drip tip. This is ideal for high wattage vaping since you won't be burning your lips at these settings. Additionally, the sliding top-fill system is convenient. There's an arrow on the top which shows you exactly where you need to push to open it. Thankfully, it's clearly marked unlike some other devices. Lastly, included in the packaging, you'll get the new upgraded GT and GT4 MESHED coils, which we'll dive into later on.

All in all, I was thoroughly impressed with the Vaporesso Gen S 220w Box Mod and NRG-S Tank. I expected to love the look and feel of the Gen S, and I was not disappointed at all! The textured structure and ergonomic design is just that good. Not to mention, it's packed with tons of awesome features, which is what we'll dig into next - the performance!
Vaporesso Gen S Performance
No matter how good a device looks or how great it feels to use, it all wouldn't matter if the performance sucked. Thankfully this is not the case with the Gen S and I'll tell you exactly why.
Enough Power To Satisfy The Masses
Is 220w enough? I'd say yes for the vast majority of vapes. I hardly ever go over 120w, so for me, it's way more than enough. When it comes to testing out if it actually hits the 220 mark, it's pretty close and feels like it's delivering that high of a wattage. Now, do keep this in mind, especially with dual battery mods - there aren't many 18650 vape batteries that can steadily handle this kind of output.

If you're looking to constantly vape at that high of a wattage then you might want to go for a triple or quad battery device. However, for most vapers out there, the power of the Gen S is sufficient and you will absolutely not have any issues in this department. If you do decide on vaping at those high wattage settings, please always remember to understand ohms law and battery safety.
A feature you'd probably enjoy when vaping is Pulse Mode. What this specific mode does is provide a boost in power every 0.02 seconds. This allows for a stable yet flavorful vape experience. Since I've dug into this mode, I've stuck to it mostly.
It simply provides a really great vape! However, if you just want to be able to fully control the settings, they've brought back the DIY mode last seen with their OMNI Board 4. With this setting, you can dial in the exact wattage and vape how you want to. If you're like me and enjoy this, I recommend giving Pulse Mode a shot. You'd be surprised by how much you'll enjoy it!
Temperature Control For Dummies & Usability
As you come to expect with a device like this, it is indeed packed with plenty of features. However, in some cases and with other vape mods, ease of use is not the same. Thankfully, the Vaporesso Gen S offers a bunch of different improvements and usability features that just makes it a breeze to use on a daily basis.

For one, with this version of their popular Axon chipset, the Gen S sports a new user-friendly UI or user interface. It's functional yet easy to understand and crystal clear, so you're able to see everything with zero issues.
Since using this advanced chipset, this device is able to intelligently recognize the coil you've attached. For example, if you installed a TC compatible coil in the NRG-S tank, it notices that and there's only one step needed to set temp control. Seriously, how amazing is that? I remember years ago when setting up a temperature control coil was a hassle!
All Day Battery Life
When it comes to the battery life of the Vaporesso Gen S Mod, it can certainly last you all day on a single set of batteries. However, this really boils down to how much you're vaping and the wattage you've set it at. If battery life is a concern for you, there's the Power ECO mode that's available.
This specific mode is offered to you vapers looking to extend your battery life as long as possible. Additionally, the Gen S does support 2.5A charging speed and can fully charge a set of batteries in just 60 minutes! As amazing as this is, it's unfortunately still a micro-USB charging slot and not a type-C.
Portability is another great feature this device has to offer. Weighing in at only 107 grams, taking this out with you shouldn't pose an issue. Yes, it's a larger device since it holds dual 18650's, but it's still so light and easy to carry. Not to mention, a mod like this that's ready to deliver a whopping 220w of power is just awesome. When it comes to being a daily carry, it checks all the boxes you'd want it to.
NRG-S Tank - Big Capacity & Convenience
Although the Gen S 220w Mod is impressive, we certainly can't leave out the NRG-S tank which offers some new and upgraded MESHED coil heads. Before digging into the performance of those coil heads, we've got to talk about the convenience of this atty. As mentioned earlier, with the bubble glass tank installed, the NRG-S holds an impressive 8ml of vape juice. There aren't many that hold this amount and it's great to have to only fill this tank once per day.

With the straight glass, it holds only 2ml, but I'm sure that's to comply with TPD. Even if you didn't like the look of bubble glasses, you cannot resist the option of having that much capacity available to you. Filling is a breeze too! Simply push forward where you see the arrow and it'll slide open. It does take a little force to open it, but that is definitely a good thing. You wouldn't want this to open accidentally in your bag or pocket now, would you?
Even swapping out the coils is easy. With just a few threads, the coil heads can be taken out and replaced quickly where it's almost plug and play.
0.18 Ohm GT MESHED Coil
We'll kick off the Vaporesso NRG-S Tank performance review with the pre-installed 0.18 ohm GT MESHED coil head. With its lower resistance, it has a recommended wattage rating of between 50w and 85w. I do agree with this wattage recommendation, but it does perform better with higher wattage settings. At the max recommended 85w, you're getting a super smooth, warm and flavorful vape experience.

Airflow is adjustable and comes in from the bottom of the NRG-S sub ohm tank, but I enjoyed it mostly wide open. Once you start to close it just past half way, it starts to get slightly turbulent and noisy nor is it as smooth. It's not a con for me, but worth mentioning for you vapers who like a bit more of a restrictive vape experience.

Overall, the flavor and clouds from the 0.18 ohm GT MESHED coil were excellent. There wasn't any leaking either, which is always a good thing to see. These GT coils were impressive when they were brought to the market, but Vaporesso has taken it to a new level with these upgraded coils.
GT4 MESHED 0.15 Ohm Coil
Moving onto the other coil that's in the box, the 0.15 ohm GT4 MESHED coil head. Now this one in comparison to the 0.18 ohm vapes quite differently. For one, it features a different design on the inside of the coil. It's a dual mesh rather than a single mesh. What this means is a more restrictive draw and requiring slightly less wattage. Speaking of, the GT4 MESHED is rated between 50w and 70w, which again, I agree with.

I enjoyed this one mostly between 60w and the maximum 70w. However, the draw with the airflow wide open was slightly noisy where you hear a whistle sound. While it's not a huge deal for me, I know it's something other vapers simply hate. The good news is that by closing the airflow just a quarter will completely quiet it down and smooth out the draw further. This is where I kept it at.

The flavor is also incredible! There's ever so slightly less vapor production, but I'm not complaining! I'd say the flavor off of the GT4 MESHED edges the GT MESHED. Of course, this is subjective.

Vaporesso really knows what they're doing with replacement coil heads and completely knocked these out of the park. While these aren't the same and cross compatible with tanks and pods like we saw with the Vaporesso GTX One and Target PM80 SE, that doesn't take away from its amazing performance. Plus, you wouldn't want to run these coils in a smaller device, they're way better suited to a powerhouse of a mod like the Gen S.
Vaporesso Gen S Pros & Cons
Gen S Review Conclusion
The Vaporesso Gen S Mod and Kit literally provides a vaper with every feature they might need. It's built like a tank with no rattle and even the door stays in place firmly with zero movement. I won't lie, I was expecting to like the Gen S, but I must admit - I absolutely love it. I've got no complaints personally, but I did mention some cons as nothing is absolutely perfect.

For one, we'll always recommend using an external battery charger for your batteries so the complaint of no type-C isn't really a con. The whistle on the tank is only minor, but I know it can be somewhat of an annoyance. Thankfully it's only certain scenarios where you'll experience the noise.

Overall, I highly recommend the Vaporesso Gen S! This device offers insane performance while remaining user-friendly and convenient. Whether you're in the market for an upgrade or looking to get into high wattage vaping, the Gen S Kit has got you covered. For vapers looking to grab one at a discount, check out our Vaporesso Gen S deal post.

Thanks for reading our review on the Gen S 220w by Vaporesso! We hoped you enjoyed it! Let us know in the comments if this is a device you'd want in your collection alongside any questions you might have.