Wotofo Serpent SMM RTA Review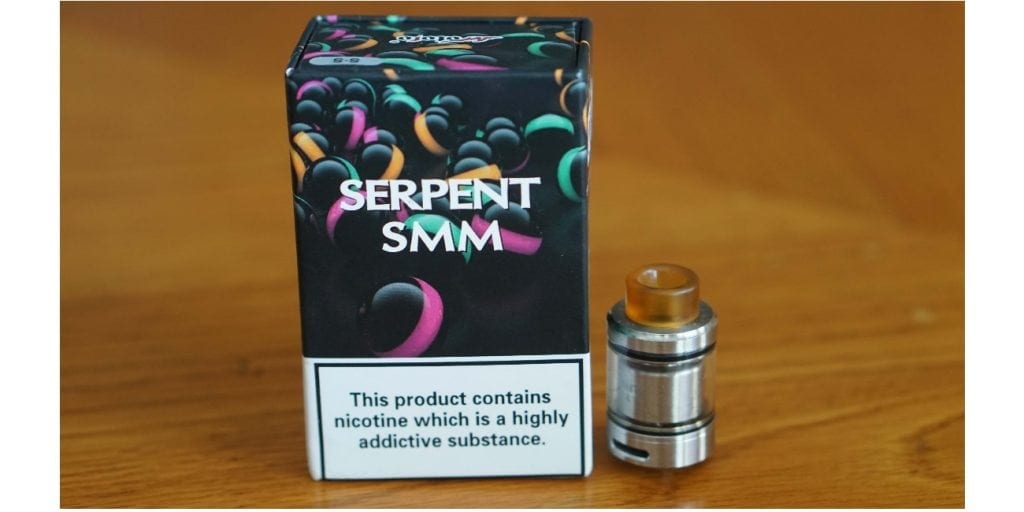 Wotofo Serpent SMM RTA Review
Wotofo is a company that's well known for making excellent flavor chasing atomizers, especially in their Serpent line of atomizers. The newest addition to that line is the Serpent SMM RTA, which is a collaboration between YouTuber Suck My Mod and Wotofo. Following the ever so popular Serpent Mini RTA, this is also a single coil atomizer and is designed primarily for flavor with its unique airflow and compact design.
Before getting any further, we'd like to thank Heaven Gifts for sending the Wotofo Serpent SMM our way for the purposes of this review. We will go over our first impressions, building and wicking, performance, pros and cons and conclude whether or not we recommend it!
Heaven Gifts Coupon Code: ACHEAP15 for 15% Off!
First Impressions
Upon first receiving the Wotofo Serpent SMM RTA, I immediately noticed the familiar Wotofo packaging. If you've ever purchased a Wotofo atomizer, then you know the type of packaging this is. However, this one does differ in regards to color and design since it's a new atomizer. On the front it simply says "Serpent SMM" and there is some information on the back. I do like the Wotofo packaging, because it does keep everything secure during transit, which is always a good thing.
Once you slide open the box, you're met with the Serpent SMM along with some extras! This is the first time I've ever seen an RTA come with 2 additional replacement glass tank sections. Typically you receive 1 spare, and sometimes even none. This is definitely a pro in my opinion! The color I received was Stainless Steel, but other colors are available for purchase including some newer colors such as Rainbow, Blue and Gold.
In addition, you do receive an Ultem 510 drip tip, one pack of Japanese organic cotton, a spare parts pack, user manual, and a pack of Prebuilt Clapton coils. As always, it's a pro that Wotofo includes so much when you purchase one of their atomizers. Some vapers may not like the Ultem 510 drip tip, but I personally like Ultem, so it was certainly a great addition to the Serpent SMM.
My first impression of the Wotofo Serpent SMM RTA was that it is rather compact, especially when considering it's base diameter is 24mm. Usually tanks with larger diameters tend to be taller, but this is not the case with the Serpent SMM. I do like shorter and stealthier vape setups, so for me it was a pro for sure. A subjective con to be mentioned is that it is not compatible with your 810 drip tips, only 510 drip tips. Honestly, with this type of atomizer, this is to be expected since it's aimed more towards flavor. The bore of the included Ultem 510 drip tip is slightly wide though.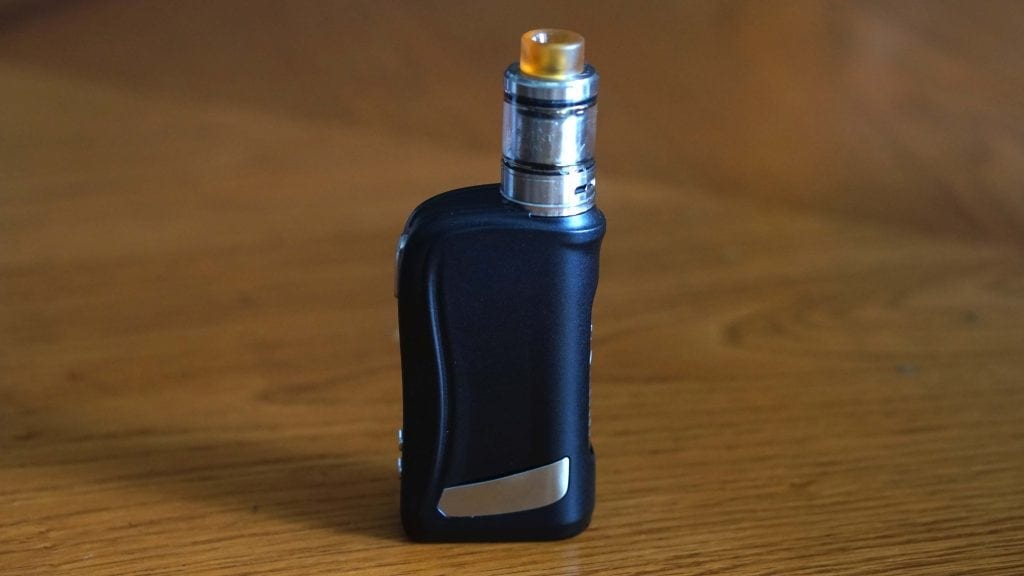 What's impressive about this RTA is that it can hold 4ml of e-liquid, and when looking at its size, you wouldn't think it does hold that much e-liquid. This is yet again another huge pro with this atomizer, as many other smaller RTAs have way less e-juice capacity.
The Serpent SMM does not have juice flow control, which can be seen as a con, but with its design I don't think it'd be possible for it to have a juice flow control. It's basically setup like the Troll RTA by Wotofo, except single coil. The airflow adjusts pretty easy, and the airflow control ring does come off, which is great when cleaning it.
Something worth mentioning is that the Serpent SMM did come clean with little to no machine oil. One wash with warm water and soap, and this RTA was good to go!
All in all, my first impressions of the Wotofo Serpent SMM were positive! There was a subjective con to be mentioned, but nothing major in my opinion.
Building and Wicking
Building and wicking the Serpent SMM RTA is easy! It does feature a unique single coil build deck, and it's design makes it so that no matter which way your leads are facing, you can easily slide them into place and tighten them down. With some single coil RTAs, you would have to wrap it in a certain way or flip it in order for the coil to fit the post hole. With this design, there's no need for that, which is great.
When wrapping your coil for the Serpent SMM, I do recommend that you have the leads facing opposite directions. Now with this build deck, you do have a good amount of room for larger coil builds, but keep in mind you cannot install a very long coil. With the coils I built for this RTA, they would never exceed 6 or 7 wraps in total. Typically, my coils were between 5 and 6 wraps. My favorite coil build for this RTA was a single Fused Clapton which had a resistance of 0.33 ohm.
Also, when building your coil, make sure to position it to where the coil is right above the bottom airflow slot, but right in the middle of the top airflow slot. This makes sure that you have airflow hitting under the coil as well as the side and upper portion of the coil. There are two airflow slots on each side, one on the towards the top and the other more towards the bottom. I do like this airflow design, it's much different than other airflow configurations I've seen from recent RTAs.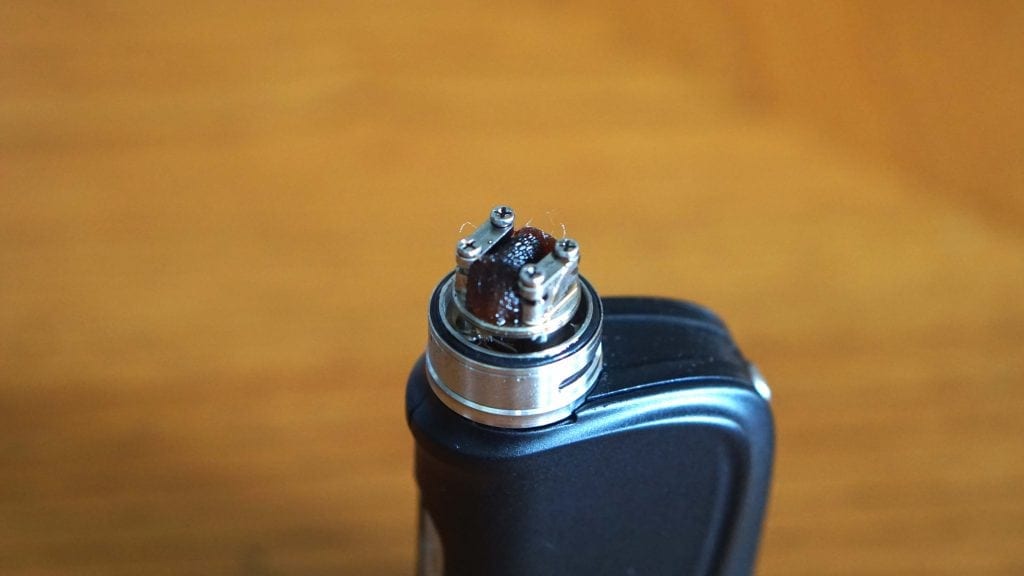 Wicking is as easy as installing you coil with this atomizer. When wicking your coil, be sure that you do fluff out the ends with a vape tweezer or something similar. This does help it wick a bit more efficiently from my experiences. Once you cut your cotton and fluff the ends out, simply tuck each end into the wicking channel. Now, you do not want to stuff the channel with cotton, be sure there is some "breathing room". Also, I typically have the cotton barely sticking out of the wicking channel. Wicking the Serpent SMM RTA is pretty forgiving.
A big pro to this atomizer is that you can work on your coil or cotton even when the tank has e-juice inside. If you have the tank completely filled to the top, then you might have a little bit of e-liquid escape.
All in all, building and wicking the Wotofo Serpent SMM is easy and the wicking is very forgiving. Whether you're a beginner or advanced user, you'll have little to no issues with this one.
Heaven Gifts Coupon Code: ACHEAP15 for 15% Off!
Performance
The previous Wotofo Serpent atomizers had excellent performance, and the same can be said with this one! Like mentioned previously, my preferred coil build was a single Fused Clapton which had a resistance of 0.33 ohm. I would vape this specific coil build between 40w and 55w. At the higher wattages, I would get a nice warm and flavorful vape.
I did try other coil builds such as normal round wire and bigger Claptons, but this specific build simply fit my vaping style the best. Round wire builds vape great in this atomizer, but not as good as your exotic builds. The flavor from this RTA is top notch, especially when considering it's a single coil. I think the flavor is as good as it is due to the airflow hitting multiple sides of the coil, and it's compact design. The chimney is domed as well, which surely helps in the flavor department.
The vapor production is also great with this RTA. Now don't expect to blow massive amounts of vapor since it is a single coil and more catered to flavor. For me, I was more than satisfied with the vapor production I would get from this atomizer.
A subjective con is that you can't really do dual coils in this atomizer as it was meant and designed for single coils. Even though this is the case, the performance from a single Fused Clapton is fantastic, and you don't need high amounts of wattage to power it, which means this atomizer is perfect for a single battery device.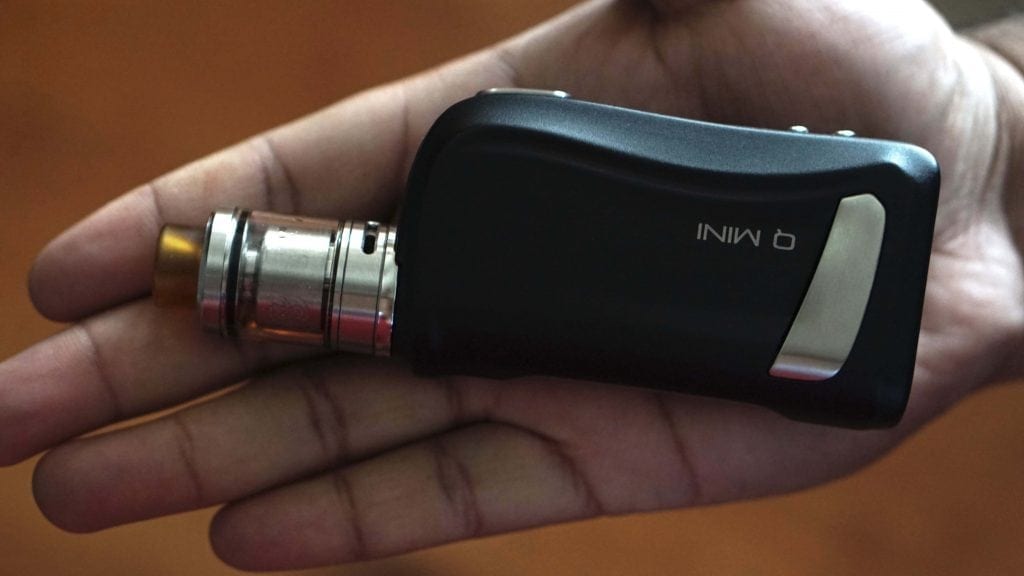 Another subjective con with this RTA is that it doesn't have tons of airflow. With the airflow wide open, you're met with a restrictive draw, which is something I do enjoy. The vapers who enjoy massive amounts of airflow won't find it here with this atomizer. The airflow itself is a bit turbulent, especially if you take harder draws. If you take a draw a bit slower, then it's less turbulent and smooths out a bit. In addition, this airflow is pretty loud wide open and I was actually surprised by how loud it was. Simply cutting down the airflow a little does quiet it down a bit, but it's still on the loud side.
When chain vaping, the Wotofo Serpent SMM had no issues keeping up, especially when wicking it the way I mentioned in the previous section of this article. Even at higher wattages, this RTA had no issues, which is certainly a pro. Also, I experienced zero leaking whatsoever which is another pro. As mentioned previously, this RTA does have a 4ml e-liquid capacity, and does have a top fill design with rather large fill ports, so filling is quick and easy!
All in all, the performance of the Wotofo Serpent SMM RTA was excellent. The flavor was outstanding, and the vapor production was great as well, especially when considering this is a single coil RTA!
Pros
Great build quality
Easy to build and wick
Excellent flavor
Includes many extras
E-Liquid capacity for its size
Cons
Noisy & Turbulent airflow
No Juice Flow Control (Expected due to design)
Single Coil Only (Subjective)
Not Compatible with 810 Drip Tips (Subjective)
Includes an Ultem 510 Drip Tip Only (Subjective)
Conclusion
In conclusion, the Wotofo Serpent SMM RTA is an excellent performing single coil RTA. The flavor I get from this RTA is fantastic, and the vapor production is not slacking by any means either. I'm still surprised by how much e-liquid this RTA does hold, as 4ml of e-liquid is a lot when looking at the size of this RTA. There are some RTAs on the market that's much bigger, but holds less.
There were a few cons to be mentioned, but most of them were subjective. The most annoying con for me was the noisy airflow. It could be how the airflow is designed as to why it's on the noisy side. In addition, it is slightly turbulent as well, but liked mentioned previously, if you do take a slower vape, it does help with that issue. Regardless, it's not the biggest issue and it doesn't really effect the performance.
All in all, the Wotofo Serpent SMM is a great addition to the line of Serpent atomizers. I think Wotofo and Suck My Mod did an excellent job with this one! If you're a flavor chaser and looking for a solid performing RTA that's compact yet holds a good amount of e-liquid, then look no further than the Serpent SMM!
I hope this review helps you with choosing the best atomizer to fit your vaping needs! If you have any questions or comments, feel free to leave them down below! Thanks for reading!
Heaven Gifts Coupon Code: ACHEAP15 for 15% Off!
Specifications:
24mm Base Diameter
4ml E-Liquid Capacity
Top Fill Design
Unique Single Coil Build Deck
Adjustable Airflow
Compatible with 510 Drip Tips (Includes Ultem 510 Drip Tip)
Includes 2 Extra Replacement Glass Tank Sections
Gold Plated 510 Contact
Includes Prebuilt Clapton Coils, Spare Parts Pack, Japanese Cotton & User Manual
Variety of Color Options Available