Ejuice.deals Review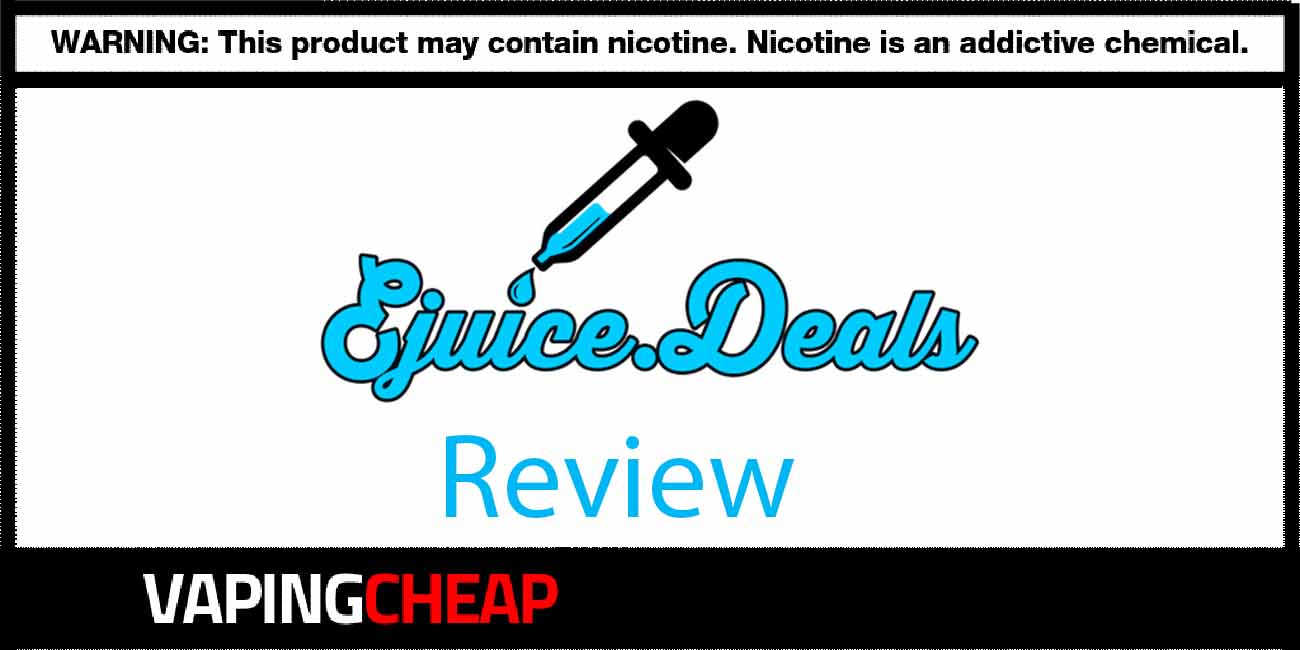 Finding one place online to get all of your essential vaping needs can be quite the challenge at times, especially if you're looking to save the most cash possible. There's so many products, a vaper might be looking for including vape juices, hardware, accessories and much. It can make finding that one store all that harder. We've got to admit too, being a vaper, that finding one place where we can at least get most of the products we want from one store not only makes the shopping process easier, but will in turn save us in shipping costs.
While there's plenty of online vape stores you can shop from, not all are on the same level. Ejuice.Deals is one of those stores aimed at delivering us vapers a single place where we can get all of our vaping needs while making the process and usability of their store easy. In our eJuice.deals review, we cover all the aspects you need to know about this online store including how easy it is to navigate, pricing and more.
Use Our Exclusive Code VC15 to save 15% off all e-juices!
Ejuice.Deals Overview
This online store is located in the United States and ships from here as well. They proudly offer the most popular vape juice brands currently on the market and offer prices that'll certainly satisfy your wallet. Aside from this, Ejuice.Deals believe 100 percent in customer satisfaction, and they know that us vapers are the final driving force on what makes them successful.

In 2017, they received an award as one of the best shops on the web for getting all of your vaping needs. They've continued that trend into this year. With over 100,000 orders shipped and 30,000 individual customers returning to shop there, it's pretty obvious why this shop is so popular. You wouldn't be crazy for wondering if this shop is legitimate with its prices so low but trust us, there's no need to worry when shopping here.
In order to deliver awesome prices on the best e-juices, they do work closely with their partners and in-turn pass on more savings to the customer. This allows them to see their mission statement through, which is to focus on providing e-liquid prices as low as possible. Keeping up to date with the latest trends in the vaping market isn't easy either and this is yet again something else they strive for.
Selection of Brands & Vape Gear
When shopping at a website to buy all of your vaping needs, aside from the prices, you'll want to know the kinds of brands you can find. We're happy to report that the brand selection at Ejuice.Deals is incredible. While it's not literally ever single brand on the market, it's the brands that many vapers look for as they're not only popular on the web, but inside brick and motor stores too.

Just as an example, we'll provide a list below of some of the more popular brands you'll find below for both e-liquid and hardware:
As shown above, there's plenty of popular brands to shop from and that's just scratching the surface!
Types of Products
Although the name indicates that you'll find great e-juice deals, which is absolutely true, you get a huge selection of hardware to shop from too. This includes replacement pods or actual hardware from fan favorites!

Honestly, this came as somewhat of a shocker as we didn't expect their hardware selection to be as vast as it is. While actual hardware is important, keeping up stock with their replacement parts such as coil heads and pod cartridges is even more important since these are the products you'll need to stock up on the most. You can use a sub ohm tank without the required coils! So, we're happy to see that EJuice.Deals take this into consideration when loading on their site with new products.

Moving back to vape juice, you've got a plethora of options to choose from aside from the actual brands. There's plenty of bottle sizes including 30ml, 60ml, 100ml and 120ml and nicotine strength options ranging from 0mg (no nicotine) to 50mg (salt nic).
Additionally, they have different bundles available which include a bunch of different flavors included together at a discount. These bundles can includes hundreds of ML of e-liquid, making them a great choice for the vaper looking to stock up.
Website Navigation
The next thing to always consider when shopping online for your vapor products is how easy it is to access their site and look for the gear or e-juices you want.
Some are easy while others are a complete nightmare. Site construction and navigating are crucial to every vaper. After all, no one wants a hard time trying to find what they need at their online store. If you can have great prices, but if it's difficult to sort through it all and find your vaping needs, then what's the point?
Noteworthy Homepage
With that being said, navigating through the EJuice.Deals is quite easy. Their homepage is done quite well, especially for showcasing their most popular products and sales right at the beginning. If there's sales or any discounts, that'll be the first thing a vaper might want to see when checking out an online shop. It's not hidden anywhere, which not only saves you time, but money too!
When scrolling past that, you'll notice different popular webpages to visit within their site including new arrivals, nicotine salts which have become one of the most popular blends, and e-juice bundles.
Past that you've got a selection of popular brands you can click on to see what they have available. Underneath all of that, they've placed all of their bestsellers alongside some more deals you can shop from quickly right from the homepage.
Ease of Use
Now, let's actually dive deeper into navigating the EJuice.Deals website. As mentioned earlier, it is very easy to sort through. The top of any page showcases the same information regardless of where you are on their site.

This includes their brand, which you can click on to take you back to their awesome homepage, their phone number to get in contact with them, a shopping cart to see what you've added to buy, a search bar to look for specific products and across the top, a tab with multiple layers. This is probably one of the more important parts of their website as you'll be here often to look for specific types of products, brands and more.

Once you scroll over a specific text bar, it will expand to showcase different sections to visit on their site. For example, when over "Brands," a new box will appear underneath this text and will display three different sections. You've got eJuice Brands, Nic Salts Brands and Device Brands (which shows hardware associated brands). Underneath those, you've got select brands, but if you click on one of those you can then see more information on another page about that specific brand type. That's just one single example of how easy they've made it for the end user.
What's also great about how they've designed this is that you're able to really dig into a type of product you're looking for. It doesn't whether it's a specific brand, a range of flavors such as dessert or menthol, accessories or anything else. They make it easy to find. However, if you wanted to be even more specific to filter just one kind of product, you can always use their search bar which works exactly how you'd want it to.

When shopping on this site, we find that using this bar laid across the top of any page works the best as sometimes you'll come across products you may have interest in or you never knew you wanted to check out to begin with. This one single feature and how easy it is to use to find what you're looking for makes a huge impact when it comes to navigating the EJuice.Deals website.
Affordable Pricing Structure
When looking online you'll find a bunch of stores that'll claim they offer cheap e-juices and in some cases that's true, but for many it's simply not. So, we have to ask, with a site name "ejuice.deals," do their prices actually live up to the name? To quickly sum that up, it does!
However, let's dive a little deeper to show how much money are you truly saving when shopping here in comparison to other popular brand-name stores.
Cheaper Than The Competition
To begin, across the board they've got prices that are affordable for every vaper, making it very much a budget-friendly place to shop. The average price on larger 100ml and even 120ml bottle is between $10 and $12, which makes them much cheaper than a lot of other stores and even more so when comparing them to local shops. What's even better is that these are the base prices without the use of any vape coupons. So, adding any additional discounts on top of these already cheap prices is pretty insane.

Moving onto their sale or clearance priced vape juices. While most sites offer these kinds of discounts, not many live up to the word "clearance". EJuice.Deals definitely understands the term and offer deep discounts on many of the more "premium" or popular brands on the market. With prices as low as under $10 for those bigger 100ml bottles, there's even a sales section that will list all 100mls that have been marked down to these cheaper prices. How awesome is that?
Other sales you'll find while browsing their site include mystery bags priced as low as $6.99 and as mentioned previously, bundled discounts. These are ideal for vapers looking to get the absolute most for their cash as when these e-liquids are bundled, the prices come out to as low as $4 a bottle! We know this just sounds crazy, but you've got to see it to believe it!
Review Conclusion
We've got to say that EJuice.Deals is a great place to get all of your vaping needs. They carry a huge selection of popular brands that they know us vapers are looking for at prices that won't break the bank. Buying lots of flavors and replacement accessories can be quite expensive as these are things us vapers are buying the most of, but with their prices, it makes it that much more affordable.

We must admit that great prices don't always result in a great shopping experience. Thankfully, navigating through their website to find the vape products you're actually looking for is incredibly easy. Not to mention, they're site loads pretty quickly with no hiccups to speak of. It's just laid out in a way that makes sorting through and filtering the specific types of products, brands or sales easy. If you're looking for their cheapest offerings, then you'll know exactly where to go by with a quick glance at the top of any page. It really couldn't be any easier!

So, do we recommend checking out and shopping at Ejuice.Deals? Absolutely! Prices are great, it's easy to navigate and their phone number is listed on every page so if there's ever a concern, you can always reach out to them. Be sure to check out our ejuice.deals sales page for any additional discounts they might be having! Remember, if you're planning to make a purchase there, you can use our exclusive code "VC15" to save 15% off your e-juice order.

Thanks for reading our EJuice.deals review! We hope you enjoyed it! Let us know in the comments if this is a store you often shop at online.