Vaporesso GTX One Review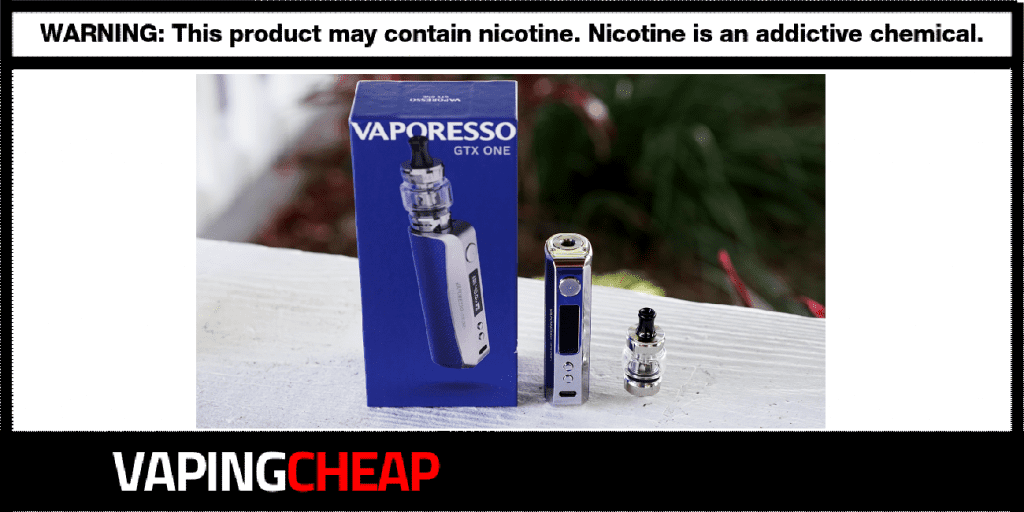 Mouth to lung vaping has made a serious comeback in the past year or so and with more vapers enjoying this vaping style, it's only natural we see new devices released to cater around this kind of vape experience. Vaporesso is a brand that's well known in the vape community and has delivered some awesome vape gear in the past.
To kick off the summer of 2020, Vaporesso has now released their GTX One Kit which caters to mouth to lung vapers. However, unlike many brands who continually release pod vapes, Vaporesso has gone a different route this time around and designed a starter kit. In our Vaporesso GTX One review, we'll let you know everything we like and how it compares to the competition.
Vaporesso GTX One Features:
Let's start this with some of the main features you'll find with the GTX One starter kit by Vaporesso:
Vaporesso GTX One Kit First Impressions
Vaporesso's GTX One starter kit comes in a pretty simplistic box but includes everything you need. This includes some of the primary features mentioned above along with what's included inside of the box. Once you cut open the plastic, and slide open the box, you'll immediately see the GTX One 40w Mod, and GTX 18 Tank atomizer.

On the top right side of the box is where you'll see the replacement glass tank section (straight glass), and some spare parts. Lift this up and you'll find all of the other extras that are included such as the user manual, quick start guide and spare coil head. Everything was packed securely and there were zero issues, which is always a good thing!

My first impression of the GTX One 40w Kit was that it's pretty compact, and looks great. Immediately I noticed the similarity of the device to the Vaporesso Gen Mod. It has that same soft, scratch free material on the back and sides of the device. I absolutely love this! It really adds to the overall comfort and durability. However, on the front is polished stainless steel, which is prone to fingerprints. While this isn't a huge issue for me, it could be for some vapers. On the bottom, there are a few vent holes alongside a serial number.
The GTX 18 vape tank is quite small, and surprisingly it's able to hold 2ml or 3ml of e-liquid. It'll hold that maximum amount with the pre-installed bubble glass tank section. If you don't like this look, you can always opt for the straight glass. For me, I'd stick with the bubble tank and the extra 1ml of vape juice. What's also pre-installed is the GTX 0.8 ohm mesh coil, which I'll cover later in the review.

Overall, I was impressed by the look, feel and presentation of the GTX One Kit by Vaporesso. The best part has to be how compact it is. You can easily fit this full kit into your bag, pocket or purse with no issues at all.
GTX One 40w Kit Performance
GTX One Mod
As mentioned in the beginning of this review, mouth to lung vaping has become increasingly popular in the past year, and I can say for sure the Vaporesso GTX One is dedicated to this style of vape. You can tell this is true as well by looking at the coils that are included in the box, both designed for an MTL vape.

Let's start with the actual performance of the GTX One vape mod. It has a 40w maximum output, and it does indeed deliver a true 40w. While it's not the most powerful, it's more than enough for you MTL vapers out there. It does fire down to a 0.15 ohm coil resistance, but I wouldn't recommend going that low on a device like this. In my opinion, its best performance is between 0.6 ohm and 1.2 ohm.

Now, some people may think 2,000mAh may not last a long time. However, you may be surprised by how long the GTX One 40w Mod will actually last. If you're vaping between 10w and 15w, you can certainly get through most, if not all of an eight hour work day. If you're vaping at higher wattages, say 30w and above, you can expect the battery to die rather quickly. However, this isn't much of an issue thanks to the 2A charging via USB Type C. In no time, you'll be back vaping on a full battery.
Changing Wattage
Using this device couldn't be simpler. Five clicks of the firing button will turn the GTX One box mod on or off. While this device is turned on, you can click the firing button three times to lock it. Additionally, if you click the wattage up and down buttons together and hold for a couple of seconds, you can change which mode you're in.
There's a few to choose from including Smart VW, VW, VV, and Default. You can also select "Exit" if you want to go back to the main screen. Now, I do want to mention there is no temperature control feature, which for me, I don't mind. For you vapers who enjoy using TC, then this may definitely be a con for you.
If you click the wattage up and firing buttons simultaneously, you can flip the orientation of the display screen. Lastly, clicking the firing button and wattage down will display the version that's on the device currently. That's all there is to it! Super easy to use, and completely hassle free.
GTX 18 Tank
Moving onto the included GTX 18 Tank. Inside of the box, you'll get two coils in total. One, which is pre-installed, is the 0.8 ohm mesh. The other is a 1.2 ohm mesh. Before moving into the actual performance, let's cover quickly how easy this tank is to use alongside the GTX One Mod.

Filling is quite easy, as the top cap comes off completely. There's plenty of room for any type of bottle you might be using. Adjusting the bottom airflow is simple as well. It stops when either fully opened or fully closed, making it even easier to take apart. Coil replacement is a breeze too as it uses a plug and play coil system. We've seen this in many sub ohm tanks, so we're glad Vaporesso went this route. The included delrin drip tip is comfortable, and best suited for mouth to lung vaping with its narrow bore. It doesn't get hot while vaping either - an added bonus.
The Performance
Now, let's move onto the more important part, the performance. We'll start with the pre-installed coil first. The GTX 0.8 ohm mesh coil head is rated between 12w and 20w, and I do agree with this rating. Something we always recommend doing first with any replacement coil is to prime it with e-liquid. This can be either freebase or nicotine salt vape juices.

When it comes to vaping on the 0.8 ohm mesh coil, it can provide primarily a mouth to lung, or very restricted direct lung draw. Even with the airflow on this tank wide open, it's more restrictive than a lot of other vape tanks I've tried in the past. This is by no means a bad thing, but I do want to mention this if you prefer this kind of vape. With 6mg freebase nicotine e-liquid, it provides a satisfying vape and a good throat hit.

Vapor production is pretty good as well at the maximum 20w rating. However, if you do cut down the airflow a bit, you'll be able to get a warm and satisfying mouth to lung vape. When vaping it this way, I turned down the wattage between 12w and 15w.
Checking The Spare
The spare 1.2 ohm coil that's included is primarily used for mouth to lung vaping, and I wouldn't really recommend this one for any type of direct lung vape. It's also rated at just 7w to 11w, so you don't need to turn up the wattage much to get a satisfying vape. I preferred vaping on this coil anywhere between 10w and 12w. Additionally, this coil will provide a slightly tighter draw. Another great feature of this coil is that it does feature mesh wire.

Flavor on both coils were top notch in my opinion. However, they did have somewhat of a break-in period of about half a tank before providing full-on flavor. This is expected, but I still think it's worth mentioning. When it comes to how long each coil will last, that really depends on the e-juice you're vaping on. If you enjoy those sweeter vape juices, then don't expect either coil head to last long. I will say though, I do enjoy sweeter e-liquids, and have gone through about 30ml in the 0.8 ohm mesh coil, and it's holding up pretty well thus far.

To conclude, I do prefer the 0.8 ohm mesh coil over the 1.2 ohm coil as it fits my vaping style better. However, they both offered excellent performance, and I must say Vaporesso has done a great job with their GTX coils.
Vaporesso GTX One Pros & Cons
Vaporesso GTX One Review Conclusion
In conclusion, I think Vaporesso did an awesome job with their GTX One 40w starter kit. I'm glad to see more kits like this come to the market, as they're not only great for the beginner, but for the advanced vaper. Those who just want something simple, and easy to use. For you vapers who are simply sick of all the pod mods, this is definitely refreshing and something you might want to check out to satisfy your mouth to lung needs.

While the overall performance was great, there were two cons to be mentioned. While one is totally subjective, the other is not. Personally, I don't use temperature control much, so this wasn't an issue for me. However, I can see this as a major issue for vapers who absolutely need this feature. There's plenty of temperature control mods on the market though, and I'd say the direction Vaporesso went with this kit was to provide something that's pretty much foolproof.

So, who would I recommend this to? Definitely the beginner, and the vaper who wants a simple and compact mouth to lung kit. Vaporesso delivered with the GTX One and it will certainly fit the needs of many vapers out there.

I hope you enjoyed our Vaporesso GTX One Review! Feel free to leave any comments or questions you may have down below! Thanks for reading!