Vaporesso Xtra Review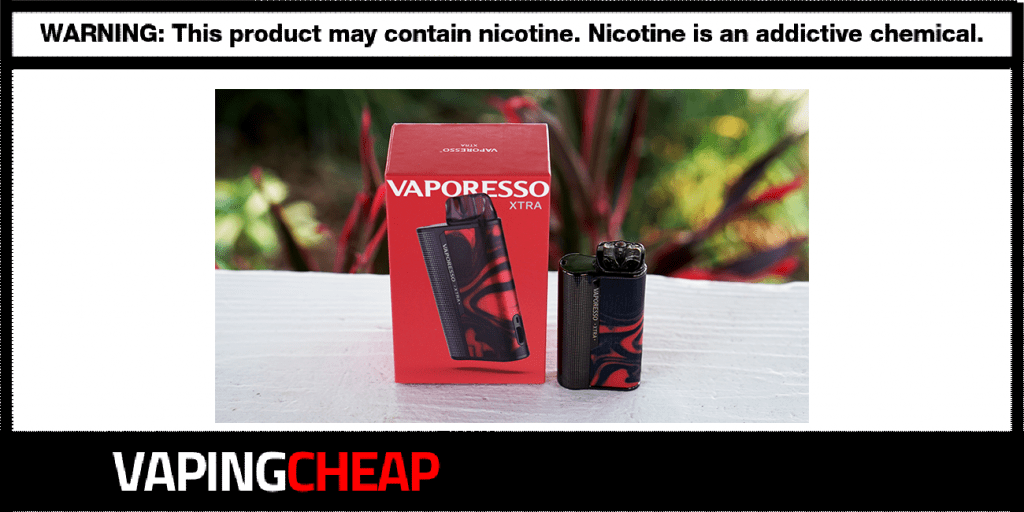 Pods, and similar devices have become increasingly popular over the years, and for various reasons. Whether you like the portability, efficiency or looks, pod systems are an excellent choice as your every day vape. However, finding a vape pod that not only works well, but that'll last you for months, or even years to come can be difficult.

Here comes the Xtra pod system by Vaporesso, aimed at delivering a quality vape experience while providing us vapers with an ultra compact size making it easy to carry with us day to day. In our Vaporesso Xtra review, we'll cover every detail you need to know, and let you know if it's indeed as good as it looks.
Vaporesso Xtra Pod Kit Features:
Let's kick this review off with some standout features you'll find with the Vaporesso Xtra Vape Pod:
Vaporesso Xtra Pod First Impressions
The overall packaging is quite similar, especially when comparing to what we saw in our recent review of the Vaporesso GTX One. It's simple yet provides you with all the information you need to know including some quick facts and features, what's included inside the packaging and a sample picture of what's to be seen inside. As expected, this packaging is quite smaller since the device itself is pretty compact.

Once you slide open the box, you'll find the Vaporesso Xtra pod device. My actual first impression of it was that it is indeed small, but it looks amazing. I love the overall design of the pod, and was surprised by the actual battery size. When comparing it to other pod vapes on the market, smaller devices like the Xtra typically include a smaller battery. Vaporesso definitely utilized all the internal space, and crammed that 900mAh battery inside it. This is impressive to say the least.
The Vaporesso Xtra does come with the 0.8 ohm MESHED Unipod pre-installed, but with a thin plastic underneath. This is to prevent any accidental firing and must be removed before using it. Underneath this, you'll get a spare 1.2 ohm Unipod, a user manual, warranty card, micro USB charging cable and reminder card. It's definitely a huge pro that it does come with a spare cartridge just in case. However, a con to be mentioned is micro USB charging. I think in 2020, all vape devices with internal batteries should be charged via USB Type-C. Right above the charging port is where you'll find the 3-color LED indicator light.

All in all, my first impressions of the Vaporesso Xtra was great. With only one minor gripe with it, I had no other issues to complain about when taking it out of the box.
Vaporesso Xtra Pod System Performance
Moving onto one of the most important aspects of our Vaporesso Xtra review, the performance. As mentioned earlier, you'll receive two different cartridges inside the box. Now, do keep in mind that the coils are not replaceable, and once the coil burns out, you will have to replace the entire cartridge. While this may be a con to some, other vapers may actually prefer this. Either way, we'll mention this one as a subjective con.
0.8 Ohm Mesh Unipod
We'll start with giving you our take on the pre-installed 0.8 ohm Mesh Unipod performance. With this cartridge having a lower resistance, the Xtra does provide more wattage output, 16w. With any refillable pod cartridge, and coil, we always recommend priming. Since this is a built-in coil that is not removable, we recommend filling and waiting a few minutes before you start vaping. Additionally, you can take a few "primer puffs" to better saturate the coil. Simply remove the cartridge and act like you're taking a vape to pull e-liquid into the coil.

With that being covered. I must say the performance of the 0.8 ohm mesh unipod is spectacular. The flavor production is crisp, and clear. There is a small break-in time that's needed, but this is expected. However, once the break-in is complete, the flavor is phenomenal, and some of the best I've experienced with a vape pod. When it comes to vapor production, it's plenty enough for this style of vape, which is mouth to lung. The draw on this Vaporesso Xtra pod is slightly on the loose side, but it's a comfortable mouth to lung vape.
Airflow is not adjustable on this, but I personally wouldn't adjust it on this coil. Another huge pro for this specific pod is the warmth. When vaping it on, it provides a nice warm vape experience, which I personally enjoy the most. You'll find that with some other pod systems, the vape is on the cooler side.

Overall, Vaporesso did a wonderful job with the upgraded 0.8 ohm mesh cartridge. It provides an awesome vape that's warm and flavorful.
1.2 Ohm Unipod
The spare pod that's included with the Vaporesso Xtra pod vape is the 1.2 ohm Unipod. It's a regular coil, and with its higher resistance, the Xtra puts out 11w maximum. As with the previous cartridge, you'll want to fill it with your preferred e-liquid and wait a few minutes before taking a vape. With both, I was happy with a nicotine salt vape juice at either 25mg or 35mg strength. You can also use freebase e-juice if you desire, either will work just fine.

Performance wise, the 1.2 ohm Unipod is not as great as the 0.8 ohm mesh. The primary reason as to why is the warmth. This is subjective though as I personally enjoy a warmer vape. If you're a vaper who likes a slightly cooler vape, then you'd enjoy this one. Flavor is still pretty good with this cartridge as well. When it comes to the draw, it's slightly tighter, so this is yet another factor that may impact which you may like more.
I do want to mention that I did have some condensation left inside the Vaporesso Xtra Battery once I took out the cartridge to refill it. This is a common issue with pod systems, and a simple wipe with a tissue or cloth will clean it with no issues. However, it's still something worth mentioning as I find this just a bit annoying. Another con for some may be the side filling method. It's not as easy or convenient as top filling, but it works fine. You wouldn't be refilling this quite often either as you're not blowing through e-liquid like you would with a sub ohm tank.

All in all, the performance of the 1.2 ohm Unipod is good, but it's not as great as the 0.8 ohm MESHED Unipod. That's not to say vapers won't enjoy the 1.2 ohm cartridge though. I think there will be some vapers that will certainly prefer this over the 0.8 ohm mesh.
Vaporesso Xtra VS Caliburn
A question we often get, or see is how does the Vaporesso Xtra compare to the popular Uwell Caliburn. When comparing it to either the original or newer Caliburn Koko, I must say they're both equally good. Flavor on both are incredible, and some of the best you'll find in the sea of pod systems. However, there are features to both pod systems that may lean you on either direction.

For example, the physical power button of the Xtra may edge you in that direction while the top fill system may lean you to the Caliburn series. For me, I must say the inclusion of the said power button is a huge pro. Personally I like to have the option to completely turn off a device when I'm not using it, just for a peace of mind. At the end of the day, it boils down to what you prefer and want in your pod device.
Vaporesso Xtra Pros & Cons
Vaporesso Xtra Pod Review Conclusion
In conclusion, I must say that after spending some time with the Vaporesso Xtra pod system, I'm a huge fan. It performs incredibly well, and just works as it should. It's not overly complicated, making it a solid option for both beginners and advanced vapers. You charge it, fill the pod and insert it into the Xtra pod device, wait a few minutes, and start vaping. Since the Xtra features a draw activated firing system, there are no buttons to press. Simply take a vape and it'll automatically fire.

While there are plenty of great things to say about the Vaporesso Xtra, there were some cons I had to mention. This includes the fact that it does not support type-c charging, no adjustable airflow and there were small amounts of condensation. While the airflow is not adjustable, it was perfect for me, and ideal for a mouth to lung vape. The other two are subjective, and will vary for each vaper. While I don't mind the side fill port, some vapers will absolutely despise it. The same can be said about the built-in coil.

Even with those cons, I still think the Vaporesso Xtra is one of the best money can buy. Its performance is hard to beat and best of all, it's quite cheap! So, if you're looking for a solid performing and compact pod kit, then we highly recommend this one. You will not be disappointed that's for sure. Check out our Vaporesso Xtra deal to get yours at a discount.

Thanks for reading our Vaporesso Xtra review! Feel free to leave any comments or questions you might have below. We look forward to hearing from you!