Vaporesso PodStick Kit $8.95 (USA)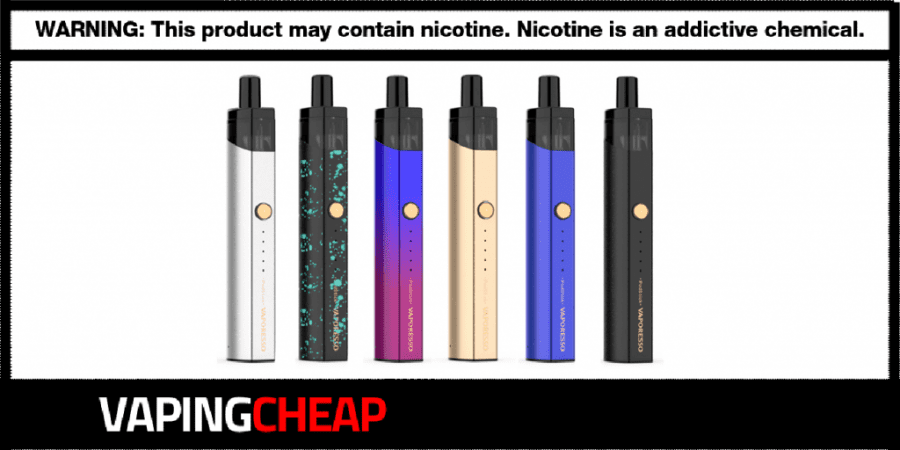 Here's a discount and cheap deal for the Vaporesso PodStick Kit. Buy yours from a USA based shop for only $8.95. It's also in stock and on sale at a China based store for only $10.99. There's a bunch of different color options available including Black, Blue, Gold, Phantom, Splashed and more.
Vaporesso's PodStick Vape Kit is a pod system at its heart, but features a completely different design, similar to that of a vape pen. It comes packed with a large 900mAh internal battery, and features the popular OMNI chipset. Since utilizing this chip, it has three different voltage output modes, and depending on which pod used will determine how much power you'll get. With its 0.6 ohm mesh pod, you can get up to 22w, and with the 1.3 ohm pod, you can get up to 12.5w. With the different pods available, it caters to different e-liquid types including nicotine salt vape juices.
Each pod does have a maximum capacity of 2ml, and features an easy to use top fill system, which allows you to fill without having to take the pod out of the PodStick Mod. There's an LED battery light indicator light was well with 5 different levels, so you know when it's full and when it needs to be recharged. Like all of the best pod vapes, this one does have multiple safety protections built inside, which is always a good thing!
If you're looking for a new affordable pod kit that features a pen style design, then you'll definitely want to add the Vaporesso PodStick Kit to your vape collection. At this price, it's worth a shot.
Vaporesso PodStick Vape Kit Features:
900mAh Built In Battery
Aluminum Housing
Powered by OMNi Chipset
Three Voltage Output Settings

Maximum Wattage Output: 22w

Battery Life Indicator Light with 5 Levels
Refillable Pod Cartridge

2ml Capacity
Easy Fill Deisgn
0.6 ohm Mesh

Best For Restricted Direct Lung Vape

1.3 ohm CCELL MTL

Best For Mouth to Lung Vaping

Compatible with Various E-Juices
Multiple Safety Protection Features
Color Options

Black
Blue
Gold
Phantom
Splashed
Silver
What's Included
Vaporesso PodStick Mod
2x Pods (0.6 ohm Mesh & 1.3 ohm CCELL)
E-Juice Bottle for Refilling
USB Charging Cable
Warranty Card
Check Out The Vaporesso PodStick Review
More Great Vape Deals...
---
dotMod dotAIO Kit $62.96 (USA)
Here's a sale on the popular dotMod dotAIO Kit! Get yours for only $62.96 when using the code "VC10". Free shipping[...]