Best Vaporizer Pen for E-Liquid, Wax and Oil – Top 5 Brands, Reviews (& Prices)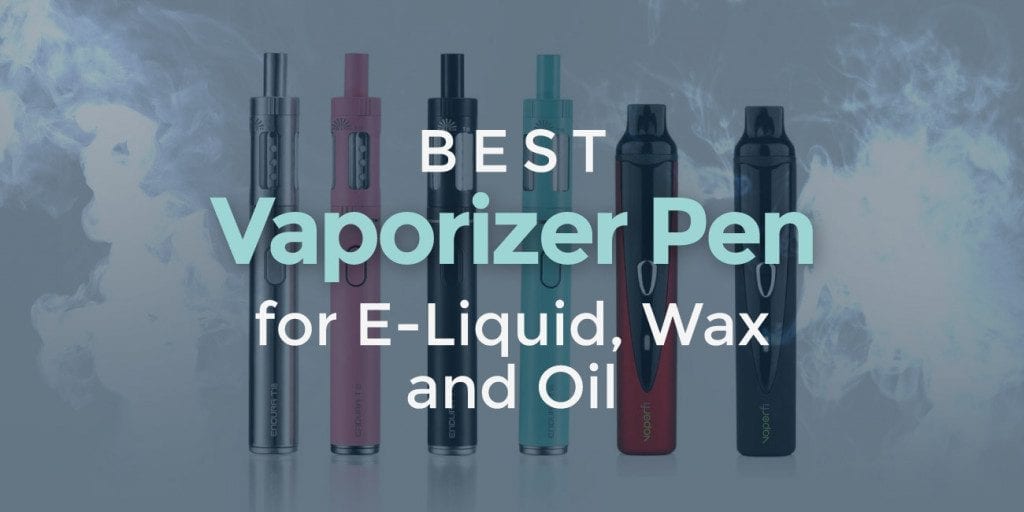 Vaping can be described as the experience of smoking a cigarette minus the harmful effects of tobacco. The device which is used in Vaping is known as a Vaper (personal vaporizer) which is used for inhaling the vapors of the e-juice, also known as propylene glycol or vegetable glycerin or a combination of both. A vape cartridge is another great device that only requires you to press a button to inhale the vapors. Flavoring agents can be added to enhance the experience.
Vape Pen, also known as the Vaporizer Pen or E-Cigar, is a little vaping device sized like a standard pen or a cigar. It is light in weight and portable used to inhale the e-liquid and blow the vapor out. It may or may not contain nicotine and flavoring agents can be added depending on the preference. This is perfect for those who are new to vaping or like to vape on the go.
The Best Vape Pen - Our Top Picks
Best Vape Pens For E-Liquid
In this section, we will provide a review of the Best Vape Pen to use in order to vaporize e-liquid. These products that are listed are simple and user friendly, while being affordable. You can also check out this page to see more high-quality cheap vape pens.
Innokin Endura T18 II
The Innokin Endura T18 2 Kit is the newer version of the original Endura T18 Kit. The newer version has a different look and a bigger battery built in (1300mAh), so you'll much more vaping time before needing to recharge.
Just like its original variant, it comes with a detachable 2.5ml tank, which feature a top fill design, allowing for quick refilling.
The Innokin Endura T18 2 Mod does still have a vape pen design, so it fits easily into your bag or pocket.
On top of that it has a single fire button that can be clicked 5 times to turn the device on and off. This mod has a maximum wattage output of 13.5w and an LED battery indicator light, so you know exactly when it needs to be charged.

Included, the Endura T18 2 Tank is compatible with the original T18 coils and includes two of the newer T18 2 1.5 ohm coil heads. Not to mention, this tank has an adjustable bottom airflow design, which allows you to fine tune the draw to your preference. Lastly, this tank is constructed out of stainless steel material and has a curved drip tip.

Overall, the Innokin Endura T18 2 is an excellent vape pen kit. It has a simple yet great design, and does have an updated look alongside 5 different color choices.
Geekvape Flint Kit
Geekvape's Flint Kit is another newly released kit that's not only affordable, but offers amazing performance. Included in this kit, you do receive both the Flint Mod and Flint MTL Tank.
What's great about this vape pen is the actual size. It's super compact, and perfect for on the go. Although it is small, it still houses a large 1,000mAh battery, which is quite impressive to say the least.
The Flint Mod has three different voltage modes, which can be configured with the large fire button located right at the top front of the device.. In addition, it is constructed out of IPX5 water resistant material, so it's quite durable as well in many different weather conditions.

Like many devices like this, the Flint mod has multiple safety features built in. Geekvape's Flint Tank uses the NS Coils and includes two mouth to lung replacement coil heads. Also, it does have an e-juice capacity of 2ml and is constructed out of stainless steel material. Airflow control is built onto the tank, and is adjustable with many different airflow settings available.

All in all, the Geekvape Flint Kit is another we'd consider as the best vape pen. We're not sure how Geekvape managed to fit a large battery in this small of a size, but they did, making it highly sought after by many.
Vandy Vape NS Pen Kit
Vandy Vape's NS Pen Kit has a few unique features that make it unique. Firstly, the tank is easy to fill and has a maximum e-juice capacity of 1.5ml, which may not seem like much, but with its design, you won't be plowing through e-juice.
Another aspect is the design of the device, it is visually pleasing and comes in 4 attractive colors. The last feature to mention is the three different power modes available, one being a 3.4v output, the next mode has a 3.6v output, and the last has a 3.8v output.
The NS Pen Kit utilizes a simplistic one button design, which is used to change the modes, fires the device and turns it on or off. In addition, the LED light around the button has three colors, Red, Green and White. Each color represents which power mode you are currently vaping with.

This kit is compatible with the NS coil family and includes two 1.2 ohm SS coil heads. With its 650mAh internal battery and output wattage of 9w, it's perfect for higher nicotine or nic salt based e-liquids.

All in all, the Vandy Vape NS Pen Kit is a solid performing device with many standout features. What's even better is that it's easy to use, and just works well. This is yet another kit we consider one of the best vape pen, so if that's what you're after, then you might wanna add this one to your collection.


Smok Nord 22 AIO Kit
The Smok Nord 22 is an all in one vape kit that has an overall diameter of 22mm, which provides the perfect balance between weight and compactness.
It does have an internal 2000mAh battery with a maximum wattage output of 30w at full battery capacity and decreases as you vape.
This may not seem like much at first, but with its specially designed coil heads and efficiency, it provides stellar flavor and vapor.
To check the battery life you simply look at the LED indicator, which shows one of three colors, Green, Orange or Red. When the color is red, you know it's time for a recharge.
With the Nord Tank's threaded design, it makes it incredibly easy to attach on the device. You receive two replacement coils as well inside of the packaging, one is a 0.6 ohm Mesh Coil and the other is a 1.4 ohm Kanthal Coil. Both coils do provide a different vape experience, one primarily for direct lung vaping while the other is for mouth to lung vaping. There is a fixed airflow design, giving the perfect balance of a smooth draw and flavor.

You'll find multiple safety features built in including 8 second cut off time, low resistance, short circuit and low voltage. If you're looking for one of the best vape pen available today, then definitely check out the new Nord AIO.
Joyetech eGo AIO
The Joyetech eGo AIO Vape Starter Kit is a simple to use vaporizer pen that is used to vaporize e-liquid. This is probably one of the best values currently on the market, as it provides the user with both a tank and battery in an all-in-one style of vapor pen.
The overall diameter of this device is 19mm, and the tank capacity is 2ml. Also, this device is very easy to fill, as it fills from the top rather than the typical bottom.
The battery capacity is 1500 mAh, so you are sure to be vaping through most of the day! Included with this purchase is two coils, an eGo AIO mouthpiece, and a USB cable for charging. In addition, this vape pen has changeable LED lights in the tank section and can be turned completely off if desired. Overall, this is a great kit for anyone looking for the Best Vape Pen to vaporize e-liquid. Check out this page for more Ego Vape Pen options available.
Smok SLM Kit
Smok is one of the most popular companies in the vaping industry, producing all kinds of products from sub ohm tanks all the way to high wattage starter kits.
The SLM Kit is one of their newest releases, and by far their best vape pen yet for mouth to lung vaping.
This specific device can be seen as a cross between a vape pen and a pod system as it does utilize refillable pods.
Although it has a familiar pen style shape, it stays true to its name, and is one of the slimmest vape pens on the market today. It features a draw activated system, and provides a maximum wattage output of 16w. Something you might like about this kit, is that it includes two refillable pod-like cartridges, each having a maximum capacity of 0.8ml.

Overall, the Smok SLM has climbed its way to being one of our personal favorites due to its simple design, and stellar performance. No matter if you're a beginner or advanced user, the SLM will give you what you want. You'll experience a tight and restrictive draw, allowing for a satisfying throat hit. Lastly, it takes very little time to charge and has multiple protections, which is always a pro in our book!
Best Vape Pen for Dry Herbs
In this section, we will list the best vape pens that are available to vaporize dry herbs. These products that are listed are the best rated, currently available, and may vary in price due to design and features, but still affordable.
Atmos Jump Kit
The Atmos Jump Kit is one of the most affordable Vaporizer pens for vaporizing dry herb. This vaporizer pen has a powerful carbon fiber housing, which provides the user with one of the most durable and compact dry herb vape pens on the market.
This dry herb vapor pen is powered by a 1200 mAh battery which gives you tons of battery life, and performance! This pen evenly vaporizes the dry herb with its hard anodizing heating chamber, which will provide the user with smooth and rich vapor production!
Included with your purchase you receive the battery, an easy-access mouthpiece, a packing tool, one cleaning brush, and a Micro USB Charger. You do also receive a user manual just in case you need to understand this device even further.
Overall, this is a great and affordable choice for those who want the Best Vape Pen for vaporizing dry herb! Check out this page to find out more Dry Herb vape pen brands that produce large amounts of vapor and score very high on quality and flavour.
VaporFi Orbit Dry Herb Vaporizer Kit
The VaporFi Orbit Dry Herb Vaporize Kit is another option available for those wanting to vaporize dry herb. According to VaporFi, this kit takes dry herb vaping to new extremes with its design and engineering!
The battery capacity of this device is 2200 mAh, you will definitely have tons of battery life at your hands! The VaporFi Orbit Dry Herb Vaporizer features a very advanced heating chamber which is easy to open and fill, allowing you to get back to vaping before you know it!
Included with this purchase you get the 2200 mAh vape pen, 1 USB Charging Cable, 1 Cleaning Brush, 5 Mesh Replacement Filters, 5 Silicone Mouthpiece Covers, and a user manual.
Overall, this dry herb vapor pen is a great choice for those needing more battery life!
Pax Vapor Pax 2 Vaporizer System
The Pax Vapor Pax 2 Vaporizer System is one of the latest options for those looking for a device to vaporize dry herb. This features a simplified user interface and streamlined profile. This high quality Vaporizer pen has a single button operation, making it extremely user friendly!
The Pax Vapor Pax 2 features 4 temperature settings that vary from low to high and has a 30 to 60 second heating time. In addition, the Pax 2 features a deeper oven for a more consistent draw!
This vaporizer pen has an elegant anodized aluminum surfacing which is comfortable to hold due to its design. In addition, the Pax 2 sports an improved lithium ion battery for increased efficiency and intelligent heating and cooling systems!
Included with your purchase you receive the Pax 2, 2 silicone mouthpieces, one magnetic charging cradle, one cleaning kit, and one USB cord.
Overall, if you are into high end vape pens, this is definitely the one you should consider. You can check out the iTaste VV review if you are looking for a similar device.
Best Vaporizer Pen for Wax and Oils
In this section, we will review the Best Vape Pens that are able to vaporize waxes and oils. These products that are listed are the best vaporizer pen currently available in this category, and vary in price depending on the design, but still affordable. You can also check out this page to find other Wax Pen devices that are big in flavor and never leave you with a harsh sensation.
Atmos 510 Bullet 2 Go Kit
According to Atmos, the 510 Bullet 2 Go Kit is the world's smallest and affordable vaporizer meant for vaporizing wax and oils. In addition, you can use this to vaporize dry herbs as well!
This vape stick has a centered wickless ceramic heating chamber which is designed to enhance your vaping experience.
This is an easy to use vaporizer pen, as all you need to do is load, press the fire button and inhale the vapor!
This is great for those wanting a discrete vapor pen. Overall, if you are looking for a really affordable and one of the best Vaporizer pen to vaporize waxes and oils, then this is the one you should definitely consider!
Atmos Junior Kit
The Atmos Junior Kit is a step above the previously mentioned Atmos 510 Bullet 2 Go Kit. The According to Atmos, the Atmos Junior Kit is designed with compact and efficiency in mind. The design of this device is extremely durable to ensure that this pen will last through extensive wear and tear!

In addition, this device is discrete for those who prefer a device that is designed that way. This vapor pen heats up the wax consistency products evenly in an advanced ceramic heating chamber, which will reduce the aroma expelled!
Overall, this is vaporize to vaporize wax and oils, and definitely considered one of the best available on the market. This video will give you a sneak peak review of this cool device.
Atmos R2 Kit
The Atmos R2 Kit is the new and improved version, and it has been re-engineered with an anodized chamber, and an advanced ceramic heating disc technology to provide the user with a smooth draw and clean taste!
Included with your purchase, you receive the Lithium Ion Battery, 1 new advanced ceramic heating disc chamber, 1 anodized heating coil chamber, 1 chamber connector, 1 spring, 1 mesh filter, 1 ceramic filter, 1 packing tool and much more!
This device comes with tons of extras, making this a great value! This is a pen that is designed to give the user maximum performance!
Overall, this is one of the best rated Vaporizer pen that vaporizes waxes and oils and gives excellent performance. If this is something you are looking for, you can also check out the G Pen Elite which is definitely worth considering!
What Is A Vape Pen?
A vape pen is a vaping device that is used to vaporize e-juice or e-liquid. However, there are other devices on the market such as a wax vape pen used for vaping thick waxes and oils. Another type that's available on the market today is a dry herb vape pen.

Depending on the actual device, it may be an all in one system or come with a battery alongside a detachable tank. The tank is used to store e-liquid, dry herb, wax or oil, while the actual device or battery is used to power the coil within the tank to produce vapor. The primary reason to the name "Vape Pen" is simply, because these style devices are designed similarly to that of a pen.
Types Of Vape Pens
Regulated
These work similarly to a box mod where you can manually adjust the output wattage. Like many other vape pens, they do have a fire button as while, but differ since they'll have a wattage up and down button which allows you to control the amount of power to the actual coil and tank.
Constant Output
These types of devices will always provide the same output power no matter the state of the battery. Generally, the more the battery is drained, the less power or wattage will be provided while vaping. With a constant output wattage, you'll experience the same vape experience until the battery is fully depleted.
Direct Output
This type is what is often seen in many vape pens as the output wattage will be determined by the state of the battery. When the battery is fully charged, you'll experience more power, and as the battery drains while vaping, you'll notice the power output becoming weaker.
How To Use A Vape Pen?
The first thing we recommend doing when first getting a vape pen is to charge the battery until it's full. After this, be sure to fill the tank with your preferred e-liquid. In the recent years, many newer vape pens feature a top fill design, which makes them much easier to fill. However, in some cases, a tank must be fill from the bottom of the tank by taking off the base.

To fill a tank, simply find exactly where is the fill ports. If you're having trouble, we do recommend checking out the included user manual for the product, and it'll identify where you can fill from. Once you have filled the tank with some vape juice, let it sit for about five to ten minutes as you'll want the coil to be fully saturated before taking your first vape.

If you have a constant output or direct output style vape pen, simply turn it on and take a vape. If you have a regulated vape pen, you'll want to start at a lower wattage then work your way up to find a wattage you're comfortable and satisfied with. Do take note that many coils do have a recommended wattage, and surpassing it may lead to burning out the coil quicker or even end up with dry hits, which you totally want to avoid.
Need a vape to quit smoking? Check out our top picks on this page. You can also visit our homepage to discover a larger variety of vape pens that provide added level of autonomy giving you more freedom with flavors, colors and designs.