Lost Vape Centaurus Quest BF Mod $49.99 | Kit $59.49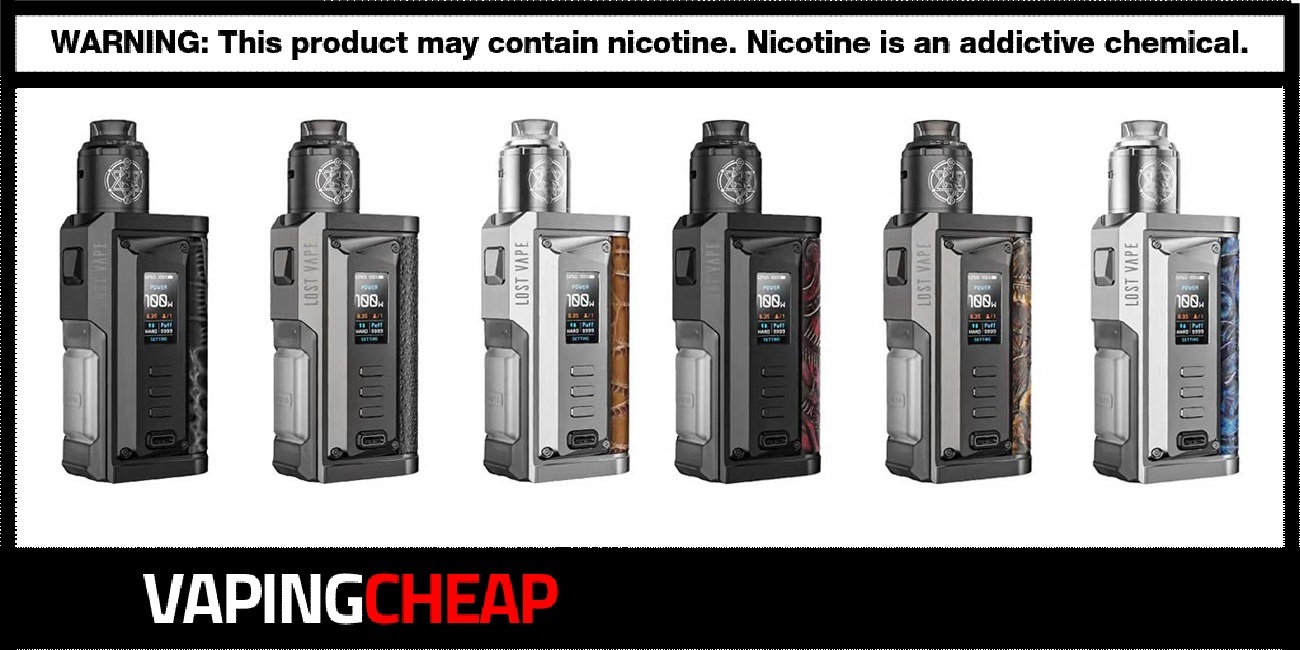 Here are deals, discounts and sales for the Lost Vape Centaurus Quest BF Mod and Kit. Buy the Centaurus Quest squonk mod for only $49.99 after using the code "LVCQBFM". It's also on sale from a USA based store for $73.46 with free shipping over $80 when applying the discount code "Hardware10".
The full squonk kit is also available for just $59.49 with the coupon code "LVCQBF". You can also get the kit at a US shipper for $86.99. You can pick from a wide range of color options.
Lost Vape's Centaurus Quest Squonk Mod requires a single 21700, 20700 or 18650 battery. Additionally, this device is powered by the Quest 2.0 chipset, which can provide up to 100w max output. This one differs from most squonk mods, and that's because it comes with a storage bottle as well as a squonk bottle.
They both hold a large amount of e-juice, around 9.5ml, and you can quickly fill them. Squonking with it is easy, too, as the bottle located at the front and features a wide opening. Like the previous Centaurus DNA250C Mod, this device is packed with tons of vaping modes.
The Centaurus Quest Squonk Kit by Lost Vape comes with the Centaurus Solo RDA. This atomizer is primarily constructed from stainless steel material and has a 24mm diameter. Furthermore, building on it is a breeze, as it sports a single-coil two-post build deck. Lastly, the Centaurus Solo BF RDA has an adjustable side airflow system.
The Lost Vape Centaurus Quest BF (Squonk) Mod and Kit is an excellent option if you're new to this style of vaping or simply enjoy it. The overall design makes it easy to use, plus it offers exceptional quality for the cash.
Lost Vape Centaurus Quest BF 100w Kit Features:
Lost Vape Centaurus Quest BF Mod

Requires a single high drain 21700, 20700 or 18650 battery
Maximum wattage output: 100w
Powered by the Quest 2.0 Chip
Various user modes
9.5ml squonk and storage bottle
Large display screen

Lost Vape Centaurus Solo RDA

Overall diameter: 24mm
Stainless steel construction
Single coil dual post build deck
Adjustable side airflow
1.2ml juice well
What's Included:
Lost Vape Centaurus Quest BF Mod
Centaurus Solo RDA
9.5ml Storage Bottle
Spare Drip Tip
Accessory Bag
18650 battery adapter
USB Type-C Cable
User Manual
Warranty Card
Be sure to check out the Lost Vape Centaurus Quest BF review video