Vaporesso FORZ TX80 Preview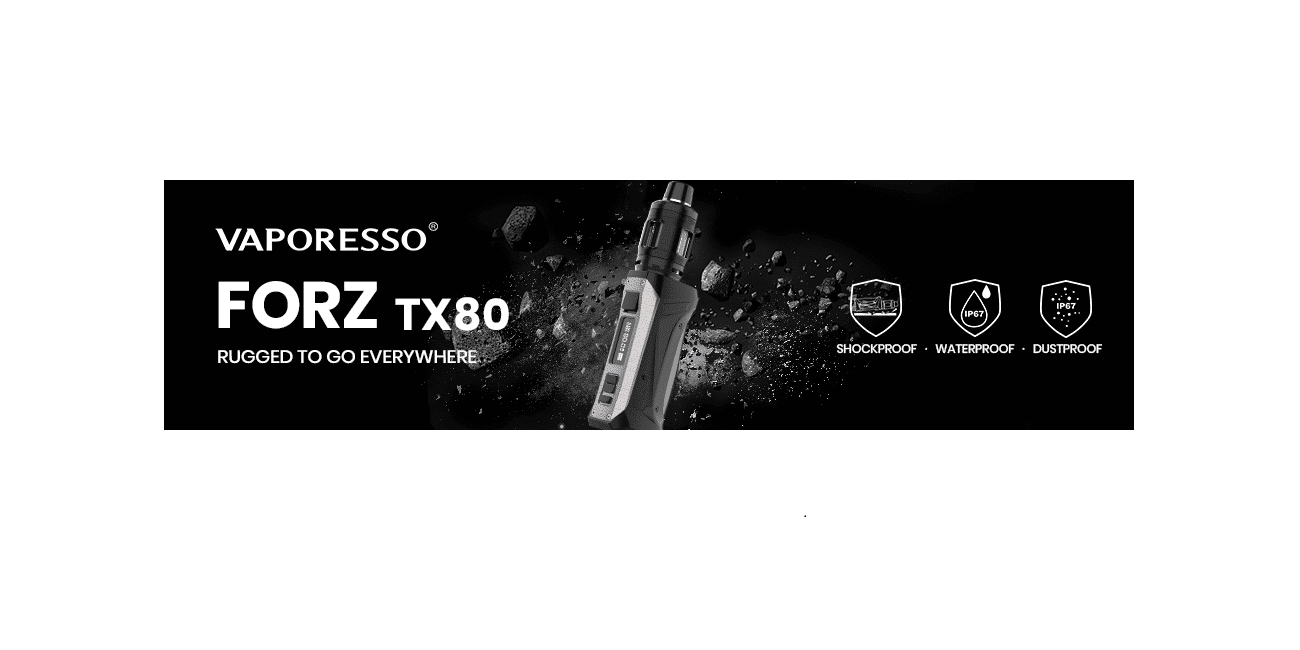 Many vapers re looking for mods and kits that are durable and can be literally taken anywhere. However, there's only a handful of them currently on the market and some don't necessarily offer all the features one may want.

Vape brand Vaporesso has recently introduced their FORZ TX80, a full kit that not only offers excellent durability, but packed with some unique features that can certainly fit all the needs a vaper may have. In our Vaporesso FORZ TX80 preview, we'll dive into the main features and what we expect when we finally get on our hands on one. Let's get started!
Key Features:
Advantages Over The Competition
When looking at the new FORZ TX80 by Vaporesso, it screams quality and innovation just like when we previewed the XROS. This stands true for Vaporesso, and we'll give it to them: Their quality is always outstanding. Because of that they often have a major advantage over the competition.

Although it houses an external battery and offers a waterproof, shockproof and dustproof design, it looks very compact. We do have to keep in mind, any device offering this kind of durability, similar to the Aegis series, is expected to be bulky. However, Vaporesso has seemed to nail down the overall design to not only make it eye-appealing, but smaller too. That's definitely a HUGE advantage over the competition and should not be overlooked.
Another advantage has to be the chipset and overall performance. We've had some durable devices before, but the performance sometimes didn't live up to our expectations. Whether it'd be temperature control or efficiency, some chipsets simply are not better than others. This is something we'll cover more later on in this piece.

Last, but not least is the tank design. While, for the most part, the mod is always the star of the show in a full starter kit. The FORZ TX80 may buck that trend. Indeed, we're excited for both and that's thanks to how they've design this new tank atomizer.
Our Expectations
Now, aside expecting the FORZ TX80 being quite durable, there are expectations regarding the performance. While we're happy to report it utilizes the familiar chipset seen in recent devices like the Gen S, testing still needs to be done.
Most importantly, is the new feature to be had with the FORZ TX80 and that is the F(t) Mode. While the upgraded Axon Chipset 2.0 retains all of its amazing features, the addition of F(t) mode offers something much different.
According to Vaporesso, it changes the output voltage and heating range within a certain time period. This allows the vape mod to cover a wider temperature range that ensures the e-liquid you're vaping on is highly resolved resulting in an unprecedented leap in flavor release. Testing will tell if it's true or not, so stayed tuned for that!

Another expectation involves the new coils and tank. For one, we've got to admit that having a matching tank included that's as durable as the mod is pretty awesome. With its double protection design, the FORZ Tank 25 looks like it can take a serious beating!

Now, the GTR coils that's included in this kit are brand-new and never used in any other Vaporesso atomizer. If you've read our Target PM80 SE review, then you know we absolutely loved their previous coil lineup. They were long lasting and provided stellar flavor.
These new Vaporesso GTR coils are packed with natural organic cotton and feature a larger airway to provide dense and flavorful clouds. Additionally, they've got a leak-proof design, so you'll never have to worry about vape juice pouring all over your mod. We'll put this to the test, of course. Either way, sub-ohm GTR coils look quite promising, that's for sure!
Conclusion
In conclusion, we're yet again impressed by something new that's coming from Vaporesso. They've been hard at work designing new devices, but this is totally different when comparing it to what they've done before.

While shockproof, dustproof and waterproof mods are on the market, there are some advantages and key features this full kit offers that might just edge it out over the others. We'll see when we get our hands on one and do all the testing! Until then, let us know in the comments below what your expectations are regarding the new Vaporesso FORZ TX80!