Vaporesso XROS Preview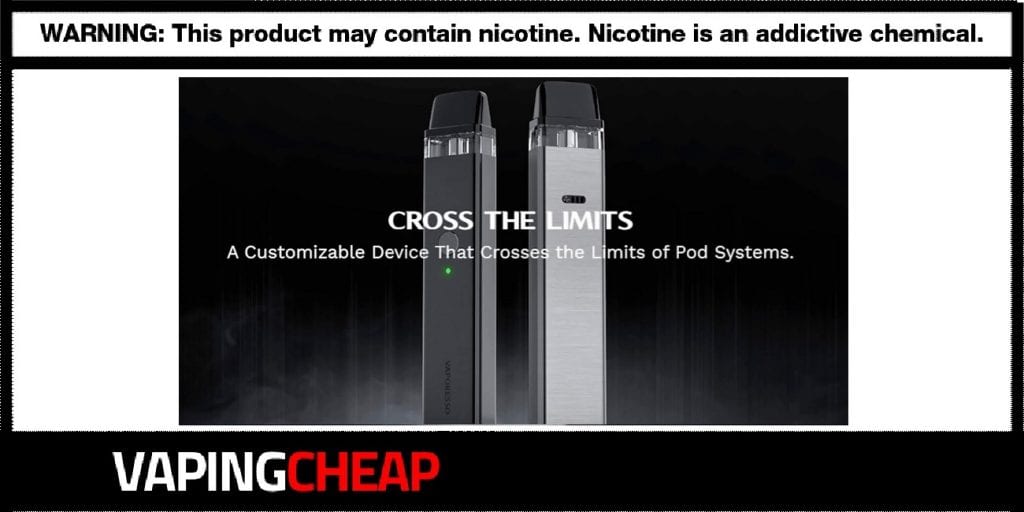 Vaping devices such as pod systems or pod mods have evolved quite a bit over the past two years. Each year new features are implemented, but there's always room for improvements in the world of vaping as new technologies are developed. Here comes the Vaporesso XROS, a brand-new pod system that implements features that are not only aimed at delivering a better vape experience, but convenience too, so that everything with this device is that much easier.
Vaporesso as a brand is known throughout the industry for delivering top quality products with very affordable price tags. However, they're also always pushing to provide vapers with products that are better in every single aspect. In our XROS pod system preview, we'll cover every detail you need to know about this upcoming product.
Vaporesso XROS Key Features
Just like any other pod vape, the Vaporesso XROS offers some key features to separate itself from the competition. With that being said, let's go over some that you'll find with this pod device.
Long Lasting Battery
Battery life is always a question you'll ask about any device, especially with pods since they typically offer smaller batteries. One of the showcase features with the Vaporesso XROS is the built-in battery.
The actual capacity is 800mAh, and best of all it charges via type-C alongside a 1A charging speed. This is something we love to see and we're happy Vaporesso listened to their customers. This way of charging is not only faster, taking only 45 minutes to fully charge your battery, but it is more secure as well. Not to mention, you don't have to plug in the charging cable a certain way just to get it to charge!
With the 800mAh internal battery, you can easily get through most, if not all the work day on a single charge. Although it features a large battery size, the XROS still remains slim and pocket-friendly, giving you the best of both worlds - portability and a long-lasting battery
Flavor Consistency
Another feature many vapers are looking for is great flavor and let me tell you, the XROS vape pod by Vaporesso is looking to deliver just that. This is thanks to their new well-developed mesh coils. There are two options that will be available as including a 0.8 ohm mesh pod and a 1.2 ohm mesh pod.
That's similar to the Vaporesso Xtra, but they're definitely not the same since they've been designed differently to suit the XROS pod system specifically.
What's better is that with the battery and Axon chipset, you'll get a maximum 20w more than enough to deliver a satisfying mouth-to-lung vape, really crossing the limit and allowing you to experience the absolute best.
Now, when comparing these coil options to the competition, Vaporesso has taken that next step in order to deliver that intense flavor you're looking for in a compact and sleek vape setup.
There's also a fully adjustable airflow system featured with the XROS. With its airflow design, you can really dial in the air coming allowing you to really fine tune the vape and find the perfect MTL draw.
Often a con found with many devices like this one, we're glad to see that Vaporesso implemented a design like this with their new XROS. Aside from it being there, it's also very easy to utilize and adjust to find your preferred vape which isn't something we can say with much of the competition out there right now.
Easy To Use
The last key feature we'll discuss with the XROS by Vaporesso is the ease of use. There's plenty of reasons why it is user-friendly but let's start with its firing modes. You can vape with XROS in one of two ways. One is draw-activated, so there's no need to press any buttons to vape. Secondly, you can actually press the firing button if you desire. Either way, you'll be getting a great vape experience.

The next reason as to why it's easy to use is the ability to fill the XROS refillable pod cartridge with one hand. Yes, you read that correctly! With its clamshell top-fill system, you'll be able to fill this device with your favorite freebase or nicotine salt vape juice with one hand.
Not only is this possible, but it also fills up quickly. We must admit - this is pretty awesome and a feature we're definitely looking forward to.
Now, the third reason for the ease of use ties in with the second: Even when the XROS pod cartridge is attached to the device, you can easily see the e-liquid that's inside. This may not seem like a huge deal at first, but trust us - it is. Thanks to its visible pod, with a quick glance you can tell how much vape juice is remaining.
This means you'll know exactly when you need a refill and avoid those nasty dry hits. A lot of pod systems you either have to take out the pod to see how much e-juice is remaining, or they're incredibly dark so you cannot even see how much is left unless you hold it up to a light. Thankfully, this isn't an issue you'll have with the XROS.
Vaporesso XROS Preview Conclusion
The XROS by Vaporesso looks to be like the pod system you'll want to add to your collection this year. We know that there are plenty of different vape pods you can buy today, but there are some key differences here with the XROS starting with the well-developed mesh coil pods and dual firing modes.

Additionally, with its overall design and functionality, not only is it user-friendly, but quite innovative too. There's even small things like the visible pod cartridge and top fill system that make a huge difference in your day-to-day vaping. It's a convenience that honestly all pod systems should offer us vapers.

With that being said, we're incredibly excited to get our hands on the Vaporesso XROS pod system! We hope you enjoyed our Vaporesso XROS preview. Let us know in the comments if this is something you're looking forward to vaping on, and what key features intrigue you the most. Thanks for reading!