iTaste VV – Top Outstanding Features, Reviews & Ratings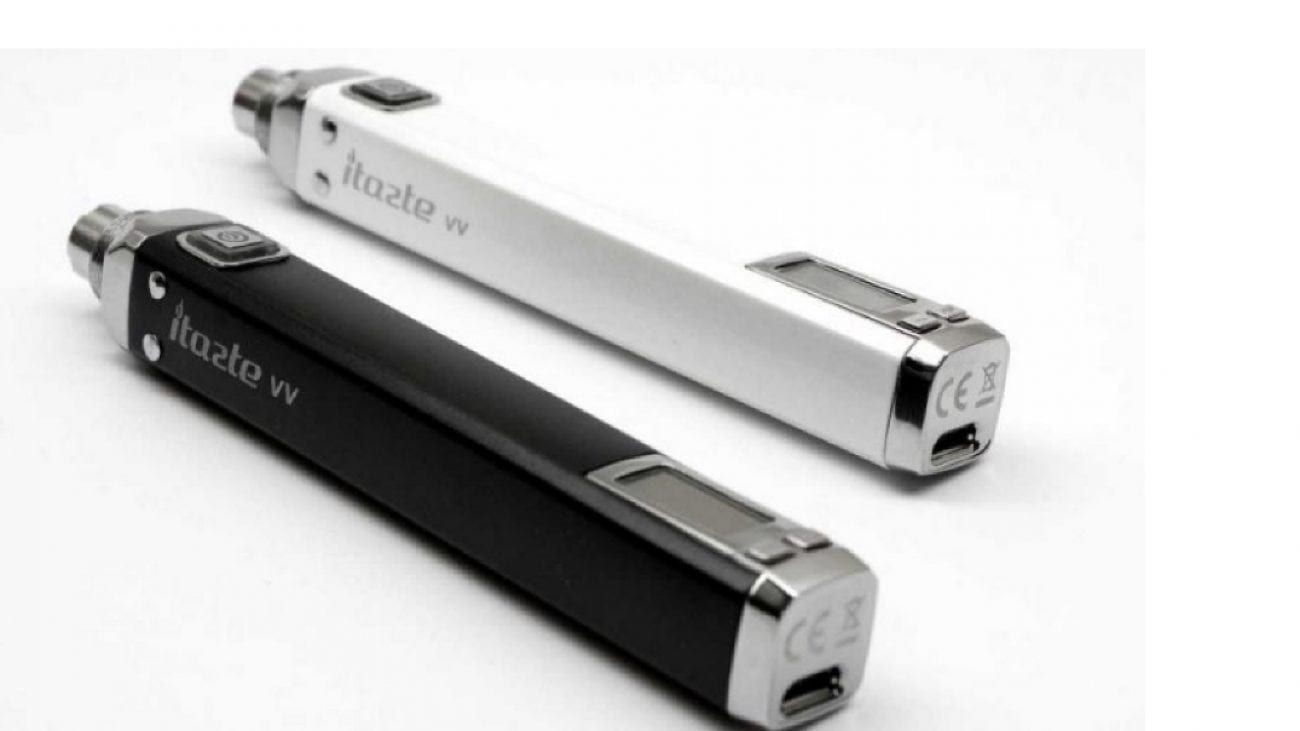 What's The Best Starter E-Cig Vaporizer?
A lot of people have asked me this question over the years, especially those who are new to vaping. I believe that it would be unfair to single out one particular vaporizer as the best amidst dozens of really good options such as the G Pen Elite. Yet, if I had to choose the top 5 starter e-cig mods, the Innokin iTaste VV would definitely be on that list. If you are trying to get a new starter e-cig vaporizer, then this iTaste VV 3.0 review by Vaping Cheap is just the thing for you.
iTaste VV Ratings
iTaste VV Review
I have been using this e-cig for over 2 years and I really like it. Don't be mistaken by its small size, this is a really powerful and multi-functional vaporizer.
One of the key features of the iTaste VV 3.0 that puts it ahead of competition is the Variable Wattage (vw) option alongside the Variable Voltage (vv). The voltage ranges from 3.3 V to 5.0 V and the voltage can be adjusted in increments of 0.1 V. This range is usually more than enough to accommodate to the taste of beginners and heavy vapers alike. The wattage ranges from 6.0 to 11.0 W, with increments of 0.5 W.
It comes in four classy color options: White, Black, Pearly, Chrome, and Chameleon. It has a boxy shape that is surprisingly comfortable to carry in hand despite the corners. I actually really admire those corners because this shape makes it less likely to roll around the table or in your pockets.
Through various distributors around the internet, Innokin sells the iTaste 3.0 in two sizes of kit. The Express Kit includes the Innokin iTaste VV in your color choice, a retractable USB charging cable, a wall adapter for the charging cable, and an instruction book. The other option is the iTaste vv Cleartaste 16 Starter Kit, which includes the iTaste battery and charging accessories as well as 5 Innokin Cleartaste 16 clearomizers.
Similar to the Cool Fire 1 this product can also sense the resistance value of different atomizers and will display a recommended voltage range when you press the + and – buttons simultaneously. Your settings will be stored even if the battery is switched off. It also features a puff counter. I once used the puff counter and compared it with the battery life and got a score of 347, before the button indicated low battery.
However, one of the biggest weaknesses of the Innokin iTaste VV is the battery capacity. If you start vaping heavily, then the iTaste VV 3.0 won't last you beyond a few hours. So, to last a whole day, you may need to carry two fully charged, instead of just one.
Innokin offers a standard 90-day "this product is free from manufacturer defects" limited warranty on all its products except the "consumable" atomizers and clearomizers, and you'll be on the hook for the shipping costs.
Any concerns you might have with the Innokin iTaste VV 3.0 pen may be better handled through the retailer. Be sure to check your retailer's returns and warranty policies before you buy. Both kits are great choices even for long-time vape users, since the Starter Kit is a good way to stock up on replacement clearomizers.
Affordable
There aren't many VV/VW vaporizers that are priced below $40. But with a price range around the level of $25-$40, this e-cig is a bargain item.
Dynamic Functionality
If there is an vaporizer that justifies the saying 'small is beautiful', it's the iTaste VV v3.0. This amazing vaporizer not just allows users to adjust wattage and voltage, but also suggests the right settings based on the coil resistance.
Brilliant Multifunctional Indicator
The indicator is really up to the job when it comes to displaying the desired information about the product. From the vaping counter to the voltage and wattage readings, the indicator is flawless.
Unique Sleek Design
Most commonly available vaporizers are either round or cube. But, the Innokin iTaste VV 3.0 sports a unique square tube look, that easily differentiates it from most other vaporizers in the market.
Limited Battery Capacity
At just 800mAh, the low battery power is probably the biggest limitation in the Innokin iTaste VV v3.0.
Shaky Top Buttons
While it's not a major issue, I personally didn't like the shaking buttons in the iTaste VV v3.0.
Auto-Erase Of Puff Counter After Restart
Despite the puff counter being a unique feature, you might be surprised to find the counter start from 0 again, every time you turn the device off.
Top Features Of iTaste VV/VW
This Innokin iTaste VV v3.0 review includes the major specifications of the product. For a more detailed look into the specifications, please look into their official website.
Packaging
Paper packaging with plastic seating.
Kit Components​
The iTaste VV v3.0 comes in two types:: Starter kit and Express Kit. Mentioned below are the components of the kits.
iTaste VV v3.0 vaporizer
Retractable USB charger cable
USB wall charger (Not available in Express Kit)
Clearomizer
1 English User Manual
Specifications
Dimensions: 15 X 15 X 108.5mm
Operating Voltage: 3.3V-5.0V
Charging Time: 1.5 Hours
Colors: White, Black, Chameleon, Pearl Chrome
510 threaded
Conclusion
Here's my summary of this iTaste vv 3.0 review. This lightweight but versatile vaporizer pen is an excellent choice for anyone. It lacks the bulkiness of a box mod and has both variable voltage and variable wattage for a great price through the right vendor.
You can also visit this page to get more outstanding top rated vape pens that produce excellent vapor clouds
For those looking to quit smoking through vaping, the vv/vw feature and puff counter are great tools to help you wean yourself off nicotine. For experienced users, it's both customizable and fashionable. Check out this video to see the e-cig in action: