Best Nicotine Salts Vape Juice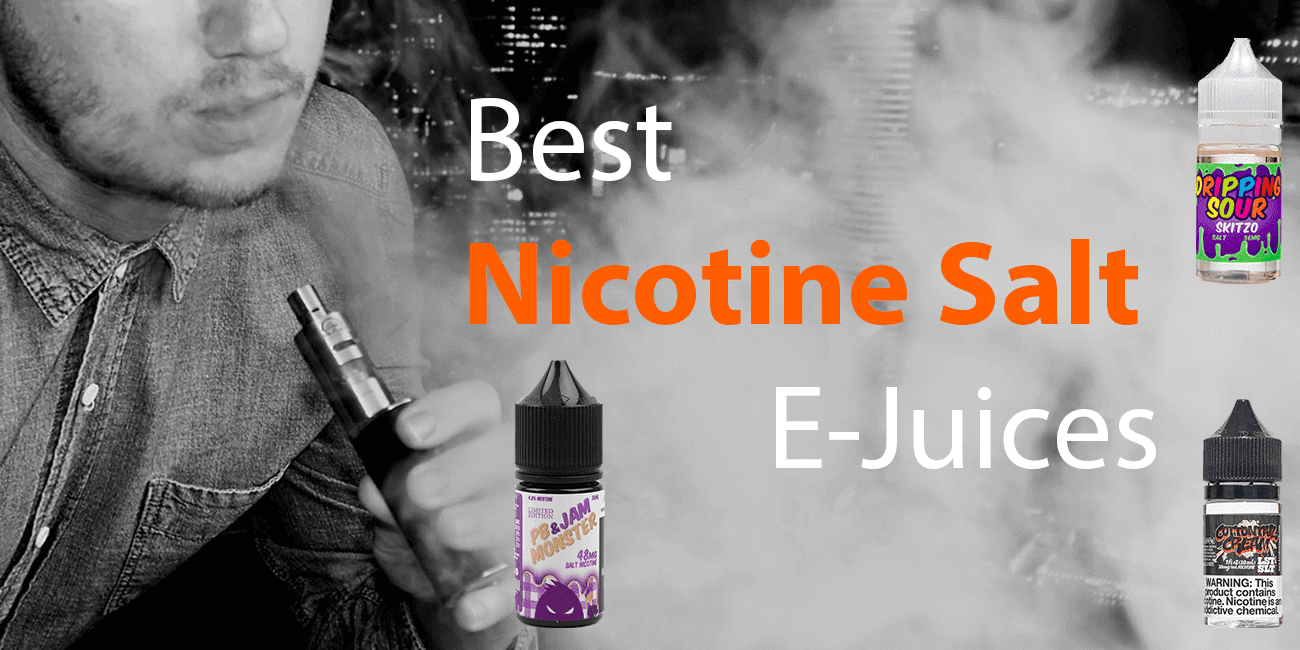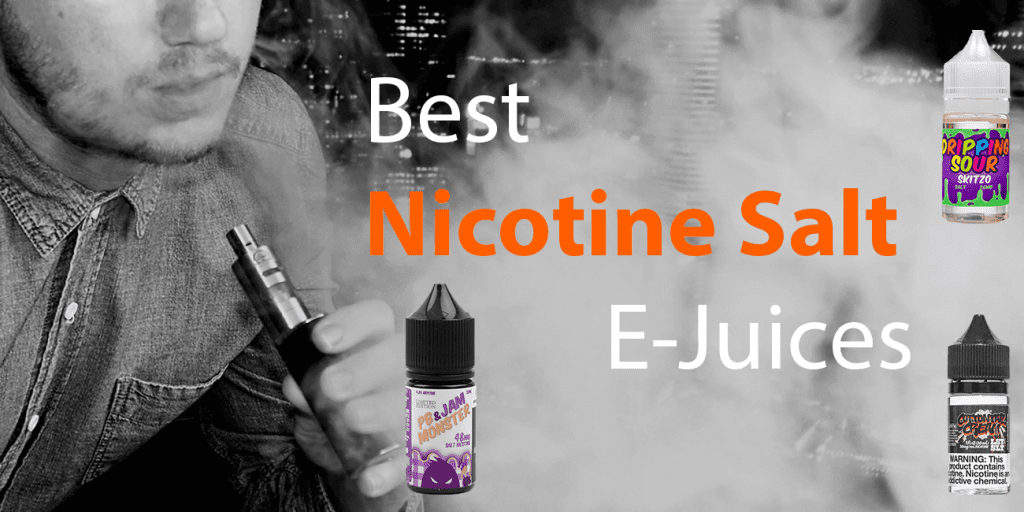 Nicotine Salts and nic salt e-juices are not new to the vaping scene, but recently have gained a huge popularity spike within the past couple of years. Like with any popular vape hardware or vape juice, there comes the question of which is the best nic salt juice. While it's not a straightforward answer as we'd like since taste is very subjective, we can certainly help pinpoint some of the best that are available when it comes to the actual flavor, price, options, taste, and satisfaction.
There's many reasons why a vaper might want to try out salt nic e-juices, especially the newer vapers who are now making the switch. Whether it's the smooth throat hit, nicotine satisfaction or compatibility, they're some of the most popular options on the market today. These types of nicotine e-liquids gained their huge popularity spike due to the Juul (read our Juul Review), which is often a device used as a vape to quit smoking. If you want to learn more about this specific vape device, definitely check out our in depth .
Best Salt Nic Juice | Our Top 10
Fuggin EJuice Melon Mix
Our Thoughts:
If you're a melon lover, then you'll absolutely love this new blend by Fuggin EJuice. Melon Mix brings the best out of melon vapes into one satisfying nic salt blend. You'll get a delicious mixture of watermelons, cantaloupe, honeydew, melons and fruit.

Firstly, on the inhale, you'll get a taste of various melon and fruit flavor notes. On the exhale, you'll notice the honeydew, and watermelon with undertones of cantaloupe and fruit. All the individual flavor notes do compliment one another, bringing forth one tasty melon fruit vape. Lastly, the salt nicotine Fuggin Vapor is using is top-notch, as the entire vape experience is super smooth on both the inhale and exhale with no harshness whatsoever.
Om Vapors Reality
Our Thoughts
If you've read our Om Vapors Review, then you know we're big fans of their vape juice, and was excited when we saw their nicotine salt selection. They didn't let us down at all with this one, and Reality by Om Vapors has become our go to tobacco flavor. Before going onto the actual flavor, we do want to mention it's available in WTA nicotine as well, which provides a bit more throat hit than the standard nic salt juice.

With that being said, on the inhale with this vape flavor you get a slightly earthy tobacco note. On the exhale is where this salt nic juice shines as you get a wonderful blend of RY4 tobacco, caramel and vanilla. The caramel and vanilla flavors do a great job to round out the overall vape experience and provide the sweetness needed to tone down the tobacco. We can definitely say this one is on our list of best tobacco e-juice and when you see the price is when you'll really be blown away.
NKD 100 Salt E-Liquid Frost Bite (Polar Breeze)
Our Thoughts
Now, this is a salt nic juice for you vapers who enjoy fruit and menthol flavors. Naked 100 is well known for some of the best e-juices, and this flavor can be easily added to that list. The primary notes you'll taste with Frost Bite, also known as Polar Breeze are Cantaloupe, honeydew and menthol.

We will say that the menthol on this e-liquid is on the stronger side, but that's why it's so enjoyable for us, especially in a mouth to lung type of vape. On the inhale, you'll get a smooth cooling menthol with a faint hint of honeydew. As you exhale, the primary taste is honeydew with the cantaloupe rounding it out, but there's a strong blast of menthol throughout the entire exhale. It's a very satisfying vape experience, and easily one we can call an all day vape.
Om Vapors Sub Zero
Our Thoughts
Here's another one for you menthol lovers! This one is a bit different though as it's just a mint and menthol flavor, no fruits or anything to be found. While this may be off-putting at first, it's actually very tasty, and just a wonderful straightforward vape. You need not look for any flavor notes or anything, I can taste everything on both the inhale and exhale.

You'll get a mint flavor followed with a menthol chill in the background, but it's not overwhelming nor overpowering, and this makes it great. Sub Zero is a perfect mint and menthol combination that we can't get enough of, and one of our picks for best nicotine salt e-juice. If that's what you're looking for, then this is it right here!
Fuggin EJuice Blueberry Yogurt
Our Thoughts
Blueberry Yogurt flavors are quite unique as there's not that many available, and even more so the case when it comes to nicotine salts. If you've seen our original Fuggin EJuice Review, we thoroughly enjoyed their Blueberry Yogurt flavor. Now, in this salt nic variant, it does keep the exact same tasty flavor as you'd expect.

As you take a vape, you'll notice a rich and fresh tasting blueberry. When you exhale, you'll get the same type of blueberry with a background of creamy yogurt. Honestly, we're shocked by how well the nicotine salt version of this e-juice tastes pretty much identical to their regular nicotine option. If you're a fan of blueberry or creamy yogurt flavors, then do yourself a favor and grab a bottle of Fuggin's Blueberry Yogurt. When you take that first vape, you'll see why this is on our list of best nicotine salt e-juices.
TWST Salt Pink Punch Lemonade
Our Thoughts
Twist E-Liquid's original Pink Punch Lemonade was an award winner, and they brought that same formula into this nic salt version. With that being said, you're still getting that amazing flavor that's sweet and just mouthwatering with every hit you take. Their nicotine salt is super smooth and delivers the satisfaction you're after with these types of vape juices.

The overall flavor profile is fairly simple, and there's no need to really look for any specific flavor notes. It's just that it's done so well and offers an almost exact replica of the actual drink that it's kind of mind blowing. If you're a fan of lemonade vapes, then don't look any further, pick up a bottle of this nic salt juice and you'll thank us later. The best part is that it comes in a twin pack bundle of two 30ml bottles, giving you a total of 60ml!
Jam Monster Salt Strawberry
Our Thoughts
Here's another really popular e-liquid turned into a nicotine salt vape juice. Jam Monster Strawberry is probably one of the most popular flavors in their lineup of e-liquids, and is one of our personal favorites. It's described as having strawberry jam, butter and toast. Sometimes when vaping on salt nic juices you may not get the same exact flavor as with regular liquid nicotine, but we will say you sure do with this one.

On the inhale and exhale, you get the best strawberry jam flavor mixed with hints of creamy butter, and very little toast. The strawberry in this nic salt e-juice is simply amazing, and just leaves you wanting more after every puff. It's just that good! If you were a fan of the original version, or looking for a dessert/breakfast type vape flavor, then you'll definitely want to give this one a shot.
Fruit Monster Blueberry Raspberry Lemon Salt
Our Thoughts
Fruit Monster E-Juice by Jam Monster is a new release, but quickly rose as one of our favorite premium nic salts, and eventually one of the best nicotine salt e-juices. Jam Monster crafted this lineup much different than their previous flavors, but they did one heck of a job. It's overall description, and actual name is accurate on what you taste with this nicotine salt juice.

On the inhale, you'll mostly get a blueberry and raspberry flavor. However, on the exhale is where the lemon comes in, and rounds out the entire vape experience. You'll still taste the wonderful mix of blueberry and raspberry, which is an all time favorite, but with lemon notes throughout the background. It's done incredibly well, and is sweet enough to satisfy your sweet tooth.
Abstrakt Vape Co. Juiced Salts
Our Thoughts
Abstrakt Vape Co. has some pretty unique flavors in their line of e-juices, but this nic salt flavor is definitely one that stands out from the crowd. There's not a lot of apple juice type flavors, especially mixed with other fruit notes. You may think apple juice mixed with tarty grape may not vape so well, but let us tell you, this blend is unlike any other and is easily one of the best salt nic juice flavors.

When you take that first vape, you'll immediately notice the crisp and refreshing apple juice type flavor. On the exhale, you'll get that same apple, but with background notes of tart grape. There's also a subtle cooling effect which is the "ICE", but it compliments the entire vape. We'd say vapers who even dislike menthol or cooling will enjoy Juiced by Abstrakt.
Ice Monster Salts Mangerine Guava
Our Thoughts
The name and flavor notes of this nicotine salt e-liquid might throw you off just a bit, but it's an amazing vape flavor. Ice Monster Mangerine Guava is a mixture of Tangerine, Guava and Menthol. Now, before you skip this one due to the menthol, we will say the menthol is very mild in this salt nicotine ejuice, and what makes this one of the best salt. As you take an inhale, and exhale this e-liquid, you'll notice a refreshing fruit blend that reminds you a bit of a cool tropical drink.

Both of the fruits in this saltnic blend is noticeable, and blend quite well together, almost naturally. The guava and tangerine flavor compliments one another very well, and the added menthol adds a subtle cooling effect that makes it taste almost like a tropical drink. Throat hit is super smooth too as expected, and the flavor is just right, not too strong nor too light. Give this e-liquid a shot, and you might find your new nicotine salt all day vape!
Nicotine Salt FAQs
What Are Nicotine Salts?
Traditional freebase nicotine and salt nicotine may seem similar in a sense, but there is one major difference, which is that nic salts often contain benzoic acid. What this causes is a much smoother vape compared to regular nicotine. It's also able to reach higher nicotine strengths, up to 60mg. Primarily, this is due to it being less potent overall in comparison, but another advantage is that it can vape well at lower temperatures, which we'll cover a bit more later.

Although there are higher strength freebase nicotine available such as 18mg, it's much harsher compared to a high salt nicotine e-liquid; hence why some vapers stray away from high freebase nicotine e-juices.

A vaper may use freebase nicotine in 3mg or 6mg in something like a sub ohm tank at higher wattages, while another vaper may use a nicotine salt e-liquid at a higher strength such as 35mg or 50mg in a say a vape pen to get a satisfying hit with much less vapor production. So, you vapers who enjoy a more discreet vape, but want that same nicotine satisfaction will enjoy using this type of nicotine in your vape.
Why Vape Nic Salts?
There's multiple reasons as to why a vaper may want to use nicotine salts over traditional freebase nicotine. As mentioned previously, the first reason has to be the smoothness of the vape. It's noticeably smoother, and won't be nearly as harsh like other nicotine liquid.

Another reason is the fact that it's available at much higher nicotine strengths, which is ideal for new vapers or smokers transitioning from cigarettes. These higher 50mg or 60mg strengths may not be great for an experienced vaper, but for someone making that switch from smoking, it'll give them the nicotine fix that's desired.

The last reason as to why a vaper may want to try out nicotine salts, especially at higher strengths is that it requires less temperature to be effective. Since this is the case, it'll perform incredibly well in smaller, and cheaper vaping devices. These types of vapes often produce less vapor as well, so you won't be blowing out large plumes of vapor which some people may simply prefer. So it's not only a cheaper alternative due to the device requirement, but allows you to be a bit more stealthy too.
How To Vape Nicotine Salt Liquids?
This one is pretty easy, vaping nicotine salts is similar to that of freebase nicotine. The major difference will be the type of device used. Since salt nicotine strengths often come in higher strengths, it's not designed for sub ohm use; therefore, you'd be using a pod system, mouth to lung tank or MTL all in one (AIO) kit. So, you'll vape nicotine salt e-liquids just like freebase nicotine, but with specific devices designed for this type of vape juice.

These types of devices are low powered, and ideal for this style of nicotine. Simply fill your tank or pod with your preferred e-liquid, and you're good to go. If you're looking for recommendations, definitely check out our list of the top rated pod vapes.

However, we will say that recently, some e-liquid brands have released sub ohm nicotine salt e-juices at strengths such as 3mg or 6mg that can be used in something like an RDA, and box mods. Just be sure to keep in mind that these e-liquid strengths are 3mg and 6mg, and not 35mg or 50mg. The last thing you want to do is vape a high nic e-liquid at lower resistances, and high power, trust us.
Can You DIY With Salt Nic?
Yes, you can mix your own e-liquid using nicotine salts, just like you can with freebase nicotine. When mixing, nicotine is completely optional, and you can add it into your blend if you prefer.

You can make any type of e-liquid flavor with nicotine salts, so if you have a favorite mix, you can do so with salt nics! Just always keep safety in mind when mixing your own e-liquid. To see more about mixing, refer to make your own DIY e-liquid guide.
Which Salt Nicotine Strength Is Right For Me?
This is a question we often get, and it depends since everyone needs may be different. We will say though, that higher nicotine strengths such as 50mg or 60mg are best for smokers looking to make that switch to vaping. Although it's a rather high nic strength, it still remains quite smooth, especially for someone coming from smoking. Not only this, but it'll provide them with more satisfaction in comparison to say 6mg freebase or even 24mg salt nic.

If you're an experienced vaper, and enjoy vaping on 12mg or 18mg freebase nicotine, then 24mg or 35mg may fit your needs. Often in MTL vape setups, the nic strength is traditionally 12mg or 18mg, so 24mg or 35mg will provide a similar satisfaction, but smoother. However, you may enjoy that throatier punch that freebase offers, so that's something to take into consideration.

Lastly, if you vape 1.5mg, 3mg or 6mg freebase regularly, then 12mg or 24mg would probably be a good fit when trying out nicotine salts for the first time. Although that may seem low with some other nic strengths, it still provides a super smooth vape experience, and delivers a nicotine satisfaction unlike no other.
Is Salt Nicotine For Everyone?
To conclude, we will say that nicotine salts are certainly not for everyone. It may satisfy some, but for other vapers, standard liquid nicotine (freebase nicotine) is just fine, and that's perfectly okay. The great thing about vaping is that there's so many options available. Whether it's regular e-juices, salt nic, vape mods, and more, this list can go on, and on with the massive amount of choices you have as a vaper.

Deciding on whether or not nicotine salts are for you will depend on what you're looking for in your vape. For example, if you're new to vaping, you may want to give nicotine salts a shot to make that switch over to vaping as they may just provide that nicotine satisfaction you're looking for without having to jump straight into a more complex vape setup. However, an experienced vaper may just want a quick nic fix with a pod kit, and higher mg nic salts.

Regardless, it's subjective, and it may take some time to really nail down if nicotine salts are right for you. With that being said, we do hope this article helps you in finding the best nicotine salt e-juice, and figuring out whether nic salts is something you may enjoy. As always feel free to leave any questions or comments below, we look forward to hearing from you! Thanks for reading!