Damn Vape Intense Mesh MTL RDA $14.85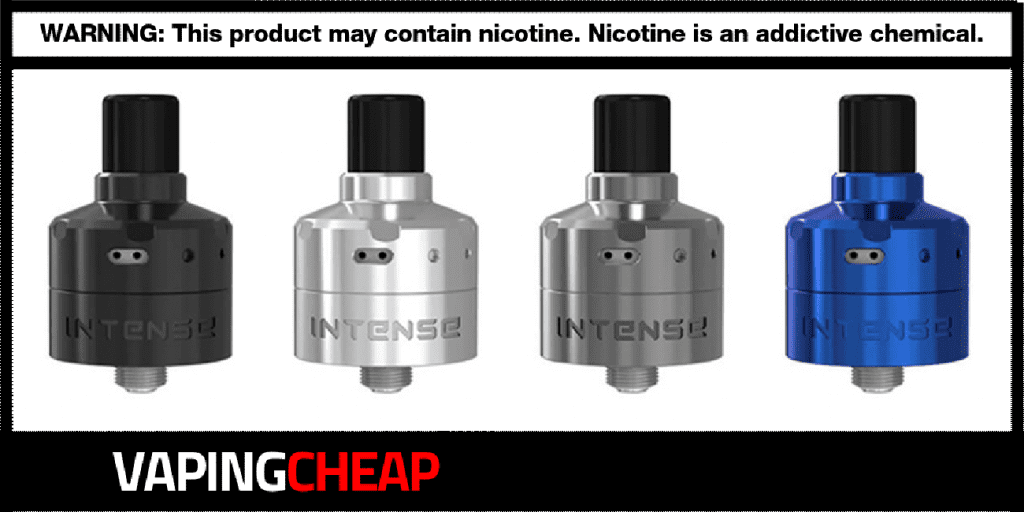 Here's an excellent deal for the Damn Vape Intense Mesh MTL RDA. Get yours for as cheap as only $14.85 using code "vapingcheap". It's also on sale at another China based shipper for $16.99 after using code "DVIMR". There are four colors to choose from including Silver, Blue, Gunmetal and Black.
Damn Vape's Intense MTL Mesh RDA is one of the more unique atomizers to be released, and certainly one of a kind. Not only is it a mesh focused RDA, but designed for specifically mouth to lung vaping. To start, the Intense Mesh MTL RDA sports a base diameter of 24mm, while having a height of only 23.8mm. Its super compact size and condense chamber, it's built to deliver awesome flavor.
Now, there's a few features of the Damn Vape Intense Mesh MTL RDA that does make it quite unique, and actually easy to use. Its build deck is simple, with two clamp posts. Simply slide in the compatible mesh strip into place, and tighten them down, that's it.
Speaking of the mesh strips, two of them are included. The resistance comes in at 0.18 ohm. However, they're rated at a much lower wattage since these mesh coils are for MTL vaping.
Moving onto the most unique feature, and that is its innovative CTC (cotton tightness control) system What this does is make the wicking process much easier than usual. With any mesh wire, you want the cotton to fully press against it. With the CTC system, you can adjust a PEEK block inside of the build deck, which will put pressure against the cotton to stay on contact with your installed mesh coil strip.
As mentioned previously, when it comes to the airflow, it's been designed for mouth to lung vaping. However, you can adjust it to provide a very restrictive direct lung vape. There are PEEK adapters you can install which will allow you to change up the airflow.
Additionally, you can adjust it via the top cap, giving you even more control of tight or loose the draw is. Also, a PC top cap is included which will give your Damn Vape Intense RDA a different look plus reduce the heat transfer.
All in all, this is an excellent sale for the Damn Vape Intense Mesh MTL RDA. For you vapers who enjoy mouth to lung and mesh wire, then this is an RDA you'll want to add to your collection. If you're into tanks, definitely check out the Damn Vape Doom RTA.
Damn Vape Intense MTL RDA Features:
Base Diameter: 24mm
Height: 23.8mm
Stainless Steel Construction
Unique Clamp Build Deck
CTC System (Cotton Tightness Control)
Fully Adjustable Airflow

Changeable PEEK Inserts
Adjustable Via Top Cap
MTL & RDL Draw

Delrin Drip Tip
Condensed Chamber for Flavor
Deep Juice Well (2ml)
PC Top Cap
What's Included
Damn Vape Intense RDA
2 Mesh MTL Coils
Bag of Spares
PC Top Cap
User Manual
Check Out The Damn Vape Intense MTL RDA Review