Loop Pods Video Review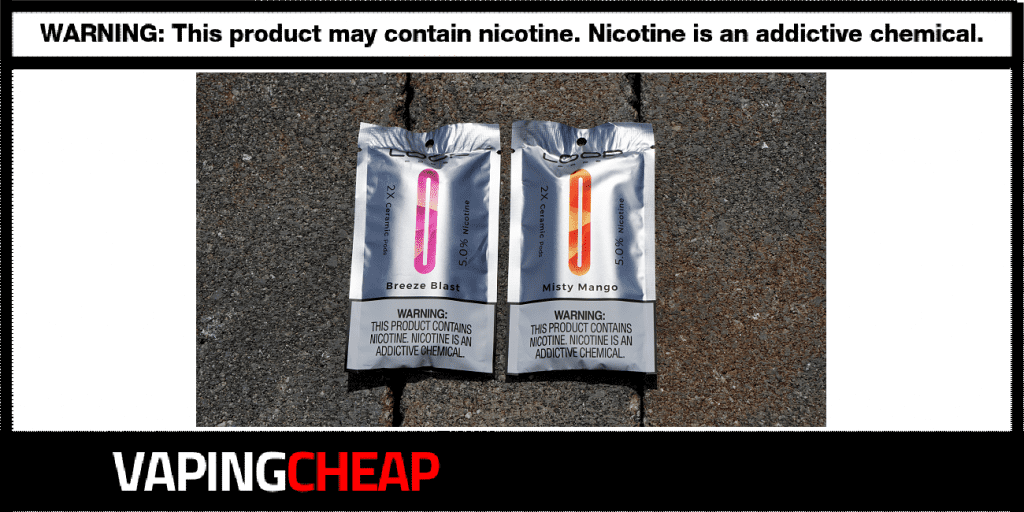 Check out our review of the new disposable ceramic pods from Loop. For more videos, check out our YouTube channel here.
---
Small, compact and discrete vaping devices have always been quite popular for a wide variety of reasons. Whether you don't want the attention or simply prefer to carry a more pocket-friendly and easy to use device, there are certainly great options out there. Disposable vapes in particular have been growing in popularity for these reasons, and Loop has released their own which offer features we haven't really seen before in this specific type of vape.
Loop Disposable Pod Features:
Loop Ceramic Pod First Impressions
I've got to say, when I received the Loop Ceramic Disposable Pod I was blown away. The packaging is amazing and you'd think just by looking at it that it costs much more than it does. On the wrapper, you will see all the information clearly. This includes the flavor, what is inside, the nicotine strength of each pod and much more.

Opening the packaging is super easy and once you do, you'll see a similar wrapper for each individual Loop Pod. Again, I was blown away by how great it looks and was glad that they decided to individually seal each vape. Since they are offered in two packs rather than one (which is definitely a good thing), it's ideal to have them wrapped individually. When you've opened one, you've got another waiting for you that's completely sealed. This just adds another layer of protection and is pretty convenient.
Now, after you tear open this wrapping, you'll see the actual Loop Ceramic Pod. It's minimalistic, but I personally like it. I would agree when they call their device "elegant" that's for sure.

At the bottom, where the airflow and indicator light is located is a small sticker. Be sure to peel that offer before taking a vape! I do want to mention that when you vape on it, that's when it'll light up so you know it's working as it should be.
The airflow holes are quite small, so I expected this to provide a true mouth- to-lung vape. Moving upwards of the Loop Pod is where you'll find the mouthpiece. There's a silicone plug pre-installed here, so this is something you'll also want to take off before vaping. The Loop Disposable Ceramic Pod includes minimal branding, making it easy on the eyes. You'll also see the name of the flavor alongside "6th Gen Ceramic".
All in all, I must say LoopCigs did a wonderful job with their packaging and device. It looks good, very lightweight and simplistic. There's not much more I would ask for in a disposable.
Loop Pod Misty Mango Review
Flavor Profile: Iconic summer fruit flavor (mango) with a hint of ice.

Nicotine Strength: 5% or 50mg

Inhale: Fresh mango with cooling

Exhale: Fresh mango flavor with stronger cooling
If you've read some of my reviews, then you know I absolutely love mango vape juice flavors. With that being said, I had to try out Misty Mango first and I can say that I wasn't disappointed one bit. On both the inhale and exhale, you'll get a fresh tasting mango with the "ice" effect. It's a slightly stronger menthol or cooling, but certainly not overwhelming.

I will say on the exhale, you will notice that cooling quite a bit more. However, I enjoyed every single vape I took. The mango tastes authentic and not artificial. It's a straightforward vape experience, but it's a very good one to say the least.

When it comes to throat hit and satisfaction, Loop Pod Misty Mango delivers. Throat hit is very smooth especially when considering this is 5% nicotine strength.

Honestly, I was expecting to like this flavor quite a bit and I did. It's tasty and with each vape I took, I was completely satisfied. The cooling effect was just right and didn't overpower the mango, which can sometimes happen in certain blends. Overall, I think you vapers who enjoy fruit or mango flavors will definitely enjoy this one as well.
Loop Pod Breeze Blast Review
Flavor Profile: Sweet and tangy flavor blend. Subtropical citrus fruits with an ice finish.

Nicotine Strength: 5% or 50mg

Inhale: Mixture of tropical fruit flavors with a light cooling effect

Exhale: Mixture of tropical fruit flavors finished with a cooling effect
I will say right away, this is a very interesting flavor. When I first vaped Loop Ceramic Pod Breeze Blast, I immediately noticed a variety of fruit flavors. However, as I continued to vape this flavor, I could start picking out each fruit note. Definitely on the forefront you'll get an orange flavor. For my taste buds, this is what I can pick up the most and like Misty Mango, it's an authentic taste.

On the inhale is where the orange flavor is most dominant. As you begin to exhale is when you'll start noticing more fruit flavors. Some others I was able to pick out were pineapple, papaya and possibly a slight hint of guava. It's definitely unique and sometimes you're able to pick out different flavors as you vape it. However, I will say this blend is done right. The flavors are blended very well together with weird aftertaste.

There's also the "ice" effect as well going on throughout the inhale and exhale. It's not too potent or overpowering, which for me, is a good thing. I will say though that the throat hit on Breeze Blast is slightly stronger than Misty Mango. Not by a lot, but it is noticeable. With that being said, the vape is still quite smooth and tasty!

This is definitely a close second to Misty Mango and I didn't think I would like this one as much as I do. I really enjoyed how well this e-liquid was blended. If you're into tropical or subtropical fruit flavors, then I'd highly recommend you trying this one first from Loop Pods.
Loop Pods Review Conclusion
After testing out the Loop Pod for about a week, I will say they've delivered an excellent product. I'm still vaping on the same Misty Mango and Breeze Blast that I originally opened when doing this review. In regard to how long they last, I will say for sure they do last as advertised.

What's even better is that I'm getting the same consistent vape experience as when I first opened the packaging. This must be due to the 6th Gen Ceramic. The flavor you get from this device is crisp and like mentioned earlier, I do think they did very well with each blend.

The performance, taste and quality of the Loop Pod leads me to definitely recommend them. I'm still impressed by their packaging and build quality! It's seriously that good. While disposables are not the same as other pod systems, I do think some ex-smokers and new vapers looking to quit smoking will absolutely enjoy this device. It's incredibly easy to use and just hassle-free.

I hope you enjoyed our Loop Pods Review! Feel free to leave any comments or questions down below! We look forward to hearing from you. Thanks for reading!