Vaporesso Xtra Pod System Kit $14.79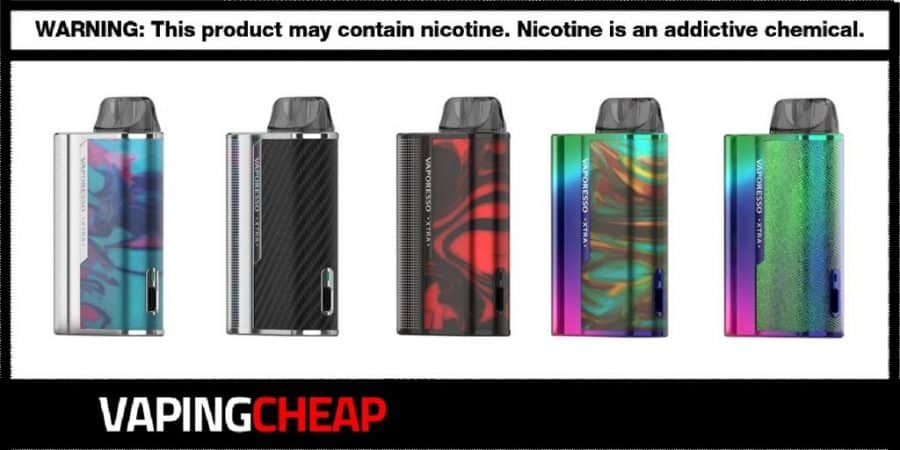 Here's a couple cheap deals and discounts on the new Vaporesso Xtra Pod System Kit. You can get yours from only $14.79 using code "XTRAK". There are six different color options available, which are Grey, Grey Resin, Silver, Silver Resin, Rainbow and Rainbow Resin.
The new Vaporesso Xtra Pod Kit sports a compact yet ergonomic design. However, it features a unique grip, making it even more comfortable in the hands. In addition, this device has a built in 900mAh battery alongside a maximum wattage output of 11w or 16w. There's a small three colored LED indicator light, so you'll know exactly when it needs to be charged.
Vaporesso's Xtra Pod Pod does does include two refillable cartridges. These refillable pods hold a maximum e-juice capacity of 2ml and can be quickly filled from the side. Furthermore, one pod is made with mesh wire, while the other is constructed with regular wire. The mesh pod is suited for direct lung vaping while the regular wire pod is perfect for MTL (mouth to lung) vaping.
Another great feature is that the Xtra Pod uses an upgraded cotton in the mesh coil to provide even more flavor production. The Xtra pod kit by Vaporesso even has accurate temperature support. Lastly, like some other pod systems, the Xtra does have a power button to turn it on or off.
If you're in the market for yet another pod device kit that's compact, and covers both MTL and DTL vaping styles, then you'll want to check out the Vaporesso Xtra Pod System.
Vaporesso Xtra Vape Pod Kit Features:
900mAh built in battery
Maximum wattage output: 11w or 16w (depending on the coil)
Power button
LED indicator light
Includes 2 refillable pod cartridges
Accurate Temperature Support
Smooth airflow
Compact design
What's Included:
Vaporesso Xtra Device
Unipod Meshed 0.8 ohm refillable pod
Warranty Card
Unipod 1.2 ohm refillable pod
USB cable
User Manual