Vapor Flask V2 Clone Review
The authentic Vapor Flask V2 is an Evolv DNA powered variable wattage mod made by a company of the same name, Vaporflask. The first version of the Vapor Flask was released on August 15, 2014 and it was a "built in battery" APV housing the Evolv DNA 30 and two Sony VTC4 18650 batteries. In spite of its immediate popularity there was some user concern regarding the inability to "self service" the built Sony batteries, and in response to that concern the Vapor Flask V2 was released in September 2014.
The authentic Vapor Flask V2 with its dual removable battery caps now allowed the user to install and remove their own batteries, and then it was really game on. The authentic Vapor Flask V2 continues to be one of the most sought after, and hard to keep in stock high end variable wattage mods. The latest edition of the Vapor Flask V2 now features the Evolv DNA 40 temperature protected chip, and retails for $299.99usd at authorized distributors worldwide.
The Vapor Flask V2 30W clone is made by Shenzhen Shenxingkang Technology, who is the same manufacturer behind the Infinite and Yosen Technology rebranded Vapor Flask V2 clones. Shenxinkang aka SXK has become one of the most recognized names in the clone manufacturing business, and has gained a reputation for their high quality replications of the some of the most popular electronic cigarettes on the market. In spite of their good reputation SXK has hit some bumps in the clone road *cough* DNA Zero.
The SXK Vapor Flask V2 clone featured in this review was provided by Cigabuy.com for the purpose of this product review. The Vapor Flask V2 clone is packaged in a black gift box with a magnetic closure, and it includes the Vapor Flask V2 (batteries not included), and a user manual. The Vapor Flask V2 clone retails for $58.63 on Cigabuy.com.
Where to buy a Vapor Flask V2 Clone: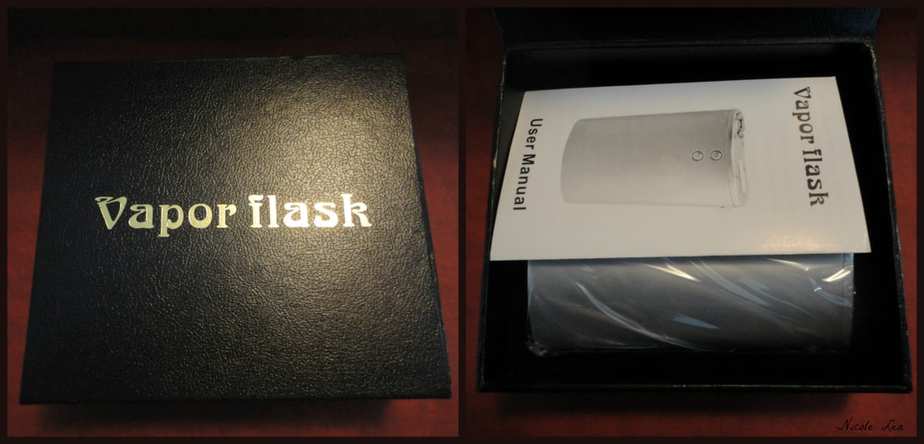 VAPOR FLASK V2 CLONE SPECIFICATIONS:
Brand: Shenxingkang Technology
Type: variable wattage APV
Material: Billet aluminum
Connection threading: 510 ( spring loaded)
Battery compatibility: 18650 ( dual 18650)
Diameter: 22.7mm
Width: 60mm
Height: 92mm
Weight: 158grams
Features:
7-30W variable wattage
3-8.4v output (2.2v is actual minimum output)
Fires .3-5.00 ohms
Buck/boost converter
Short circuit protection
Stainless steel 510 connection
Brass spring loaded 510 pin
Top mounted LCD display screen
Dual 18650 (can use single 18650 also)
Micro USB charge port
Passthrough capabilities
BUILD QUALITY
The Vapor Flask V2 clone is one that I have been waiting on for a long time, although I admit that I had initially lost my excitement for it after I found out that it was SXK cloning it. While SXK has made some of the best clone atomizers (Kayfun Lite plus V2), and mechanical mods ( Stingray X) on the market, after the collective let down of the DNA Zero clone, I had lost my confidence in them with regards to manufacturing electronics.
Now that I have the SXK Vapor Flask V2 clone in hand, there is some redemption in sight. Out of the box I was more than pleasantly surprised. The first aspect of this device that I was struck by was the feeling of the Flask itself. The Vapor Flask V2 is machined from billet aluminum, and the silver version has a clear anodized finish that feels like butter in the hand. It is so silky smooth, and even in finish throughout the device. What I really appreciate is that in spite of its buttery smooth finish, that it is not slippery when handled.
As far as 1:1 replications of the body and aesthetic design of the authentic Vapor Flask V2, the SXK clone is as close as it gets. The only difference in build quality are the up/down buttons which appear to be more flush than the authentic, the phillips head screws securing the top plate, and the smoother finish on the body. The battery caps also do not line up perfectly when screwed in all the way as the authentic does. However, the overall build quality of the SXK Vapor Flask V2 is fantastic.

**Update 3/22/15** After two months of sporadic use the 510 connection decided to come apart while unscrewing an atomizer from it. While my honest initial impression of the build quality was very good, this device should not fall apart after two months of light use. So I am letting viewers know that all that glitters may not be gold in the end, and I have revised my final points rating accordingly.**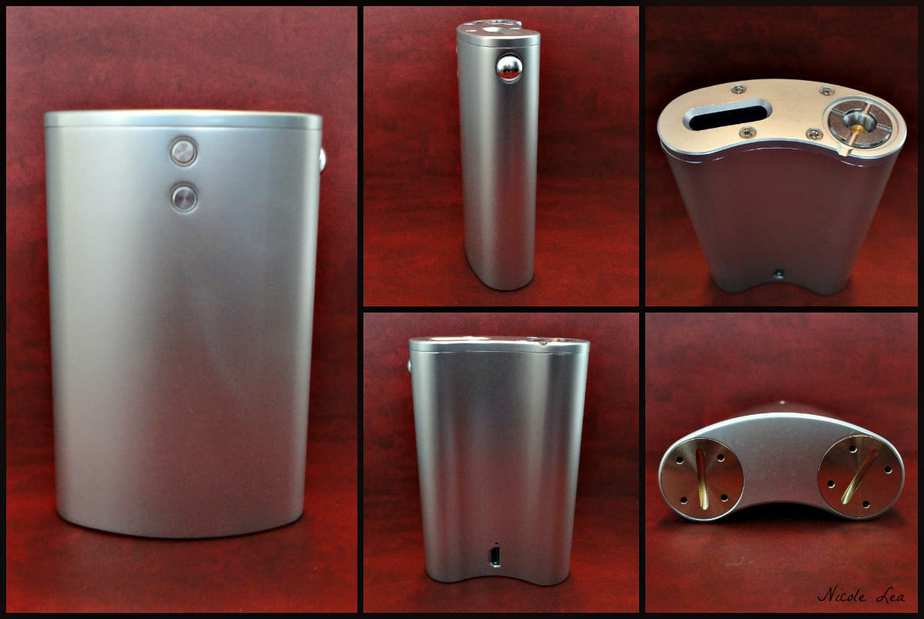 Even as the authentic Vapor Flask V1 and V2 was met with rave reviews by users worldwide, it seems that this has changed recently as more and more reports of QC defects on the recent batches Vapor Flask V2 have surfaced. I recently spoke with a regular viewer of Vaping Cheap and member of the Vapingunderground ecig forum who had received two authentic Vapor Flask's with severe quality defects.
Below is a photograph of one of the authentic Vapor Flasks with a major gap and separation between the main body and top plate. At a price point of $299.99, I struggle to understand how a device in this condition could ever make it into a customer's hand. While this review is about the clone, and not the authentic Vapor Flask, it is impossible to ignore this kind of information when brought to my attention, especially as I am reviewing the clone. I have been saying for some that the authentic Vapor Flask is one of very few devices that I actually believed was worth its price tag — I guess I need to rethink that statement. Clearly poor quality control is not exclusive to products made in China.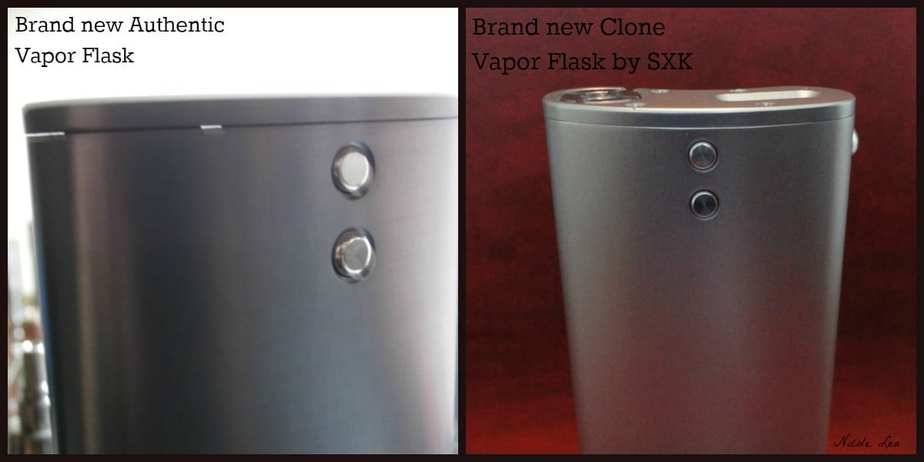 Like the authentic Vapor Flask V2, the clone also has a stainless steel 510 connection with a brass spring loaded pin. Aside from the use of phillips head screws on the top plate, the clone's top plate construction is otherwise identical to the authentic Vapor Flask. The spring loaded pin on the Vapor Flask V2 clone does accommodate a good range of 510 pin lengths.
In the photo below there are 3 different atomizers with 3 different pin lengths. The Geyser RDA has a 2mm pin, the Kayfun 3.1 clone has a 1.5mm pin, and the Hobo V2 clone as .5mm pin, and all three atomizers easily flush mount onto the Vapor Flask V2 clone. I was surprised that the Geyser RDA was able to flush mount onto the Vapor Flask clone because it does not flush mount to the Yihi SXmini, and the Pioneer4U IPV Mini 30W.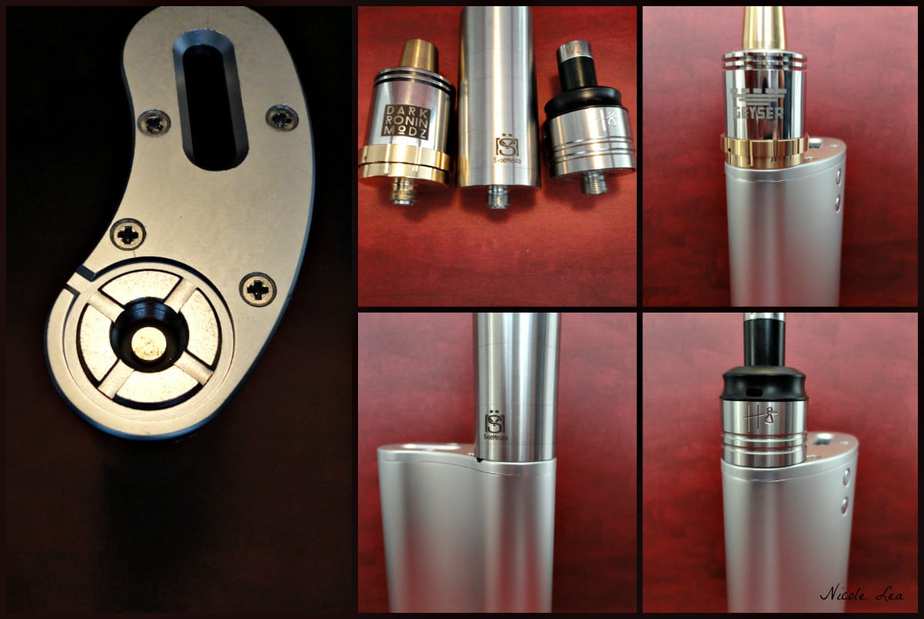 The Vapor Flask V2 clone is powered by two 18650 batteries, and the batteries are inserted into the dual battery slots through the bottom of the Flask. The threaded, and removable battery caps are constructed from brass like the authentic Flask. There are four battery vent holes drilled into each battery cap, and there is a deep center slot for removing the caps. The thread pitch is fine on the battery caps, so care does need to be taken when installing them.
When I first received the clone I made the mistake of trying to remove one of the battery caps with a screwdriver — don't do that. If you look at the third picture below you can see that the right battery cap slot has some dings around the slot, which I caused by attempting to use a screwdriver to remove it.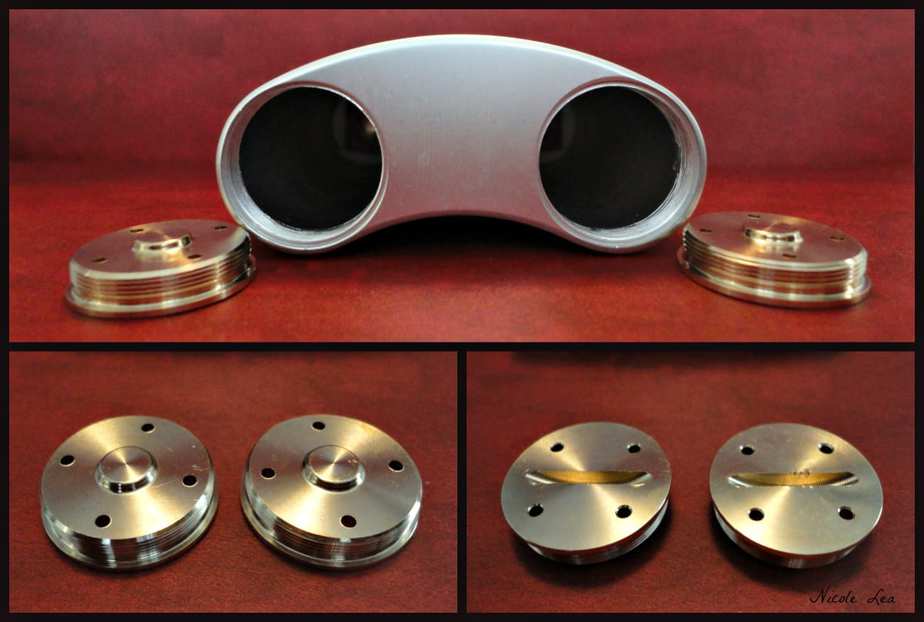 It is best to use a coin for removing the battery caps, in this way you will not ding them up as I did with my screwdriver. As far as the battery slots themselves, this is where I believe I have a minor defect on the clone that I received for this review. As shown below I used a pair of Samsung 25-R batteries, which are a very snug fit inside of my V2 clone. Even though I first removed the label from the battery prior to insertion, the fit of the batteries was still snug enough that they did not slide out once installed.
I have spoken to at least two other owners of the SXK Vapor Flask V2, and one of them reported using the same Samsung 25-R batteries and that they were easy to remove and did not get stuck. So I can only assume that the machining of the battery slots on my clone are off, because once they went in, they did not come back out.
It is important for me to note that while the user manual included with this clone claims to have reverse polarity protection, literally days before penning this review I read a report of a user who fried the chip in their SXK Vapor Flask V2 clone after reversing the polarity of one battery, so user beware. I should also point out that it is possible to run the Flask clone with only one 18650 battery if you choose.
When the battery caps are screwed in all the way, the slots in the battery cap do not quite line up the same. For some reason this bothers some people, while I don't mind at all. However, if this is a concern to you, it is possible to align the battery caps after the battery is installed without losing battery contact, as shown below in the bottom right photo. This clone also has a working usb charge port with passthrough capabilities.
With two 18650 batteries wired in parallel this means you will have double the mah capacity/battery life. Being that I am using two 2500mah 18650 batteries, I will have a total of 5000mah in battery life which is a major part of the appeal of this device.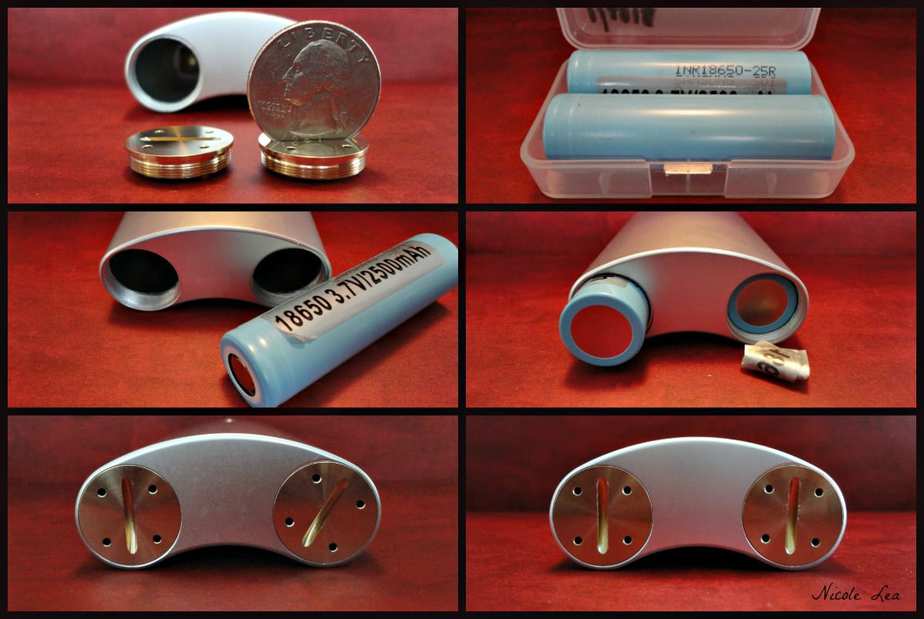 FUNCTION
The DNA 30 clone chip featured in the Vapor Flask V2 clone is made by Shenxingkang, and is similar to the chip found in the V2 DNA Zero. While this device does come with a user manual, it is a poorly written manual. Aside from the poor English, some of the features are improperly named in the manual, which can be confusing. While this chip has some of the menu features found on the authentic Evolv chip, it also missing some.
Menu features:
Lock/unlock (click fire button 5x)
Left/right screen mode (referred to as 180 screen orientation mode in the manual) hold fire and down button from locked mode.
Stealth mode (actually "Steal" mode on screen and referred to as Standby mode in the manual) hold fire and up button "".
Power lock mode (this feature does not actually work, screen will only count from 1-10 when attempted)
This chip will fire resistances from .3-5.00 ohm, and has a wattage range of 7-30W, and is spec'd with a voltage output of 3-8.5v. The actual minimum voltage output of this chip is 2.2v verified, so this chip does have buck/boost and can step down voltage output. This is actually the strongest point of this chip as the ability to step down voltage output has become a must have for a lot of vapers.
Like the prior versions of the SXK made DNA 30 clone chips, this chip also consistently reads resistance .1-.2 below that actual atomizer resistance. One other con for this chip is that is still does not have flash memory, so when you remove your batteries, then reinstall them your last wattage and screen orientation setting will not be remembered. The chip is housed using a cradle and the internals are actually quite clean and appear to meticulously assembled, even as the chip itself does leave a bit to be desired in some areas.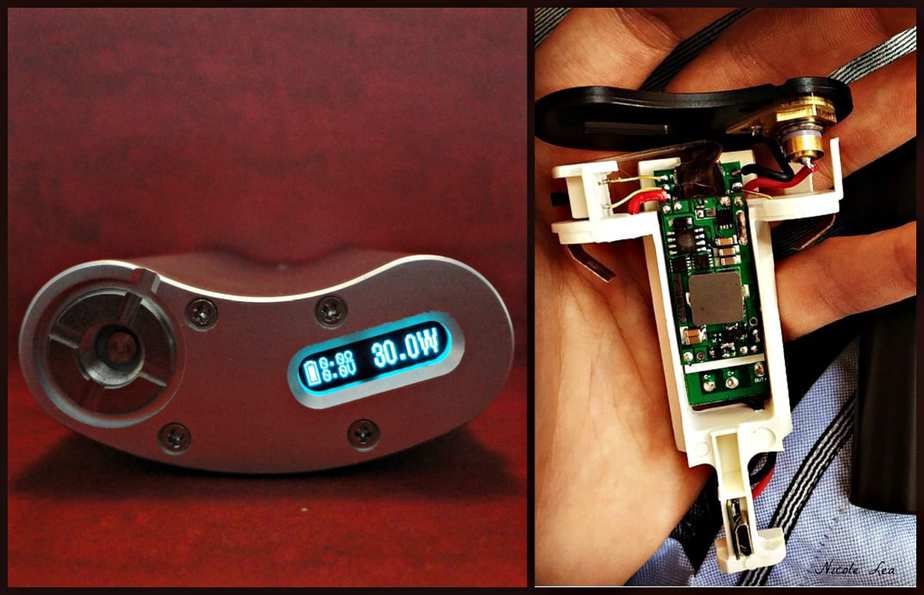 PERFORMANCE
There are two aspects of this device in terms of its function and performance that I am not in love with. The first one is minor, and is related to the feel of the fire button. While the fire button is very responsive, for me the clicky feel is overly pronounced and a little loud in my opinion. I am aware that there are those who like a very clicky fire buttons however, I prefer a softer, more subtle click, so this is subjective. The style and construction of the fire button is the same as the authentic Flask, in fact, I notice that my fire button doesn't protrude excessively from the body like the authentic Vapor Flask that Phil Busardo reviewed.
My other gripe with this chips performance is the firing delay from sleep. This device goes to sleep after 1 minute of no activity. While I can handle a 2 second firing delay from sleep, the Vapor Flask V2 clone that I received has a whopping 3 second delay. Initially I thought it was a 4 second delay, but I have timed it no less than 10 times and it is 3 full seconds. At this stage in the game chip manufacturers should know that this is a deal breaker for a lot of users.
As far the overall menu interface, SXK really needs to do better. I recently received the Kangxin Vapor Flask V3 clone with Temperature Protection, and so far what I can say is that the Kangxin clone chip managed to accurately replicate all of the menu functions of the Evolv DNA 40. The Kangxin clone that I received also fires from sleep with no delay, has flash memory, and has the softer/subtle button feel that I prefer. Stay tuned for that review because I expect it to be a good one.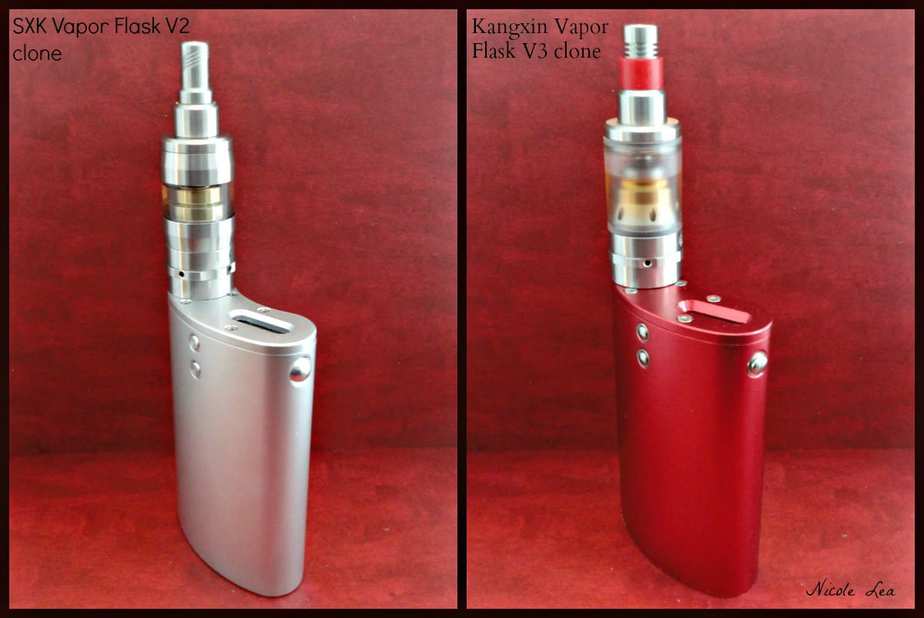 In terms of the actual power output and performance of the SXK Vapor Flask V2, once I got past the firing delay I have been happy with how it performs. Based on the actual vaping experience I do feel like the chip in the Flask clone is an improvement over both the V1 and V2 versions of this chip found in the DNA Zero clones. While the V1 chip was punchy, I found the V2 to be flat — this chip feels right on point to me, and so I have enjoyed the vape that I experience with it.
As I mentioned earlier, one big plus for this chip, and possibly its only real redemption is the fact that the chip has buck and boost. I like a chip that can step down voltage output below the battery voltage because on occasion I like to sub ohm at low wattages. Based on testing this chip is fairly accurate, even as it is not pin point accurate at every wattage setting it definitely puts out up to 30W of power.
Below you will see the results of my voltage output tests at 1.2/3 ohms, and .5 ohms. You will see in the tests at .5 ohms that this chip did in fact fire down to 2.22v.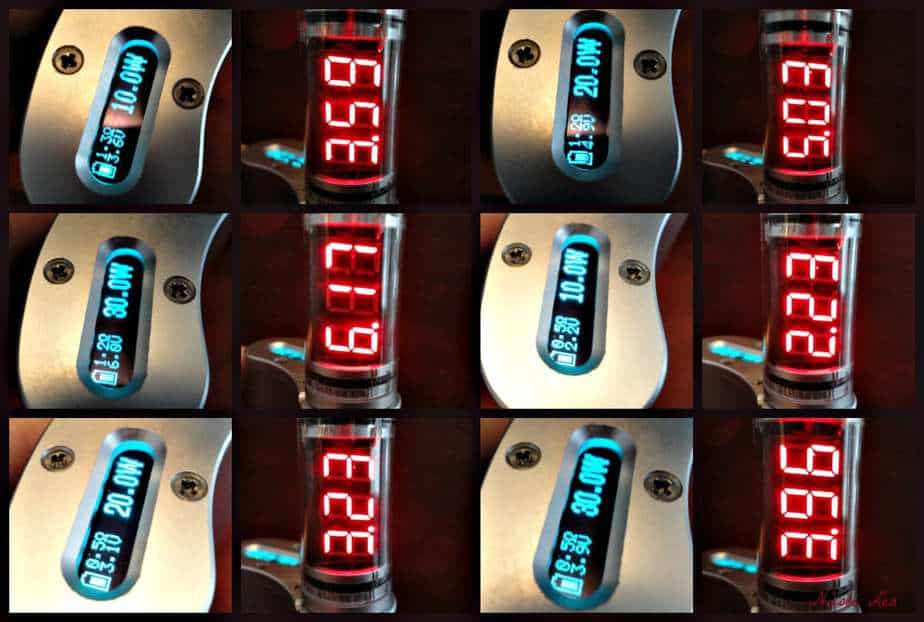 OVERALL
The one let down of this Vapor Flask V2 clone is the firing delay. While 3 seconds may not sound like a lot on paper, in real time it can feel like forever. The strong points of this clone are found in its beautiful build quality, its ability to step down voltage output, and its actual performance once you get past the firing the delay.
My overall impression of the Vapor Flask V2 clone is kind of 50/50 because there are aspects that really annoyed me while using it, but there were also aspects of this clone that made it a real pleasure to use. There is the buttery smooth finish of this device which I love holding, and fondling to the point that it's almost obscene. And I also very much enjoyed the vape.
With the release of the DNA 40 Vapor Flask V3 Clone, there is a lot to be weighed and considered when determining if this clone is the right one for you. The transplanting of authentic DNA chips into clone bodies have become a "thing" lately, and if you are a consumer considering this route, then the SXK Vapor Flask V2 clone is hands down the better way to go.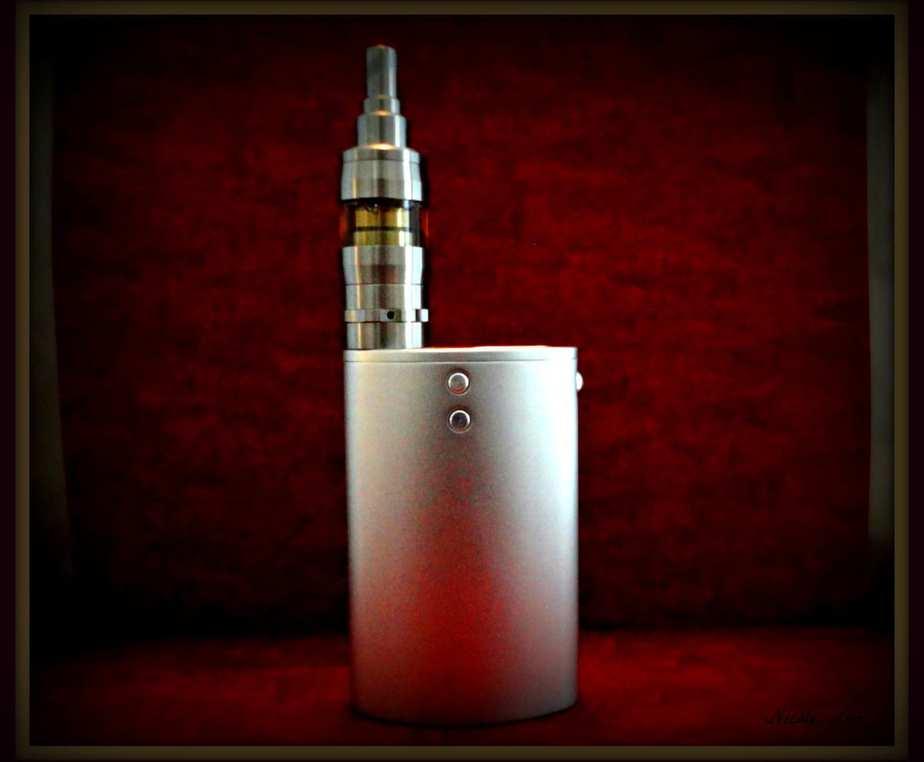 Where to buy a Vapor Flask V2 Clone