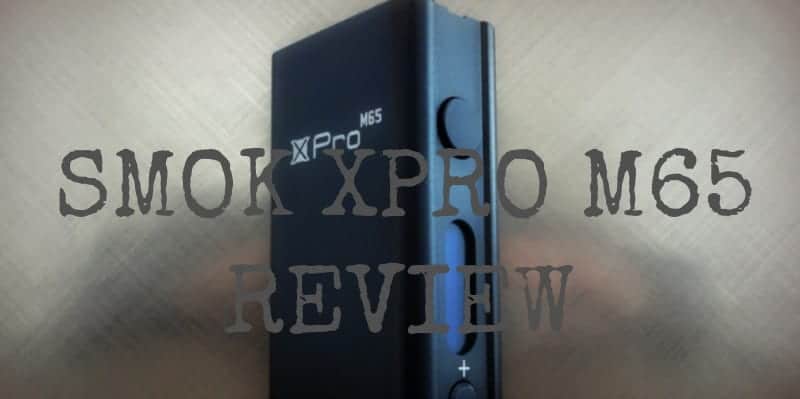 The SMOK Xpro M65 is a variable wattage box mod made by Shenzhen IVPS Technology under the SMOK brand. The M65 box mod is actually an upgraded version of the original Xpro M50 box and is part of the Xpro M series which include the M22, M36, M50/65, and M80 variable wattage box mods.
The SMOK Xpro M65 featured in the review was provided by http://www.vaporauthority.com/ for the purpose of this product review. The Xpro M65 is packaged in a branded gift box bearing the product's image, and it comes with a USB charging cord, extra silicone fire button, spare hex screws, allen wrench, and user manual.
The SMOK Xpro M65 is currently on sale at Vapor Authority for $52.99, and if you use discount code VCVAM65 at checkout the price will be brought down to $49.99.
Where to Buy an Xpro M65 Mod: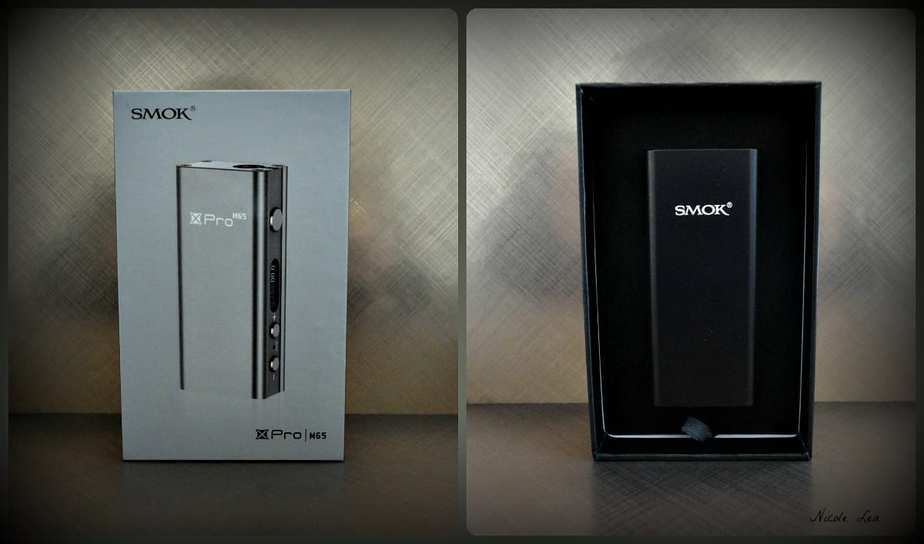 SMOK XPRO M65 SPECIFICATIONS:
Brand: SMOK
Type: variable wattage box mod
Material: anodized aluminum
Connection threading: 510 (spring loaded) 510/Ego adapter included
Diameter: 22mm
Width: 37mm
Height: 85mm
Weight: 125 grams
FEATURES:
Single 18650 Battery: IMR High Drain (Flat top recommended)
Wattage Output: 6W – 65W
Voltage Output: 3V – 12V
Resistance: 0.2 ohms – 3 ohms
Short Circuit Protection
Over-Discharge Protection
Reverse Polarity Protection
Over Heat Protection
High-Quality OLED Screen
Restart Button
Pass-through capacity
BUILD QUALITY
The Xpro M-series variable wattage box mods are all made from aluminum/zinc alloy with an anodized finish, and are available in colors black, silver, gray, and gold. I received the black Xpro M65 for this review, but I have also had the M22 version in the silver color. The Xpro M65 is a very slim, and tiny box mod. The anodized finish is very smooth, even, and the overall construction of the device feels solid.
The brand SMOK logo is printed on one side of the box, while model name Xpro M65 is printed on the opposite side. The button arrangement is the standard affair with the fire button being placed at the top side of the device, and the wattage up/down buttons positioned below the display screen. There is an extra silicon fire button included if you prefer a button with a softer tactile feel.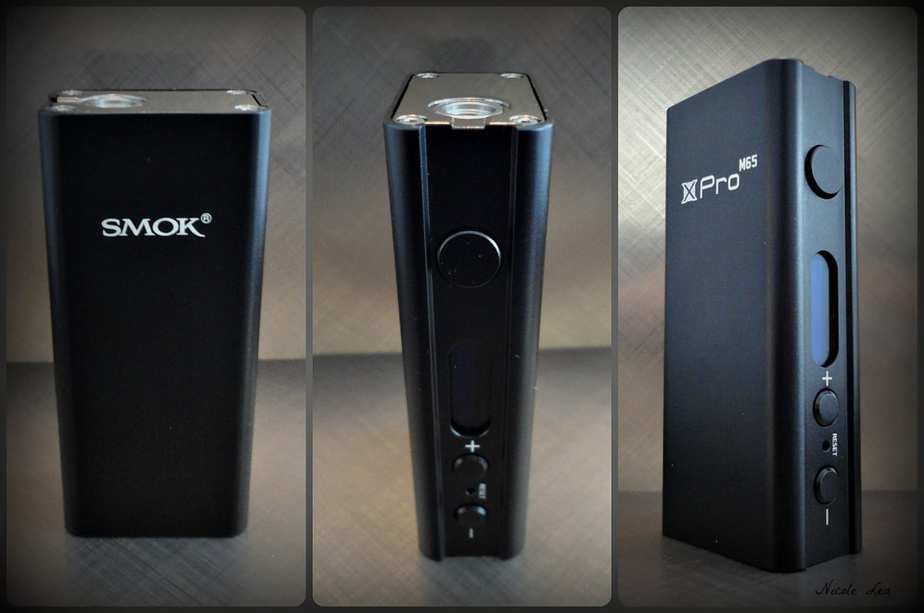 The top plate of the device is also made of aluminum alloy and is secured in place with 4 hex screws. The 510 connection threading is constructed from stainless steel, and it has a self adjusting spring loaded 510 connection. I have heard some say that you can also further adjust the spring loaded connection by the slotted pin however, I personally would not attempt that.
The diameter around the 510 connection is 22mm, so you will not have any issues with unsightly hang over using standard atomizers. Below you can a photo of an authentic Mutation X V3 mounted to the M65. The 510 pin of the Mutation X is what I would consider long, and when mounted to the M65 there is a slight gap between the atty and top plate.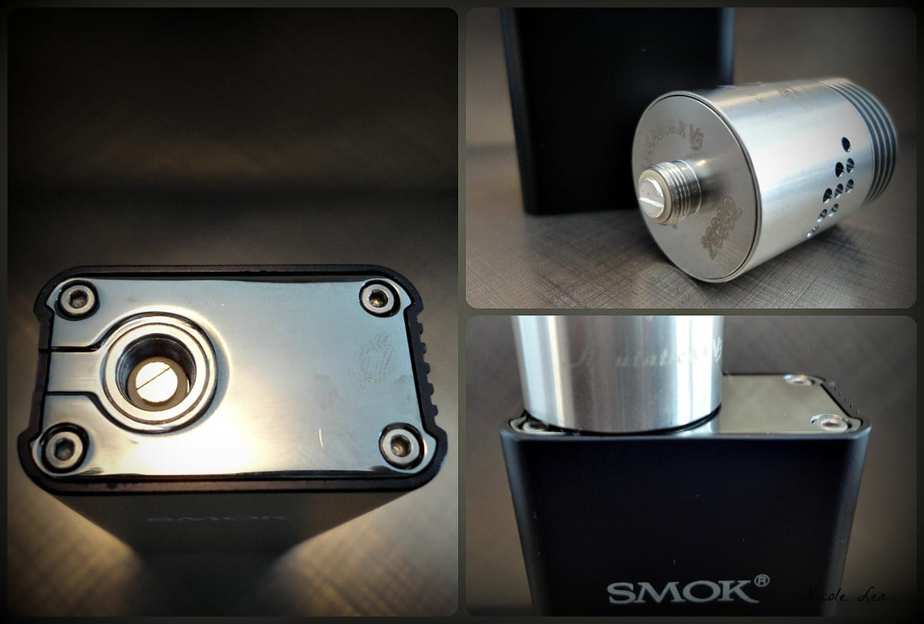 Like the top plate of the Xpro M65, the bottom plate is also secured by 4 hex bolts. However, upon receipt of the M65 there were only 2 of the 4 hex bolts actually installed, and which I didn't mind at all. I would like to think that this was done on purpose so that the first battery installation would take less time. The 2 missing hex screws were included in the spare parts package along with 4 more spares.
There is an allen key included for the removal of the bottom plate. The kit also includes a USB charging cord, and the fact that the M65 can recharge at a rate up to 2A is a huge plus for this device.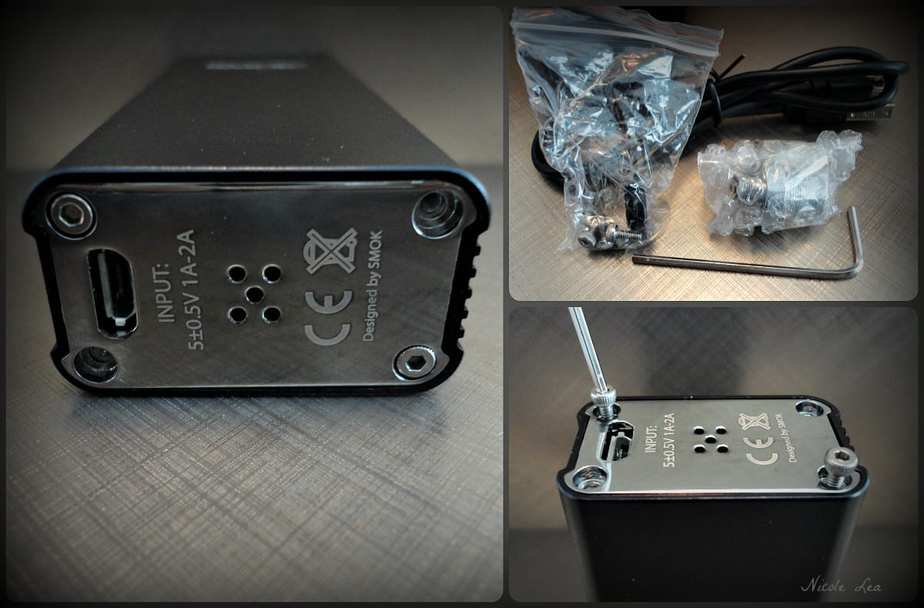 With the bottom plate removed you can clearly see the internal assembly of the device, which is nice and clean. I do have some concerns about the chip board not having a cover though. If you look closely at the photo below you can see the curved battery grips that will hold your single 18650 battery. Being that this box mod has a 65W capacity you must use a battery that is rated over 16 amps. It is also recommended that you use a flat top battery with the Xpro M65.
I did not have any issues with battery fitment using a Samsung INR18650-25R. I found it easy to get the battery in and out of the battery, and I did swamp out batteries at least once during the time I used the M65.
FUNCTION
The Xpro M65 does come with a decent, fairly well written user manual. The menu interface is simple and user friendly, and has the following menu features:
Fire button lock — press fire button 5x to lock/unlock
Set wattage/mechanical mode — press fire button 3x to enter menu, use fire button to select "wattage or mech mode"
Power off — press fire button 3x to enter menu, then quickly press the fire button twice to enter option 2. For power off
The display screen is well lit and is styled similar to DNA style devices. You have the atomizer resistance at the top left, with the firing voltage displayed below, and the wattage setting in a larger font to the right of the display. The chip board has a flat DC signal, and flash memory so that your last wattage setting will be remembered between battery changes.
Another feature of the Xpro M65 is "power reduction". When the device senses that it is not receiving enough power from your battery in order to support the current load, it will reduce the power output by 5 watts automatically. Now, this should only occur in the case of a weak battery, or a battery that is not rated to handle the load being placed on it.
I have heard some users complain of experiencing a power reduction as the battery in use was being drained, and in most cases while using the device at or near max power output. I personally did not experience this while using the Xpro M65, and I have also read reports from others who stated they also did not experience unnecessary power reductions during use. So just make sure that the batteries you are using are verified authentic, and properly rated.
Another conflicting report that I have read with regards to the Xpro M65 is whether this device has buck/boost converters. Based on specifications the Xpro M65 does step down to 3 volts. Being that the M65 was previously a 50W device (M50), which was later upgraded to 65W (M65), this may be the reason for conflicting specifications?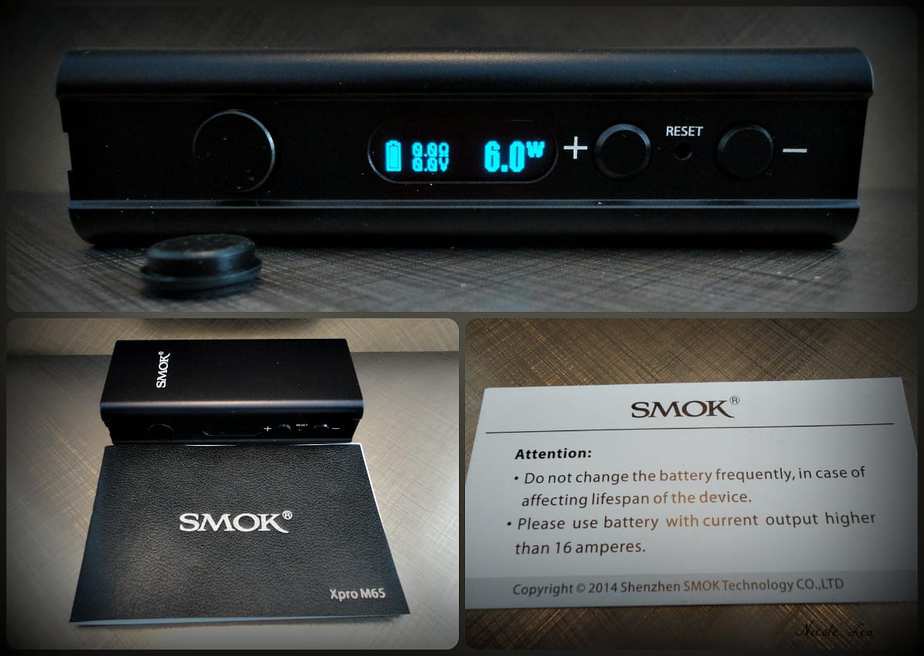 PERFORMANCE
Being that the Xpro M65 has a mechanical mode I figured I should give that a go. In the photo below you can see what the display screen looks like in mech mode, and the only difference is the "VM" placed after the voltage output value. However, when I tried using the device in mech mode with a freshly charged Samsung 25R, the voltage display values were way off. With a 1.0 atomizer attached (which read .9 on the M65) the voltage displayed 48.6v and 15W — which is impossible.
I fired the device several times in mech mode, and each time the display values remained the same, yet were clearly inaccurate. I have seen other reviews that showed the M65 in mechanical mode and the display values were normal, so clearly there was just something off with mine. This was neither a problem or deal breaker for me because quite honestly I find "mech mode" to be a wasted feature on this device. If I want to vape in mech mode I have several mechanical mods that I can use.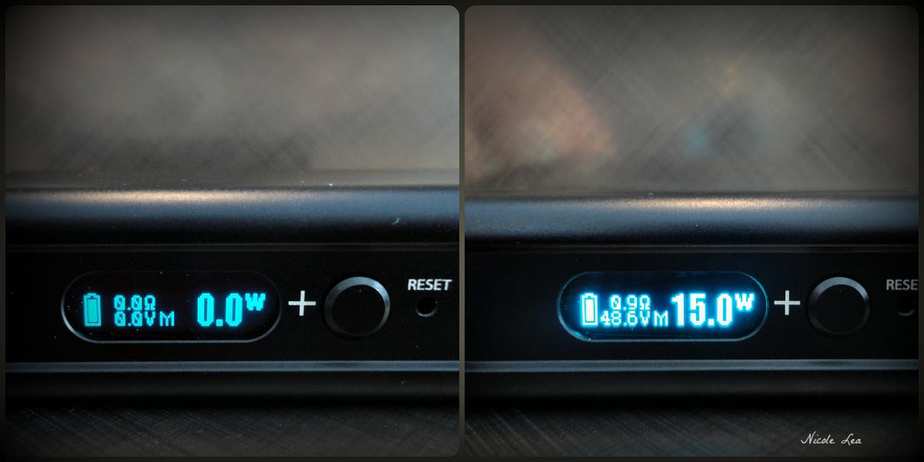 With the device in normal wattage mode I found it to perform exactly as I would like and expect. I used the Xpro M65 with no less than three different atomizers (Tanks and drippers), and I was happy with the quality of the vape. Since this device does have a flat DC signal, I put it on my inline meter o get an idea about the accuracy of the M65's voltage output.
At .9 ohm set to 25W, and 4.8v display output I measured 4.75v as the actual voltage output, and which would be considered very accurate.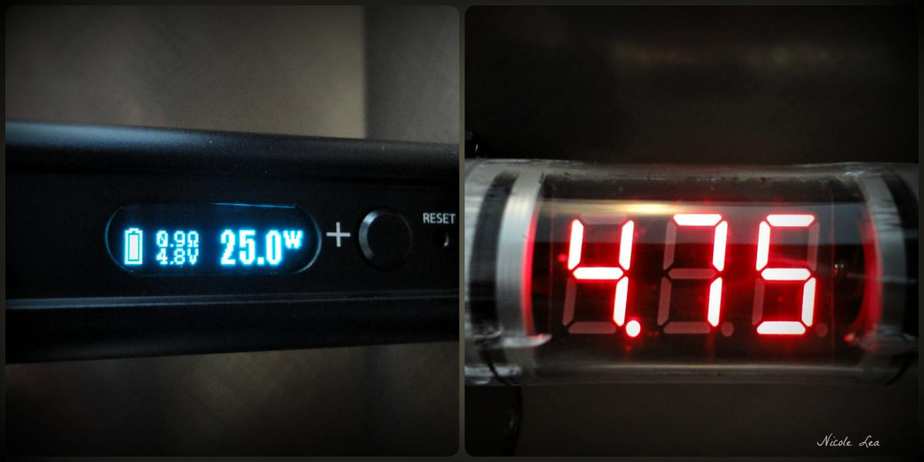 OVERALL
In terms of my real world use of the Xpro M65 I have absolutely no complaints with how this device handled and performed. The build quality of this box mod is good for its price point. While the Xpro M65 doesn't offer a whole lot in terms of aesthetic value, I do find it a lot more appealing than the iStick 50w and it could find a place on our best box mod list. For me this seems to be an ideal pocket mod for everyday use, not to mention you get a lot of power in a tiny package.
If there were any improvements that I would like to see made to this device it would have to be the addition of a magnetic bottom plate to make changing batteries easier. And I would also lose the mech mode feature, which I find to be a little wasteful. But all in all the Xpro M65 is a solid variable wattage box mod.
While this review is about the Xpro M65, I do have a few words that I would like to say about the vendor Vapor Authority who provided the M65 for this review. My first encounter with Vapor Authority was as a normal paying customer. I had ordered a high end mechanical mod from them which was shipped and received quickly however, there was a mistake with my order.
Long story short, I emailed Vapor Authority on a Saturday afternoon, and received a phone call from one of the owners in response to my email within one hour of sending it. I received a total of 3 phones calls from Vapor Authority on the same day, all in an effort to properly rectify the mistake in my order. The customer service that I received from Vapor Authority was the best that I have EVER experienced. The owner of Vapor Authority had no idea who I was, at least initially, so the customer care that I received was genuine, and I was very impressed and grateful.
With that said, I highly recommend Vapor Authority as a vendor, even more so than the Xpro M65.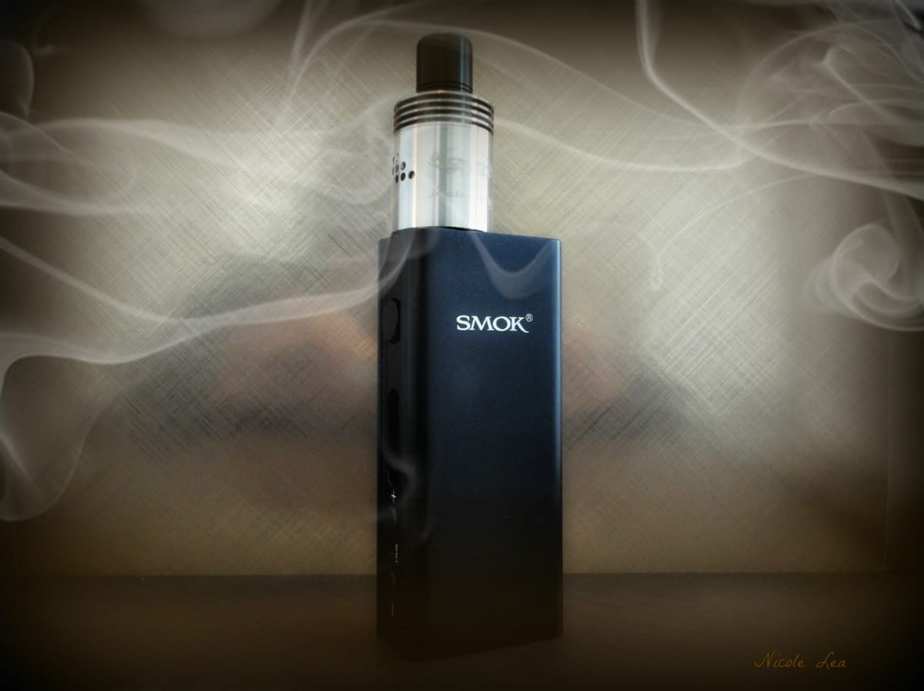 Pros:
Cons:



Form factor/pocket friendly


Good chip board


Price point/value





Useless mechanical mode


Battery installation/removal


Where to Buy an Xpro M65 Mod?