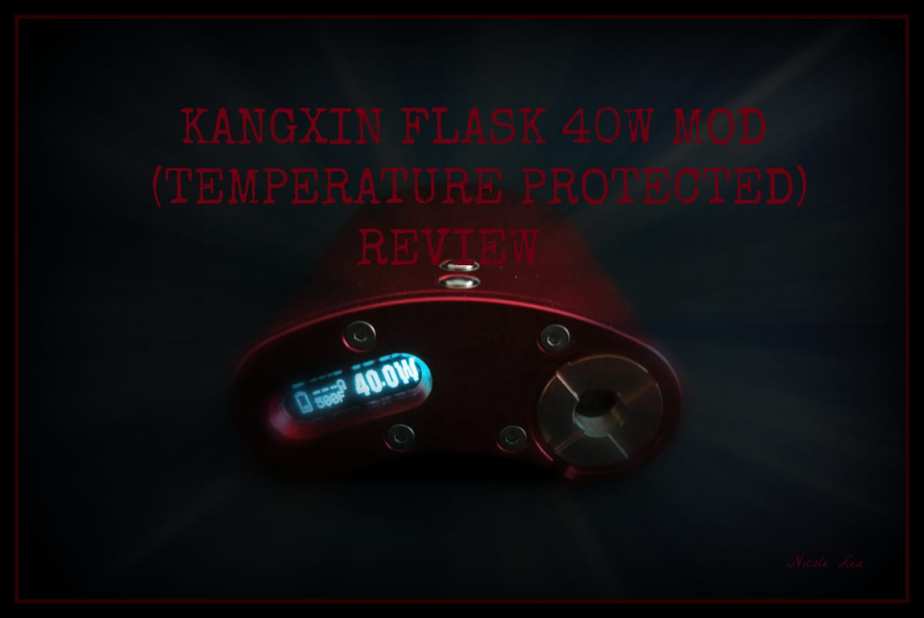 Kangxin 40w TP Vapor Flask V3 Review
The Kangxin 40W Flask is a variable wattage APV featuring the KX-40D temperature controlled chip which is manufactured by Shenzhen Kangxin Technology aka Bluesmoke. While Kangxin is a relatively new manufacturer, they have previously produced two ZNA clones (30W & 50W). Kangxin is also the manufacturer of the 50W chip featured in Robbot Tech's ZNA 50 mod.
The Kangxin 40W TP Flask (aka. Vapor Flask V3) featured in this review came directly from Shenzhen Kangxin, and was packaged in their original yellow gift box, with an authenticity sticker affixed to the front. There is also a user manual included with the Flask.
[box type="shadow" align="aligncenter" width="600″ ]
Where to buy the Kangxin 40w Vapor Flask V3:
[/box]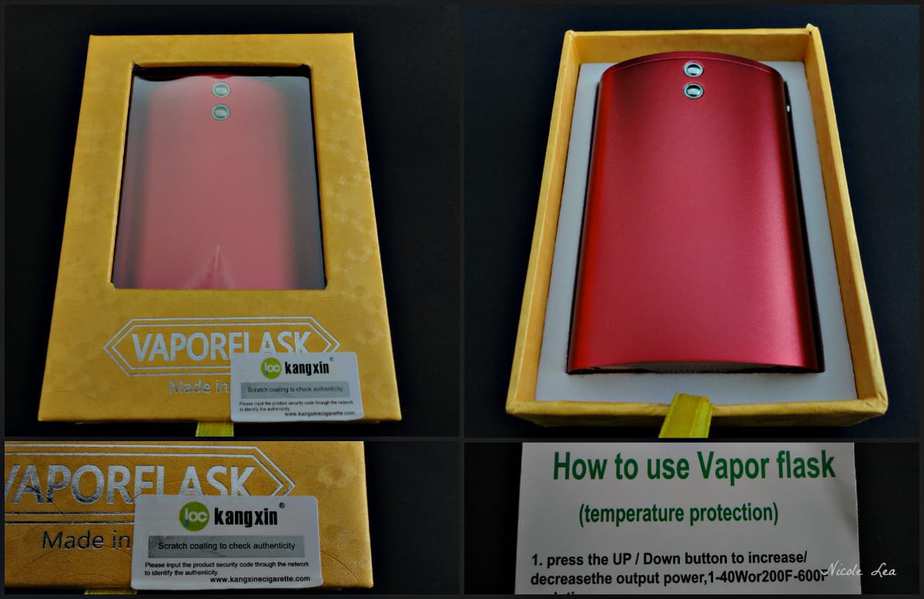 KANGXIN 40W TP FLASK SPECIFICATIONS:
Brand: Shenzhen Kangxin Technology
Type: variable wattage APV with temperature protection
Material: Anodized aluminium and copper plated brass
Connection threading: 510 ( adjustable brass pin)
Battery compatibility: Dual 18650 ( can work with a single 18650 )
Diameter: 22mm (at 510 connection)
Height: 90mm
Width: 60mm
Weight: 176.2 grams
Features:
1W – 40W ( in .1 increments)
1 – 9.0V output
200F – 600F temperature protection limit
.10 – 1.00 ohm resistance (NI200 builds only)
.16 – 2.00 ohm resistance (Kanthal builds only)
Short circuit protection
Reverse polarity protection
Over heat protection
Low voltage protection
BUILD QUALITY
The Kangxin 40W Flasks are available in four different anodized finishes of black, silver, red, and light blue. I received the black, red, and silver versions of the Kangxin Flask however, it is the red version featured in this review. I also received the second version of the Kangxin Flask which does not include a USB charging port however, there is now a USB port version of the Kangxin available as well.
I found the overall build quality to be fairly consistent across all three pieces that I received. While the anodized finish appear to have some texture to them, they all feel very smooth to the touch. In fact I would describe the finish as being a little slippery, which was surprising. The device has a solid feeling in hand, the threaded portions of the device are all clean, and the fire and wattage buttons are properly installed.
While I find that the build quality of the SXK V2 Flask that I recently reviewed to be better than the Kangxin Flask, I would still rate the quality of the Kangxin Flask as good. The Kangxin's fire button actually has a much nicer tactile feel to it than the SXK Flask, which has a softer press and clicky response.
Now the one aspect of this device that I have heard quite a few take issue with is the "Vaporflask Made in the U.S.A" engraving on the bottom, which is rather deep.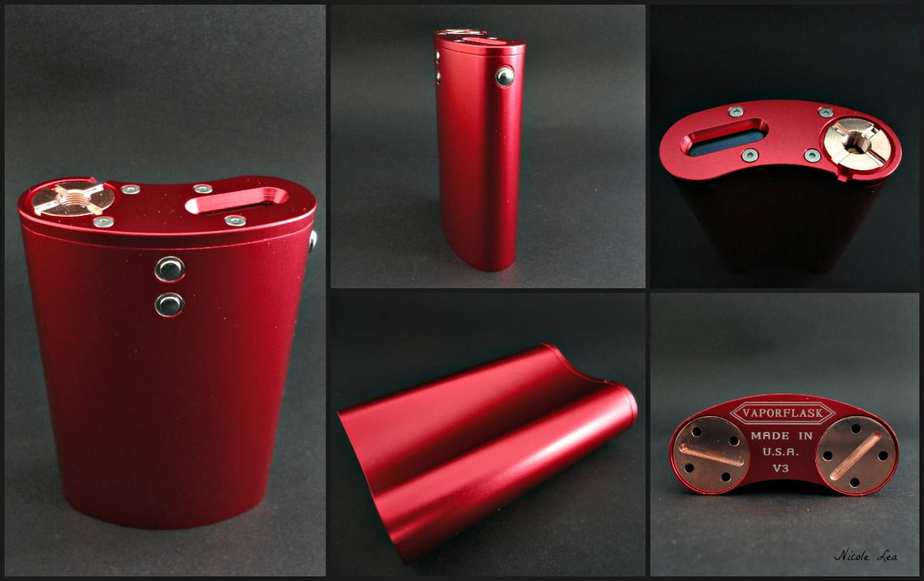 What many are probably not aware of is that the original Kangxin 40W TP Flask was actually completed back in November 2014. The first version of the Kangxin 40W Flask also had "Vaporwall" engraved on the bottom instead of the Vapor flask engravings which currently appear on this device. I wish that Kangxin would have kept it that way. The original Kangxin Vaporwall Flask also was also constructed with a bare brass 510 connection and battery caps, which Kangxin has recently reverted back to and I will elaborate shortly.
The 510 connection as shown below is constructed from copper plated brass. As I mentioned above Kangxin has now reverted back to using bare brass for both the 510 connection and the battery end caps. The adjustable 510 pin is, and has always been bare brass. I know that there was a lot of concern, and rejection expressed by many vapers regarding the durability of copper plated brass 510 connection. However, I have had this device for well over one month and it is not even remotely close to stripping.
Yes, brass is a softer metal than stainless steel but, I feel that the fear of stripping the 510 connection is for the most part unwarranted. Several hundreds of the Kangxin Flasks have made their way into users hand and I have not yet read any reports of stripped 510 connections. Of course it is possible to strip the threading with careless behavior however, the same can be said about any device which is not properly cared for regardless of the materials used.
The one oddity that continues to show up on all Kangxin Flasks is the misalignment of the of the air flow channels between the top plate and the 510 connection. I have not found this to affect performance in any way, so aside from looking a bit janky, it is not really a big deal.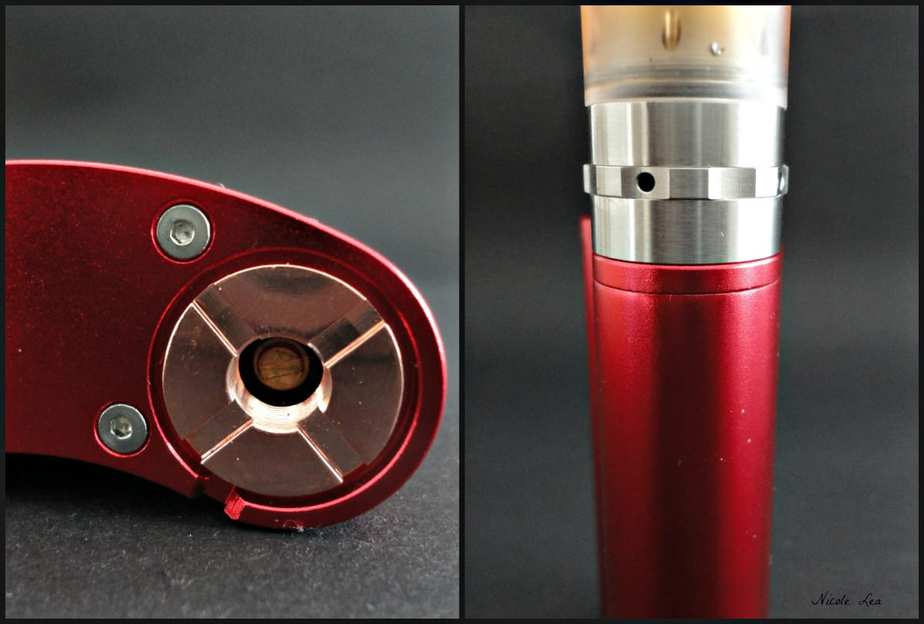 The battery slots are nice and spacious, more so than the SXK V2 Flask. The threads on the battery slot are well machined, clean, and free any anodized coating. The battery caps have 4 vents holes drilled around them, and a coin slot to aid installing and removing the caps.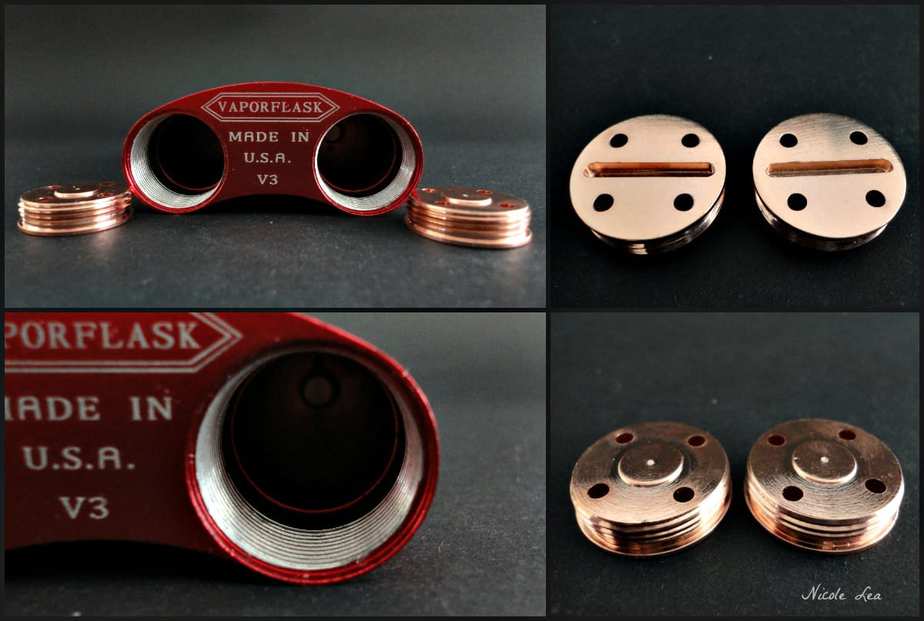 While the battery slots appear to be well machined, there is some slight variance of depth between them because I am able to screw one battery cap about 1.5mm further than the other. If both battery caps are screwed in all the way the coin slots will not line up. However, if this bothers you, you can simply back one of the caps out until both slots are aligned in the same position, and it will not disrupt connectivity.
With two 18650 batteries installed, the Kangxin Flask weighs 263.5 grams. Due to the shape and ergonomics of the Flask style, the weight distribution is even and so the Flask doesn't feel super heavy in hand.
The lack of a USB charge port on my version of the Kangxin Flask has not been a negative for me. The reality is that I would much rather invest the 2 minutes it takes to swap batteries, then wait the 6.5 hours it takes to fully recharge two 18650 batteries at .5A. I also prefer not to use USB ports that are secured using hot glue, such as the USB version of the Kangxin Flask.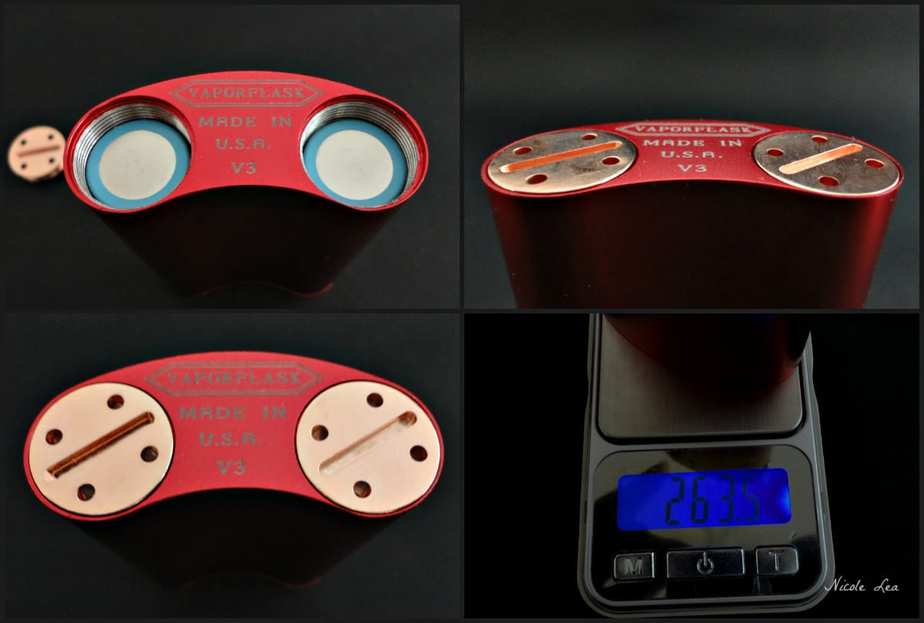 When compared side by side with the SXK V2 Flask there are several differences between them. The Kangxin Flask is about 2mm shorter in height, even as it is almost 20 grams heavier. In terms of overall build quality and finish, almost everything about the SXK made V2 Flask is better, and much closer to a 1:1 replication. The exception here is the chip and the fire button of the Kangxin Flask which are better than the SXK Flask in my opinion.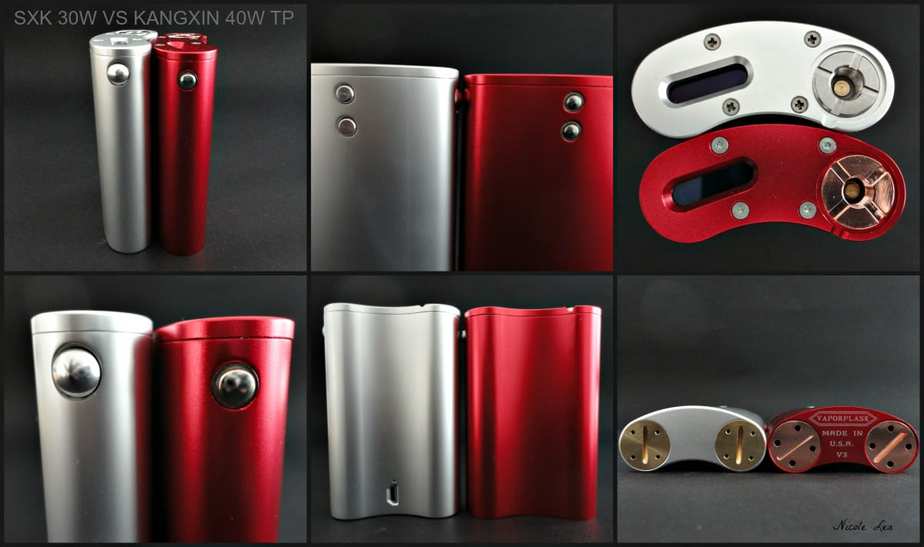 FUNCTION
The Kangxin KX-40D chip is a temperature protected chip with a flat DC signal, and it basically has all of the same menu functions as the Evolv DNA 40. When the device is powered on and the fire button is hit for the first time the display will read "Hello", followed by "KX-40D". The KX-40D chip does have buck/boost converters and flash memory.
The Kangxin KX-40D TP chip has the following menu features:
Fire lock — click fire button 5x
Stealth mode — from the locked position hold the fire button and wattage down button simultaneously
Left/Right mod — from the locked position hold the fire button and wattage up button simultaneously
Adjust temperature setting — from the locked position hold the wattage up and down buttons simultaneously to access Temperature setting, then use the up down buttons to adjust to the desired setting. Temperature protection can also be turned off from the mode by scrolling up past 600F to OFF.
Below is a caption of the KX-40D chip board specifications.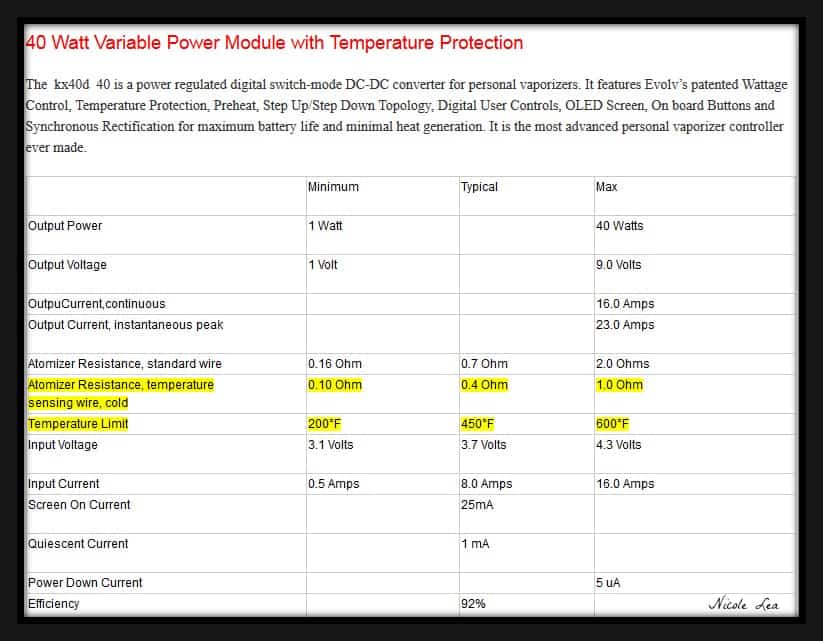 PERFORMANCE
The Kangxin KX-40D chip can fire both standard Kanthal and Ni200 builds (please see specs for resistance limits in each mode). When an atomizer is installed or changed the KX-40D chip will ask "New coil up/Same down", which means press the wattage up button if you are using a different atomizer, or press the down button if it is the same atomizer.
The KX-40D chip will usually accurately detect when an atomizer with Ni200 is installed. I say "usually" because there have been at least two occasions where my Kangxin Flask fired my Ni200 build in Kanthal mode and displayed a firing voltage output instead of my set temperature limit while in use.
In both instances this occurred when I removed the Ni200 atomizer to refill it, and when I reinstalled it and I was prompted with the "new up/same down". When I hit the down wattage button for "same coil", the device fired in Kanthal mode. So this is something a little glitchy to watch out for, but it was easily resolved by removing and reinstalling the atomizer and selecting "new coil" even though it was the same.
My Kangxin Flask does fire direct from sleep mode which kicks in after 1 minute without any activity. However, if the my Kangxin Flask is left without activity for an hour or more there will be a slight delay in firing both in Ni200 and Kanthal mode as the chip reboots with "Hello/KX-40D". When using the Flask in Kanthal mode it appears that after 2 or more hours without any activity I will be prompted by "New coil up/Same down", before the device will fire. Below you can see the difference in what the display screen looks like when using Ni200 and Kanthal builds.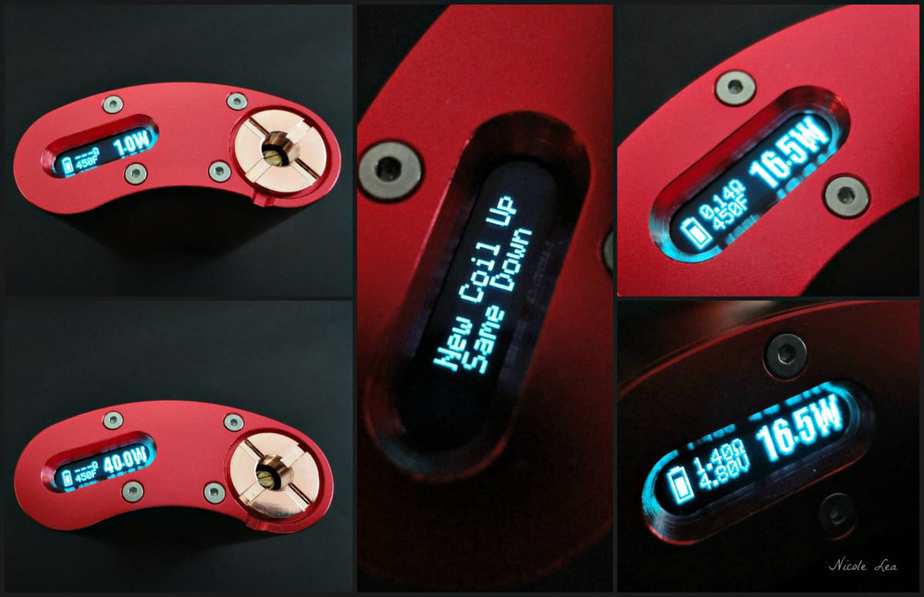 In terms of the Kangxin Flask actual performance while in Temperature Protected mode with Ni200 builds, it has been near flawless for me. I usually run Ni200 builds at .14-.16 ohms and 12.5W-16.5W depending on the e-liquid I am using. At this resistance and wattage range I found that the TP (Temperature protection) would kick in relatively fast when set to 450F or below. When TP is activated "temperature protected" will flash on the display screen and the chip will throttle back voltage/wattage output in order to keep the firing coil below the temperature protected setting.
The dryer your coil is the quicker TP will kick in. Chain vaping will also cause TP to kick in more often. However, the device going into TP mode does not mean that there is anything wrong with the device or your build. So you should not panic or worry if you feel like your Flask is always going into TP mode as this is what it is supposed to do. If you keep your TP setting below 450F, you will also notice that you get a much cooler vape, which you may or may not like.
Tempered Ni200 wire is also a lot easier to work than the loosey goosey regular Nickel wire. If you are new to Nickel wire and TP devices I would suggest that you go the route of tempered Ni200.
In order to test, and demonstrate how well the TP feature of the Kangxin KX-40D chip works, I juiced up my .14ohm coil and wick, and set my device to 30W and continually fired the coil over and over until the wicks were dry. You can look at the photo demonstration below and see that the dry cotton wick is far from scorched, and that photo was taken immediately after the last firing of the device. If you are an experienced coil builder then you know what "juicy and burnt" cotton wick looks like, and this is not it. So I do feel certain that the TP technology of this chip truly works, and works well.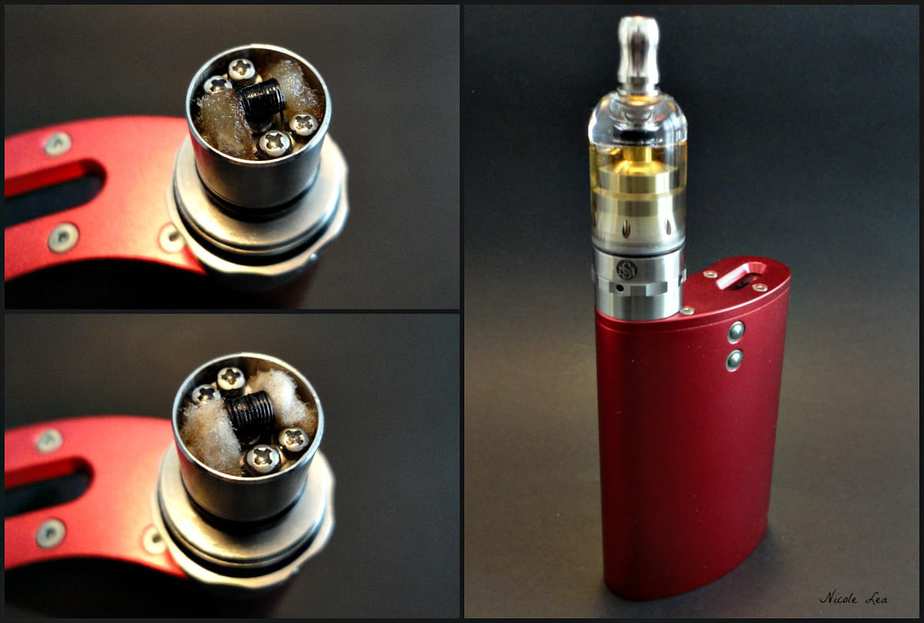 OVERALL
While I have been both happy and impressed with how well the Kangxin Flask functions and performs while in Temperature Protected mode, for my personal tastes I still prefer to vape with regulated devices in standard Kanthal mode. The main reason being that I feel that Ni200 and TP takes the edge off of my vape, more specifically with certain e-liquids. When using Ni200 with richer, more complex flavors I feel like there is something lost for me and the vape is a little flat. Whereas when I used Ni200/TP with a more delicate flavor e-liquid, I felt like Ni200/TP was a really nice compliment to it because the delicate flavor was not being partially burnt out by uncontrolled coil temperatures. So TP definitely has its place with me, it just not my across the board preference at this time.
However, my personal tastes and preferences for Temperature Protection do not matter. What does matter is that Shenzhen Kangxin Technology managed to accomplish what 99% of vapers said would never happen, which was to make a real working Temperature Protected variable wattage chip. While I am only aware of two reports of chip/device failure with regards to the Kangxin 40W TP Flask, I am sure there may be more incidents than I have heard of. However, by most accounts of user feedback that I have read, the owners of the Kangxin 40W TP Flask are by and large very happy with this device.
The bad news is that due to an incredibly high demand for this device, Kangxin has been struggling terribly over the last month and half to fulfill that demand. And so there are many more would be owners of this device who remain in waiting to receive one. So be aware that even if you choose to buy one, the wait to actually receive it may be very long, if you receive it at all.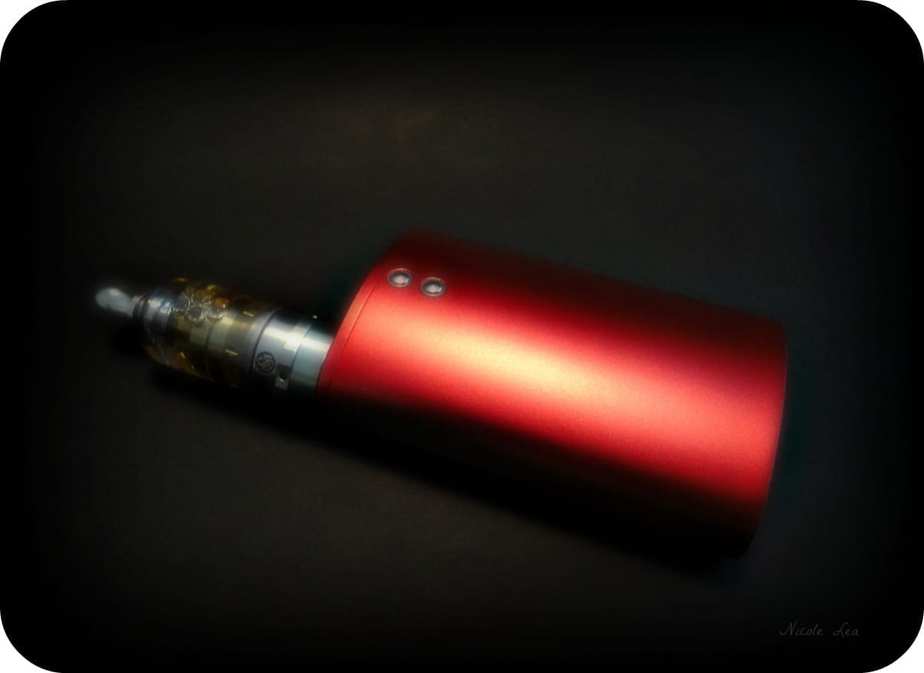 [box type="shadow" align="aligncenter" width="600″ ]
Where to buy the Kangxin 40w Vapor Flask V3
[/box]