Suorin ACE Pod System Kit $14.29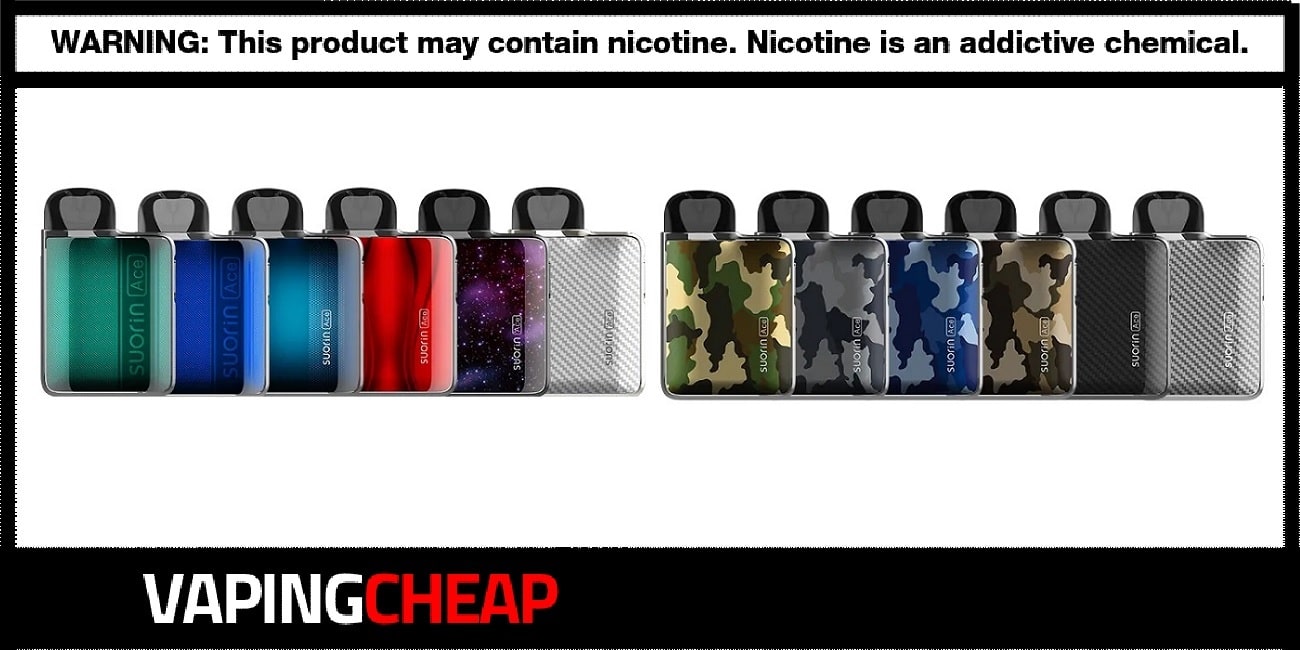 Here is where you'll find sales and discounted prices on the Suorin ACE Pod System Kit. Buy one cheap from a China based shipper for just $14.29 after the code "SAceK". It's also available from a USA based store for only $25.48. There's a wide variety of color options you can choose from including Starry Sky, Woodland Camo, Prism Blue, Red, Black and much more.
The ACE Pod Kit by Suorin sports a compact size, but still packs a larger 1,000mAh built-in battery. Quite impressive! Charging is done quickly as it does charge via type-C. With its smaller size, it's pocket-friendly and perfect for stealth vaping. Primarily constructed of zinc alloy material, it compliments the size with its light weight. When it comes to power, you've got 15w maximum. That's perfect for MTL vaping and your nicotine salt e-juice.
Now, like other vape pods that've released lately, the ACE vape pod by Suorin features a dual mechanism firing. This allows you to vape by either pressing the firing button or by draw activation.
Included with Suorin Ace, you'll get one pod cartridge. The Ace refillable pod has a maximum e-juice capacity of 2ml and can be filled from the side. It's not the most, but TPD compliant.
Another great feature is that the Ace is also compatible with the Suorin Shine Replacement Pods as well. With that said, you'll have no issues finding any pod cartridges!
Moving onto the replacement coil, it's got a resistance of 1.0 ohm. Ideal for both the wattage that the Ace pod can deliver and MTL vaping. Lastly, there is bottom airflow, designed to deliver excellent flavor.
If you're looking for a new ultraportable pod system that won't break the bank, check out the Suorin Ace pod system kit. Its simplistic design makes it easy to use and the size is perfect for you vapers wanting something that you can take essentially anywhere.
Suorin ACE 15w Pod Kit Features:
Internal 1000mAh Battery

Charged using a USB Type-C Cable

Maximum Wattage Output: 15w
Dual Firing Mechanism
Zinc Alloy Construction
Compact Design
Comes With A Refillable Pod

Maximum E-Juice Capacity: 2ml
Side Fill Design
Bottom Airflow
1.0 Ohm Coil Head

Compatible With The Suorin Shine Replacement Pods
Multiple Safety Features
What's Included:
Suorin ACE Pod Kit
USB Type-C Cable
Refillable Pod
User Manual
Check out the preview video for the Suorin ACE Pod Kit
More Great Vape Deals...
---
Vandy Vape Mato RDTA $22.40
Here are cheap deals and discounts on the new Vandy Vape Mato RDTA. Get this atomizer from only $30.36plus free[...]