Cheap Nic Salts EJuice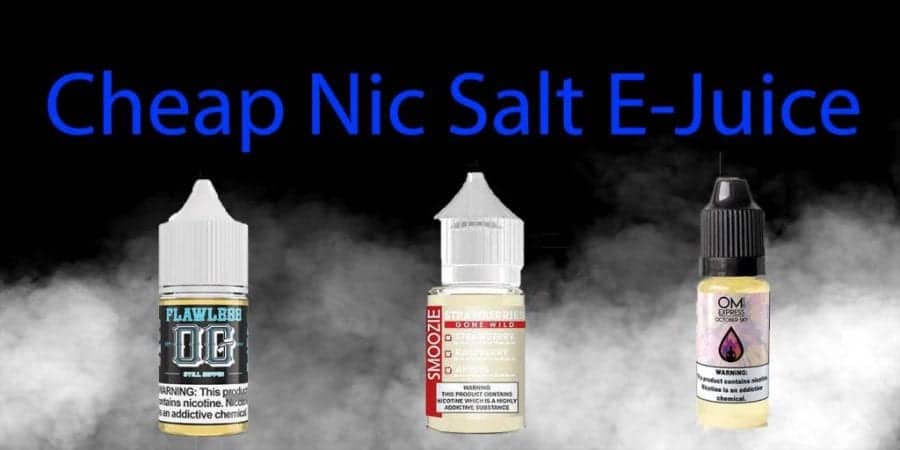 Nicotine Salt e-liquids have been popular for many vapers lately, as they provide a smoother throat hit and nicotine satisfaction unlike any other vape juice. However, they can certainly become costly since they're typically more expensive than regular ejuices. On top of that, they usually only come in those smaller 10ml or 30ml bottle sizes. With that being said, we've put together some of the best tasting, and cheap nic salt ejuices that you can buy today.
We know there are vapers that want to save the most cash possible, but still get that tasty vape experience you know and love. Although these cheaper brands and e-liquids are much less expensive than most others available, they still provide excellent quality. Our list has been tested by us, so you won't need to go out and try multiple flavors and brands trying to figure out which is worth your money.

We consider not only price, but bottle size, flavor options, nicotine strengths, quality and taste. Just keep in mind that taste is subjective, so what you might enjoy another vaper may not, and vice versa. Let's get started with the best cheap nic salts you can buy today.
Best Cheap Nic Salt E-Liquid
Om Vapors Salt Nic
Om Vapors recently launched their nic salt e-liquids, and completely blew us away in regards to quality, and price point. Each 10ml bottle will cost you only $1.99, making them one of the cheapest nic salt ejuices you can buy today. Less than $2 will get you a flavor of your choice, which is just insane, especially for nic salts.

Their nic salt liquids are also some of the absolute best nicotine salt vape juices too. With over 10 different flavors available, and multiple nicotine strengths, you just can't go wrong with the Om Vapors Nic Salt line. What's even better is that they do offer a bunch of different nicotine strength options. This is definitely a huge pro in our book as not every vaper wants a high milligram of nic salt. For you vapers who enjoy lower, such as 12mg strengths, you'll definitely want to check these guys out. It doesn't stop there though. Om Vapors do offer WTA nicotine for select flavors, and these are for you vapers wanting a stronger throat hit. With that being said, Om Vapors offers something for pretty much everyone.

Even if you wanted more, you can simply purchase multiple bottles of a single flavor. The fact that they offer cheap 10ml bottles allows you to really test out multiple flavors without breaking the bank. Once you find a favorite, you'll be able to get a total of 120ml for just under $24, which is once again some of the cheapest salt nic ejuice you can get for your hard earned cash.

If you're on the fence about nic salts, or simply want to grab some at a cheap price, you simply cannot go wrong with Om Vapors. Check out our full review to see which of their vape flavors are our personal favorites. Now, if you prefer regular vape juices, you'll definitely want to see our original review.
HaloCigs Nic Salt
Halocigs is another brand who released their own line of nic salt e-liquids as the popularity of these e-juices soared within the last year. Not only do they offer their most popular award winning flavors in a nicotine salt version, they've also lowered their prices to make it affordable for all vapers. Some of their most popular flavors include Tribeca and SubZero. The first being a simply amazing tobacco e-juice flavor, and the other is a soothing menthol vape juice.

There's much more flavors available as well in the Halo nic salt line including both dessert and fruit flavored vape juices. Aside from their amazing quality, they do have a variety of nicotine strengths. This includes 3mg, 6mg, 12mg, 20mg, 35mg and even 50mg. Just like the previous brand, these guys offer strengths that will cater to pretty much all vapers. No matter if you've just made the switch to vaping or a veteran looking to cut down on nicotine, Halocigs has got you covered.

What's great about HaloCigs is that they do offer both a 10ml sample size, and a full 30ml bottle size. Both are unicorn style bottles, so it's incredibly easy to carry with you. Not to mention, we highly prefer these style bottles since it's much easier to fill your pod vapes with.

For you vapers wanting the best quality nic salt e-liquid at the lowest price, you'll want to try out the flavors from Halocigs. At just under 5 bucks for a sample bottle, you'll be able to try out award winning flavors. How can you beat that?
VapeWild Nic Salt
For vapers who've been vaping for quite some time now have probably heard of VapeWild, and their amazing selection of affordable flavors. VapeWild is certainly known as one of the brands who offer some of the best cheap e-juice, but now ventured into nicotine salts.

You'll find both new and returning flavors in their salt nic collection. If you're a fan of dessert and fruit flavored e-liquids, VapeWild has got you covered. This is especially the case with their fruit flavors, they're simply some of the best money can get you. They're sweet just enough to satisfy your sweet tooth, and flavorful. There's never a dull vape experience with their budget nic salt vape juice, that's for sure.

Like most other brands, their e-liquids are available in 30ml sizes, and they are enclosed within Chubby Gorilla bottles. Their flavors are blended in a 50VG/50PG ratio, so they're perfect for vaping with mouth to lung RTAs. In addition, the VapeWild Nic Salts come in both 30mg and 50mg strengths, which are great for new vapers, and advanced vapers looking for that smooth yet satisfying throat hit.

When it comes to pricing, you know it's affordable. Each 30ml bottle will cost you under 12 bucks. However, they do offer bundles where you can get a massive discount when getting two flavors. So you'll be able to get two VapeWild Salt Nic E-Juices for $15.99, bringing down the price to only $8 per 30ml bottle. Now that's super cheap and well worth the price tag.
Flawless OG Nicotine Salt
Here's another brand you'll recognize, especially if you've been vaping for a few years. When Flawless released their original flavors years ago, they took the market by storm. Their flavors were offered in larger sizes, and best of all, cheap. They're back at it again with their new Flawless OG Nic Salts, bringing you premium salt nic e-liquids that won't cost you nearly as much as other brands.

As expected with the name "OG", they've re-released their beloved flavors from the past, and that's definitely a good thing. Some of the flavors you'll find that'll ring a bell include Hot Mess, Game Over, Aftermath and Straight Outta The Toaster. If you haven't heard or tried any of these e-juices, then do yourself a favor and check these out. Our personal favorites include Game Over, Hot Mess and Aftermath which are both dessert and breakfast flavors.

When it comes to nicotine strength options, you can choose from either 24mg or 35mg. In addition, they are available in 30ml bottle size only, but that's the standard as seen here with the other cheap nic salt brands.

Like mentioned earlier, these flavors aren't new, but they've been re-released after some time, and mastered. Flawless blended these flavors perfectly in a nicotine salt version, giving you the same tasty vape juice with the strength desired by many vapers. Whether you're a fan or new to the brand, you can't go wrong with picking up a few bottles of Flawless OG Nic Salts. Trust us, you won't be disappointed.
Country Clouds Nic Salt
When Country Clouds first released their original line with freebase nicotine, we were impressed by how unique each flavor was. This is the type of flavor you can't really describe, except for absolutely delicious. Following the suit of many brands, they've released their own cheap, and cost effective nic salts in the same amazing flavors many vapers have come to love.

Even their newest flavor additions were formulated with nic salts which include Blueberry Corn Bread Puddin', Lemon Puddin' Pie and even Chocolate Puddin'. All of the Country Clouds salt nic flavors feature the same undertone as found in the original Corn Bread Puddin'. However, with each other flavor, they've added a specific fruit or dessert on top. This brings forth some of the most unique nic salt e-juices we've had to date. Best of all, they're nice and sweet, so if you enjoy your sweeter vape juices, you'll absolutely love these.

Of course, they're available in those 30ml Chubby Gorilla Bottles, which again, isn't a bad thing. Additionally, you can purchase these cheap nic salt e-juices in either 35mg or 50mg strengths. We'd recommend the higher for those newer vapers, and the lower for long time vapers. Regardless, you can't go wrong with either option. It's all down to what you're preferences are, and what you enjoy most.

Honestly, we're impressed with Country Clouds and their lineup of unique, and amazing vape flavors. Not only this, but they taste exactly the same as the freebase versions, which is something that can't be said with a lot of budget friendly salt nics. If you enjoy sweet dessert flavors, then this is a must try.
SadBoy Salts
SadBoy is another award winning brand that is now offering their delicious flavors in nic salt options. Most, if not all, of their salt nic e-juices feature the same cookie base of their award winning e-liquid. Although this is the case, each is still quite different from one another since each will provide an upfront fruit or dessert note.

When it comes to cookie dessert flavors, SadBoy Nicotine Salts cannot be beat. There's a reason as to why they've won an award, and once you taste this e-liquid you'd see why for yourself. Their e-juice brings forward an authentic, and sweet cookie flavor that just tastes great. What's even better is that they do have seasonal flavors as well such as Pumpkin Cookie. This flavor is a treat in the Fall season, but can be vaped all day long with no problems. Our personal favorites include Custard Cookie, Key Lime Cookie and Strawberry Jam Cookie.

Like some of the other affordable nic salt ejuice brands, SadBoy offers a 50VG/50PG blend, which is ideal for these higher strength e-juices. In addition, you can get them in two different options, 24mg and 48mg. It's low enough for the vaper wanting a smoother throat hit, but high enough for smokers just making the switch.

This is yet another awesome line of e-liquids if you enjoy dessert or cookie flavors. SadBoy Salts are definitely all day vape material. They're blasting with flavor, and is another brand that will satisfy any vaper with a sweet tooth, that's for sure.
Smozzie Salts
If you enjoy vaping on fruit vape flavors, then we've got a cheap salt nic brand that you'll definitely want to check out. Smoozie Salt is a relatively new line of vape juice, but is another line that really impressed us, as you can see in our full review. Their fruit flavored vape juices are simply delicious. They're simple yet pretty complex, and stay true to each description, which is not something easily done.

Not only do they have awesome fruit salt e-juices, but there's menthol or "ICED" versions available as well for pretty much every flavor. Even though this is the case, their menthol flavor note isn't overpowering by any means. You'll still be able to notice each fresh tasting fruit flavor as you vape, but with a backend of a cooling menthol. We know a lot of vapers enjoy menthol e-juices in mouth to lung setups, so we're glad to see this addition into their already awesome flavors. This is yet another reason as to why you might want to check out Smoozie Salt.

For nicotine strength options, you've got three choices to choose from. This includes a low 20mg, medium 35mg, and a high 50mg. Each Smoozie Nic Salt does come in 30ml chubby gorilla bottles.

Even if you're not a fan of fruit flavored e-liquids, we still would recommend picking up a bottle of Smoozie. They're just that good, and for the price, they're hard to beat. Each fruit is fresh tasting, and will leave your mouth watering for more. For you fruit fanatics, you'll love this line.
Cheap Nicotine Salt E-Liquid FAQs
Does Cheap Mean Subpar Quality?
Something that comes up quite often when looking at e-juices, and actual pricing is whether or not you'll get less quality when paying a cheaper price. We can say that's not the case for every single cheap brand out there on the market. These cheaply priced nic salt e-juices listed above still provide an excellent quality vape juice without breaking the bank. We've hand chosen these select brands, and tested them thoroughly to ensure that you're getting your money's worth.

E-Liquids are made with the same ingredients, and when paying a "premium" price tag, you may be paying for things such as pre-steeped or very complex recipes. Additionally, it can depend on the actual brand on how much a product costs, and the steps taken to produce the e-juice. For example, a barrel aged e-liquid may just cost you more money simply because of that process, and the time spent in order to bring forth that specific type of flavor. Another example may be that the vape juices are made in much smaller batches in order to have the best quality possible from each and every bottle.

Either way, we'd say there's no huge difference in quality when looking cheaper priced nic salts and premium nic salts. With our budget friendly list, you'll get the quality you're looking for, but at a price that's affordable to all vapers.
What's The Difference Between Cheap And Premium?
As mentioned earlier, there may be a few differences when considering the difference between cheap nicotine salts ejuices and more expensive options. One major factor that will play a role in price is definitely steeping. There's no really fast way to steep an e-liquid, and none will be better than actual time. Depending on the flavor, the longer it sits and steeps, the better it will taste.

E-Liquids that are steeped longer will generally cost more money. Some e-juices may need a steeping time in order to have flavors blend together in order to provide a certain flavor profile, and be the best that it can be. Other flavors may not need a steep time and could be vaped right as it's finished mixing, It all really boils down to the actual flavor, and mix. With that being said, e-juices that are freshly made will be cheaper since there's not much additional time in between being made, and to your doorstep. As many people say, time is money!

Another difference is the bottling, and whether an e-liquid is mass produced versus small batches. Generally, smaller batched e-juices cost more, and this ties into flavors that go through a special process. One process, as mentioned before, is barrel aged vape juices. These types of vape juices are seen as some of the more expensive you can purchase. However, they provide a unique flavor that's unlike any other. Of course, this does raise the price quite a bit.

Regardless, it comes down to taste, and whether you like it or not. Just because it has an additional process, doesn't mean you'll actually enjoy the flavor. Some vapers prefer this type of e-liquid, even at its much higher price point. Some vapers may actually prefer the opposite, and enjoy freshly made e-liquid. Aside from these two key differences, there's not much that separates a cheap nic salt vape juice in comparison to a more expensive brand or flavor.
Is Cheaper Nic Salts Safe?
Another valid question that may be raised is whether or not cheaper nic salt eliquids are safe. We'll say these e-juices are essentially the same as any other brands or e-juices on the market. We can certainly say that it's a safer alternative to combustible cigarettes, and just as safe as any other vape juice.

As discussed previously, there's no major difference when it comes to the actual manufacturing of these affordable nicotine salt vape juices. There may be differences in ways such as recipe, steeping process, and bottling process. However, as with all others, you'll find ingredients such as VG, PG, Flavoring and Salt Nicotine.
Are Budget Nicotine Salts Better?
Aside from these e-juices being better in regards to price, a vaper may wonder are these nic salt flavors actually better? It all really depends on what type of flavors you personally enjoy. We know that taste is subjective. Not every flavor is liked by everyone, and while you may enjoy a specific flavor, another person may simply dislike.

The e-liquids listed here are not only better for your pocket, but individually picked to ensure they're also great tasting. There's no right or wrong when it comes to flavors. Each will have a unique taste, and choosing which better fits your vaping preferences will eventually lead to something you'll be able to vape all day. Thankfully, you won't be needing to spend too much cash trying to find an all day vape with these cheap salt nic ejuices.
Cheap Nic Salt Vape Juice Conclusion
In conclusion, these are the absolute best cheap salt nics you can buy today. No matter what kind of flavor profile you enjoy most, one of these brands are sure to satisfy your taste buds.

With how popular these e-liquids have become, it's great to have these select brands available to you that won't cost you nearly as much as others. Not to mention, you'll be burning through these vape juices pretty quickly as they're only offered in smaller 10ml or 30ml bottles. With these budget priced nic salts, you'll be able to get satisfy your needs plus save some cash, and get more for your money. If you're not into nicotine salts, and prefer vaping on regular e-liquids, then you'll definitely want to check out this list of best e-juices.

We hope this article not only helps you in potentially finding a new all day vape, but save you the most cash possible Let us know what are some of your favorite cheap nic salt ejuices. Thanks for reading!