Steam Crave Mini Robot Mod $24.80 | Combo Kit $35.99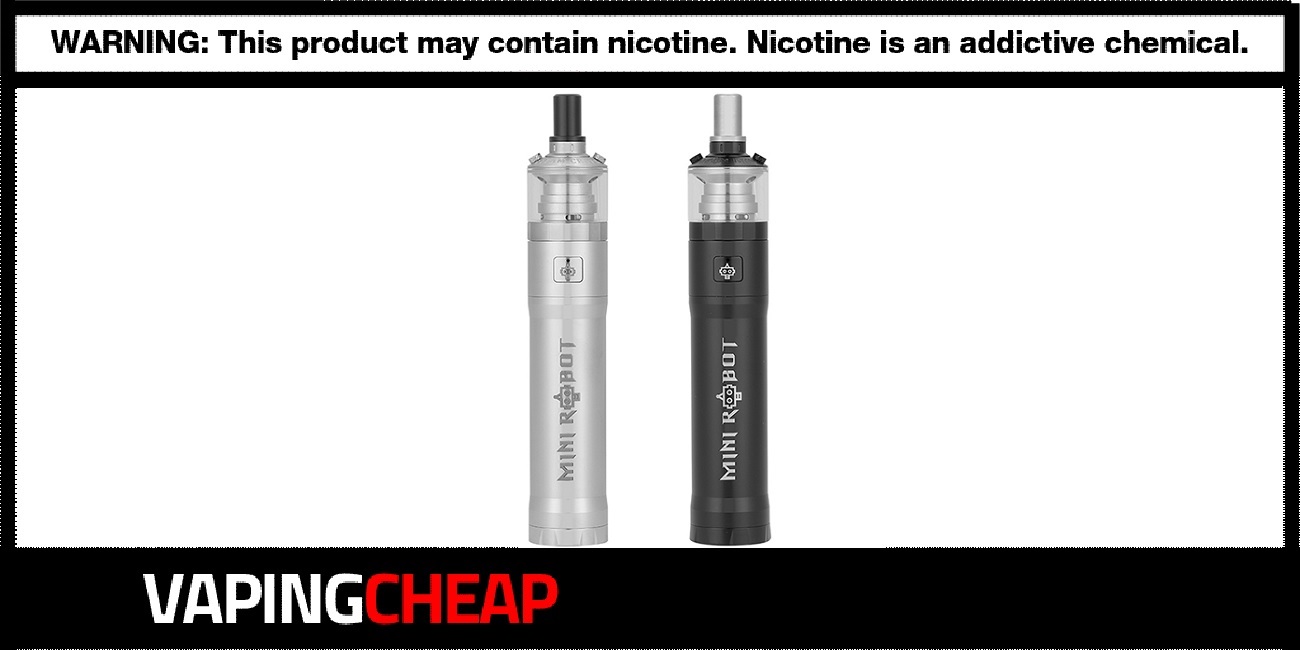 Here's where you'll find all the best deals and discounts for the Steam Crave Mini Robot Tube Mod and Full Combo Kit. You can grab the mod for just $24.80 after applying the coupon "SCRM". The full combo kit is also on sale for just $35.99 when using the discount code "vapingcheap". There are currently two color options available, which are Stainless Steel and Black.
The Steam Crave Mini Robot Tube Mod has a slim and compact design, and is pretty comparable to the Kizoku Kirin Mod. Additionally, it's powered by a high drain 18650 battery and operates off a variable voltage output. There's a small button on the front of the device that allows you to turn it off as well as swap from 3.5v, 3.8v and max power modes. With the Steam Crave chipset, you've got a ton of safety features built-in plus it's water-proof!
If you get the Steam Crave Mini Robot Full Combo Kit, it includes the Steam Crave Mini Robot RTA. This tank atomizer has a maximum e-juice capacity of 2ml or 3ml with the bubble tank section.
You can quickly fill it by removing the refill cap towards the top of the tank. Furthermore, it features a single coil build deck, and just like their previous Glaz Mini RTA, it's catered more for MTL. Lastly, the Mini Robot RTA has a top airflow system, and is adjusted by swapping the pins out.
This is definitely a unique device and kit coming from Steam Crave. However, they've always produced quality products and this certainly looks to be another. If you're into this vaping style, then definitely check out the Mini Robot MTL Kit or mod.
Steam Crave Mini Robot MTL Starter Kit Features:
Steam Crave Mini Robot Tube Mod

Requires a single 18650 battery (Not Included)
Variable Voltage Output: 3.5v, 3.8v and Max Power
Powered by the Steam Crave Chipset
Tons Of Safety Features
Water-Proof Design
Compact Body

Steam Crave Mini Robot MTL RTA

Maximum E-Juice Capacity: 2ml or 3ml (Bubble Tank)
Top Fill Design
Single Coil Build Deck
Top Airflow Design

Adjustable by changing the airflow pins
What's Included:
Steam Crave Mini Robot Tube Mod
Mini Robot MTL RTA
Spare Parts
Airflow Pins
3ml Tank Section
Extra 2ml Glass
Spare 510 Drip Tip
Pre-Built Coils
User Manual