Stay Salty EJuice Sale! Buy 1 Get 1 Free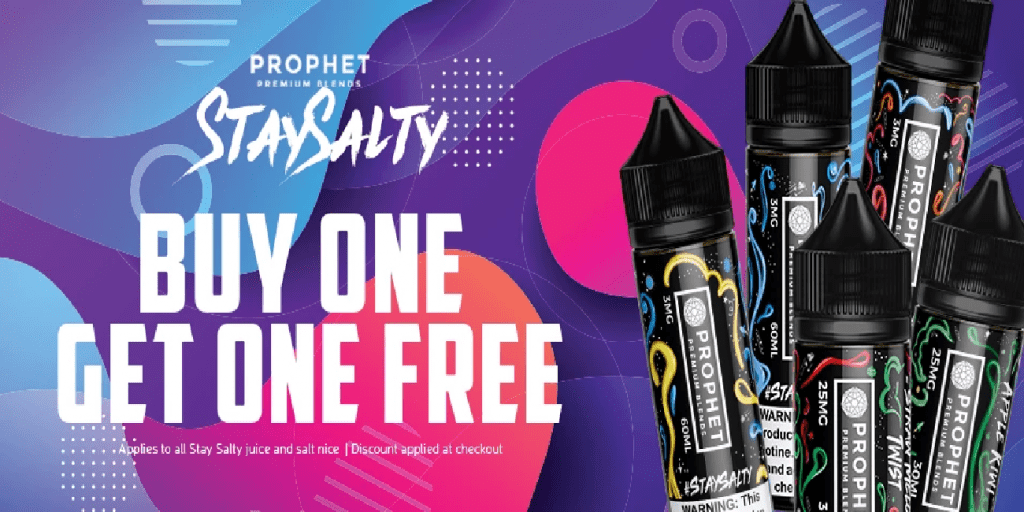 Here's a deal and discount to get cheap Stay Salt EJuice! With this sale, you can buy 1 get 1 Free! No code required. This does apply to both lower nicotine strength, and the higher nicotine salt nic options, giving you a price as low as $12.88 for two flavors!
With this Stay Salty ELiquid Sale, you'll be able to buy 1 get 1 for free! There's quite a few flavor options to choose from as well including delicious Blue Raspberry, Blue Raspberry Lemonade, Straw Melon Twist, Apple Kiwi, Tropical Blue Raspberry, Straw Melon Lemonade, and Straw Melon Twist on Ice.
These are nicotine salt vape juices, but there are lower strengths available such as 3mg. However, for you vapers wanting e-juices for your pod vapes, they've got you covered too with strengths up to 50mg for select flavor options. The lower strengths e-liquids come in a twin pack, giving you 2x60ml for a total of 120ml. Now, the higher milligram flavors do come in smaller 30ml chubby gorilla bottles.
If you're a fan of Stay Salty E-Juices, then you won't wanna miss out on this sale. However, if you haven't tried this brand out yet, and looking for a steep discount to try out multiple flavors at one low price, then this is the perfect sale to do so.
Stay Salty Vape Juice Sale Details:
Buy 1 Get 1 FREE (Discount Automatically Applies)
Valid on Both Lower Strength & Higher Strength Options
Prices as low as $12.88 for 2 Flavors
2x60ml Twin Pack or 30ml Bottle Sizes
Sub Ohm Salt Strengths: 0mg, 3mg, 6mg, 12mg
Higher Strength Options: 25mg, 50mg
7 Flavors Available
Limited Time Sale
More Great Vape Deals...
---
Vapefly Nicolas MTL Tank $9.96
For a limited time only, the Vapefly Nicolas MTL Tank is now on sale right here for only $11.99! No coupon code required! The colors available[...]