Mechlyfe Ratel Rebuildable Pod System $43.34 + FS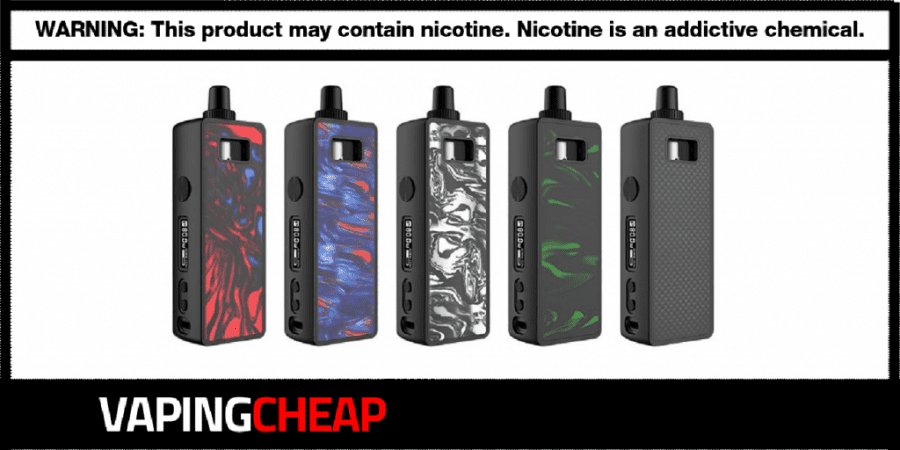 Here's a cheap deal for the Mechlyfe Ratel Rebuildable Pod System! Pre-order it for only $43.34 when logging into your account and using code "TGD15". To make this deal even sweeter, free worldwide shipping is included! However, it is in stock at a US shipper for $50.67 plus free shipping with code "VAPEON22". There's a few color options currently available including Carbon Fiber, Resin Red, Resin Blue, Resin White and Resin Green.
The Ratel Pod Kit by Mechlyfe is unlike any other pod vape on the market today and for a ton of different reasons. For one, it's powered by an external high drain 18650 battery rather than housing an internal battery, which is definitely a good thing! This allows you to swap batteries on the fly without needing to wait to full charge the battery. On top of that, you can completely adjust the wattage on the Mechlyfe Ratel Pod System from 5w all the way up to 80w, which is unheard of with any pod mod. Also, it has temperature control, Bypass mode, and even a voltage mode, giving you multiple ways to vape.
That's not all though! The best feature of the Mechlyfe Ratel Pod Mod is definitely its rebuildable deck section. It's super easy to build on since it has a simple 2 post deck design, and a breeze to wick properly. There's two different airflow sections as well, there's air traveling underneath the coil, which isn't adjustable on the inside, but an airflow slot on the side of the coil. You can completely adjust the airflow here to give you either a mouth to lung or direct lung vape experience. Also, you can adjust the airflow from the outside of the Mechlyfe Ratel AIO Kit, allowing you to fine tune it even more. The refillable pod cartridge can hold a maximum of 4ml, and is compatible with both freebase and nicotine salt vape juice.
If you're looking for a super unique pod kit, then you'll definitely want to add the Mechlyfe Ratel Rebuildable Pod System to your shopping list. It's lightweight thanks to its aluminum construction, can provide different vaping experiences, outputs up to 80w or 8v, and much more. You may not need another pod kit after getting this one.
Mechlyfe Ratel Pod System Kit Features:
Powered By Single High Drain 18650 Battery (Not Included)
Wattage Output Range: 5w - 80w
Voltage Output Range: 0.5v - 8v
Minimum Firing Resistance: 0.05 ohm
Lightweight Aluminum Construction
Temperature Control
Bypass, Voltage, & Standard Power Modes
OLED Display Screen
3 Button Configuration (Firing Button & Wattage Up/Down)
510 Drip Tip
Refillable Pod Cartridge
Rebuildable Deck Section

2 Post Deck Design
Easy to Wick
Adjustable Airflow (DTL & MTL)

Variety of Color Options (Resin & Carbon Fiber)
What's Included
Ratel Rebuildable Pod Device by Mechlyfe
Two Pre-Built MTL Fused Clapton Coils
Micro USB Cable
Screws & Screwdriver
Bag of Spare O-Rings
Organic Cotton
Check Out The Mechlyfe Ratel Rebuildable Pod Review
More Great Vape Deals...
---
MyVPro Free Shipping Sale!
For a limited time only, the Vandy Vape Bonza Kit Entension Tube is available for pre-order right here for only $14.39 using coupon code "Preorder10"! Free[...]