Smok Scar-18 Mod $33.99 | 230w Kit $45.79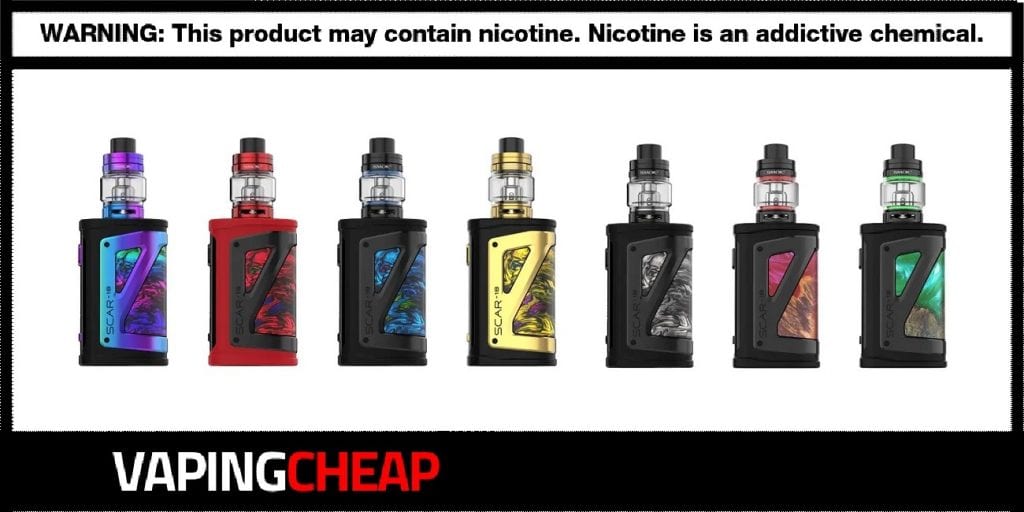 Here are discounts, and cheap prices for the new Smok Scar-18 Kit. Buy yours for only $45.79 after using the code "SCR". IT's also in stock at a US shipper for $57.60 plus free shipping when applying the code "WEEKLY10". If you prefer just the Scar-18 Mod 230w, you can buy one as cheap as $33.99 after using coupon "Scar18M". There's a wide variety of color options available to choose from.
Let's start with the Smok Scar-18 Box Mod. This device requires two high drain 18650 batteries and is powered by the new IQ-X Chipset. There's a couple of reasons as to why this may be one of Smok's best releases thus far.
First, it's a powerhouse, delivering a maximum 230w of power, enough to power pretty much all atomizers. Next, it's IP7 waterproof, dust-proof and shockproof, so you know it'll take a beating with no issues. We've seen this type of design before with the recent Geekvape Aegis Max Kit.
There's also a ton of user modes including precise temperature modes. What this does is let you set the temperature control for your Ni, Ti or SS wires accurately giving you a satisfying TC vape each time. It also has TCR to further customize your vape alongside regular power mode as well
Smok's Scar-18 Box Mod has three large buttons on the face, starting with the large fire button and two big adjustment buttons. On top of all that, there's a massive color display screen, showing all of your information clearly.
If you decide on the Scar-18 Starter Kit, you'll also get the Smok TFV9 Tank. It has an overall diameter of 28mm and has a maximum e-juice capacity of 6.5ml. Filling can be done from the top, so it can be done quickly and easily.
Inside the packaging for the Smok Scar-18 230w Kit, you'll get two of the brand new Smok TFV9 Mesh Coils. Lastly, you'll find fully adjustable airflow at the bottom.
The new Scar-18 Kit from Smok offers a ton of great features including the IP7 protections, user modes and packs a punch with the included tank. For you vapers looking for a new starter kit that can withstand drops and falls with ease, you might want to grab one as your daily vape.
Smok Scar-18 230w Vape Starter Kit Features:
Smok Scar-18 Mod

Requires 2 high drain 18650 batteries (Not Included)
Maximum wattage output: 230w
IQ-X Chipset
Multiple User Modes: TCR. Power, Precise Temperature
Large TFT Display screen
Multiple safety features
IP7 Waterproof, Dust-proof and Shock-proof
Three button design

Smok TFV9 Tank

Overall diameter: 28mm
Maximum e-juice capacity: 6.5ml
Top fill design
Uses new Smok TFV9 Mesh coil family
Compatible with the Smok TFV8 coil line
Adjustable bottom airflow
What's Included (Kit):
Smok Scar-18 Mod
TFV9 Tank
Two 0.15 ohm mesh coils
Replacement Glass
USB Cable
User Manual
Check Out The Smok Scar 18 Review
More Great Vape Deals...
---
Smok TF2019 Sub Ohm Tank $13.64
For a limited time only, Cookie Twist Strawberry Honey Graham 2 Pack bundle is now on sale right here for only $15.95! No coupon[...]
Asmodus Lustro Box Mod $23.84
Temperature Control Box Mod The Asmodus Lustro Box Mod is now in stock and on sale right here for only $36.00 using coupon[...]