Smok TFV9 Tank $15.97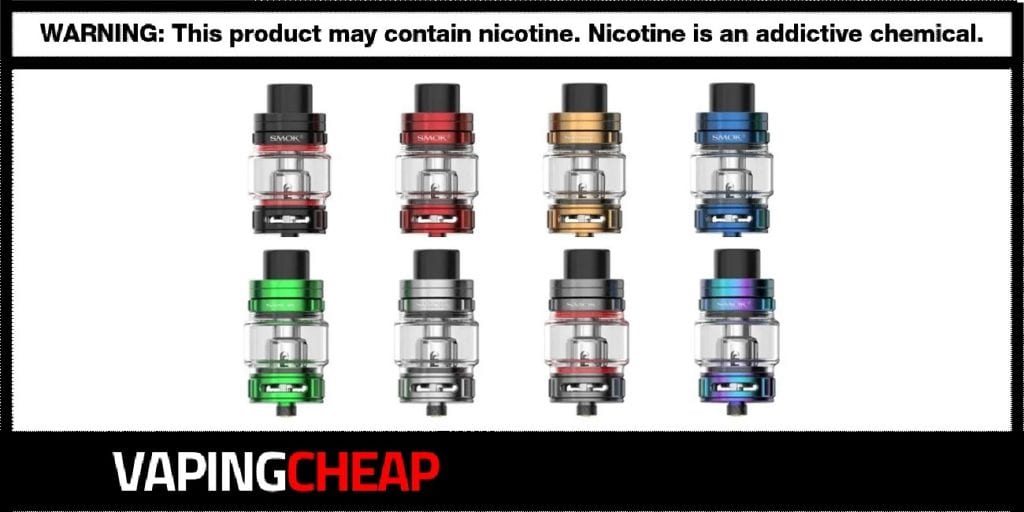 Here's a couple amazing deals and discounts for the Smok TFV9 Tank. Get yours for only $15.97 when using the code "vapingcheap". It's also in stock at a USA based store for only $18.69 after the discount code "VC15". This vape tank is offered in a variety of different color options.
The TFV9 Tank by Smok is a fairly large tank with an overall diameter of 28mm, but still slightly smaller than last year's Smok TF 2019 Tank. In addition, this tank atomizer holds a ton of e-juice, at full capacity it holds 6.5ml. With that much capacity, you won't need to fill the TFV9 vape tank.
To fill it, simply rotate the drip tip opening up the large center fill port. The top cap also has a childproof locking mechanism, providing you with an even more secure top filling design. At the top, there's a super wide bore drip tip, which you cloud chasers will certainly enjoy.
The next awesome feature is the replacement coil heads. It's compatible the brand new Smok TFV9 Mesh Coil Family. The best part is that it's also compatible with the full line of TFV8 Coils! With that being said, you've got plenty of coil options, which can't be said with many other sub ohm tanks.
Included with the Smok TFV9 sub ohm tank, you'll get two of the 0.15 ohm mesh coil heads. Lastly, you've got two massive airflow slots on the bottom, which can be adjusted.
All in all, if you are looking for a new tank that's large, holds a ton of e-juice and is compatible with a wide range of coil heads, then you'll want to check out Smok's TFV9. For the sale price, it's well worth it.
Smok TFV9 28mm Sub Ohm Tank Features:
Overall diameter: 28mm
Maximum e-juice capacity: 6.5ml
Childproof lock top cap
Rotating top fill design
Compatible with the new Smok TFV9 Mesh Coil Family


Also compatible with the Smok TFV8 Coil Line

Adjustable bottom airflow
Stainless steel construction
Gold plated 510 connection pin
Wide bore drip tip
8 Different color options
What's Included:
Smok TFV9 Tank
Two 0.15 ohm Mesh Coils
Replacement Glass
User Manual