Sigelei Fog Stick Kit $26.99 (USA)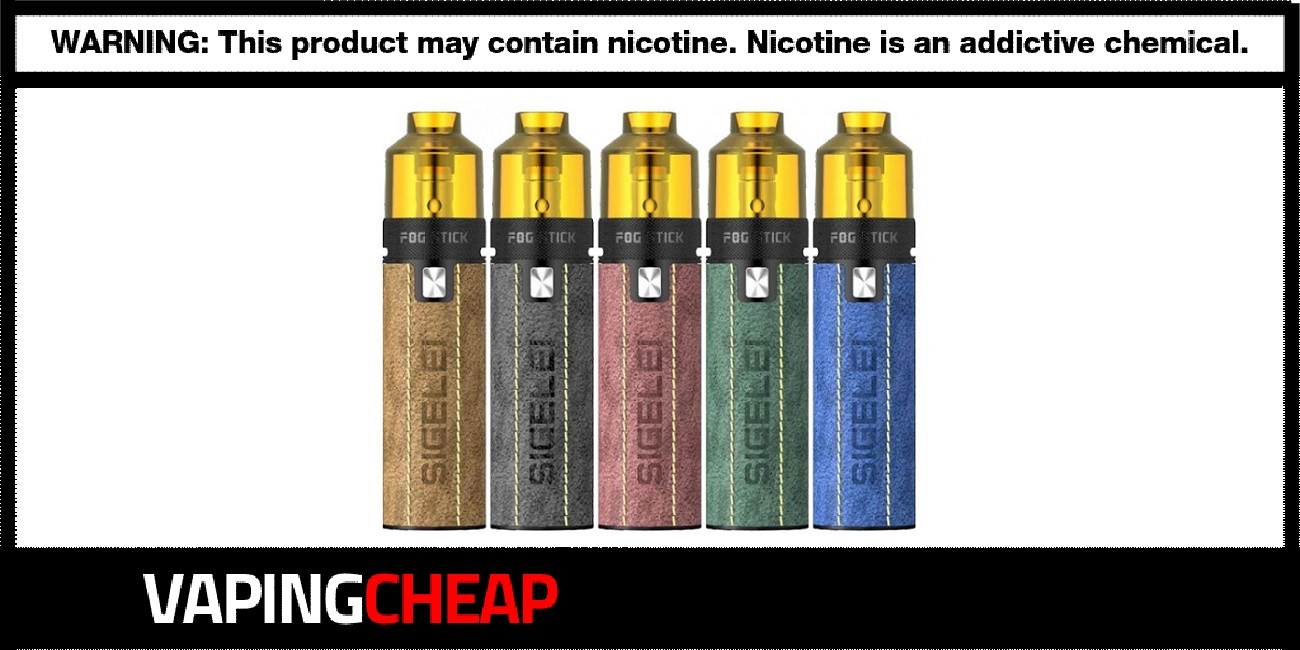 The Sigelei Fog Stick Kit is now in stock and on sale! You can get yours from a USA based store for only $26.99 plus free shipping over $65. No coupon needed for the discount. There are four color options available for purchase.
The Fog Stick by Sigelei is a highly portable and powerful pod mod kit. It offers an 80w maximum output and utilizes a built-in 2000mAh battery. Charging it can be done using the included USB cable. Constructed out of zinc alloy and featuring an additional leather casing, it is quite durable.
Furthermore, the Fog Stick Pod Mod Kit has two different modes. The first is the regular wattage mode and the second is a smart curve mode. It does feature a small OLED display screen on the bottom as well as two adjustment buttons. Like many pod kits, this one also has tons of safety features packed inside.
Included with the Sigelei Fog Stick 80w Kit, you'll get the FOG Tank. This tank atomizer holds a large amount of e-juice at 5ml. Filling it is done tradtionally from the bottom, but you won't be needing to refill too often since it does hold quite a bit of vape juice.
You'll also get two of the Sigelei FOG Coil Heads in the box. The first coil is a 0.3 ohm coil and the next is a 0.2 ohm coil. On top of that, the Sigelei Fog Stick is compatible with the VooPoo PNP coil heads as well, so you have plenty of options available to you. Lastly, there's two large air slots at the base of the tank giving you plenty of airflow.
Both beginners and advanced vapers will definitely want to check this out. Whether you're after a pod mod with more power or replaceable coils, the Sigelei Fog Stick 80w Kit has you covered.
Sigelei Fog Stick 80w Pod Mod Kit Features:
Sigelei Fog Stick Mod

Internal 2000mAh battery
Maximum wattage output: 80w
Two User Modes: Wattage and Smart Curve
Small OLED display screen
Three button design
Zinc alloy construction
Leather casing
Various safety features

Sigelei FOG Tank

Maximum e-juice capacity: 5ml
Bottom fill design
Uses the FOG Coils
Bottom airflow design
Compatible with the VooPoo PNP Coil Heads
What's Included:
Sigelei Fog Stick Kit
FOG Tank
0.2 ohm coil head
USB Type-C Charger
0.3 ohm coil head
User Manual