Artery Pal 2 Pro Pod System $10.79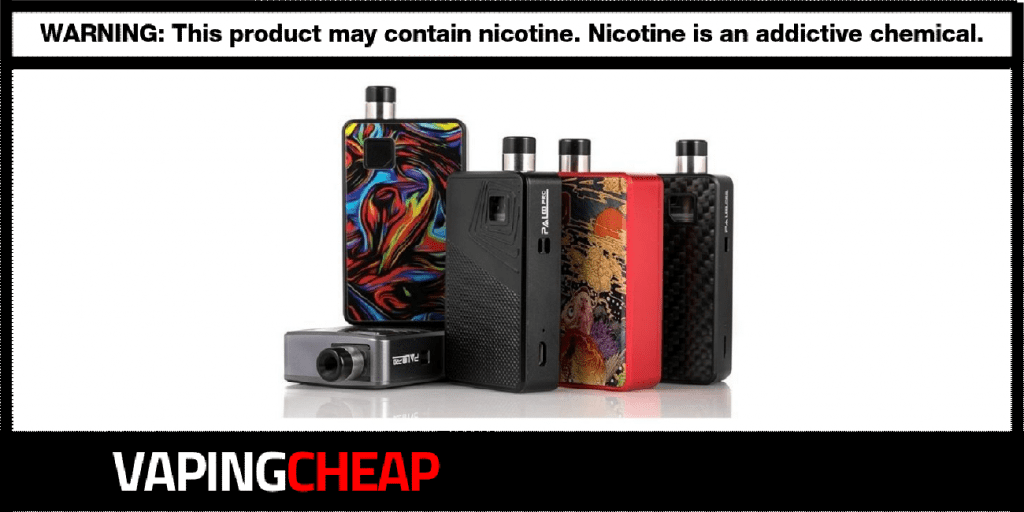 The Tony B and Artery Pal 2 Pro Pod System is here! Get yours for only $10.79 when logging into your account and using our code "vapingcheap10". Free worldwide shipping is included when spending over $55. It's also available from a USA based store for $26.99 with code "TENOFF". There are 5 color options you can choose from.
Artery's and Tony B Pal 2 Pro Pod System Kit is the newest variant in the Pal 2 line of devices, and just may be their best version yet. There's multiple reasons as to why, but we'll cover the basics of the Pal 2 Pro Pod Mod first. It has a 1,000mAh built in battery, and depending on your vaping style, it can certainly last you throughout an entire work day. The Pal II Pro is constructed of 6063 aluminum alloy material, so it is quite durable, but is very lightweight. Since it is a Pal device, you know it keeps a pretty slim form factor as well, and when mixed with its light weight, it's perfect for on the go.
One of the best features to the Pal 2 Pro Pod Vape is the fact that you can now completely control the wattage output, from 5w to 22w. Beforehand, you couldn't do this, and on top of that, there's a hidden display screen, keeping the stealthy look. It does have a resistance range between 0.5 ohm to 2.0 ohm. As you'd expected with this new Pal II Pro, it does utilize a new cartridge and coils.
The actual refillable Pal 2 Pro pod cartridge has been updated with an easier to use filling port and silicone plug that lets air escape when you fill it. You can even now use a 510 drip tip! These Pal 2 Pro pods have a 3ml maximum e-liquid capacity, and it is compatible with both regular and nicotine salt vape juices. Included, you'll also get the new Artery HP Core Coils, a 0.6 ohm mesh and a 1.0 ohm. Airflow is still adjustable from a restrictive direct lung to a mouth to lung vape.
If you were the fan of the original, but prefer to manually adjust the wattage to find your sweet spot, then you'll definitely want to add the Artery Pal 2 Pro Pod System to your vape arsenal. Going by how great the last one was, this new version will definitely be one of the best pod vapes to be released this year.
Artery Pal 2 Pro 22w Pod System Kit Features:
Internal 1,000mAh Battery
6063 Aluminum Alloy Construction
Wattage Output Range: 5w - 22w

Fully Adjustable
Auto Adjusts Depending On Coil

OLED Display Screen
Resistance Range: 0.5 ohm - 2.0 ohm
Ergonomically Placed Firing Button
E-Juice Viewing Window
LED Battery Light Indicator
New Pal 2 Pro Cartridge

3ml E-Liquid Capacity
Updated Side Filling Port
510 Drip Tip Compatible
Adjustable Airflow Control Ring

New HP Cores

0.6 ohm Mesh
1.0 ohm Regular

Multiple Safety Features

Low Voltage Protection
Atomizer Short Protection
Temperature Protection
No Atomizer Protection

5 Color Options
What's Included
Artery & Tony B Pal 2 Pro Pod Mod
Artery Pal II Pod Cartridge
USB Cable for Charging
Additional Plug
Spare O-Rings
0.6 ohm HP Core Mesh Coil
1.0 ohm HP Core Coil
Warranty Card
Cerfitication Card
Check Out The Artery Pal 2 Pro Review