Think Vape Thor AIO Pod Mod Kit $13.77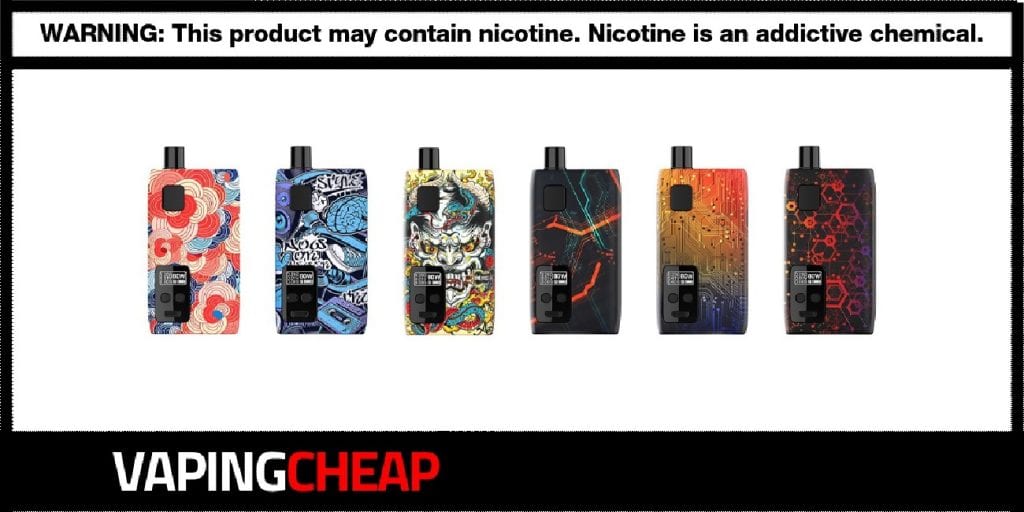 Here are cheap prices for the new Think Vape Thor AIO Pod Mod Kit. Grab yours for only $13.77 with code "vapingcheap10". There's various color options available including Cloud, Asura, Hexagon, Grid-Orange and more.
Think Vape's newest release, the Thor AIO Kit requires a single high drain 18650 battery for operation. Additionally, it does have an impressive 80w max output. All of this available power is is due to its proprietary chipset. Not only will you get 80w out of this compact device, but there's a ton of safety features built in.
The materials used to construct this device are ABS and PC, which makes it extremely lightweight, even with an installed battery. Furthermore, it's shaped perfectly, so the Think Vape Thor AIO Kit is super comfortable to hold.. Like we've seen before with their past devices, this one features a graffiti art style.
On the front, you'll notice the display screen which will display your wattage output, current battery life, coil resistance, voltage output, and even a firing timer. Underneath is where you'll find the micro USB port, and wattage adjustment buttons.
The Think Vape Thor AIO vape pod kit includes a 3ml refillable cartridge. Filling it can be done from the side. What's great about the Thor AIO is that it is compatible with the replacement coils that were used with the Think Vape Zeta, and even the RBA section and pod cartridges too. However, you do receive to mesh coils inside of the packaging. Lastly, you can control the airflow from the bottom of the coil head.
Think Vape has brought another awesome device to the market that not looks good, but won't cost you much at all. At under $16, it's a complete steal!
Think Vape Thor AIO 80w Kit Features:
Requires a single 18650 battery (Not Included)
Maximum wattage output: 80w
Three button layout
Constructed from ABS and PC material
Multiple safety features
Small display screen
Includes a refillable pod cartridge

Maximum e-juice capacity: 3ml
Side fill design
Comes with two mesh coil heads
Bottom airflow design

Compatible with the Think Vape Zeta Pod, Coil heads and RBA section
What's Included
Think Vape Thor AIO Mod
Refillable Pod Cartridge
0.2 ohm mesh coil
USB cable
0.5 ohm mesh coil
User manual