OXVA X Pod System Kit $16.00 (USA)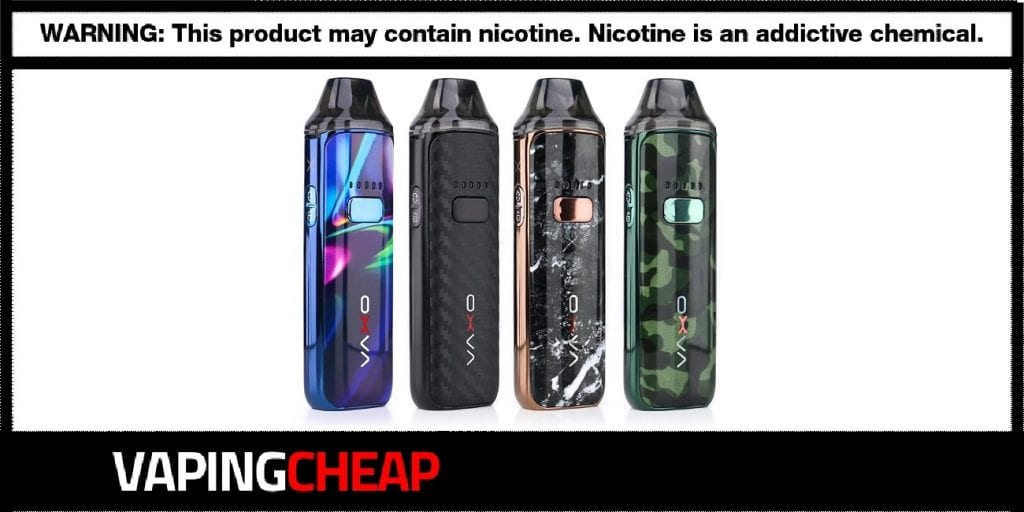 The brand new OXVA X Pod System Kit is now in stock and on sale! Buy yours from a USA based shop for only $16.00 plus free shipping over $75 after using the code "OXVA50". There are four different color options available. This includes Battlefield Green, Coffee Gold, Extreme Night Blue and Black Carbon Fiber. It's also in stock and on sale from another USA based store for $40.50 using coupon "VC10"!
The OXVA X Pod offers a couple key differences when comparing it to the original and popular OXVA Origin AIO Pod System Kit. One of the primary differences is that it packs a built in 1600mAh battery. However, it still offers the same satisfying 40w max output. In addition to that, it is powered by the PHOTON chipset and comes with multiple safety features alongside different user modes.
When vaping on the OXVA X vape pod, you can select from five different power levels. You can adjust by simply using the side adjustment buttons. There's also a large firing button, and even a locking featured located on the side. Above the button are the LED indicator lights. Now, one of the best features of the OXVA X Kit is the actual size and construction. It's durable, and pocket friendly!
The OXVA X Pod Mod Kit does come with a refillable cartridge that holds a maximum e-juice capacity of 2ml. There's a large fill port on the bottom of the pod with a silicone plug.
It does use the OXVA Unicoil Family and includes two mesh coil heads. Just like the original, the flavor off these coils are simply amazing, where some may even say it's RDA-level flavor! Lastly, if you are a fan of building your own coil heads, it is also compatible with an optional RBA section.
For you vapers who prefer an all in one kit that doesn't require an external battery, then you'll love the OXVA X pod vape. The original is still considered as one of the top performing pods, and the X is definitely following suit.
OXVA X 40w Pod Vape Kit Features:
Built In 1600mAh Battery
Maximum Wattage Output: 40w
Zinc alloy Construction
PHOTON Chipset
Two Adjustment Buttons
Locking Feature
Large Fire Button
Multiple Safety Features
Includes A Refillable Pod

Maximum E-Juice Capacity: 2ml
Bottom Fill
Includes 2 Mesh Coil Heads
Compatible With The OXVA Unicoil Family and RBA Section
What's Included:
OXVA X Pod Device
Refillable Pod Cartridge
OXVA Unicoil 0.3 ohm mesh coil
USB Cable
OXVA Unicoil 0.5 ohm mesh coil
Warranty Card
User Manual
Attention Card
Check out the OXVA X Pod System Review....