IGO-W Review – Top Features, Ratings, Pros & Cons!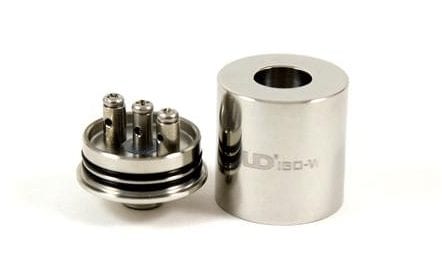 If you are a seasoned vaper, chances are high you know about UD products. Youde Technology Ltd is the manufacturer behind these brand and all through the years, this China-based manufacturer has evolved to become a leading global e-cig company reputable for matching quality and affordability.
Of all the major e-cigarette companies, Youde is among the very few with the widest range of RDAs and RBAs. The IGO-W is another inexpensive yet state of the art RDA from Youde designed to be used for a long time while giving you the most you could ever get from an RDA of its class.
Veterans and new rebuilders alike will find this unit just right because, well, it's easy to use. And if you are into taste and style, it has three different immaculate finishes (brass, black and brushed 304 stainless steel) you can choose from. We all want a good bang for our bucks and that's exactly why you need to check the rest of our IGO-W review to see why the IGO-W is a perfect fit for you.
IGO-W Ratings
Design: 4.0/5.0
Ease Of Use: 5.0/5.0
Value: 5.0/5.0
Quality: 4.5/5.0
Performance: 4.0/5.o
IGO-W Rebuildable Atomizer Review
The IGO-W is a neat and simple tool designed with three posts so as to let you use it with both single and dual coil setups. It comes in three different finishes and can easily match with most of the compatible accessories without looking out of place. It's not really the best in this regard but neither is it the worst.
Using it is pretty easy, both for the novice and the veteran. And for its price, it's just hard to go wrong with that. It's one of the most ridiculously inexpensive quality rebuildable atomizer you will ever come across today.
Some of its key components such as the top cap and the base are made out of high-grade steel and that can only mean that it was created to last years upon years. When it comes to performance, it doesn't disappoint either. Much as it can't take quad coil setups, it does an excellent job with the single and dual coil setups. However, more should be done to give it effective O-rings.
Excellent Build Quality
With the top cap, the base, and screws all made out of 304 airplane grade stainless steel, it isn't hard to see why it rates high above other RDAs when it comes to toughness. It might be thick and heavy but in exchange for that, you get a unit that is durable and able to endure falls or other accidents.
Your coils will be held firmly onto the posts by the three Phillip Head Screws as opposed to the typical lousy hex screws common with other drippers.
Perfect for Newbies And Veterans
It's worth noting that the IGO-W has easily managed to appeal to a huge crowd reason being it's easy to set it up both for the beginner and the veteran. For the advanced user, there's a lot more you can do with this unit including even interchanging some of its parts with other IGO rebuildable atomizers.
Very Affordable
It's not every other time that you come across a quality rebuildable atomizer priced as low as $12 unless we are talking about the IGO-W dripper. It may be from China but make no mistake about that because the unit has proven performance and it's recognized across the world for its affordability and reliability.
Visually Appealing
Besides coming in the three different finishes we saw earlier in our IGO e-cig review, the unit will also look quite good on a number of different devices and accessories that you chose to work with it. Whichever combination you go for, it's guaranteed that you are not going to end up with a combination that looks kind of awkward or out of place.
Not Enough Holes On The Top Cap
When the top casing has plenty of airflow holes, it makes it easier for one to get massive clouds and of course a great throat hit. Unfortunately for this unit, you will be forced to drill more holes on your own if you wish for that or maybe go for the IGO-W3 version which features three holes on each side of its top cap.
Thankfully, the video below shows you how you can enlarge your air holes to increase vapor production.
Ineffective O-Rings
During the first times you will be using this unit, the top cap will fit tightly into the unit but within two to three weeks or even a period shorter than that if you use it often, the top cap will be sliding off at odd times and this will require that you either buy new O-rings or endure an extremely loose top cap.
Top Features of IGO-W
3-Post System
For its low price, this RDA comes complete with three stainless steel posts. The post at the center is obviously the positive post while the remaining two are the negative posts. What the extra negative post does is let you be able to build with not only single but also dual coils. Another great thing about the posts is that they are well spaced out which make it easy for you to maneuver between the posts as you set up your unit.
510 Thread
Compatibility is an aspect every atomizer should have. Not just mere compatibility but a kind of compatibility that allows you to bring your array of wicks and coils and still not care whether they are going to fit with this unit. Well, thanks to this unit's 510 thread, you can go ahead and bring all of those mechanical mods and other accessories that feature a 510 threading and it will comfortably work with them
Phillip Head Screws
As other RDAs continue to utilize Hex and Allen Screws, this unit takes that to a whole new level by making use of Stainless steel Phillips Head Screws. Allen screws are the worst idea ever put into an RDA because the moment you lose one of them, that's as good as rendering your unit incapable of taking a dual coil setup.
Conclusion
Like we said earlier in our IGO-W review, if you are out to get yourself an inexpensive rebuildable atomizer of superior quality, then set your eyes on the IGO-W. Every important aspect of a rebuildable atomizer, from the ease of use to the quality to the design and performance have all been done to near perfect.
If you wish for a wider choice of color finishes than what the IGO-W offers, be sure to check out the IGO-W Plus or a UD IGO-W plus review for more information about it. But for a rebuildable atomizer of its class, the IGO-W really comes out on top of the rest.