454 Big Block RDA Clone Review
The authentic 454 Big Block RDA is a USA made rebuildable dripping atomizer by Kryptonite. The authentic 454 Big Block dripper gets its acclaim from its "no negative post" design and its reasonable price point for a "high end" atomizer. I don't necessarily agree that the 454 Big Block qualifies as a high end device however, there are a few design elements behind this atomizer that makes it a potentially ideal choice for beginners to advanced rebuilders. The authentic 454 Big Block retails for $59.99-74.99 USD at select online retailers.
Buy an Authentic 454 Big Black RDA here for $59.99
The 454 Big Block clone featured in this review comes from Cigabuy.com, and retails for $11.49 USD. For a limited time you can receive 20% off the retail price by using coupon code: 34116620OFF (expires 11/08/2014). The 454 Big Block clone is packaged in a simple black box, and includes a spare kit.
Buy a 454 Big Black Clone here for $9.91
Use coupon code: 34116620OFF
454 BIG BLOCK RDA SPECIFICATIONS
Type: rebuildable dripping atomizer
Material: 304 grade stainless steel (copper 510 pin)
Connection threading: 510
Diameter: 22mm
Weight: 50 grams
Features:
4 negative post, 1 positive post
Single, dual, quad coil configurations
Adjustable air flow control ring
Copper fire pin
Package Contents:
1 x RDA
1 x Screwdriver
9 x Screws
3x spare o rings
BUILD QUALITY
The 454 Big Block clone is quite the beefy atomizer with a very durable design machined from 304 grade stainless steel. The RDA is composed of 6 basic parts which are the build deck, gold plated stainless steel negative post ring, main body sleeve, AFC ring, top cap, and drip tip. The main body sleeve has a total of 7 3mm air holes drilled around it, while the AFC ring has 4 3mm air holes. This AFC system allows for adequate air flow for single, dual, and quad coil configurations.
The top cap features deeply milled heat sink fins which allows for adequate heat dissipation while vaping. The drip tip hole is also rather large which makes it ideal for direct dripping when used with a different wide bore drip tip. The top cap also has a conical-shaped chamber for flavor enhancement.
The drip tip that comes standard with the 454 Big Block is also part of its innovation, it has a sealed based and two air holes horizontally drilled through both sides. The purpose of this design is to prevent e-liquid splash back through the drip tip when your atomizer is fired. I have also heard some say that this drip tip design is also intended to enhance and improve flavor production.
For the most part I find the overall machining and build quality of this 454 clone to be good however, this atomizer could also benefit from thicker o rings on the base and top cap. I find that both the top cap and main body sleeve can be removed a little too easily on this RDA. On the other hand, I find that the AFC ring has the perfect level of resistance, it is very easy to adjust, yet it does not move easily off of its air flow setting and I like that.
As previously mentioned, this RDA has adequate air flow for single, dual, and quad coil configurations. Each of the air holes are relatively large at 3mm, but the air holes can also be partially closed off to decrease the air flow through each hole.
The base of the atomizer is printed with the 454 Kryptonite logo and has a non adjustable copper contact pin which I was a little bummed about. I would like to think that at this stage in the game that all atomizers, whether it be an authentic or clone, would be designed with an adjustable pin for flush mounting.
The building deck is designed with a single positive post with 4 threaded lead holes drilled around it. The perimeter of the deck acts as the negative post, for which there are 4 threaded posts for the negative coil lead. There is also a corresponding negative post ring, which in the case of this 454 clone is gold plated stainless steel. The purpose of this negative post ring is to act as a catch for the negative coil leads, which is then further secured by the included negative post screws. Now, this is where I find myself criticizing the "innovation" of this design.
In my opinion, true innovation takes a design forward in its function and streamlines its usability however, I find this addition of a negative post ring for securing the negative coil leads adds an unnecessary step to the build process. In my opinion it does nothing to improve the overall functionality of the device. The same could be accomplished without the use of the negative post ring, had this RDA been designed that way.
It was my intention to actually build this RDA without using the negative post ring, and just use the catch screws instead. However, if you look at the photo demonstration below you can see that this was impossible due to the depth of the threaded negative post holes, and the length of the included catch screws. Due to the design and machining of this RDA I would have no choice but use the negative post ring in some capacity.
Why don't I want to use the negative post ring as it was intended? Because as I mentioned earlier it adds a few additional steps to the build process which in the end do not add to any sort of increased functionality and performance. In order to build with this negative post ring you must:
Install all coils leads through the center positive post, catch the leads with the post screw, then clip the leads (or bend upward so that the ring can be installed over them).
Position all negative leads across the deck, then place the negative post ring on top of the negative leads and align it with the corresponding post holes.
Then with all negative leads held in place, install all four post screws and tighten to secure the negative leads under the ring.
Now, while this is certainly not a hard thing to do, it does take a little more time to get it done. In addition, when it comes time to change out your build you must remove all four post screws to remove the negative post ring. Whereas with your average RDA/RBA it not necessary to remove the post screws in order to remove the build, you simply unscrew them slightly to release the lead. I do not want to be bothered with keeping 4 tiny post screws from being lost to the abyss of my sofa every time I want to work on a build.
Here is an example of what a completed build on an authentic 454 Big Block RDA would look like using the intended build method. I present this example because later on I will demonstrate how I chose to build this atomizer, which is slightly different from the intended method. Those of you who may be unfamiliar with this atomizer will then have some options for how to approach your own build.
I decided to use a more traditional build method using the negative post screws to catch my leads. First I installed the negative post ring, and screws to the base. I decided to do a single coil build using twisted 30 gauge Kanthal, and a 7/8 wrap on the neck of a small flat head screwdriver which is about 2mm in diameter.
Then I installed the positive lead into the center post with the coil positioned vertically and screwed down the catch screw. Using a the traditional catch method, then I used the wrapped the negative lead around the catch screw already installed into the base, and tighten the lead down. My build metered out to .96 ohm.
You will notice that some of the gold plating has rubbed off to reveal the stainless steel beneath the plating.
I threaded the single coil with cotton and used a pair of tweezers to gently pull the cotton out through the bottom and it extended the cotton into the base of the deck. One of the nice things about this dripper is the deep drip well and the higher position of the air holes in relation to the deck. In this way I find that excess e-liquid from over dripping is less likely to make its way out of one of the air holes.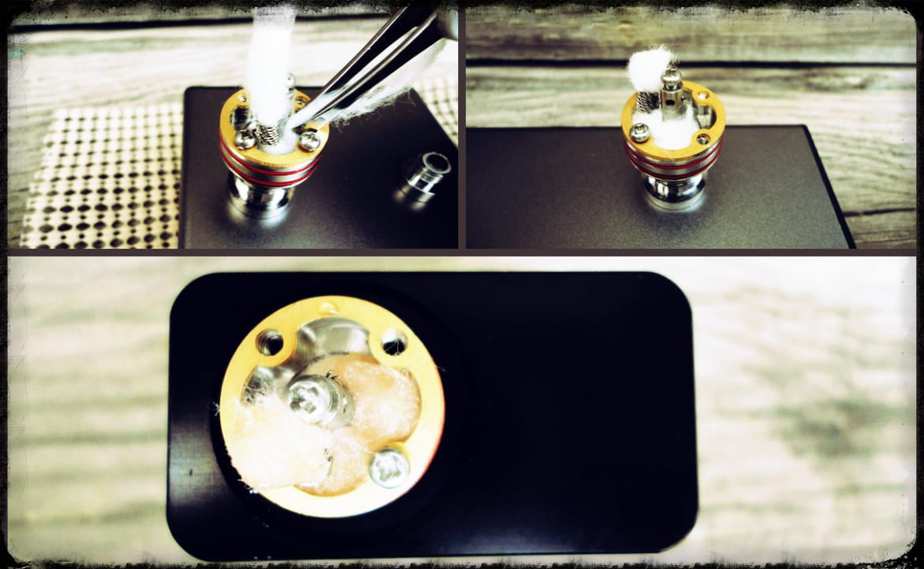 PERFORMANCE
The conical chamber really does a fantastic job as a flavor enhancer for this atomizer and every e-liquid that I have put into the 454 Big Block has definitely received its just due. I prefer the circular air hole over the Cyclops style air holes used on some rebuildable drippers because it is easier to position and center the air hole in front of the coil. With each air hole being sized at 3mm, there is plenty of air flow to help fog up your room even with a single coil build.
The drip tip however, doesn't do much for me, nor did I find that it further enhanced the flavor of my e-liquid beyond what the conical chamber successfully provides. I prefer to drip directly drip into my atomizer without having to remove to the top cap, so the design of this drip tip does get in the way of that for me. I also don't care for its aesthetic appearance. The good news, I can use whatever drip tip I like with this atomizer, and that is what I did.
While the deep drip well does a good job at preventing leaking from over dripping, over time there is still the build up of condensation within with chamber and between the inner and outer sleeve of the main body. So at some point things may get a little moist around the air holes. However, this is not a big deal because it is quite usual and customary for this to occur with drippers, and RBA's alike.
OVERALL
In spite of my minor criticisms regarding the design and use of the negative post ring, I really do like this atomizer. For those who enjoy "tinkering" and inventing different styles of builds, I can certainly see how one might enjoy the use of the negative post ring. Personally, I subscribe to the school of thought "just get it done", and so the extra steps and efforts involved in using the negative post ring simply do not appeal me. I would love to see an update to this design with the negative post ring entirely eliminated, as I feel that in the end there is nothing further accomplished and/or provided by its inclusion.
However, it is possible to install and use the negative post ring in a more traditional fashion, as I did, and which was redeeming for me. I believe that one of the greatest positives about this atomizer is its versatility when it comes to coil configurations. Even as I prefer single coils, I certainly appreciate the ability to step outside of my own norms on occasion. Overall the 454 Big Block RDA clone gets a thumbs up.