Best Vape Juice For Clouds: "Completely and Utterly Addictive"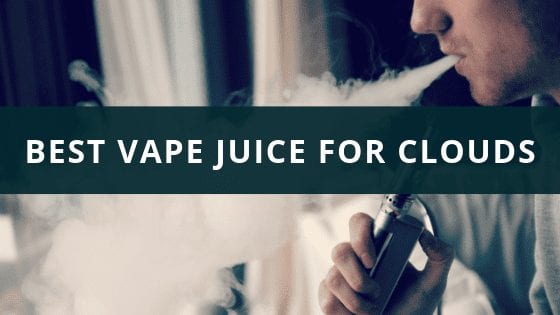 Ooh! I am amped for today's topic, my sexy fellow vapers! It's a topic that has helped to take vaping from a simple habit (to replace smoking) to an awesome hobby and a great photo topic that keeps us busy for literally hours and hours on end.
Yes indeed... cloud chasing, my lovelies! The biggest, the best, cumulonimbus action is what really gets me going when I vape. As long as you're sitting with a high powered mod and a tank that can get you into the sub-Ohm strata then the next thing you'll be needing to know is how to find the best vape juice for clouds.
Luckily, the answer is simple as can be and I'll present it to you in this article.
The Best Juices for Clouds on the Market
E-juice has two main ingredients: Propylene Glycol (PG) and Vegetable Glycerine (VG).
While high-PG liquid works better on your lower level or bottom coil devices like cigalikes and eGo pens, high-VG liquid is thicker, creates a heavier, fuller, more awesome vapor and should be the main element in the best vape juice for clouds.
The higher the VG content your juice has, the thicker the clouds you'll get. Simple, isn't it?!
I'm not a fan of the cigarette-like throat hit you get with high-PG e liquids, but some people like it. If that's you, aim for a 30% PG 70% VG, which will give you that throat feel and above average clouds.
On the other hand, if, like me, you care only for cumulo-cloudiness and flavor, plus you find PG ever so slightly irritating on the throat... go for a no nicotine (to make room for more flavor) liquid with the highest VG you can find.
There are a bunch of great brands on the market, specializing in creating the best juice for clouds, many of whom are working to get that extra flavor pumped in so we don't have to worry about the lower PG being a problem.
Let's get into it with a closer look at some of the best cloud chasing juice I've found. And since I don't want you to have to sacrifice flavor I'm gonna deliver some flavor picks too.
| | | | |
| --- | --- | --- | --- |
| | | | |
| | | | |
| | | | |
| Juice Mafia Cloud Collection | | | |
| | | | |
Pure Organic Vapors 100% VG E Juice
Why It's Good:
Top of my best juice for clouds list. This gourmet brand is dedicated to making the tastiest, safest, healthiest, irritant-free ejuice out there. Nicotine content is optional.
It's made in small batches to ensure only the highest quality with 14 or 30ml options.
They use extracts and never artificial flavorings and as a result of this, they don't have a huge list of e-liquids, however the ones they do have are delicious.
What You Get:
Full, flavorsome clouds and the organic, natural ingredients give a clean and completely irritant-free quality to the vape. Their really high grade non-GMO, USP VG e-liquid has a delicious sweet taste and is obviously of a superior quality.
Strawberry Limeade, Spiced Apple Cider and Mango Mystique are out of this world. The Spiced Apple Cider e-juice is so authentic tasting, with complex cider inhale and delicious sweet cinnamon notes on the tongue with exhale. I love it.
Audio Fog 100% VG EJuice
Why It's Good:
I'm crazy about the massive 145ml squeezy bottle, perfect for drippers and on-the-go cloud chasers. This is a cool brand, clearly made by serious vapers.
What You Get:
Yes indeed, the fog is so extreme with this juice that you can literally hear the fog horns blowing, hence the name... I imagine.
Their e-liquid flavors are really complex and delicious, I love Reverb, Ambient and Wavelength. Reverb tastes pink, if you know what that tastes like: it's completely and utterly addictive!
Mt. Baker 100% VG E Liquid
Why It's Good:
This hugely popular brand offers all the e-liquid options you need, from nicotine strength to your PG/VG ratio and bottle size. I commend them for their ability to keep their awesome flavors shining through on the higher VG's and recommend them as a great brand for working your way up the VG scale to cloud chasing heights.
What You Get:
Let me first mention flavor this time, these are true gourmet juices. The flavors are so complex you can sometimes catch up to six notes with these guys.
This is most likely my winner of the flavor section of my Best Juice for Clouds Award, simply because while delivering all the fog you'd expect from a full VG... they also manage to tie in complex and delicious gourmet flavor notes that will make you salivate for more. Go for banana Cream Pie, berry Crunch Cereal and Butterscotch!
Juice Mafia Cloud Collection
Why It's Good:
This great brand makes my list of the best e-juice for clouds options because cloud production with this brand is simply off the charts. They offer a large range of diacetyl free flavors, all tailor made to deliver both cloud and deliciousness.
I love there sample pack of 3 x 15 ml flavors plus the fact that you have the option of choosing both your nicotine content and whether or not you want extra flavor!
What You Get:
Off the charts clouds, and, like I said, the extra flavor options deliver some mean notes and my favorites would definitely be the Strawberry Peach Freeze, Cirrus, Strawberry Vanilla Sugar and the Tri-Melon. Cirrus has an energy drink (my favorite) inhale, with delicious sweet grape on the exhale.
---
Oh, if you want to know more about cloud chasing, check this out!
Tasty Cloud High VG E-Liquid
Why It's Good:
I told you that I was gonna bring you the best e-liquid for clouds without sacrificing flavor and Tasty Cloud will deliver exactly what the name says.
They don't have a ton of full VG options but what they do have is exotic, refreshing and delicious.
What You Get:
Tasty freakin' storm-like clouds with awesome flavors such as The Goods, Dragonaire and Melrose. The dragonfruit based Dragonaire is one of the most refreshing and complex fruit flavors I've ever tasted. Go for their Triple Treat High VG option to sample all three of these flavors.
Conclusion​
Thus concludes my top five contenders for the best vape juice for clouds award and I know that you won't be disappointed with the flavor profiles and heavy, heady VG consistency of the clouds you'll get off these babies!
As far as I'm concerned, 100% VG is the way of the future…as soon as you tire of looking for cigarette vibes (ie: the popular throat hit), you'll under stand why the irritant free, intense cloud forming capacity of a pure VG juice is 100% worth your consideration!