The Best PG/VG Ratio for Vaping & Some E-Juice History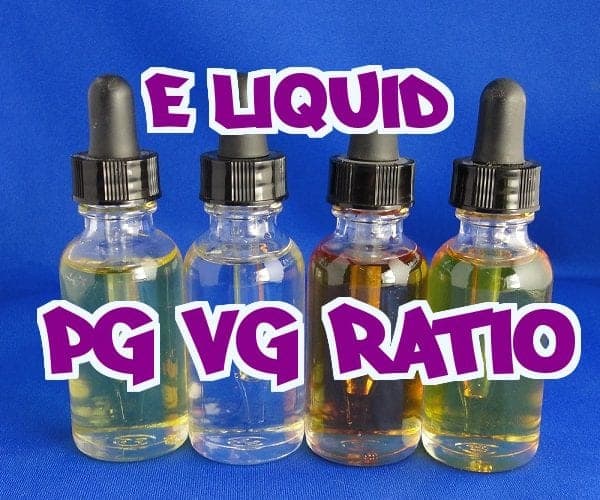 Probably all the vapors know that e-liquid is made up of two main ingredients propylene glycol (PG) and vegetable glycerin (VG). The ratio of PG/VG depends on who makes the e-liquid, in some cases you can even pick your e-liquid PG/VG ratio.
And even though you can find so much information about vaping online and no questions seem to be unanswered, the search for the best PG/VG ratio for flavor is always a popular topic.
In this article I review the brief history of creating the best VG/PG ratio, its trends and try to help you in search of the ultimate ratio for you.
History of VG/PG E-Liquid Ratio
When I first started vaping in 2008, e-liquid was made exclusively with PG, this is the base ingredient e-liquid companies in China used. At that time e-liquid made in the USA was very rare.
At the end of 2009 the FDA released a statement claiming that they had found diethylene glycol in electronic cigarette e-liquid. Diethylene glycol is a harmful ingredient used in the making of anti-freeze.
Basically the whole "diethylene glycol in e-liquid" story was blown out of proportion due to the fact that PG (propylene glycol) is sometimes used in the making of anti-freeze. Hungry reporters were looking for a story, and I suspect big tobacco helped spread this misleading information. People started to associate propylene glycol (PG) with diethylene glycoil causing people to start requesting e-liquid without PG. I believe this is a big reason why we use VG in our e-liquid today.
If all the PG/VG abbreviations still scares you, take a look at this quick video, which explains it pretty simple.
Whats the Best VG/PG Ratio for my E-Liquid?
Currently almost all e-liquid comes with both PG and VG. If you make your own e-liquid or if you order e-liquid from a company that lets you select your own PG/VG ratio, it's important to understand how each ingredient will affect your vape. Here is a simple list of the main benefits from both PG and VG.
Propylene glycol (PG)
Increases throat hit
Better flavor definition
Thinner than VG, may wick faster
Vegetable glycerin (VG)
Produces thicker vapor
Has a sweet flavor
Thicker than PG, may slow wicking
True 100% VG e-liquid is very hard to come by since most flavoring used in making e-liquid come with a PG base. Virgin Vapor does offer 100% VG e-liquid, there flavoring comes in a base of organic ethyl alcohol. I personally don't like a lot of VG in my e-liquid. I prefer an e-liquid that has defined flavor and a good throat hit over a somewhat thicker cloud of vapor. Anything over 50% VG and 50% PG is too much VG for me.
A lot of vapers like a 50/50 ratio, but I think the ultimate mixture is around 15-20% VG and 80-85% PG. It's nice to have a small amount of VG in the mix to help thicken the e-liquid and to create a thick and satisfying cloud of vapor. But if you add to much it will take away from the flavor definition and throat hit.
Conclusion
If you like e-liquid with defined robust flavor and an ever so satisfying throat hit, a mixture of 20% VG and 80% PG is perfect. For me anything over 50% VG is too much. See, I prefer to taste and feel the vapor over filling the room with such thick clouds I can't see my computer screen.
If you want to find the best places to buy e-liquid check out my article Best Online Vape Stores, it's where I list my recommended e-cigarette and e-liquid suppliers.
What do you find to be the best PG/VG ratio for flavor and why? Comment below.