Aspire Breeze NXT Pod System $17.10 (USA)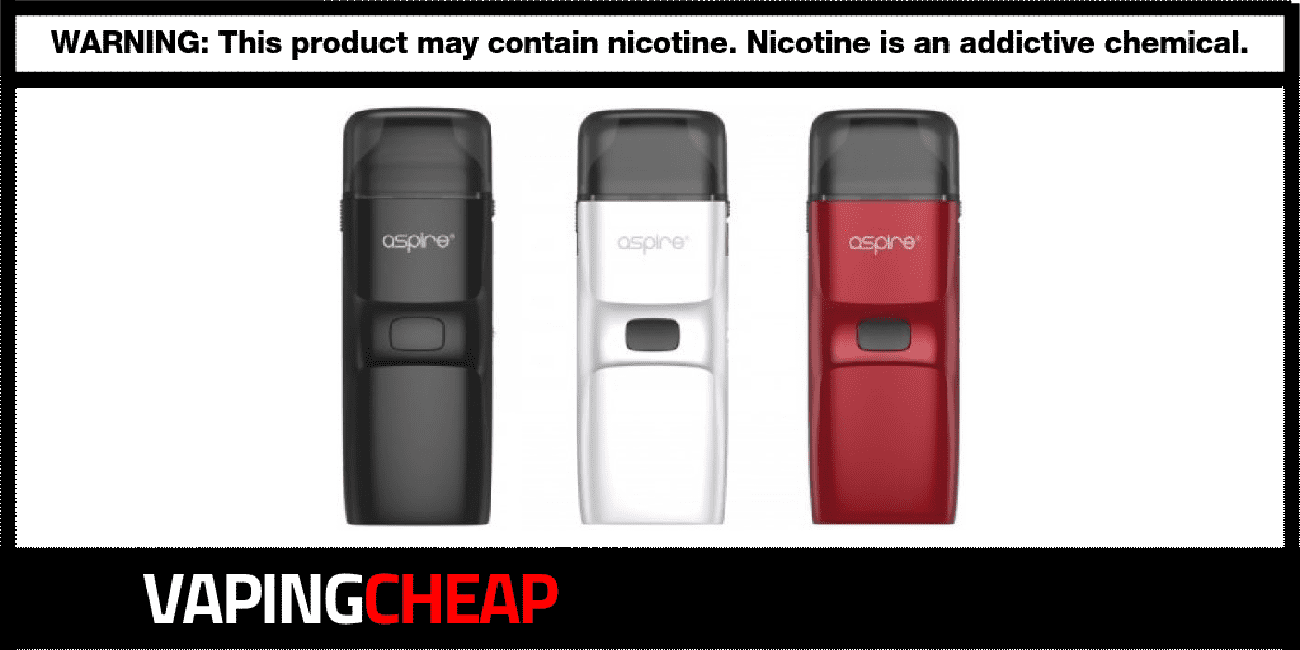 Here's a cheap deal on the Aspire Breeze NXT Pod System. Buy one at a discount for just $17.10 when using the code "vapingcheap10". It's also available from another USA based store for only $24.29 using discount code "TENOFF". There are three color options you can choose from which includes Black, White and Red.
Aspire is back with their new NXT Pod Kit, which is much better in many different ways in comparison to their past Breeze pod devices.
Firstly, it looks quite different, and sports some curves, making it fit perfectly in the hands. It does have a built in 1,000mAh battery, and charges via a standard micro USB cable. With this large of a capacity, you can easily get through all day of vaping on a single charge.
What's great about the Aspire Breeze NXT is that you can turn it completely off when not in use, and can vape it in two different ways. The first is by using the firing button, and the second is the draw activated firing system. The wattage output is determined by the current state of the battery, so it provides a direct voltage output. This means that when the battery is fully charged, you'll get the most power, and as the battery depletes, the vape will get slightly weaker.
A LED battery light indicator is present, and lets you know of the current battery status while vaping. Moving onto the refillable pod cartridges. The Aspire Breeze NXT Pod can hold a massive 5.4ml of e-liquid, which is not seen often, even with some of the best pod vapes. You can easily fill this pod cartridge with your favorite nicotine salt vape juice or freebase e-liquids. What's even better are the Aspire Breeze NXT Coils, which have a resistance of 0.8 ohm, and feature mesh wire.
The airflow is fully adjustable as well on the Aspire Breeze NXT Kit, so you're able to loosen or tighten up the draw based on your preferences. Lastly, there's quite a few safety features built inside, which is expected since it is an Aspire product.
If you're looking for a new pod mod with a large e-liquid capacity, and can last an entire work day, then you'll definitely want to check out the Aspire Breeze NXT Pod System. Their past Breeze devices were great, but this one takes the cake.
Aspire Breeze NXT Kit Features:
Internal 1,000mAh Battery
Micro USB Charge Port
Zinc Alloy Construction
Direct Voltage Based Output

Power Determined by Battery State

LED Battery Light Indicator
Single Firing Button

5 Clicks On/Off
Press to Vape

Draw Activated Firing System
Ergonomic Design
Adjustable Airflow Control (AFC)
Aspire Breeze NXT Refillable Pod Cartridge

5.4ml E-Liquid Capacity
Large Filling Port (Easy to Fill)

Aspire Breeze NXT Coils

0.8 ohm Resistance
Wattage Range: 15w - 20w
Mesh Wire (Kanthal)

Many Safety Features
3 Color Options
What's Included
Aspire Breeze NXT Pod Mod Device
Aspire Breeze NXT Pod Cartridge
2x Aspire Breeze NXT 0.8 ohm Mesh Coils
User Manual
Micro USB Charging Cable
Check Out The Aspire Breeze NXT Review