IJoy Jupiter Pod System Kit $20.99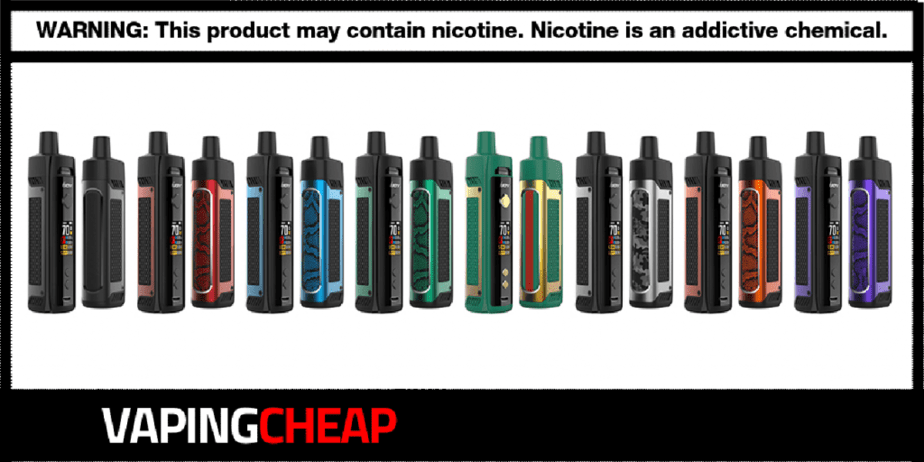 Here are cheap deals, discounts and sales for the Ijoy Jupiter Pod System Kit. Get yours for just $20.99 when using the code "JUPITER". There's a bunch of different color options available including Black, Golden Green, Orange, Purple, Red and more.
IJoy's Jupiter Pod Kit follows the popular trend we seen this year with the likes of the Smok RPM40 and others. That's definitely not a bad thing, as this design works well, and offers simplicity for both beginners and advanced vapers. This new pod system does require a single high drain 18650 battery, and can have a maximum wattage output of 70w.
It does feature IJoy's UNIV chipset which does provide instant firing speeds alongside power efficiency. On the front of the IJoy Jupiter Pod Mod you'll see a huge display screen as well, which does show all of your vaping information clearly. This includes your power setting, battery life meter, coil resistance and more.
Now, when it comes to the refillable pod cartridge, it can hold a whopping 5ml of e-juice. This is definitely more than the average when comparing it to other pod vapes on the market. Additionally, it features a simple bottom fill method with a large silicone plug, so it's easy to fill.
Moving onto the actual coil heads, there's a couple that's available. Included, you'll get the J1 0.2 ohm mesh coil, and the J2 0.6 ohm mesh coil. We're glad both of them have mesh wire, as they perform much better, and often last longer than traditional wire coils. We'd say these are both great for a DTL vape. An RBA coil will also be available, so you can install your own preferred coils.
If you're looking for another pod mod that offers high wattage output, mesh coils, and that has an available RBA, then you'll definitely want to check out the new IJoy Jupiter Pod System Kit. At the current sale price it's going for, it's worth adding to your collection, that's for sure.
IJoy Jupiter Mod Pod Kit Features:
Requires Single High Drain 18650 Battery (Not Included)
Powered By IJoy UNIV Chipset
Maximum Wattage Output: 70w
Max Voltage Output: 4.2v
Large 0.96 Inch OLED Display Screen
Aluminum & Zinc Alloy Construction
Refillable Pod Cartridge

5ml Maximum E-Juice Capacity
Bottom Fill with Large Silicone Plug

Replaceable Coils

0.2 ohm Mesh
0.6 ohm Mesh
RBA

Wide Variety of Color Options
What's Included
IJoy Jupiter Pod Mod
IJoy Jupiter Cartridge (5ml)
J1 0.2 ohm Mesh Coil Head (Pre-Installed)
Spare J2 0.6 ohm Mesh Coil Head
USB Cable
Warranty Card
User Manual