Smok RPM80 & RPM80 Pro Pod Mod Kit $16.15 (USA)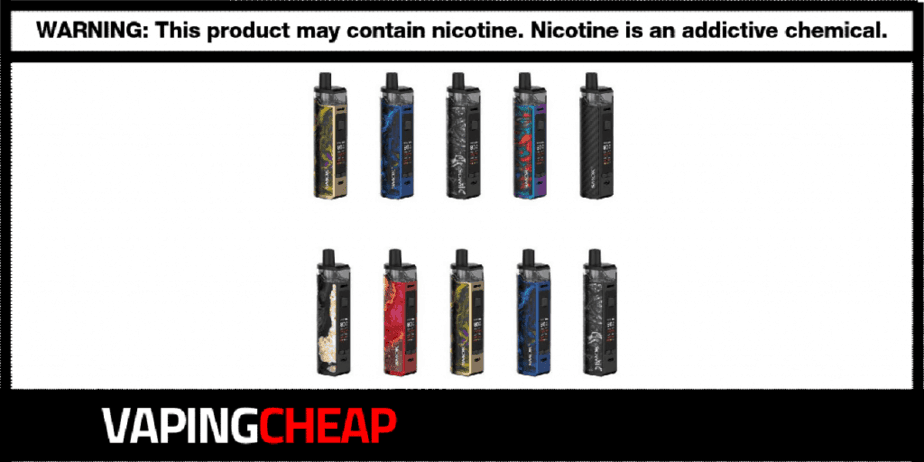 Here are cheap deals, discounts and sales for the Smok RPM80 and RPM80 Pro Pod Mod Kit. Get the Pro Kit for only $16.15 when using code "Hardware15". It's in stock at a USA based store for $27.00 using code "vapingcheap10". You can also get the regular RPM80 with the internal/built-in battery for $20.99 with code "RPM80". There's many color options you're able to choose from including a couple of stabilizing wood, and resin versions.
The Smok RPM80 Pod Kit looks fairly similar to the original RPM40 Pod Mod, but it's a completely different beast. It's been upgraded, and offers a few features many vapers wanted. For one, the RPM80 Pro it's powered by an external battery (18650). However, if you prefer the opposite, the RPM80 features an internal 3,000mAh battery.
Either way, the RPM80 and RPM80 Pro Pod Mod can deliver up to 80w of power, double the original! Additionally, it has an output voltage of 8v, and can fire down to a 0.1 ohm resistance. There isn't many, or any really, other pod vapes that can do the same.
Another great feature is that it now features a USB type-C port. In addition, you'll find that it still has that large, and beautiful 0.96 inch color display screen. It not only looks amazing, but it's easy to see, which is definitely a good thing in our book.
It doesn't stop there, the Smok RPM80 Pod Mod utilizes the same amazing Smok RPM coils. However, it does include a new coil that'll provide even more flavors, and clouds. This is the RGC Conical Mesh Coil that's powered by nexMesh, and has a resistance of 0.17 ohm. Their original 0.4 ohm mesh coil is included too, which is a solid performer. Lastly, there's two different cartridges this pod device is compatible with. This includes both the RPM80 RPM Pod, and the RPM80 RGC Pod which has an adjustable airflow design.
Smok has done it yet again, and took a pod device to the next level. It has all of the amazing features you'd expect plus more. If you're into cloud chasing, you'll definitely love the Smok RPM80 Pod System Kit.
Smok RPM80 Vape Pod Kit Features:
Requires Single High Drain 18650 Battery (Pro Version)
Built In 3,000mAh Battery (Regular)
Wattage Range: 1w - 80w
Minimum Firing Resistance: 0.1 ohm
Max Voltage Output: 8v
USB Type-C Port
Ergonomic Design
0.96 Inch Color Display Screen
Compatible with RPM Coils

New 0.17 ohm RGC Conical Mesh Coil (Powered By nexMesh)

Utilizes RPM80 RPM & RPM80 RGC Cartridges
Many Color Options
What's Included
Smok RPM80 Pod Device Kit or RPM80 Pro
RPM80 RPM Cartridge with 0.4 ohm Mesh Coil
RPM80 RGC Cartridge with 0.17 ohm Conical Mesh Coil
Charging Cable
User Manual
Check Out The Smok RPM80 Pro Review