What is Vaping? The Definitive Guide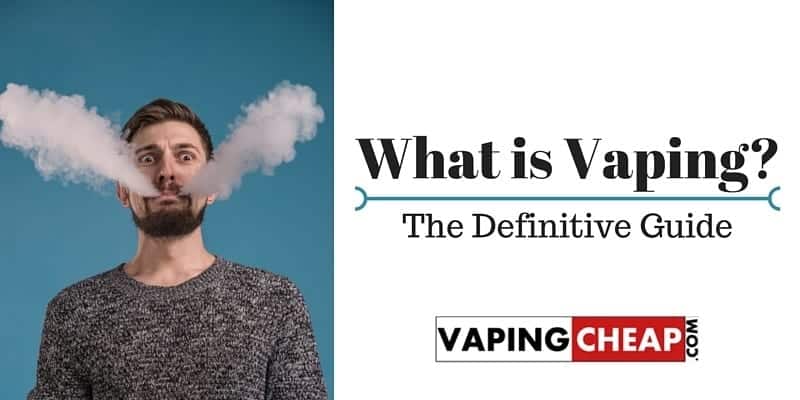 To the average onlooker, vaping can seem a bit confusing. For current users of tobacco cigarettes, many often stumble upon the idea of vaping as an effective method to quit smoking. But what is vaping really?
Definition of 'Vape'
: To Inhale and exhale the vapor produced by an electronic cigarette or similar device. (Source:
Oxford Dictionary
)
At first glance, vaping looks a lot like smoking. Pictures and videos of die-hard vapers flood the airwaves and Internet, images of people from all walks of life puffing away on some sort of odd-looking contraption that produces huge clouds of billowing 'smoke' into the atmosphere. This 'smoke', which is actually vapor, is what leads to much of the confusion and commonly asked questions concerning vaping.
Common Questions About Vaping:
If I truly want to quit smoking, why would I turn to some expensive-looking electronic gizmo that essentially produces the same effects as a tobacco cigarette?
Why would I want to spend even more money on e-cigarettes when I can just run to the local Quikie Mart and buy a pack of traditional cigarettes anytime I want?
Is vaping some silly new fad that is essentially ripping off the average consumer, like mood rings or pet rocks from the 1970's?
Is Vaping Safe? Are the devices even safe?
Can vaping cause cancer just like tobacco cigarettes?
What are vapers even inhaling anyway? Is it tobacco? Is it formaldehyde? What is it? Inhaling tobacco and nicotine is bad enough. Why would I want to risk my health even further?
These are all valid questions. But vaping is NOT smoking. For starters, the 'smoke' that electronic cigarettes produce isn't really smoke at all. It's essentially water vapor. That's where vaping gets its name. Another response to a commonly misinformed argument is that vaping is not a 'new fad.' In fact, it has been around since the 1960's. Although, the first vaporizer devices were essentially huge bong-like mechanisms that sat on a tabletop. Vaporizer's and e-cigarettes have come a long way since then.
Which type of vaping device is for you?
Vape devices come in many forms with many different names, e.g vape mod, vape pen, and e-cig. There are e-cigs that essentially look like a real tobacco cigarette. There are tubular devices like the eGo One Mini that has a sleek and sturdy appearance. Some e-cigarette's look very similar to traditional cigarettes (known as cigalikes in the vaping community) that turn red at the tip as the user inhales. Others turn blue or white.
There are vaping devices like the KBOX 200 & 120 Mods (known as 'box mods') which are essentially shaped like a pack of cigarettes. And there all sorts of other odd-looking gadgets that have a multitude of futuristic designs, most are referred to as vape mods.
Mechanical mods are another common device used and can be either tube style like the FUhattan Mod or box style like the like the Lucifer Box Mod.
Regardless of the style or brand, they are all performing the same basic function. They are all devices that house batteries to provide power to an atomizer or tank. The atomizer or 'vape tank' then heats up the eJuice (aka. Vape juice or eliquid) into vapor to be inhaled by the user.
The latest devices are called temperature control mods.
These devices give the user additional control over their device by limiting how hot the atomizer coil gets.
What is e-Juice?
While traditional tobacco cigarettes are laced with over 4000 chemicals noxious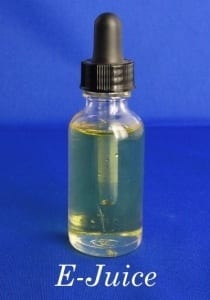 chemicals including tar and carcinogens, vaping devices use something called e-juice or e-liquid made from only three or four simple ingredients: flavoring, Propylene Glycol (PG) and/or Vegetable Glycerin (VG), and nicotine (if desired). Vapers can purchase thousands of flavors online (see Best eJuice Vendors) or in the many vape shops now sprouting up on nearly every street corner around the world.
Unlike tobacco cigarettes, newbie vapers can enjoy such interesting flavors as bubble gum, key-lime pie, Kahlua and cream, or any other flavor combination imaginable. This multitude of flavor choices certainly makes vaping a great deal more fun and satisfying when compared to smoking tobacco cigarettes. Meanwhile, experimenting with different e-juices helps to keep the newbie vaper motivated when trying to quit smoking.
Does all ejuice contain nicotine?
The ejuice that you choose can have zero nicotine or a small percentage to help reduce the potential withdrawal symptoms commonly associated with quitting smoking. Almost all e-juice manufacturers allow the buyer a wide range of nicotine levels to choose from. Here are the 6 most common nicotine strengths:
0mg (no nicotine whatsoever)
3mg (very low nicotine)
6mg (similar to a pack of ultra-light cigarettes)
12mg (similar to a pack of light cigarettes)
18mg (similar to a pack of full flavor cigarettes)
24mg (Very Strong)
Vaping devices heat up this e-juice with a battery-powered atomizer hidden inside. It is important to note that cigalike vaping devices, commonly referred to as 'e-cigs' or electronic cigarettes, usually come prepackaged with the e-juice. Cigalike ecigs are typically those over-the-counter devices sold at your local convenience store. These devices use cartridges to house the atomizer and store the ejuice. Once the e-juice fully depleted you just throw it away, and then you have to go back and buy another cartridge.
Most people begin their journey into this strange new world of vaping by using these cigalike devices. But the constant repurchasing of new e-cig cartrtriges, limited variety of flavor options, and lack of power can quickly cause users to venture into the more advanced vape gear with refillable e-juice tanks and replaceable batteries. Once a new vaper purchases a vape box mod and some tasty e-juice, the fun truly begins.
What about advanced hardware?
For newbies purchasing their very first vape kit, it is important to learn about the individual hardware components that make up an e-cigarette. One of the most basic and cheap vape starter kits is the EVOD E-Cig Starter Kit. It comes prepackaged with all of the necessary equipment required to start vaping except ejuice. Other more advanced devices may require the user to purchase other individual parts to 'modify' the device to specific preferences. These are often referred to as 'vape mods' and should be reserved for only the more experienced vaper.
The standard hardware components of any vaping device include:
The Casing (or the main body style of the device)
The Battery (there are many different options with variations of power levels)
The Power Charging Mechanism (this can be a USB connection, a wall outlet method, or both)
The Cartridge, Tank, or Clearomizer (which houses the e-juice)
The Atomizer (which uses a coil or wicking material to heat up the e-juice and create the vapor)
The Cartomizer (which is nothing more than the combination of the tank and the atomizer)
The E-juice of your choice
Purchasing a simple starter kit will usually give you all of these pieces of hardware in one complete package. Many manufacturers might even throw in some free e-juice as well. When more experienced vapers begin to experiment with substituting various individual components with one another, this is called a vape mod.
Certain devices, like a mechanical mod with a rebuildable atomizer, would not be a good choice for new vapers. These advanced devices deal with unregulated electricity and should only be used by very experienced vapers with extensive knowledge of Ohm's Law and vaping safety. For more information on mechanical mods read Mechanical Mods Explained.
What are the benefits of vaping?
Let's be honest. For those of us who have tried to quit smoking the old-fashioned way, our track record of success is usually pretty abysmal. Sure, we may quit for a day, a week, or maybe even an entire month. But the likelihood that we will once again light up our favorite Marlboro or Salem is a constant threat.
There are certainly physical addictions to cigarette smoking, but the psychological hold that they have over us is what keeps us coming back time and time again. The physical sensation of holding a tubular device to our lips while driving a car, talking on the phone, or drinking our first cup of coffee in the morning never seems to go away. Vaping fulfills this psychological need without taking years off of our lives in the process like tobacco cigarettes. Here are some other unexpected benefits of transitioning to vaping:
Fulfill the oral fixation associated with smoking.
Save money (You can buy a whole bottle of e-juice for about the price of a single pack of cigarettes).
Reduce the risks of cancer, heart disease, respiratory ailments, and other illnesses.
Get back your sense of taste and smell.
Increase physical energy and stamina.
No more dirty ashtrays
No more smelly clothes.
No more being embarrassed when a non-smoker enters your car
No more smoke breaks standing outside in rain, sleet, and snow.
Send a positive image to your children and eliminate their exposure to second-hand smoke.
Vape in your house, while lying in bed, in some nightclubs and restaurants, and even in certain international airports.
Kiss whoever you want without judgment, including non-smokers
Is vaping safer than smoking?
Let me make it clear that vaping is not 100% safe. But, when asking if vaping is safer than cigarettes, the research says yes! A recent government study found e-cigarettes to be 95% less harmful than tobacco. However, e-cigarettes are still under scrutiny from the FDA and certain health activists, even though they have the potential to save the 6 million people who die from smoking each year.
However, there is a lot of conflicting information out there about e-cigarettes and their safety. Some people still think vaping is more harmful than smoking due to very misleading studies like this one which found formaldehyde in e-cigarette vapor. Quickly after that study was released it was debunked due to the fact that the e-cigarette only produced formaldehyde when it was cranked up to the highest setting. No one would ever use it like that! It's just like a toaster, the power can be set from 1-10 but your never going to cook your toast at power level 10!
Because of the misinformation provided in studies like this there has even been talk of an e-cig cover up lead by big-tobacco and big pharma. I'm not sure if this is true or not but I do know a lot of big companies lose money when people quit smoking and start vaping. I just hope more legitimate studies are done on e-cigarettes in the near future.
To see the latest research on e-cigarettes check out ecigarette-reaserch.com. You can also visit other vape organizations like CASAA, the American Vaping Association, and SFATA. These groups fight for our right to vape and need our support.
In Conclusion
Vape Shops are popping up all over the world as more and more people are turning to vaping as an effective smoking cessation method. Public acceptance is growing at a rapid rate, too. We even see celebrities like Leonardo DiCaprio and Seinfeld's Julia Louis-Dreyfus vaping at the Golden Globes. Newbies can purchase an e-cigarette starter kit for as low as $7.99 in some cases, that's about the same price as a few packs of tobacco cigarettes. So what are you waiting for? Why not give vaping a try?
For more information on vaping basics watch the video above.