What Sub Ohm Vaping is and What No One Tells You About It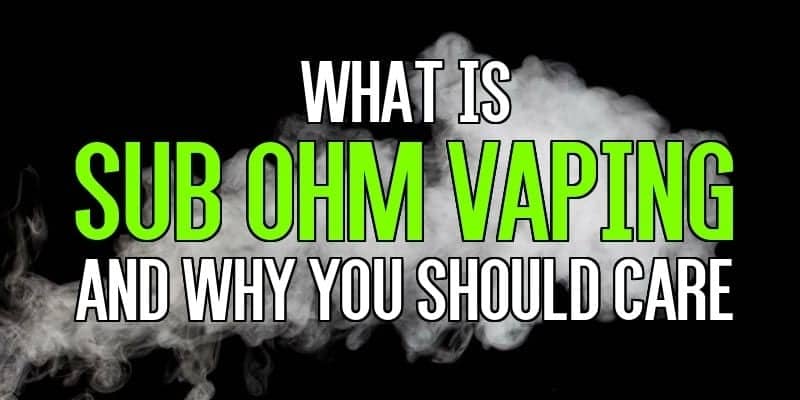 With the release of the Kanger Subtank and the Aspire Atlantis, the term "sub-ohm vaping" is flooding the Internet and social media. Vaping technology is advancing at a rapid pace, and many of us have a tough time keeping up with all the new jargon.
But what is sub-ohm vaping exactly? Do you need to buy specially designed tanks? Can you use your existing devices? Why would anyone want to sub ohm vape in the first place? Is Ohm's law important in Vaping?
Well, if you are a fan of both huge cloud production and the biggest burst flavor possible for your favorite e-juices, sub-ohm vaping might be for you.
What are Ohms?
The ohm is the standard unit of electrical resistance in the SI System of Units.
As far as vaping is concerned, you just need to know the following things without having to enroll yourself again for the physics class:
Higher the Ohm rating, the higher the resistance your atty has.
The power which is passed from your battery to the tip of your tank is inversely proportional to the resistance of your atty.
If you like a smooth hit, which is neither too hot, nor too cold, then you should opt for higher resistance. These charts should help you find THAT sweet spot.
As the name implies, sub-ohm vaping deals with electricity, and this is not a subject that should be taken lightly. A traditional tank atomizer or cartomizer has a range of about 1.5 to 2.8 ohms. With sub-ohm vaping, atomizer coils or series of coils, with a total measurable resistance that is less than 1.0 ohm, are used. According to the laws of science (Ohm's Law), a non-variable voltage source (like the battery in a Mechanical Mod) can produce more power (wattage) by lowering the resistance (ohms) of a circuit. So, using a lower ohm atomizer coil will result in bigger clouds, hotter vapor, and an intensified flavor.
Previously, to vape at sub ohm levels you would have to use a rebuildable atomizer to build your own coils. Now that sub-ohm tanks have arrived to market, consumers can now vape at such levels without having to resort to DIY. The basic concept behind these tanks is to attempt to duplicate the effects of rebuildable dripping atomizer without all the hassle.
What Is Involved with Sub-Ohm Vaping?
Before the sub-ohm tank craze, to vape at such levels vapers had to use rebuildable atomizers. This allowed them to construct their own coils out of a wicking material, such as cotton, and kanthal wire. They would then use an unregulated mechanical mod, with an 18650 battery inside, to power and heat the atomizer coil.
Of course, if the do-it-yourself builder wasn't an expert in Ohm's Law, then this could sometimes lead to some very catastrophic results. Make sure to read our safety tips if you plan to use a mechanical mod and a sub ohm atomizer.
Now, instead of using mechanical mods and rebuildable atomizers, many vapers are using regulated box mods and sub ohm tanks to enjoy their vaping at those levels. The latter combination tends to be a safer option, because regulated mods have restrictions that prevent them from firing an atomizer with too low of a resistance.
These Are the Three Main Methods of Sub-Ohm Vaping:
RDA or Rebuildable Dripping Atomizer:​
Before the release of the Aspire Atlantis and other sub-ohm tanks, RDA's were the only method available to vapers. RDA's are also called drippers, and we can use them with almost any Mechanical or Box Mod.
Drippers are usually smaller than tank atomizers and include a deck for building the coil that we then attach by using a screwdriver. We then wick the coil with cotton. Users then drip a tiny amount of e-liquid on the coil and wick, re-dripping once every few puffs.​
RBA, RTA, or Rebuildable Tank Atomizer:
This method is for people who want to avoid dripping completely but who still want to build their own coils. RBA's are basically clearomizers that require the user to build the coil or coils inside. The great thing about this option is that users can custom design any coil imaginable to produce the precise vaping experience that they want.
Not all RBA's are for sub-ohm vaping though. So be careful. Some do not have the appropriate airflow controls and insulation required for sub ohm vaping. Without proper airflow an RTA can create a very hot vapor that may burn your lips.​
Sub-Ohm Tanks:
This method is likely the perfect choice for first-timer vapers. They work very much like an RBA, but these use pre-made, disposable coils that can be purchased from the manufacturer.
Some tanks have optional RBA heads so users can choose to either build their own coils or use pre-built coil heads. This technology is the basis of the Kanger Subtank and the Atlantis Aspire, among many others (Check out our article "Best Sub-ohm Tanks" for more information).
If Sub-Ohm Vaping is so Great, Why Isn't EVERYONE Doing It?
​There are always going to be pro's and con's with any new technology. Many vapers buy their very first vape kit and stick with it for years. Others like to experiment and try new things.
Bigger clouds:

Not everyone has the urge to blow massive plumes of vapor that are bigger and thicker than their neighbor's, but if cloud chasing is something that you're into, this technology might be something worth trying.

Hotter vapor:

The higher wattage creates a warmer, hotter vapor. This hotter vapor is why the RDA's, RBA's, and sub-ohm tanks have the airflow controls that cool the e-juice slightly so that it won't burn the lips of the user. Many vapers prefer the hotter vapor because it simulates the effects of smoking traditional tobacco cigarettes.

More intense flavor:

Steeping e-juices takes a great deal of time, in most cases. And leaving those tiny bottles lying around in closets and refrigerator shelves is very dangerous, especially for homes with small children. Because the e-liquids burn hotter, they also taste fuller, richer, and more intense. Many vapers who try these methods often say that they will never again go back to the high-resistance, ceramic fiber clearomizers ever again.
Mouth-to-Lung Hitters:

Sub-ohm vaping tends to give the user a massive lung hit of vapor. This extra "kick" is a feature than many enthusiasts simply love. Others in the vaping community call these people "Mouth-to-lungers." Newbies to the technology might be a bit surprised at first.

Hard to Hide:

The massive plumes of smoke and intense aroma produced from such tanks draws a lot of extra attention from those around you. If you are trying to sneak a vape at the office, it's going to be much tougher to hide. For the stealthier vaper, this might not be the best choice of tank.

Juice Monsters:

It takes a lot of juice to make those massive clouds. For those just entering the world of sub-ohm vaping, don't be surprised if you start going through e-juice like crazy. If you are vaping-on-a-budget, then this technique may not be your best choice. On a more positive note, vapers who use this technology also tend to prefer lower nicotine levels in their e-liquids of perhaps 6mg or less, which can save you a little money. Some even opt for the zero-nic options. The bigger blast of vapor means a bigger blast of nicotine.
Still not sure about sub ohm tanks? Give "Is Sub Ohm Tank Right for You?" a read.
The new tanks on the market are very safe and reliable, but first-timers should always take the time to read the included instructions very carefully. Remember, we are essentially increasing the power of the electrical device that you will soon be holding up to your lips.
Always be sure to use the proper batteries indicated on the package, and never exceed the recommended amperage of the batteries, as well. You read this article because you wanted to know "What is sub ohm vaping?" and I hope I have answered your question.
If not just leave a comment below and remember to vape responsibly at all times, especially when sub-ohm vaping.​ Do consider watching this video if you like visuals rather than text.