VooPoo Drag 4 Mod $36.69 | Kit $38.99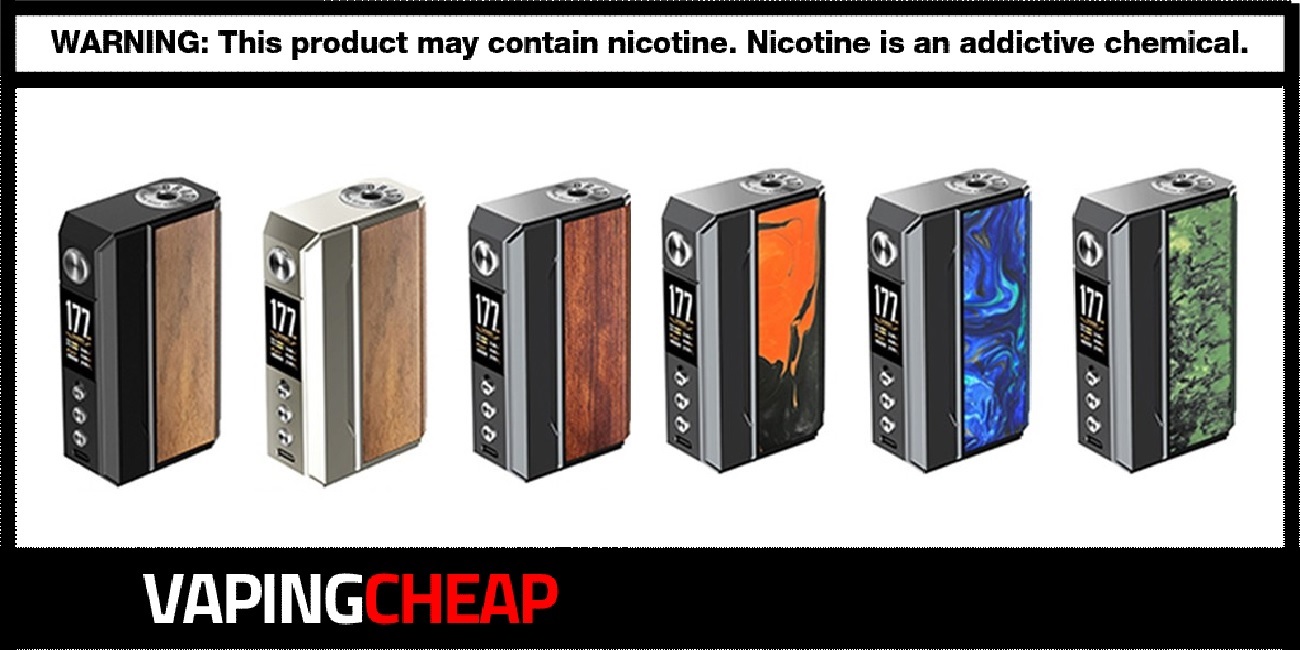 Here are cheap deals and discounts for the VooPoo Drag 4 Mod and Kit. Buy the box mod for only $36.69 when using the code "VD4M". It's also available from a USA based store for only $40.72 with free shipping over $100 after applying the discount code "Ship4Free".
The full starter kit is on sale for 38.99 with the coupon code "VPD4K". You can also get it at a USA based shipper for just $49.72 after the code "VC15". There are two different versions which are the Wood Series and Resin series. Both are offered in multiple color options.
The VooPoo Drag 4 Mod is a follow-up and improvement over their Drag 3 Box Mod. It still uses two high drain 18650 batteries. However, it's powered by the Gene.TT 2.0 chipset and has a wattage output of 177w. It features new user modes such as Eco and an updated TC mode. Also, there's now a switch that lets you lock the device and wattage.
VooPoo's Drag 4 Starter Kit comes with the UForce-L Tank. This tank has an e-liquid capacity of 4ml. However, you can increase it to 5.5ml with the bubble tank. It does have an easy-to-use top-fill design. It's compatible with most PNP Coil Heads, even the RBA. Lastly, the adjustable three-hole airflow provides excellent flavor and a smooth draw.
All in all, if you were a fan of the previous version or want a dual 18650 starter kit with a ton of great features, then check out the VooPoo Drag 4 Kit. If you want to hear what we think about it you can check out our review here.
VooPoo Drag 4 Vape Kit Features:
VooPoo Drag 4 Mod

Requires two high drain 18650 batteries (Not Included)
Maximum wattage output: 177w
Powered by the

Gene.TT

2.0 Chip
User Modes: Smart, Eco, Updated TC, RBA
Sliding locking switch

VooPoo UForce-L Tank

Overall diameter: 25.5mm
Maximum e-juice capacity: 4ml or 5.5ml (Bubble Tank)
Top fill design
Compatible with most of the PNP Coils
Adjustable top airflow
What's Included:
VooPoo Drag 4 Mod
UForce-L Tank
User Manual
Bubble Glass
Accessory Bag
0.2 ohm coil
USB Type-C Cable
0.15 ohm coil
Be sure to check out the VooPoo Drag 4 video review